B2C Martech Services That Drive Results
Marketing technology (martech) is an excellent resource for any business-to-consumer (B2C) company looking to improve its digital marketing campaigns. That's why your business can benefit from WebFX's B2C martech services!
View B2C martech services
20,000 first-party data profiles

10 Nutshell Pro seats

300 calls tracked

15 lookalike or custom audiences
Data Professional
$1,175 / month
50,000 first-party data profiles

20 Nutshell Pro seats

500 calls tracked

30 lookalike or custom audiences
100,000 first-party data profiles

Up to 40 Nutshell Pro seats

1000 calls tracked

50 lookalike or custom audiences
Top-tier B2C martech services from WebFX
Martech — short for marketing technology — refers to an array of digital tools aimed at helping you market your business. B2C companies like yours can benefit immensely from using martech to expand your reach and bring in more leads.
If you're looking for martech to boost your campaigns, look no further than WebFX. We've been driving marketing results for over 25 years, and we know how to get the most out of martech for B2C companies.
Not only can our B2C martech agency help boost your campaigns through our extensive digital marketing services, but we even have our own martech platform aimed at enhancing all your efforts. Read on to learn more, and then partner with us by calling 888-601-5359 or contacting us online today!
Meet MarketingCloudFX:
One platform tracking countless metrics and driving stellar results.
Learn More About Our Proprietary Software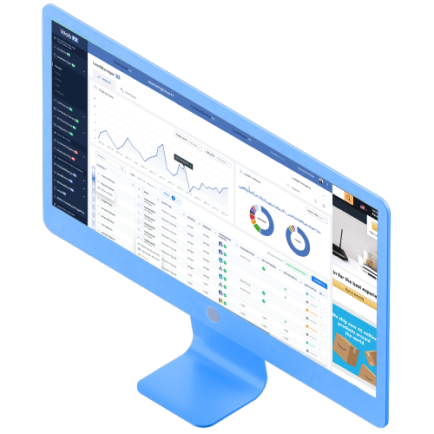 View B2C martech service plans and pricing
Features
Foundation
Data Professional
Innovator
Innovator VIP
Customer Data Platform
Customer360FX Unified Customer Journeys + Automated Segmentation

Combines disjointed customer data into unified customer journeys enriched with additional purchased data fields for real-time audience segmentation

Benchmark lift: 20%

First-Party Data Profiles

For audiences which sync to revenue driving marketing automation tools

Up to 20,000
Up to 50,000
Up to 100,000
Up to 250,000
CSV Upload

Bulk upload CRM closed lead data for reporting and deduplicate existing clients from new lead reporting

Lead Statuses

Options such as MQL, SQL, Won/Lost to refine lead generation machines and audience segmentation


Nutshell Pro

Marketing + Sales CRM with Integrated Marketing Channel Attribution for Closed-Loop ROI




Our proprietary CRM software that powers over $600 million in annual sales for clients

10 seats
20 seats
40 seats
Unlimited seats
Nutshell Onboarding

Onboarding with a Nutshell CRM Subject Matter Expert (SME) from the Nutshell team will provide demos, build CRM workflow/pipeline stages.

Up to 4 hours of CRM Onboarding Support & Consulting
Up to 4 hours of CRM Onboarding Support & Consulting
Up to 6 hours of CRM Onboarding Support & Consulting
Up to 12 hours of CRM Onboarding Support & Consulting
SchedulerFX automated calendar booking system
Up to 20 Calendars
Up to 20 Calendars
Up to 50 Calendars
Unlimited Calendars
– IntegrationsFX Conversion Based Smart Bidding

The set up, ongoing monitoring, & debugging of data pipelines to send offline conversions to Google, YouTube Ads, Bing, and/or Microsoft Ads to improve their machine learning algorithm for your campaigns, saving you ad spend budget and accelerating new customer acquisition. (Minimum of 25-30 conversions per month needed)

Available to WebFX Paid Search Clients
Available to WebFX Paid Search Clients
Available to WebFX Paid Search Clients
Available to WebFX Paid Search Clients
– IntegrationsFXLookalike + Custom Audiences Continually Updated

The set up, ongoing monitoring, & debugging of data pipelines to send contacts to Google, YouTube Ads, Bing, and/or Microsoft Ads to create lookalike and/or custom audiences. (Minimums differ per platform, but typically 1,000 active contacts are needed to use an audience)

Available to WebFX Paid Search Clients – Up to a total of 15 audiences
Available to WebFX Paid Social Clients – Up to a total of 30 audiences
Available to WebFX Paid Social Clients – Up to a total of 50 audiences
Available to WebFX Paid Social Clients – Up to a total of 100 audiences
– IntegrationsFX CRM: Attribution, Closed-Loop Reporting, and Audience Segmentation

Bidirectional CRM connection to append marketing data [4 fields total: source, medium, utm_parameters, and notes (to include: entry page, link to full lead journey/call transcript)] to CRM leads, and query back lead status and revenue for Customer360FX Contacts and Automated Audiences

– IntegrationsFX CRM: New Contact Creation

Bidirectional CRM connection to create New leads in CRM tracked by MarketingCloudFX, and query back lead status + revenue for Customer360FX and Automated Audiences

IntegrationsFX: Additional Unidirectional Data Pipelines

Additional data connectors such as supported LiveChat, Paid Advertising, & Ecommerce platforms that sync data into MarketingCloudFX

Up to a total of 2 Unidirection IntegrationsFX Data Pipelines
Up to a total of 4 Unidirection or Bidirectional IntegrationsFX Data Pipelines
Up to a total of 7 Unidirection or Bidirectional IntegrationsFX Data Pipelines
Up to a total of 15 Unidirection or Bidirectional IntegrationsFX Data Pipelines
IntegrationsFX: Additional Bidirectional Data Pipelines

Additional data connectors such as supported LiveChat, Paid Advertising, & Ecommerce platforms that sync data between MarketingCloudFX and the original MarTech tool.

Yes – Up to a total of 4 Unidirection or Bidirectional IntegrationsFX Data Pipelines
Yes – Up to a total of 7 Unidirection or Bidirectional IntegrationsFX Data Pipelines
Yes – Up to a total of 15 Unidirection or Bidirectional IntegrationsFX Data Pipelines
– IntegrationsFX ERP Closed-Loop Reporting + Audience Segmentation

Additional data connectors for supported ERPs + Accounting systems such as NetSuite, Sage, Quickbooks, FreshBooks, Clover, etc.

Yes – Up to a total of 4 Unidirection or Bidirectional IntegrationsFX Data Pipelines [Excludes Enterprise ERP Integrations]
Yes – Up to a total of 7 Unidirection or Bidirectional IntegrationsFX Data Pipelines [Excludes Enterprise ERP Integrations]
Yes – Up to a total of 15 Unidirection or Bidirectional IntegrationsFX Data Pipelines including Enterprise ERPs such as Oracle E-Business Suite, SAP, ADP Wisely, and Microsoft Dynamics Business Central
– IntegrationsFX | Data Warehouse Synchronization Integration: AWS Redshift, Snowflake, BigQuery, etc
By Quote
Pipeline Consulting & Engineering Time

Data pipeline consultant and engineering time spent building new pipelines or customizing existing IntegrationsFX data pipelines for custom client requirements.

Up to 25 hours / year
Up to 50 hours / year
Measurement, Insights + ROI
CompanyTrackerFX

Identity resolution for B2B visitors with basic data enrichment to support sales teams and smarter marketing automation campaigns

Benchmark lift: 20%

– Standard Company Enrichment

3rd party data purchased from leading providers to enrich missing or incomplete firmographic data points such as Location, Industry, Number of Employees, Domain and Annual Sales.

New Contact & Prospect Lookup (Monthly Credits)

Access professional profiles, including job title, work experience, education, LinkedIn profile, etc. Includes The ability to export resolved professional contacts.

Total of 10 credits per month (5 for ProspectorFX & 5 for CompanyTrackerFX Pro)
Total of 300 credits per month (Flexible allocation between ProspectorFX & CompanyTrackerFX Pro)
Total of 800 credits per month (Flexible allocation between ProspectorFX & CompanyTrackerFX Pro)
Total of 2,000 credits per month (Flexible allocation between ProspectorFX & CompanyTrackerFX Pro)
– CompanyTrackerFX Pro: Employee Resolution

Contact info for ICPs working at the companies that visit your website. Average match rate of ~35% of resolved from anonymously resolved companies visiting your website, who have buying intent

– ProspectorFX: Contact & Company Search

ProspectorFX allows you to search and filter for prospective new customers from a database of over 400 million profiles based on your ideal customer persona. Use credits to reveal the phone, email, and social touchpoints of your most desired matches.

LeadManagerFX

Omnichannel lead journey tracking and scoring for form submissions, live chats, and microconversions.

Advanced Spam Filtering

Automatically filters leads from blacklisted IP addresses

Visitor Recordings: Converted lead videos

Watch the website actions prior to the visitor converting

Up to 250 web conversion journeys recorded
Up to 500 web conversion journeys recorded
Up to 1,000 web conversion journeys recorded
Up to 5,000 web conversion journeys recorded
LeadScorerFX Standard

Close more leads in less time with lead scoring customized to your business

CallTrackerFX: Tracked Monthly Calls

Automated call tracking + recording for ROI measurement

300 calls tracked / mo
500 calls tracked / mo
1,000 calls tracked / mo
2,500 calls tracked / mo
CallTrackerFX: Unique Call Tracking Numbers

Channel-specific call tracking numbers

12 unique numbers
25 unique numbers
50 unique numbers
125 unique numbers
Standard Call Enrichment

Caller location for Automated Audience Creation

Enterprise Call Enrichment

Enhanced firmographic + demographic data for Automated Audience Creation such as age, employer, occupation, home value, social media profiles, etc.

ConversationIntelligenceFX



Caller and agent sentiment analysis and intent powered by Google AI



500 enhanced calls / mo
1,000 enhanced calls / mo
2,500 enhanced calls / mo
DataEnrichmentFX: Enriched Contacts & Leads
– Contact & Lead Enrichment: Web Leads, Callers, Contacts, & Email Lists (Monthly Enrichments)

Enhanced firmographic and demographic data to enrich incoming leads (including list uploads) for sales support and marketing segmentation.

Up to 2,000 enrichments / mo
Up to 5,000 enrichments / mo
Up to 15,000 / mo
Up to 40,000 / mo
– B2B-to-B2C Secondary Email Resolution & B2C-to-B2B Secondary Email Resolution
– B2C CallTrackerFX Leads: Reverse Phone # Lookup
LeadScorerFX Pro

LeadScorerFX Pro utilizes data Enrichment fields for Enhanced lead scoring calculations and measurements.

MROIDashboardFX

ROI + CPL Dashboarding with automated ad spend tracking for cost per lead analysis per MROI Channel

Revenue Acceleration & Forecasting
AdTechFX

Multi-device programmatic advertising based on CRM and visitor data

Benchmark lift: 8% increase in closed sales

Yes – Available for WebFX Paid Search and Paid Social Clients
Yes – Available for WebFX Paid Search and Paid Social Clients
Yes – Available for WebFX Paid Search and Paid Social Clients
Yes – Available for WebFX Paid Search and Paid Social Clients
PlaybookFX
CompetitorSpyFX: Up to 5 Competitors Tracked

Competitor website changes tracking and strategy monitoring

LocalFX

Location data accuracy reports for increasing maps visibility

Benchmark lift: 12% increase in local leads

EmailMarketingFX

On-demand email sending with real-time audience syncing from Customer360FX

Benchmark lift: 16% increase in leads

Up to 160,000 emails / mo total (Flexible allocation between LeadNurtureFX & EmailMarketingFX)
Up to 400,000 emails / mo total (Flexible allocation between LeadNurtureFX & EmailMarketingFX)
Up to 800,000 emails / mo total (Flexible allocation between LeadNurtureFX & EmailMarketingFX)
Up to 2,000,000 emails / mo total (Flexible allocation between LeadNurtureFX & EmailMarketingFX)
LeadNurtureFX

Smart email campaigns using real-time audience syncing from Customer360FX automated segmentation to build relationships with leads before they ever consider a competitor.

Benchmark lift: 14% increase in sales

Up to 160,000 emails / mo total (Flexible allocation between LeadNurtureFX & EmailMarketingFX)
Up to 400,000 emails / mo total (Flexible allocation between LeadNurtureFX & EmailMarketingFX)
Up to 800,000 emails / mo total (Flexible allocation between LeadNurtureFX & EmailMarketingFX)
Up to 2,000,000 emails / mo total (Flexible allocation between LeadNurtureFX & EmailMarketingFX)
FunnelsFX

Drag n drop page builder to rapidly deploy high converting landing pages

Benchmark lift: 11% increase in leads

ML, Smarter Content & Buyer Journey
ContentAnalyticsFX

Real-time insights to which content types provide the highest value for your website.

ContentGeniusFX

IBM Watson-powered, SEO content creation and evaluation tool to outrank competitors

Benchmark lift: 10% increase in organic traffic

DeepLearningFX

User intent for content marketing search engine ranking analysis powered by IBM Watson

Benchmark lift: 8% increase in organic traffic

5 reports / mo
10 reports / mo
25 reports / mo
Unlimited reports
PersonalizeFX

Customize demographic & firmographic audience journeys

Benchmark lift: 11% increase in conversions

Up to 15 demographic, firmographic, or audience segments can be personalized
Up to 30 demographic, firmographic, or audience segments can be personalized
Up to 60 demographic, firmographic, or audience segments can be personalized
Unlimited demographic, firmographic, or audience segments can be personalized
ReviewAccelerationFX

Boost your online credibility and local leads, and gain visibility to customer experiences through this review collection software.

Up to 3 locations
Up to 5 locations
Up to 10 locations
Up to 25 locations
Personalized Onboarding & MarTech Strategy
Contacts imported from legacy software systems
Onboarding + performance implementation w/ Strategic MarTech Specialist
3 calls during first year onboarding and up to 10 hours of consulting, auditing, implementation and setup
3 calls during first year onboarding and up to 15 hours of consulting, auditing, implementation and setup
4 calls during first year onboarding and up to 20 hours of consulting, auditing, implementation and setup
4 calls during first year onboarding and up to 30 hours of consulting, auditing, implementation and setup
Annual MarTech Specialist Consultations
1 / year
2 / year
4 / year
4 / year
On-going Data Architect Support Queue Access
Up to 4 hours / year
Up to 6 hours / year
Up to 12 hours / year
Up to 20 hours / year
Dedicated MarTech Expert
Execution of MarTech FuelFX Assets
3 per quarter / 12 per year
Standard Monthly Licensing Cost
$675
$1,175
$2,500
$4,975
Existing Monthly Customer Cost
$500
$975
$2,250
$4,475