Enterprise Web Design: Your Enterprise Website Template +3 Examples
As an enterprise company, your website design is an extremely important part of your business. Not only is your website your virtual hub for products and services, but it can also leave a lasting impression on visitors.
Enterprise
Enterprise Web Design Agency: Drive More Revenue with WebFX No matter what marketing strategies you use to promote your enterprise company, you're driving people back to your website. If you don't have a functional and visually-appealing website, you'll risk losing […]
As a matter of fact, 94% of first impressions relate to web design. That said, your enterprise web design is paramount to your business.
On this page, we'll cover:
Why enterprise web design is important
Suggestions for an enterprise website template
Enterprise website examples
Why WebFX is a trusted enterprise web design partner
If you're an enterprise company looking for the web design of your dreams, we can help! Contact us online or give us a call at 888-601-5359 to learn more about our web design services!
Why is enterprise web design important?
As a mid-to large sized enterprise business, your website is extremely important to the success of your company.
A staggering 75% of your company's credibility comes from web design, and as an enterprise company, your credibility, trust, and authority mean everything.
An enterprise web design will:
Create a strong online presence that builds credibility, trust, and authority for your business
Create strong calls to action that entice users to take the next step in the buyer journey
Provide a mobile-friendly website for users on all devices
Provide easy navigation for users to find what they need
Provide easy-to-submit forms to encourage users to share their information
Provide a seamless check-out process
To reap these benefits from your enterprise web design, you should consider working with an enterprise web design company that knows how to handle companies like yours!
WebFX has built more than 1,600 websites to date, and we can help bring your enterprise website to life, too!
Your enterprise website template
So, what should your enterprise web design include? What are the most important aspects of your enterprise web design?
Here is our suggested enterprise web design template to help you ensure success with your site.
A strong brand
If you think of some of the most popular businesses in the world, they became successful by having a strong, apparent brand. They nailed down their color scheme from the start, decided on their tone and aesthetic, and stuck to it.
For comparison, check out their website in 2006 compared to their website today.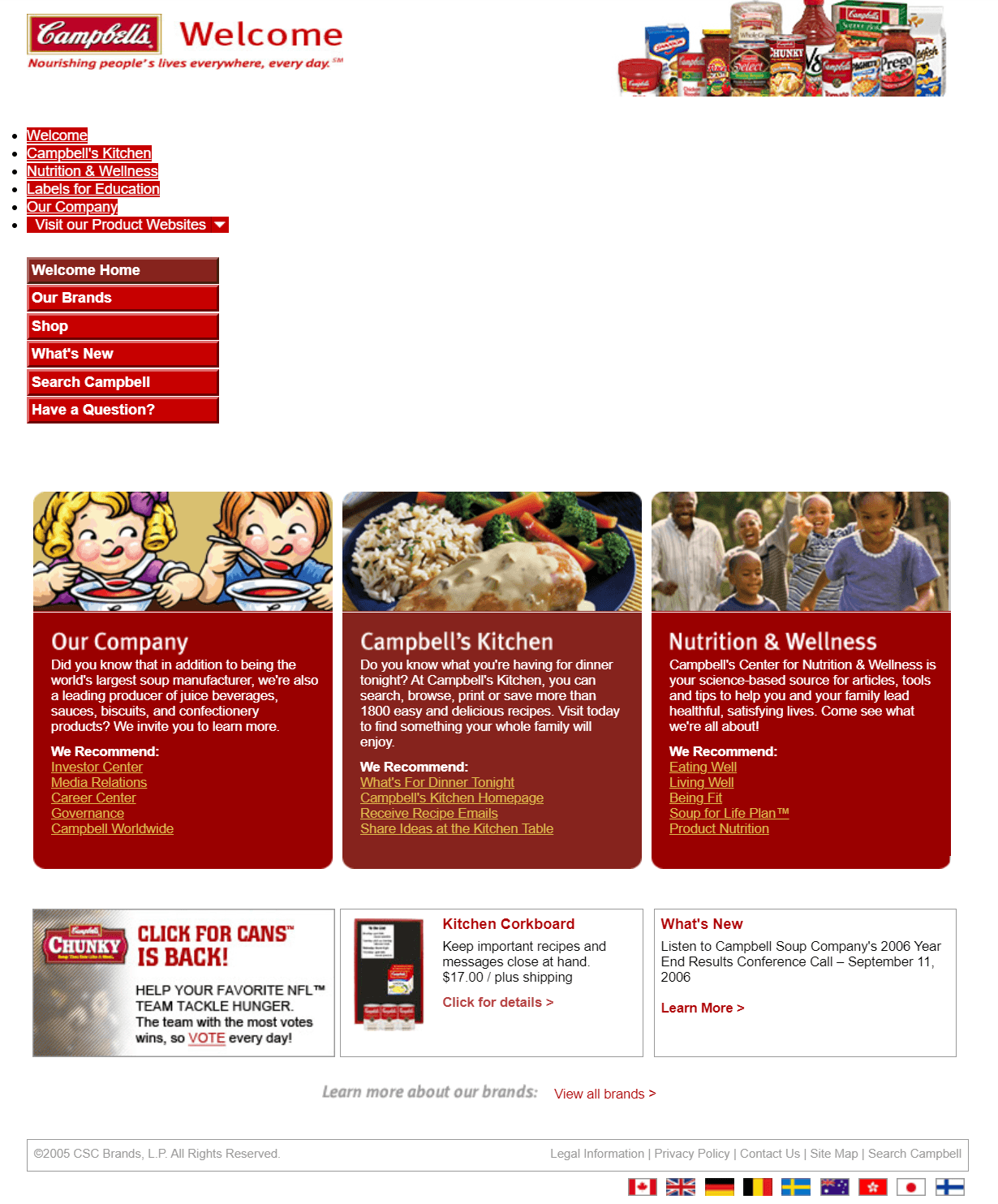 The 2006 version of Campbell's website features their signature red logo, along with all their partner brands. There are resources that talk about their company, recipes you can make with their products, and nutrition facts.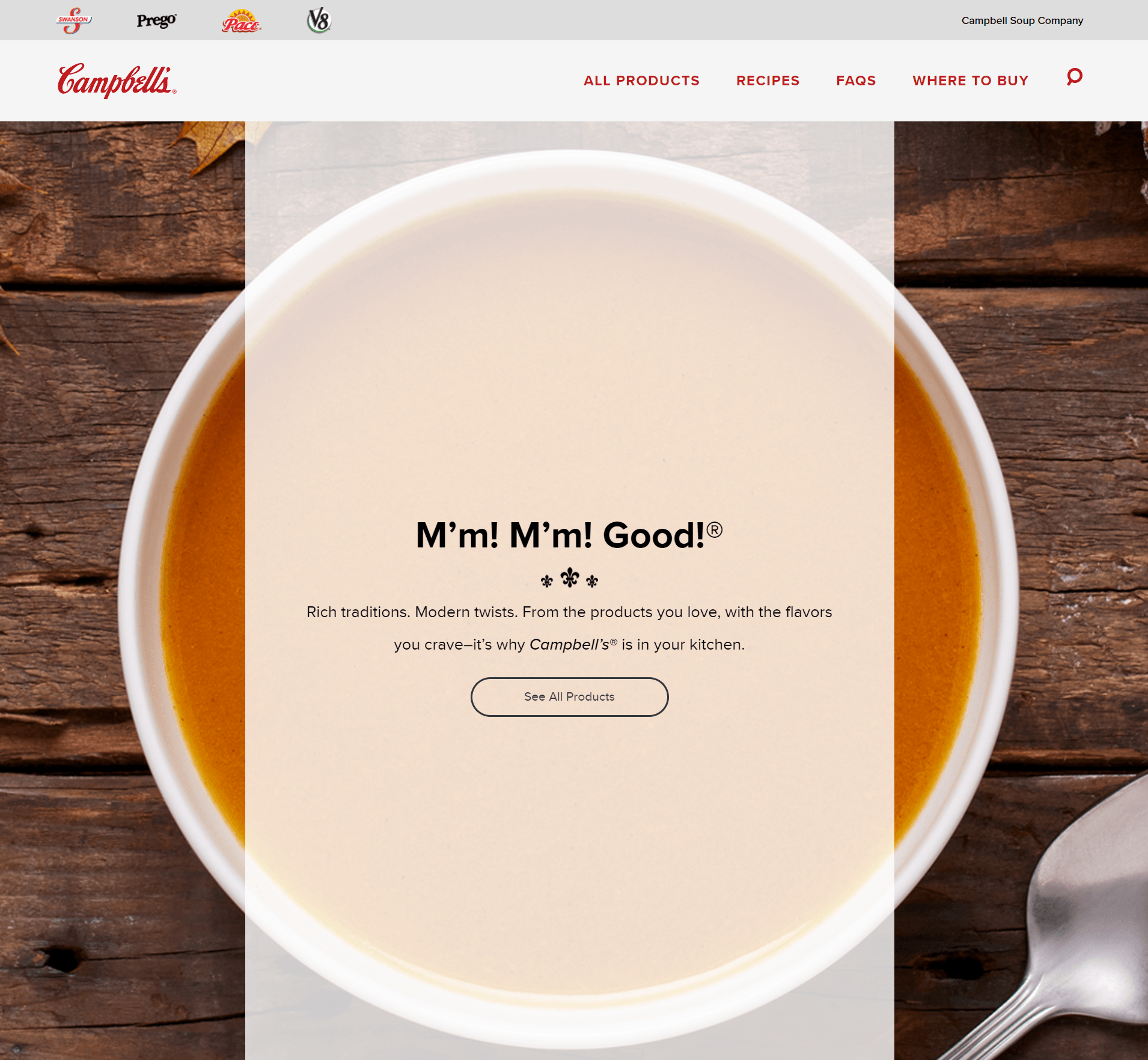 The 2020 version of Campbell's website is massively improved design-wise, but it still features their red logo, and the logos of their partner brands. Their navigation bar features similar content as their classic website, like their products and their recipes.
When you have a solidified brand, you should do the following to ensure that your enterprise web design is branded properly:
Follow a color scheme
Use the same logo in every location on the site
Write with the same tone and style
These small factors will help you build a cohesive brand that you can consistently use throughout the life of your business.
Clear navigation
One of the most important elements of an enterprise web design is the navigation. Without a map, hikers don't know which trail to take, and without clear website navigation, users won't know which pages to visit or how to find what they need.
A clear navigation will help keep users on your website longer, which is a positive signal for Google. Because users can easily find what they're looking for, you'll also decrease bounce rate since users will likely visit multiple pages on your site.
For the sake of good design, you'll want to keep your navigation bar simple so that users don't feel overwhelmed.
Campbell's does this very well.

Mobile-friendly design
Every website should be designed with mobile in mind — especially because of Google's mobile-first index.
Google looks at the mobile version of your website before anything else, so it's crucial that your site is built for mobile. Having a mobile-friendly site means that no matter what device a user experiences your site, they'll have the same great experience.
Buttons should be just as easy to click on a smartphone screen as they are to click on a desktop computer. Images should have the same quality, and forms should be easy to fill out on a mobile device as well.
As a large business with thousands of site visitors every day, it's crucial that your enterprise web design incorporates a mobile design.
Conversion conscious
Without a conversion conscious enterprise web design, you'll see fewer sales and lower revenue year over year.
A conversion conscious web design includes design elements that help users navigate down the marketing funnel. These design elements are typically things like:
Clear calls-to-action (CTAs): Your CTAs should be clear and concise, and make it evident what you want users to do next. You should utilize CTAs on every page of your website, and each should have a goal that matches the purpose of the page. For example, on your homepage, you might provide a CTA that urges users to learn more. On a product page, your CTA will be more conversion-centric — urging users to add the product to their cart.
Contact forms: Contact forms take users to another level of the marketing funnel. After they provide their contact information, they're now considered an interested customer — and you have their contact info to continue marketing to them.
Phone numbers with one-click calling: Ensuring that you have your company's phone number in plain sight is crucial. Make it easy for users to find your phone number, and easy for them to click to call.
Easy-to-use shopping cart: Keep in mind that if you want users to complete a purchase, they must have a great experience using your shopping cart. Provide users with a variety of payment options, don't ask too many questions, and make sure that everything loads quickly.
Inspiring enterprise website examples
So, what do some of the best enterprise websites look like?
Here are our favorite enterprise website examples and what they did right.
Starbucks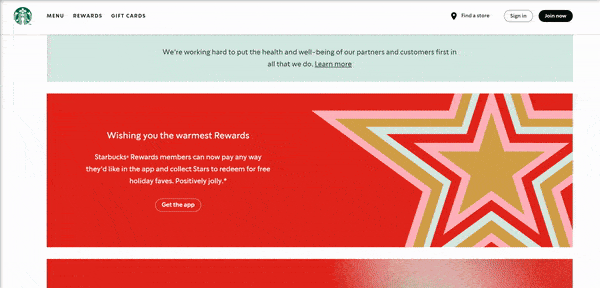 The coffee-connoisseur's website is clean, crisp, and on-brand.
What they do right: Their navigation bar is short and sweet, their design holds true to their brand, and they have enticing CTAs that encourage users to click.
Their imagery makes every site visitor crave their sweet treats, and they provide buttons around the site encouraging users to "order now" with one of their partner delivery agencies.
Apple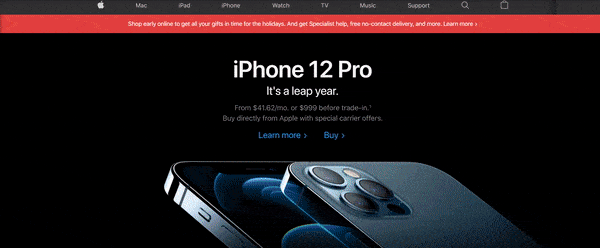 The iPhone provider's enterprise web design is about as modern as it gets — with clean straight lines, pops of color, and imagery that leaps off the page.
What they do right: Apple is — and has always been — dedicated to giving site visitors room to breathe, and we love their use of white space throughout the site. Their imagery is crisp and bright, and their navigation bar provides users with a map of their most popular product offerings.
Yeti

What they do right: Yeti makes site visitors feel as though they are using their products in real time by providing images of their products in use. The imagery is clear, their branding stands out, and they provide effective CTAs throughout the site.
We don't want to tell you about the work we do, we want to SHOW you.
View Our Portfolio

We've built over
Websites
in a variety of industries.
Why trust WebFX with your enterprise web design
As you can see, there are a lot of elements that go into creating an enterprise web design that sells your products, builds trust with site visitors, and increases revenue for your company.
With WebFX, we can make it happen.
We have over 25 years of experience in building website for companies of all sizes, in a variety of industries.
Our in-house team of designers are some of the best in the industry, and our more than 50 web design awards and more than 1020 client testimonials prove it.
If you're looking to build an enterprise web design that speaks to your brand and sells your products, WebFX is here for you. Contact us online or give us a call at 888-601-5359 to talk more about our web design services!