Struggling to fix your website issues? Nicole has seen her fair share of website problems and is here with solutions to help you move forward.
Transcript:
If you don't fix website issues as they arise, you create negative experiences for your potential customers and basically throw money down the drain. In fact, some statistics show that negative experiences make people 79% less likely to shop on a certain website.
We're here to help you find website issues before they cause a major problem. And in the process, you may actually drive more revenue for your business. No more screaming "How do I fix my website?!" into the void.
Websites are complex and many, many things can go wrong if you're not paying attention. We've chosen four common website issues for this video, so you'll want to stick around to learn the solutions.
If you're looking for a specific website issue that we cover in the video, check out the timestamps in the description. And subscribe to our channel if you haven't already!
So let's get started with what may be the most problematic website issue.
1. Your website won't load
You type in your URL, you think your site is loading, and boom. Error message. Frowny face.
There can be many reasons this happens. It may not even be your website that's the problem.
Before you hit the panic button, use a tool like our HTTP status checker that tells you if the issue is with your website or with the person trying to access it.
You'll know the problem based on the error code you see with the tool. Generally, you want 200 to be the HTTP response because it means your website has no major problems.
An error code in the 400 range means the problem comes from your website. If you get a response in the 500 range, the problem is coming from your website's server.
A commonly known error is a 404 error. This means the page you're trying to access can't be found. Check to make sure you have the URL correct.
If you do have the correct URL, you need to figure out where the page disappeared to. In many cases, the page may have been moved to a new folder, have a new URL or…it was deleted.
The solution in most cases would be to redirect people from the old URL to a new URL so they can continue browsing your website.
Another common website issue is a 502 error, which is, again, a problem with your servers. You may need to contact your web host or any other point-of-contact for your website to get this resolved.
If you partner with a team of web developers who troubleshoot issues on the daily, just get in touch with them for a solution!
2. Your website is slow
In the case of websites, slow and steady does not win the race.
Things that are known to slow down your website are multimedia elements like videos, photos, or animations. Basically, anything that makes your page larger than it needs to be can slow it down. Unnecessary code or even your server can affect your load speed, as well.
Some solutions to this are:
Compressing images

Embedding videos hosted by third parties rather than uploading them directly to your site

Getting rid of unnecessary code

Finding a

new web host

or upgrading your package
You can measure the speed of existing pages with Google's PageSpeed Insights tool, and it will give you some suggestions to increase your speed.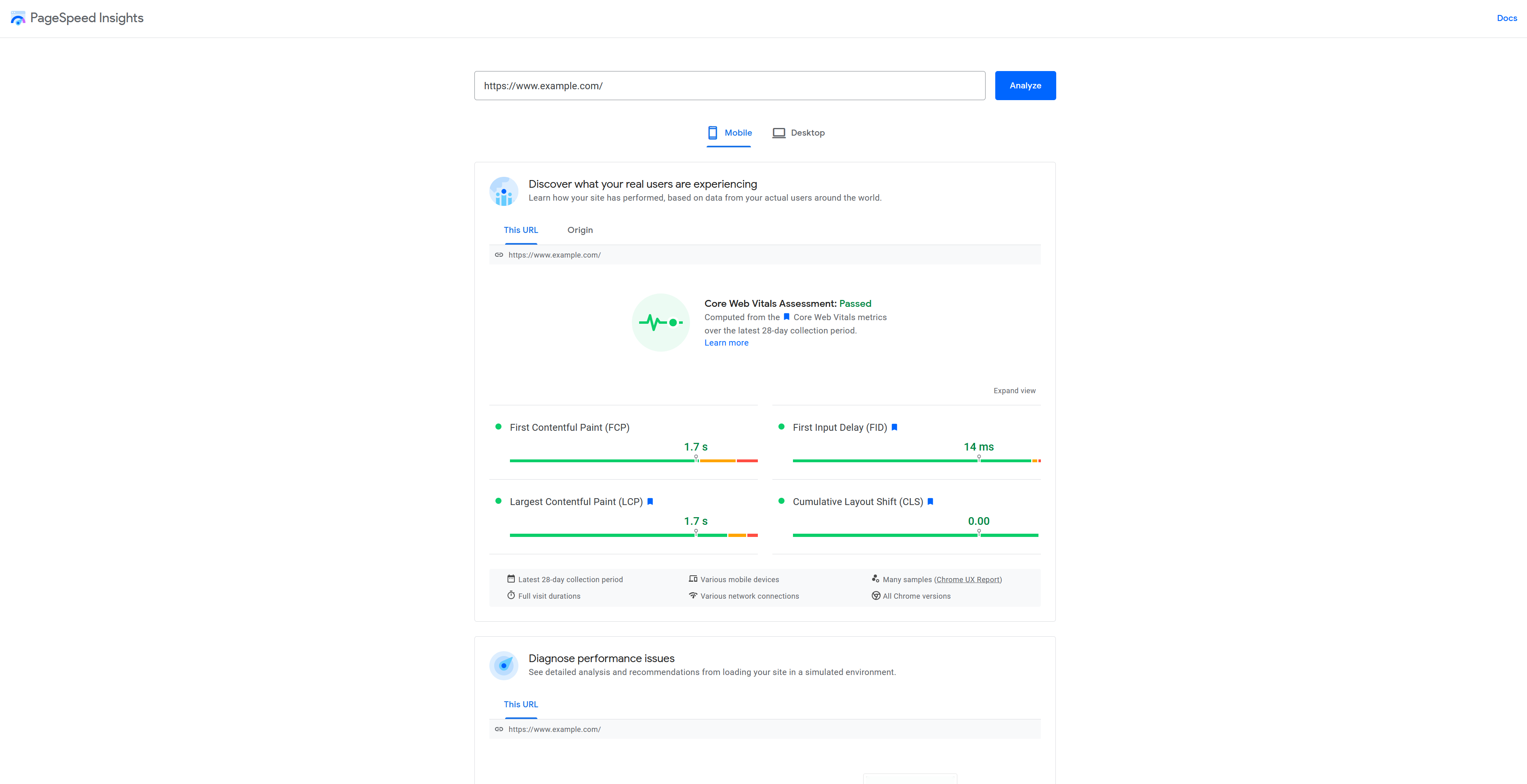 If you want to know how well the top pages load for a target keyword, you can test our SERP Racer tool and get real-world benchmarks to help with your optimization.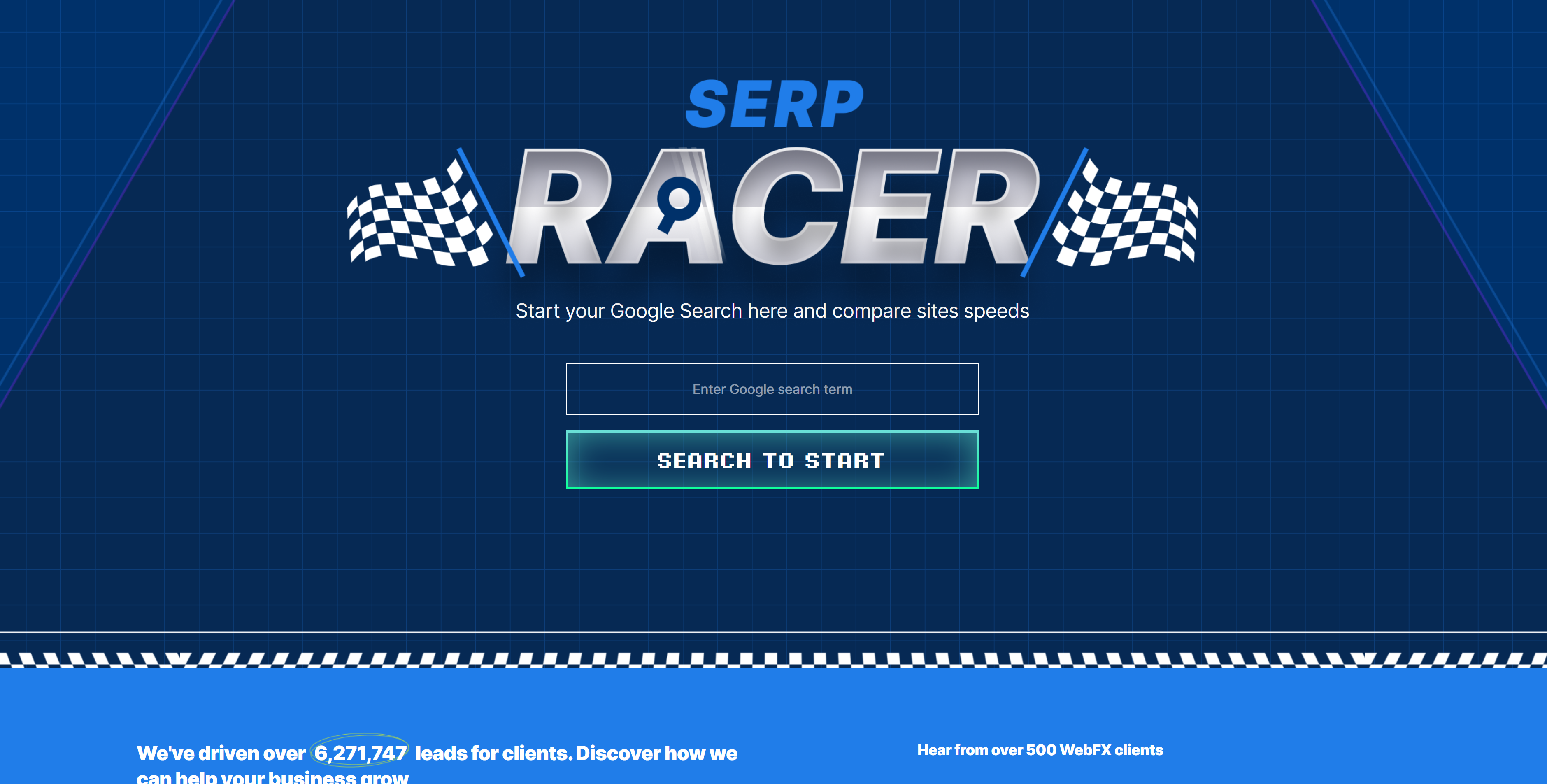 3. You don't see your site on Google
It's estimated that Google sees over three and a half billion searches in a day, so I understand the stress you may feel if your site doesn't appear for any of them.
You could be having this problem for a number of reasons, some of them being:
Your site isn't indexed on Google

Google has taken a Manual Action against your website

Your search engine optimization (SEO) needs work
First things first, check if your website is able to be indexed. A quick search on Google will provide some answers. Just type "site: your URL" and see if anything appears.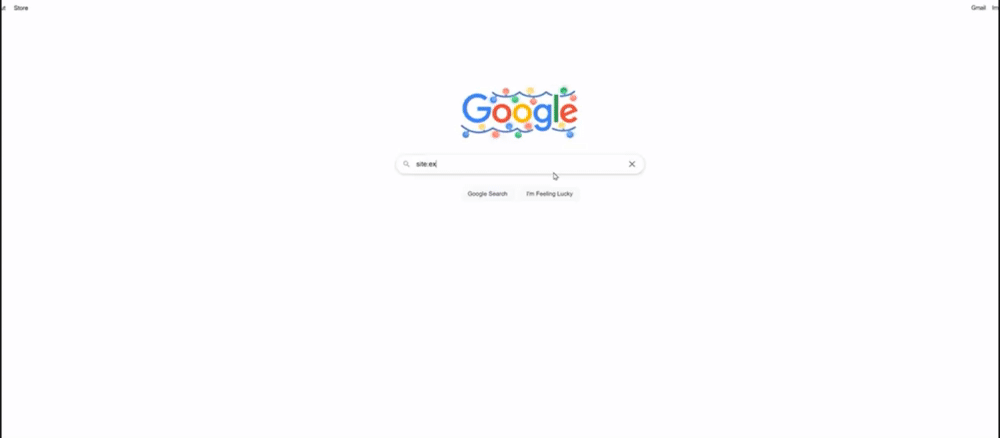 You can also check for indexing in Google Search Console. Go to the coverage report to see the status of your pages.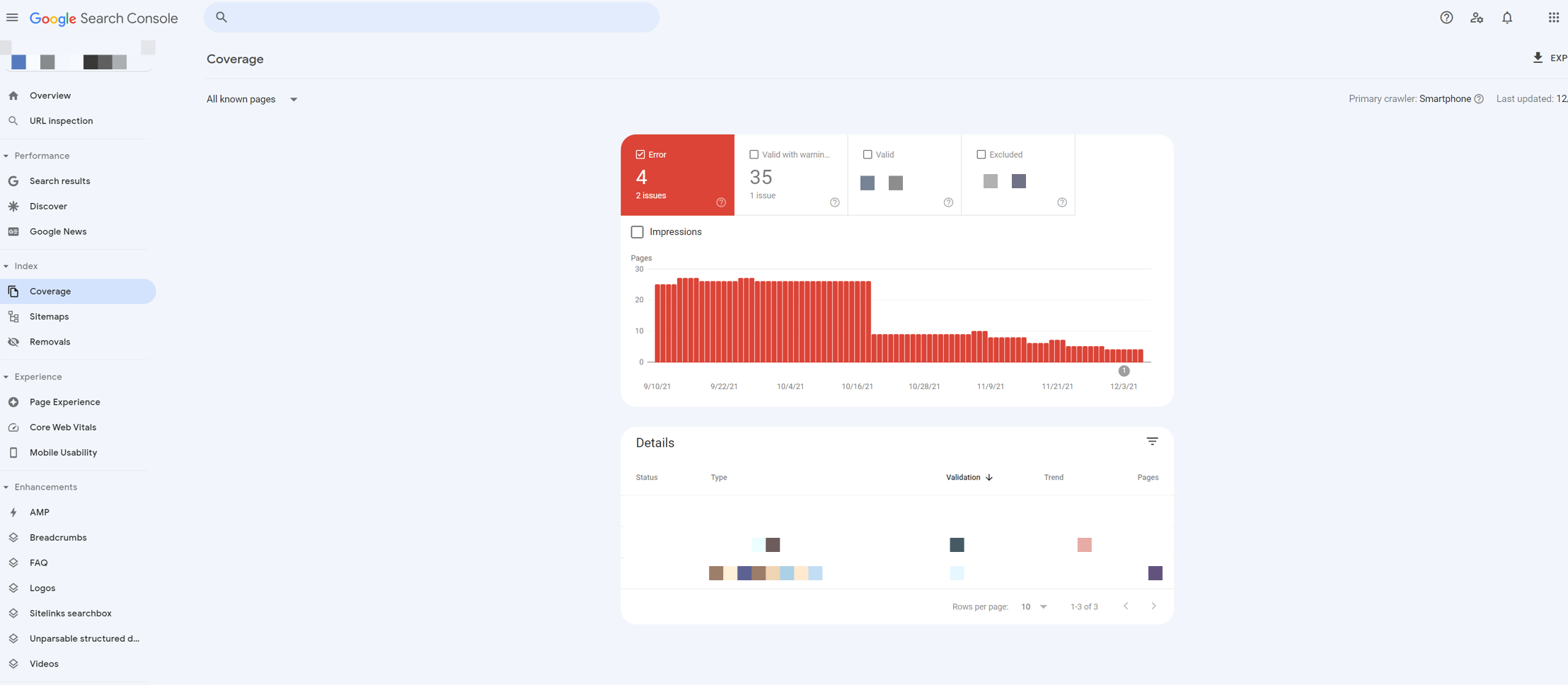 In addition, you can copy and paste a URL into Search Console to see its individual status.
If a specific page hasn't been indexed, you can request a crawl through Search Console. You will also benefit from adding links to that page on other pages throughout your website so when Google crawls your website it can find the page without you having to request anything.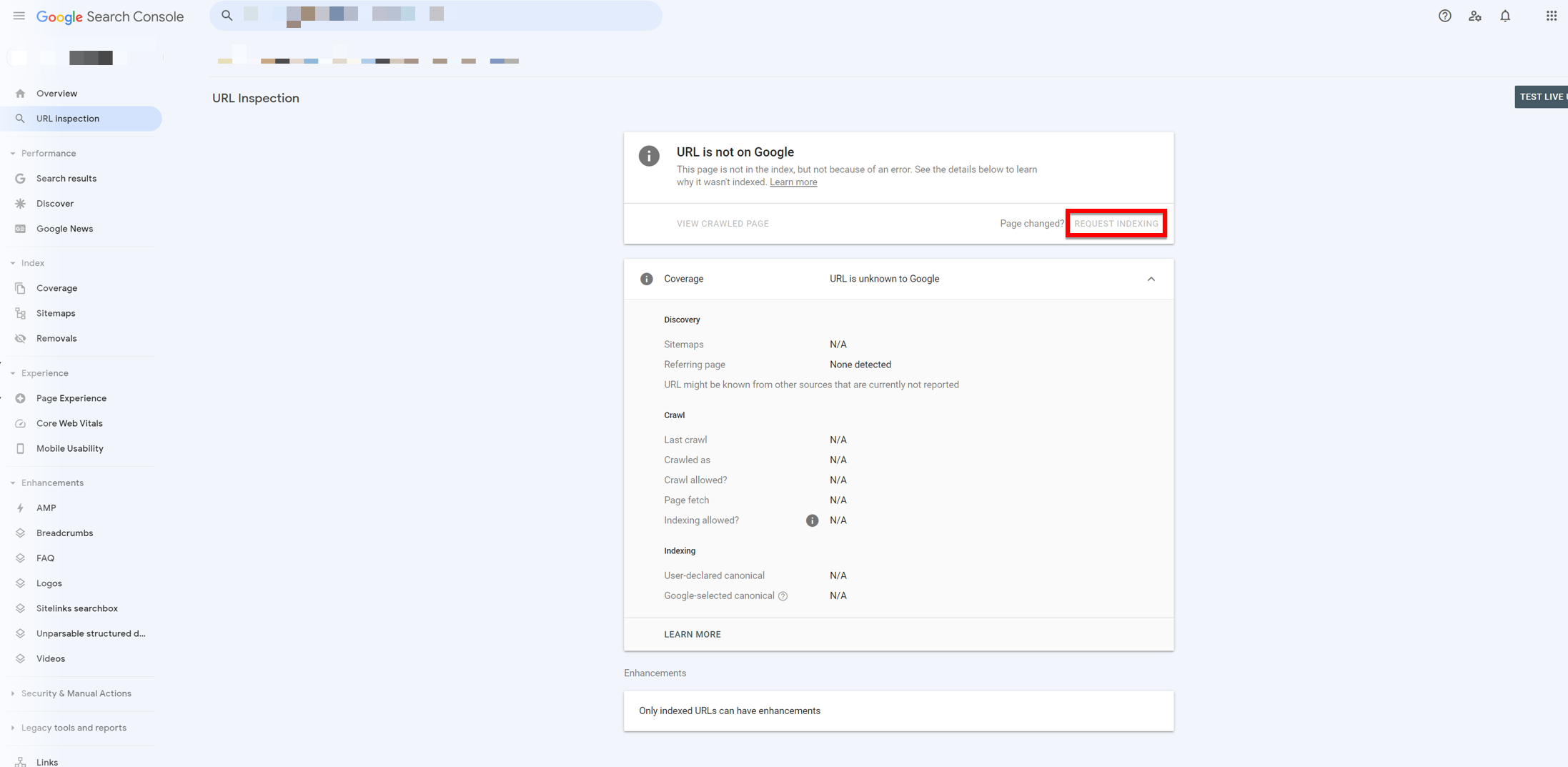 An XML sitemap will help with a more widespread problem (although it's good practice to have one no matter what). This is a document that lists all the pages you want Google to crawl. We have a video on XML sitemaps if you want to go more in depth.
Last thing on the topic of a website that needs indexing: You may be blocking Google from your website and don't know it. Gasp. A robots.txt file can tell crawlers what not to index, so if yours is set up incorrectly, you may be blocking important pages — or all of your pages — from the search results.
Just type your URL and add "/robots.txt" to the end to see if you're blocking crawlers from any pages (or if you even have this file). A file that looks like this is blocking all crawlers from your entire website:
User-agent:*
Disallow: /
Google penalties are a whole different ball game. You can get removed from the search results for violating Google's policies. Things like keyword stuffing, cloaking, and other deceptive practices can put you in hot water, causing some pretty major website issues.
You'll use Search Console to check for manual actions and security issues on your site. The solution is to fix the problem that caused the penalty and submit a reconsideration request through your account.
If none of the above applies to you, but you still don't see your website in the search results, you're probably getting beat out by your competitors with your SEO.
Common SEO website issues include:
Targeting keywords that are too broad

Not targeting any keywords

Not meeting search intent

Creating a bad user experience

Not having a website that

works on mobile devices
You'll find areas of improvement from an SEO audit, which you can do automatically by entering your information into our SEO Checker or manually by evaluating your pages with an SEO checklist.
4. Your website doesn't convert visitors
If you notice that a lot of people land on your website but don't take any actions, like signing up for emails or contacting you, don't assume things will sort themselves out on their own.
Run tests to see why your audience is dropping off instead of adding value to your business. This practice is known as conversion rate optimization (CRO).
You'll need some tools to fix website issues related to CRO (or an agency that already uses CRO tools). At the very least, you should use some sort of analytics software to track page performance during your tests.
Tools like Crazy Egg and Hotjar show you how people interact with your website, and testing platforms like Google Optimize and VWO let you make adjustments to your pages to figure out which versions perform better.
CRO actions as simple as deleting fields in a form or moving a call-to-action button can lead to significant improvements and solve your site issues.
Just remember your A-B…Ts. Always be testing.
And that's the ABCs of website problem-solving. If you're having website issues we didn't mention in the video, check out our channel and our website for more advice on improving your Internet marketing strategy.
To get digital marketing advice sent right to your inbox, subscribe to Revenue Weekly, our email newsletter. You'll find the sign-up link in the video description.
Happy fixing!
We post videos every Monday. Yup. Every Monday.
Join the 5,000 marketers who get their marketing knowledge from WebFX videos.
Subscribe Now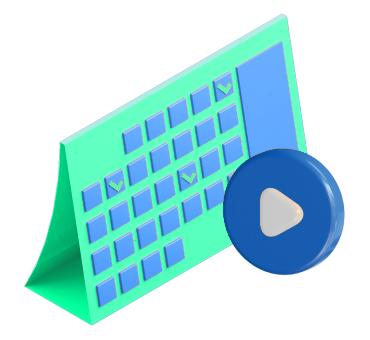 How is your website's SEO?
Use our free tool to get your score calculated in under 60 seconds.
Get posts by email
Join 200,000 marketing managers and subscribe to Revenue Weekly!
"*" indicates required fields
WebFX Careers
Join our mission to provide industry-leading digital marketing services to businesses around the globe - all while building your personal knowledge and growing as an individual.