Your Quick Guide to SMB Web Design
Your small-to-midsized business (SMB) wants to grow its revenue online, which means having a well-designed website. That means a site that delivers a mobile-friendly experience and follows search engine optimization (SEO) best practices. What goes into creating that kind of website, though? A lot, which is why we've created this resource library for SMB web design. Check it out!
Any SMB that succeeds online maintains a website that:
Delivers a user-friendly experience
Loads fast, with minimal delays
Practices SEO continuously
Displays on all devices, from smartphones to laptops, with zero errors
That's the kind of website you want to create for your SMB, and you can make it happen with articles like:
For even more web design SMB knowledge, check out Revenue Weekly, which shares web design and marketing tips with more than 190,000 marketers every month! Or, keep reading for a complete breakdown of web design for small-to-midsized businesses!
We don't want to tell you about the work we do, we want to SHOW you.
View Our Portfolio

We've built over
Websites
in a variety of industries.
5 tips for SMB web design
Get started with creating a SMB web design that looks great and converts well with these tips:
1. Have a clear goal for your website
The most important step you need to take in web design for SMBs is to make sure you have a clear goal in mind. For example, you might have the goal as simple as getting people to come to your store. To reach this goal, you need to determine what the best web design might be for your SMB.
2. Make sure that your website layout is easy to work with
Another good idea is to make sure that your site is easy to navigate. If your business is an electronics store, for example, you might have separate sections for mobile devices, computers, and accessories. You can display those different sections in a navigation bar at the top of the page.
3. Use unique images on your website
Getting random images on your website is not going to result in more conversions or memorable experiences. Rather, you need to make sure that your images on the page are unique to your business. For a small bakery, having an image of all the muffins that you made is a better idea than simply having an image related to the bakery products you sell.
Remember to make sure that your image fits with the message you are trying to send to the users. Even if it's a unique image, it needs work with the rest of the site. For example, if you decide to have a picture of your muffins, make sure that you also include images of the other bakery items on your menu. Consistency is the key to a memorable web page design.
4. Target the right keywords
For SMBs, the best way to make sure that you rank high is by optimizing with keywords that are local to the business. For a pest control company, you would rank higher if you targeted the location of your business in your keywords. If your town name was Bloomsburg, your keyword could be "pest control in Bloomsburg."
5. Keep site content updated
It is always a good idea to update your website at least once a few months. Continuously monitoring the performance of your page will lead to more results in the end. Updating your content will help you drive far more traffic to your website.
It would also be a good idea to create blog-type content where you can still get more traffic to your website and possibly lead to more conversions.
How much does website design for SMBs cost?
You might be wondering: How much does website design for SMBs cost? It really depends on your web design goals, but on average, SMB web design can cost around $2000–$10,000.
These costs might include purchasing a domain name, a website hosting plan, designing and building your website. To really determine your web design costs, you would have to work through and identify your website goals.
There are seven costs to web design for SMBs that are almost always guaranteed. Here is a list of them.
Domain name ($0.95–$12/domain)
Website hosting ($24–$120/year)
SSL certificates ($0–$1500 / year)
Design ($2000–$15,000)
Number of pages ($1000–$5000)
Functionality ($2000–25,000)
Content management system (CMS) ($2000–$25,000)
Time to Level Up Your Sales
Our long list of services helps you grow every aspect of your business with marketing strategies that are proven to increase bottom-line metrics like revenue and conversions.
In the past 5 years, we've managed more than 12.9 MILLION transactions across our client base.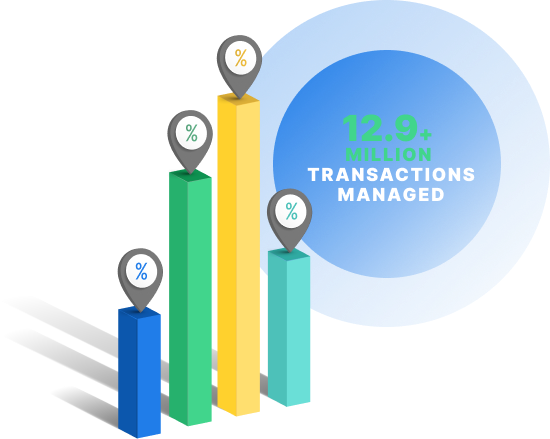 Capture more online revenue with a custom SMB web design
With a customized SMB website design, your business can capture a lot more online revenue. Your custom design for all of your website pages shows your potential customers what you really have to offer.
Remember, more often than not, users are first going to look at your website and then make their decision on your product or service offering. If nothing else, this is the single most important reason to have your SMB web design perfectly made and updated.
For small businesses especially, a good web design can have a direct impact on their sales. If you are a bakery shop owner, you will get more visibility with the right business design. This will lead to more people coming to your shop, meaning more sales.
If you are interested in doing a complete website design makeover in just 30 days, you can reach out to us here. For additional information or to sign up for our full web design services, call us at 888-601-5359 or contact us online!