What Does Bandwidth Mean and How Can I Improve It?
Your visitors' experience is contingent on your website's speed. To ensure your visitors have a positive experience on your site, you can minimize your bandwidth use to help your site run more quickly and efficiently.
But how exactly can you do that?
On this page, we'll discuss factors that negatively impact your bandwidth and how you can combat them. If you want to learn more, just keep reading, or give us a call at 888-601-5359.
Let's get started!
What is bandwidth?
You may have heard of the word bandwidth, but what does it mean? In simple terms, bandwidth is the amount of data that can be transferred between your site, users, and the Internet.
Bandwidth is typically expressed in bits per second (bps). You may see variations of the measurement, including megabits per second (mbps), kilobits per second (Kbps), or gigabits per second (Gbps).
You want to have a larger bandwidth, so you can move data faster. A bandwidth of 300 bps will be much faster than a bandwidth of 30 bps.

Your bandwidth impacts visitors' experience on your site. If you have a site that is content heavy or contains a lot of photos or videos, you need more bandwidth to handle it. You'll need to use a website hosting platform with more bandwidth.
When you have a larger bandwidth, more people can visit your site. Think of it like a plumbing pipe. The bigger the pipe, the more water that can flow through it. You want to have a big enough pipe that you can allow more water (or data) to flow through it.
How do I calculate the bandwidth I need for my website?
There are numerous bandwidth options when you host your site. You don't want to pay too much for bandwidth you don't need, but you also want to avoid not having enough bandwidth. So, how do you figure out how much bandwidth you need?
First, determine the average page size of your website and kilobytes. WebPageTest is a great tool to help you figure out your average page size. You'll want to look at some of your most popular pages to help determine which ones your audience is most likely to visit.
You can also use this calculator to help you figure out the best bandwidth for your business based on employee behavior and providers who offer that bandwidth in your area.
Once you figure that out, you'll want to multiply the average page size by the average number of monthly visitors to your website. If you use Google Analytics, you can easily access this information.
After you calculate that number, you'll want to multiply that result by the average number of page views per visitors. This process will help you determine the bandwidth you need for your site.
What factors affect your bandwidth?
Your bandwidth influences how your audience experiences your website. Here are four factors that influence your bandwidth.
1. Server/host
Your website's server influences how quickly your website loads. If your server doesn't have enough resources, it will slow down and cause problems for your site.
When you choose a server or host, you need to ensure that it can handle the capacity of your site. If your host site can't quickly load your website, it'll impact your website negatively. Your leads will leave your page because it won't load fast enough.
2. File size
Larger files on your site take up more bandwidth and impact how quickly your site loads. If you have larger files on your website, it will take a long time to load. Your site will slow down because it won't have the bandwidth to load the files quickly.
When you consider your bandwidth size, consider your file sizes. Having a slow-loading site causes problems for your audience, and they likely won't stick around to wait for your pages to load.
3. Traffic volume
Traffic volume also affects your bandwidth. So, if your website has a lot of traffic, you need more bandwidth to handle it.
If you think back to the pipe example, only so much water can fit through a pipe before the flow slows down. You need a bandwidth that will support your flow of traffic. Otherwise, it will slow down and cause a negative experience for your audience.
4. Changing your website
When you make changes to your website, you impact how it runs. Adding more pictures or videos can slow down your site. You need to consider how this impacts your website's loading time.
If you add new elements to your page, it will take your page more time to load. You'll need more bandwidth to help your website load these elements.
WebFX is a partner businesses trust.
Hear from HydroWorx, who saw a 236% increase in organic sessions with WebFX services.
Watch the Video Testimonial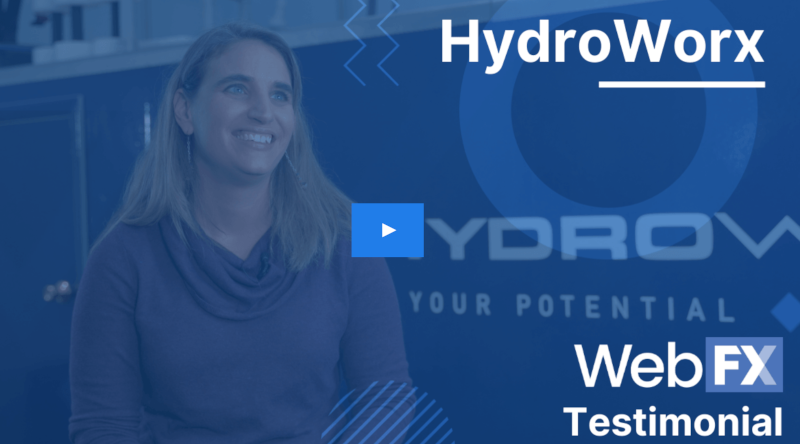 How do I minimize my bandwidth usage?
Now that you know factors that impact your bandwidth, it's important that you take measures to improve your bandwidth. Here are a few ways to improve your bandwidth.
1. Test your site speed
To improve your bandwidth, you need to constantly monitor your site speed. You may not know how your site is performing unless you monitor it. By monitoring your site speed, you can see where you can make improvements with your bandwidth.

There are two options for doing this, and one is by using a free service like Google PageSpeed Insights. If you choose this option, you'll need to implement the changes and suggestions on your own.
If you don't have the tools to improve your site's speed, invest in page speed services. You can rely on digital media experts to improve your website's speed, which will improve your bandwidth.
2. Optimize images
As stated previously, images are a contributing factor to slow bandwidth. Your audience doesn't want to wait for your images to load, so you need to optimize them.
When you optimize your images with tools like Kraken, you create smaller image files. This makes it easier for your website to load these images. Enabling your website to images quicker allows more people to access your site because they are using less bandwidth.
3. Use a content delivery network (CDN) to host your content
The number one contributing factor to slow bandwidth is too much content. Your site struggles to load all the content with the bandwidth size. To help your site load more quickly, you'll want to use a content delivery network (CDN).
A CDN prevents your site from loading too slowly. Normally, your website will load from your own server. If you have international customers or customers across the country, it can take time to load the site because the server is far away and has much to load.
By using a CDN, you allow your site to load from the closest server. Doing this enables your site to load quickly and efficiently for your audience, and they will have a better user experience.
4. Enable browser caching
If you have people that visit your site often, browser caching is important to your page. Browser caching captures information from your site and stores it. If someone visits your page again, they don't need to redownload this information because it is stored.
When you load a site, it sends HTTP requests, which are requests to load different elements on your page. If someone has to send multiple HTTP requests every time they visit your site, it will slow down your page. By enabling browser caching, you can avoid multiple HTTP request and help your page load faster.
5. Host videos on external sites
Videos are some of the biggest files you will have on your site. They can severely slow down your site and cause lag with your bandwidth. To improve this experience, you'll want to host your videos on external sites.
Instead of uploading the video straight to your website, upload it to a video host like YouTube and embed the video into your page. This allows you to still post the video on your page and keep the file size down. Your page will run more quickly and efficiently because it is hosted somewhere else.

WebFX will help you create a faster website
When your website runs faster, you'll keep your audience engaged on your site longer. Doing this is a great way for you to earn more conversions for your business. If you want to improve your website's speed, WebFX can help.
We're a full-service digital marketing company that specializes in improving your website's speed. We have a team of 500+ experts that are dedicated to your campaign's success. Our team will help you improve your website's speed to earn more conversions for your business.
If you're looking for a company that drives results, look no further than WebFX. In the last five years, we've driven over $3 billion in sales and 7.8 million leads for our clients. We're dedicated to your campaign's success.
If you don't believe us, just ask our clients! We have over 1020 client testimonials that attest to the great work we do for our clients. Check them out to see what it's like to partner with a top marketing company like WebFX!
Improve your bandwidth today
If you want to keep leads on your page by improving your bandwidth, request a free quote online or call us today at 888-601-5359 to speak with a strategist.