Automated marketing is the act of using technology that oversees and handles repetitive marketing tasks, such as creating email lists or posting content on social media.
Marketing automation solutions help you streamline your marketing processes to save your business time and resources. Marketing doesn't have to completely dominate your day. If you feel like your to-do list is piling up, this automated marketing guide is for you.
Keep reading to get all your questions answered!
Bonus: Sign up to our newsletter, Revenue Weekly, to join over 200,000 marketers who get the latest digital marketing advice and tips sent straight to their inbox for free from our award-winning marketing agency!
What is automated marketing?
Automated marketing involves using technology or software to oversee and carry out repetitive marketing tasks. For example, you can use automated marketing software to trigger an email to send a demo video or contact form to users to who view your products or services.
How does automated marketing work?
Now that you know the answer to the question, "what is automated marketing", you might wonder how it works.
Think of your marketing automation software like an organized warehouse. It collects and stores essential data from your automated marketing campaigns, leads, customers and clients, and more.
You can:
View the sources of your leads and web traffic
Analyze user behavior on your website
View essential campaign metrics
And more
As a result, your automated marketing software can help you identify valuable trends. For example, you might notice that a majority of your website traffic comes from organic search results on Google.
With this finding, you can optimize and focus on your search engine optimization (SEO) strategy to help boost your online visibility and web traffic even more.
You can use these insights to create automated marketing processes with your software.
Automated marketing example
Let's use email marketing as an example.
With email marketing, you can tell your software what messages you want to send, the leads you want to target, and the circumstances that should trigger the automatic email. As a result, you'll streamline your email marketing campaign processes and drive more conversions for your company.
Without marketing automation software, you could spend hours crunching numbers to identify actionable insights. In addition, you'd need to manually improve your campaign, like sending individual emails to each lead, to improve your digital marketing results.
3 significant benefits of automated marketing
Why use automated marketing? Marketing automation drives more revenue to help your business reach new heights. Learn more about the benefits of automated marketing below:
Saves time: Automated marketing software helps you eliminate repetitive marketing tasks, like analyzing data or sending emails, that take up your to-do list, saving you valuable time.
Has a high return on investment (ROI): Marketing automation solutions help you optimize your digital marketing campaigns to drive better results for your company, earning you a higher ROI for your efforts.
Automating your marketing processes is one of the best ways to save you valuable time and power your marketing strategies to drive more sales and revenue for your company.
LEARN MORE ABOUT THE BENEFITS OF AUTOMATED MARKETING
How can you use automated marketing?
Are you wondering how you can use marketing automation to streamline your marketing operations and improve your strategies? We've got you covered.
Check out a few examples of how you can use automated marketing below:
Segment your audience
Use marketing automation to identify different groups of your audience, determine their preferences, and develop messages that market your products and services in a way that resonates with them.
Track online customer journeys
Analyze customer journeys, from awareness to purchase, to gain valuable insights into which channels and strategies drive the most conversions and sales for your company.
Score leads
Use automated marketing software to automatically assign values to your leads so you can spend more time nurturing your leads and turning them into sales for your business.
Track marketing channel returns
Use your software to track the success of your digital marketing strategies. Then, earn a higher ROI by focusing on the channels that drive the best results.
Personalize user experiences
Anticipate the needs and pain points of your prospects and leads to create more personalized marketing messages and customized website experiences that boost revenue for your company.
4 best automated marketing tools in 2023
Now that you know more about how automated marketing works and how it can benefit your business, let's dive into some of the best marketing automation tools you can use to start maximizing your marketing results.
Check out our favorite automated marketing tools of 2023 below:
1. MarketingCloudFX
Powered by IBM Watson, MarketingCloudFX is your all-in-one automated marketing platform. MarketingCloudFX allows you to say goodbye to juggling multiple tools to analyze essential data and optimize your campaigns and say hello to your complete digital marketing solution.
With MarketingCloudFX, you can:
MarketingCloudFX makes it easy for you to save your company valuable time and resources so you can get back to your other business tasks and enjoy more revenue in the process.
Meet MarketingCloudFX:
One platform tracking countless metrics and driving stellar results.
Learn More About Our Proprietary Software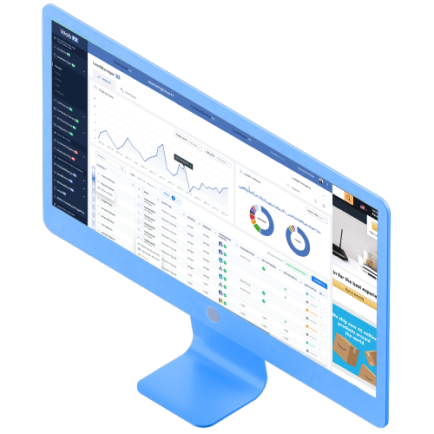 2. MobileMonkey
If you want to streamline your social media campaign, MobileMonkey could be a perfect option for you. MobileMonkey is a handy Instagram automation tool.

With MobileMonkey, you can automate almost every aspect of your Instagram marketing strategy, from replying to comments to posting images and stories.
Managing your Instagram page can take up a lot of time and could take up the majority of your day. Speed up your social media campaign processes with MobileMonkey to boost your brand awareness and engage your audience with ease.
3. Constant Contact
Do you want to automate and optimize your email marketing campaign? Then we've got an excellent tool for you! Constant Contact is a powerful email marketing automation tool that helps you get the most out of your email campaign.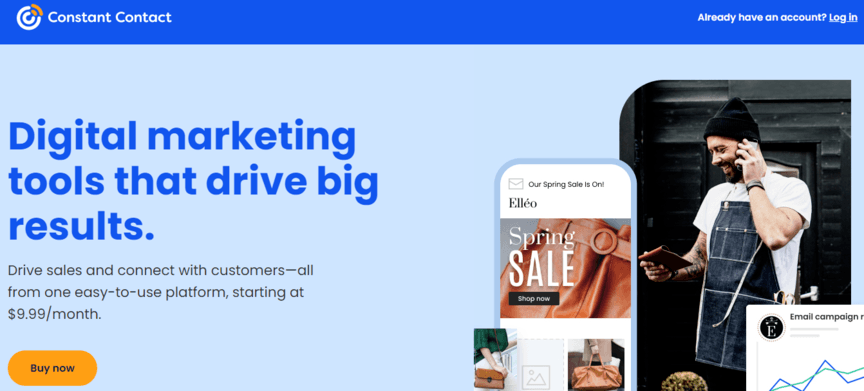 With Constant Contact, you can build welcome sequences, drip campaigns, and much more. Plus, you can easily organize your email contacts in one place to learn more about your audience and segment your contacts.
Constant Contact also offers analytics features so you can track the success of your email marketing campaign and make improvements to drive more revenue for your business.
4. Active Campaign
Another top automated marketing platform is Active Campaign. Active Campaign allows you to automate your marketing operations in only a few clicks.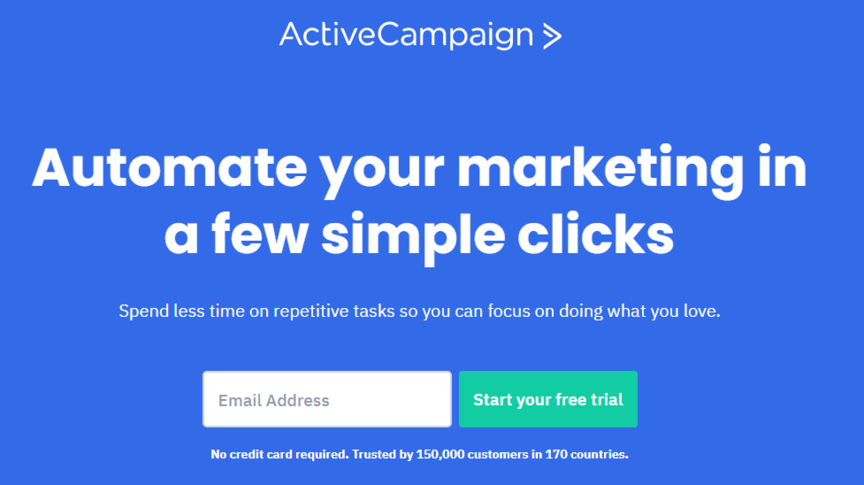 With a focus on email marketing, Active Campaign enables you to automate your follow-up emails, identify your most engaged contacts, and integrate data from your other tools and software.
In addition, you can view data insights and reports, view your leads' journeys, manage customer relationships, and much more.
Power your marketing strategies with automated marketing solutions from WebFX
Marketing automation continues to grow increasingly important for businesses to effectively market their products and services. In fact, the industry is due to be worth over $25 billion by 2023, so it's not a strategy you want to ignore.
If you're ready to streamline your marketing processes and maximize your digital marketing results with data-driven strategies, WebFX can help!
Our award-winning marketing automation software, MarketingCloudFX, can help you manage your digital marketing campaigns with ease and receive data-driven optimization suggestions to enable you to drive more sales and revenue for your business.
Speak with one of our strategists today by calling 888-601-5359 or contact us online to learn more about how our marketing automation services can help grow your business!
How is your website's SEO?
Use our free tool to get your score calculated in under 60 seconds.
Get posts by email
Join 200,000 marketing managers and subscribe to Revenue Weekly!
"*" indicates required fields
WebFX Careers
Join our mission to provide industry-leading digital marketing services to businesses around the globe - all while building your personal knowledge and growing as an individual.