6 Must-Follow Digital Marketing Automation Best Practices
Did you know that 32 percent of companies report an increase in revenue within one year of using marketing automation? Digital marketing automation has the power to improve your marketing campaign and help you earn more leads and conversions.
On this page, we'll discuss six best practices for creating your digital marketing automation strategy. Keep reading to learn more and call us today at 888-601-5359 to speak with a strategist about how we can help you set up digital marketing automation.
1. Create buyer personas
Buyer personas are the first step in the marketing automation process. You can't market your products until you know who you're trying to reach. Creating buyer personas will help you focus on identifying and tailoring your marketing efforts to your target audience.
These personas are fictional people based on real data and information. You can use information like education, skills, life goals, demographic information, and online behaviors. This is all information that can help you shape your marketing campaigns.
When you understand your buyer, you can create a more effective automated campaign. You will know your audience better and be able to reach them with more valuable information.
2. Create automated welcome emails
Email marketing is one of the easiest strategies to automate. With email automation, you can set up emails to automatically go out to your subscribers. Your welcome email is one of the most important emails that you can automate.
The welcome email is the first impression you make on your audience. You want to give them a positive impression of your business, so it's crucial that your welcome email sets an upbeat tone. It is one of the most effective and important types of marketing automation.
Welcome emails garner high levels of engagement too. They put you in touch with customers immediately after they sign up for your emails, and they're more likely to engage with your welcome email because they just signed up. This is your opportunity to create an impactful first interaction for your audience.
You can format your automated welcome email to use the same general format but add a bit of personalization to make it a unique experience for your audience. Here are a few elements you'll want to include in your welcome email:
Reward:People volunteer to join your email list. A great way to show your appreciation is by offering a reward. Whether it's a free sample product or discount on a purchase, including a reward in your automated email marketing campaign will set a positive tone and make your audience feel more welcome.
Information about frequency:It's important that you're upfront with how often you will email your audience. You don't want to annoy them by sending too many emails. Inform them in your welcome email about the frequency and give them the option to change the frequency if it's too much for them.
Highlight brand personalityYour brand is a crucial part of your business. When you send your welcome email, ensure that you showcase your brand and help your new subscribers warm up to it. This will help you get your subscribers engaged and interested in your business.
Provide value:When people join your subscriber list, show them the value in joining. Highlight the benefits of getting emails from your business, whether it's rewards, important information, or exclusive deals.
Say thank you:It's a simple gesture, but it goes a long way. When you create your automated emails, make sure you thank your new subscribers for joining your email list.
Personalize your message:Simply adding subscribers' names to your email will make them feel that much more welcome. You can automate your emails to include new subscribers' names in welcome emails.
3. Segment your audience list
Each member of your audience is unique, and they don't all have the same interests. For example, some people subscribe to a clothing store's emails because they want to see women's clothes, while others want to see men's clothes.
With digital marketing automation, you can segment your audience to deliver them the best experience. Dynamic list segments automate your workflow. You can apply audience segmentation to your email campaign, pay-per-click (PPC) ads, and social media ads.
To apply it to email marketing, you'll split your subscribers into groups based on their interests. This allows you to send the right message to the right people. You'll personalize their experience and deliver content that interests them.
For social media ads, segmenting your audience allows you to reach relevant leads with your ads. Instead of showing a generic ad to everyone in your audience, you can put ads in front of your audience that interests them the most. It will help you garner more clicks for your campaign.
When you use segmenting for PPC ads, it's a similar practice to social media ads. You'll help deliver a more tailored experience for your audience. It will help you entice more people to click on your ad.
This helps you save time, too. If you're using automation to segment your audience, you don't have to worry about doing it yourself. Automation programs can automatically group people together based on the information they provided and their purchase behavior.
So, what's the benefit of segmenting your audience list through automation?
Segmenting your audience helps you target your leads better. Instead of sending everyone the same, generic advertising message, you send them a personalized advertising message. It makes your content more interesting and engaging for them.
When your content is tailored to your audience, you're more likely to earn conversions. They'll see content that interests them, which encourages them to purchase your products or services.
4. Personalize information
We touched on this a bit in the previous section, but personalization is a crucial part of creating a successful digital marketing campaign. When you personalize content, you make it a unique experience for your audience.
Personalized content tells your audience that your business knows them. You know what type of information they want to see and only send them pertinent information. It builds your brand in a positive light because you don't bog down your audience with information that is irrelevant to them.
Automation helps you personalize your content. You can personalize emails, ads, and more. Automation makes it easy for you to target people based on their interests and only deliver relevant content.
By including personalization in your automation process, you'll create content that induces higher engagement and conversions.
5. Preview automations
Before you run any automations, it's crucial that you preview your automation first. You don't want to send out content without ensuring that it looks right. Previewing is vital to your campaign's success.
When you preview your content first, you ensure that there are no errors or formatting issues that will cause your content to look awkward. Testing also allows you to ensure that the right information is going to the right leads.
You can preview any automation campaign like emails or ads. Automation software, like MarketingCloudFX, make it easy for you to preview your campaigns to ensure that everything is to your liking.
Previewing also allows you to see how your content looks on different devices. You can preview your content on desktops, tablets, and mobile devices to see how your content will appear. This enables you to ensure that your content will look good on all devices.
You can take this a step further and preview your content on different browsers. The browser can affect how your content displays, so it's important that your content looks good on all browsers.
Lastly, previewing allows you to check your links. You don't want to direct people to broken links and error pages. By previewing your pages first, you'll prevent your business from losing traffic and leads.
6. Measure your results
You will only know if your automation campaigns are successful if you monitor your results. To see how well your campaign is working, track all your automation campaigns.
Marketing automation programs allow you to track every point of contact you have with your leads. You can keep track of page visits, content downloads, and campaign outcomes. This gives you the full scope of different campaigns.
In addition, you can see how your audience interacts with your content. You'll see metrics such as open rate, clickthrough rate, bounce rate, unsubscribes, and more. Marketing automation helps you see the full impact of your campaign on your audience.
You gain valuable insights into your campaigns and can see if they are driving positive results. You'll discover which tactics are working for your business and which ones need improvement. This allows you to make data-driven decisions about your campaign that help you reach new leads.
By measuring your results through your digital marketing automation program, you'll help your campaigns continue to succeed and help your business grow.
Meet MarketingCloudFX:
One platform tracking countless metrics and driving stellar results.
Learn More About Our Proprietary Software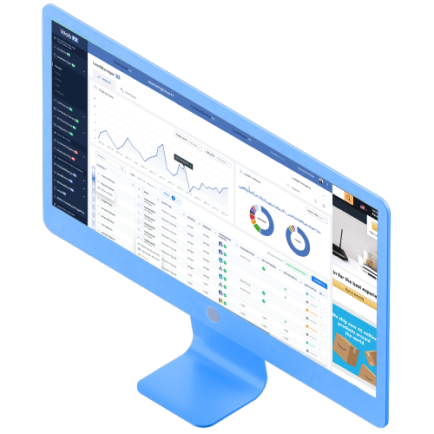 WebFX will help with your digital marketing automation
Digital marketing automation is a great way for you to get your campaign in shape. It will help you simplify the process and make it easier for you to run successful digital marketing campaigns. At WebFX, we have 25 years of experience running digital marketing campaigns.
We're a full-service digital marketing company that specializes in customized digital marketing campaigns. Our team of over 500+ experts will bring their knowledge and expertise to your campaign. We'll create a customized digital marketing campaign that includes automation to help you run it smoothly.
If you're looking for a company that drives results, look no further than WebFX. In the past five years, we've driven over $3 billion in sales and over 7.8 million leads for our clients. We know how to create campaigns that drive successful results for our clients.
Don't believe us? Just ask our clients! Check out our 1020 client testimonials that attest to the awesome work we do for them!
Get started today
If you're ready to start automating your digital marketing campaigns, contact us online or call us today at 888-601-5359 to speak with a strategist about our marketing automation services.
We look forward to helping your business reach new heights!
Earn a 20% greater ROI with WebFX