When your business has access to better data and methods of organizing, analyzing, and visualizing it, you can make better decisions and more progress toward your marketing goals. How? With business intelligence for marketing.
In this post, we'll explain what business intelligence for marketing is and how to use it to meet your business goals. Want help making the most of your data and making more strategic marketing decisions? Explore our marketing analytics services and our digital marketing platform, MarketingCloudFX.
Then, contact us for more information and a free quote.
Don't miss our Marketing Manager Insider emails!
Join 200,000 smart marketers and get the month's hottest marketing news and insights delivered straight to your inbox!
Enter your email below:
Inline Subscription Form – CTA 72
"*" indicates required fields

(Don't worry, we'll never share your information!)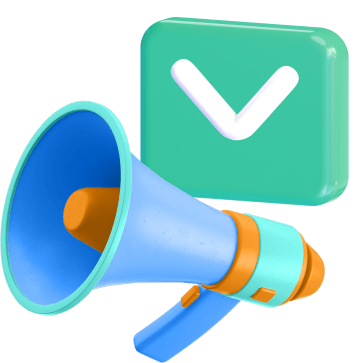 What is business intelligence for marketing?
Business intelligence (BI) is the use of technology to analyze data and derive insights that help inform business decisions. The process involves collecting, preparing, analyzing, interpreting, presenting, and using data.
Business intelligence for marketing is using BI to assist with marketing decisions and improve marketing processes and outcomes.
Benefits of business intelligence for marketing
Why should your business invest in business intelligence? Here are some of its main benefits.
Smarter decisions and strategies
Better business intelligence means more data and clearer insights to inform your decisions and strategies. A smart BI process reduces the amount of guesswork and reliance on information, processes, and beliefs that may be outdated.
With business analytics for marketing, you can ensure you're basing your decisions on up-to-date information and create better-informed, data-backed strategies.
Identify trends, problems, and opportunities
Business intelligence gives you greater visibility into your marketing campaigns, helping you to spot potential problems and opportunities for improvement. Using business analytics for marketing, you can continually improve your campaigns over time. BI can also help you uncover trends within your business and industry.
You can then take advantage of these trends to improve your marketing and place your company in a better position within your market.
Improved efficiency
With business intelligence, you can also detect inefficiencies within your internal processes. As you uncover and correct more of these inefficiencies, you'll get more done, improving the results of your marketing campaigns.
Increased competitiveness
Chances are, some of your competitors are using business intelligence. Investing in BI can help you keep up with the competition and surpass them as you uncover opportunities they aren't aware of yet.
Revenue growth
Ultimately, business intelligence helps you reach your business goals and drive more revenue.
As you make better decisions and continually improve your processes, you'll see improved results from your marketing.
Examples of how to use business intelligence in digital marketing
To get a better idea of how to use business intelligence in digital marketing, it's helpful to look at examples. Here are a few ideas for how you can use business intelligence for marketing.
Determine which marketing tactics are performing best
One of the most beneficial uses of BI for marketing is evaluating your campaigns and determining how well various tactics worked.
When you assess which tactics worked well and which didn't, you can optimize your campaigns by shifting your focus to the most effective methods and changing those that underperformed. So, for example you might find that the majority of your new customers came from social media as opposed to display ads while running a campaign. Based on this finding, you might allocate more of your budget to social for the next campaign.
Learn more about your audience
Another valuable aspect of business analytics for marketing is that you can learn more about your audience.
Using BI, you can gather and assess data about:
Your audience's demographic characteristics
Your audience's interests
The technology your audience uses
And more
When you know your customers better, you have a better idea of what types of marketing materials and campaigns will work best with them. You can even tailor marketing campaigns and assets like ads to the interests of individual people or groups of users. Say, for example, your business sells sports equipment.
If you know a particular customer who plays hockey, you could show them an ad featuring a hockey player. You could also add customers to different email marketing segments based on the sports they play.
Optimize your website for conversions
You can also use BI for conversion rate optimization (CRO) — strategically updating your website to increase the number of visitors who make a purchase, sign up for your email list, or otherwise convert. Using business intelligence tools for marketing, you can gather useful information about the journeys of users who converted.
You can track the steps they took that led to conversion, including:
The channels that brought them to your site, which tells you which marketing campaigns contribute most to conversions
The pages they visited, which tells you which types of pages are most useful for increasing conversions
Where they clicked on your pages, which tells you which page elements are best for encouraging conversions
Who can use BI for marketing?
Almost any organization can benefit from business intelligence for marketing. It provides numerous benefits to companies big and small, no matter what kinds of marketing you use. Even if you don't have a ton of data, you can use BI tools to start collecting data or gain insights from third-party data.
On the individual level, it used to be only tech-savvy data pros who could use business intelligence tools. These professionals would then interpret the data and distribute it to others in the form of charts and other visualizations. Today, though, it's getting easier for people of all technical abilities to use business intelligence tools.
These tools are becoming more user-friendly, making business intelligence accessible to many more people and organizations.
How to create a BI marketing strategy
How can you create a strategy for business intelligence for marketing? What does the business intelligence process look like? Here's a look at some basic steps:
Identify your goals: Having measurable goals will guide your business intelligence process and keep you on track.
Collect your data: Next, you'll need to set up processes for collecting your data from various platforms and begin gathering your data.
Connect and organize your data: Then, you'll bring your data together in one platform and ensure it's organized to make it easier to use.
Analyze your data: Next, you'll analyze your data using BI tools and look for useful insights that contribute to your goals.
Communicate insights and visualize your data: You'll also need to communicate the insights to the people who will use them. This process often involves creating data visualizations such as charts and graphs.
Apply your insights: The crucial next step is to apply your insights to help you achieve your goals.
Business intelligence is an ongoing process, so you'll continue working through these steps and refining your techniques as you gather more data and more valuable insights.
Business intelligence tools for marketing
There are abundant options available when it comes to business intelligence tools for marketing. Some of these tools focus on a specific aspect of marketing, such as email or on-page interactions, while others provide more of an overview. Here are a few of the top business intelligence tools for marketing:
Meet MarketingCloudFX:
One platform tracking countless metrics and driving stellar results.

Learn More About Our Proprietary Software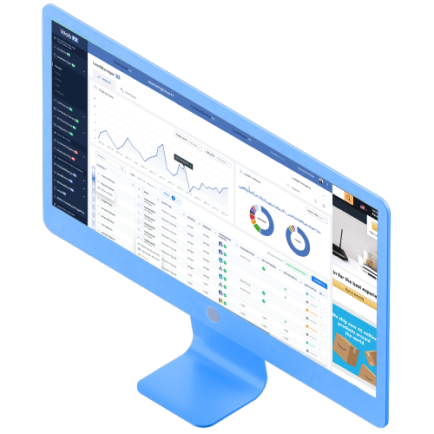 Get more from business intelligence for marketing
With business intelligence for marketing, you can make more informed strategic decisions, helping you reach your marketing goals and grow your business. For expert assistance with making the most of business intelligence for marketing, work with WebFX. We offer marketing analytics services and a world-class digital marketing platform.
Our team can help you monitor your marketing campaigns, derive valuable insights from your data, and put those insights to use in your marketing. Request a free quote online or call us at 888-601-5359 to learn more.
Get posts by email
Join 200,000 marketing managers and subscribe to Revenue Weekly!
"*" indicates required fields
WebFX Careers
Join our mission to provide industry-leading digital marketing services to businesses around the globe - all while building your personal knowledge and growing as an individual.