Are you looking for new and fresh marketing ideas this year?
Then we got you covered. We can all use a little inspiration now and again, especially regarding our marketing strategies.
With today's technology and frequent algorithm updates, it's essential to stay up-to-date with the latest marketing trends and implement unique strategies to stand out from the competition.
Luckily, we compiled this list of creative and out-of-the-box ideas for marketing campaigns that can help boost the success of your business to make things a little easier.
Bonus: For even more effective marketing strategies, sign up for our bi-weekly newsletter, Revenue Weekly, to get creative marketing ideas sent straight to your inbox!
Fresh content marketing ideas
Did you know content marketing can generate three times more leads than traditional marketing? Content marketing is one of the best ways to generate leads and conversions for your business.
Here are a few of our favorite content marketing ideas:
1. Add visuals to all of your content
Images are great for breaking up text-heavy content and making your articles easier to read. And people love looking at pictures.
Visual content gets, on average, 94% more views than text-only content.
And, eye-catching visuals can entice users to click and read your content. If you have a following on social media, you can launch a photo contest asking your followers to send in photos and images that you can feature in your content and also generate more engagement on your social media channels.
You can add featured images of your products, services, team members, or even screenshots to add some visuals to your written content.
GIFs are also a great visual aid to add to your content. They can help you explain information or steps in your content with a recorded video, which is incredibly useful for users.
Example: Coca-Cola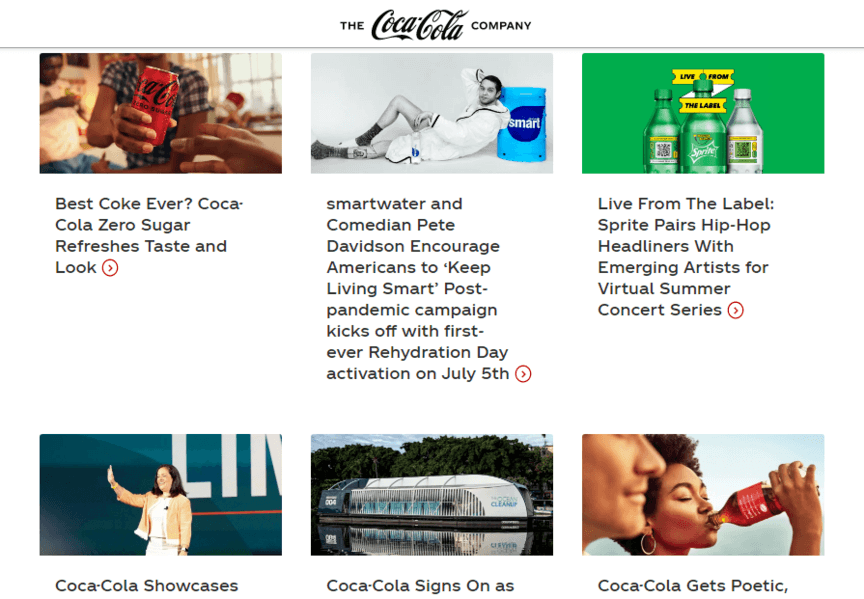 We love these eye-catching visuals from the Coca-Cola blog.
They perfectly break up a block of text and draw your attention to their posts. Including visuals and photos like these in your written content is essential for enticing users to click on your content and stay engaged throughout the entirety of the article.
2. Use infographics, charts, and graphs
Visuals such as infographics, charts, and graphs are perfect for displaying your information and details in one easy-to-follow photo. And the good news is that you don't necessarily need any fancy software to create one.
You could simply use a slide or PowerPoint or invest in custom infographics from a digital marketing agency, like WebFX!
Charts and graphs are also excellent choices to include, especially if you are talking about data.
With a graph or chart, you can easily showcase your information, so users can easily visualize the information you're presenting.
Example: The Hershey Company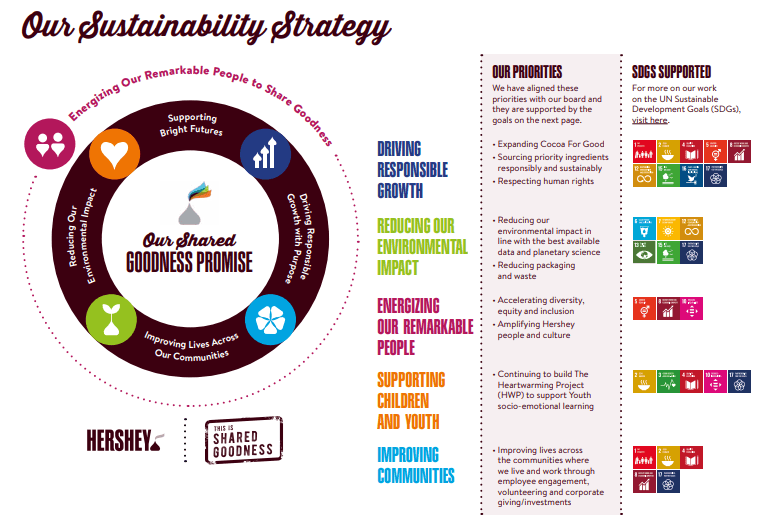 The Hershey Company does an excellent job of including plenty of infographics and charts to easily display their processes, statistics, and data.
This infographic is perfect for displaying their sustainability strategy with lots of images and colors that are both pleasing to the eye and easy to read.
If you want to provide your customers with engaging content, incorporating infographics, charts, and graphs like Hershey's is a must.
3. Use video
If you don't currently include videos as a part of your marketing strategy, you're missing out on leads and conversions.
Video marketing is effective because users find that videos are easier to watch than read a block of text, meaning consumers could spend more time on your page as a result.
Plus, about 90% of consumers say that videos helped them make a purchasing decision, so it could be time to consider using videos in your marketing campaigns.
Example: New York Times
The New York Times adds plenty of videos into their online content to attract more users and keep them engaged. Their videos provide users with a plethora of information from a wide range of topics such as celebrities, music, world news, and local stories.
By offering video content, the New York Times offers visitors to their site plenty of ways to read or watch their content to get the latest information and updates, which results in users spending more time on their website.
4. Share your expertise
Your content is the perfect place to show off that you're an expert in your field or industry.
Share your knowledge and expertise with your audience to build more trust and add more authority to your site. By posting about hot topics in your industry, you can create buzz and excitement around your content to keep users coming back for more.
You can share relevant guides and "how-to" articles, original research studies, or long-form content with plenty of helpful information for your readers.
Example: Dunkin' Donuts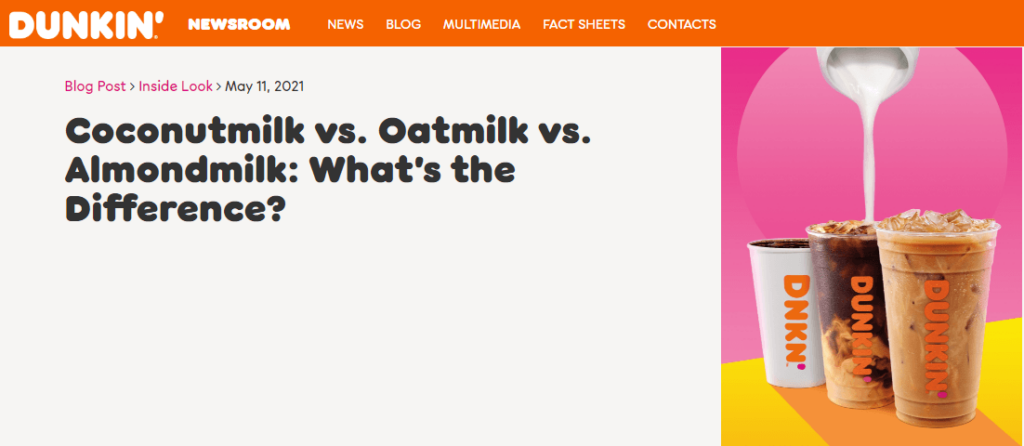 Dunkin' Donuts uses their blog perfectly to show off their expertise in the coffee industry. They provide consumers with helpful and relevant information ranging from the difference between almond milk and oat milk to how to make a delicious homemade iced coffee.
Their content perfectly shows off their knowledge that increases their brand authority and trust with consumers.
5. Know your audience
The number one top tip for content marketing is to know and write for your audience.
If you haven't already done so, conduct some research into your audience's interests and hobbies to get to know them better and understand their pain points.
You can get to know your audience by analyzing demographic data, conducting surveys and polls, and monitoring customer feedback and comments.
Once you understand their problems and concerns, you can create content that will provide answers and helpful solutions, leading you to rank high on the search engine result's page and generate more leads.
Example: The Cork Meat Company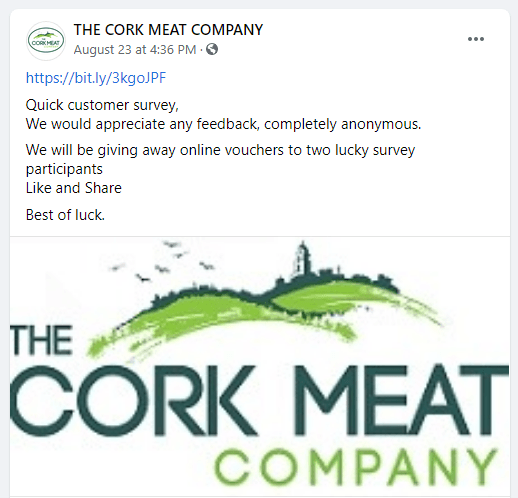 Asking for customer feedback is one of the best ways to get to know your audience.
That's why we love this example from the Cork Meat Company, which shows them asking their social media followers to fill in a survey.
They also entice more customers to fill in the survey with rewards, like free vouchers, giving the Cork Meat Company more feedback and information about their target audience, so they can market their products better in the future.
6. Consider hosting a podcast
If you're not currently using podcasts in your content marketing campaign, it could be time to add them to your strategy. Users love podcasts because you can download them and listen to them on the go, whether it's during your daily commute to work or on your weekly jog.
A few possible topic ideas include discussing trending industry news or interviewing experts.
Example: Sephora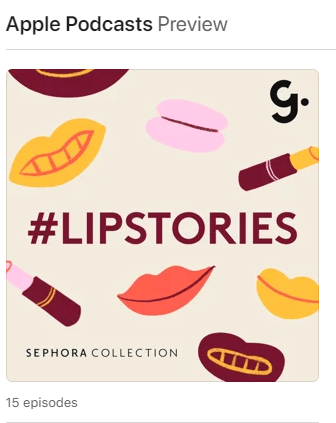 One example of a brand that successfully uses podcasts to further reach their target audience is Sephora. On the podcast, Sephora features guests who cover topics in the beauty and fashion industry.
Podcasts can help you reach and expand your audience and provide consumers with industry-related news and updates on the go.
Have you heard of podcast advertising and wondering "how does podcast advertising work?". Our team can guide you on podcast advertising best practices.
7. Collaborate with industry experts
Collaborating with other blogs, websites, businesses, etc., can help you increase your visibility online, build your reputation, and even earn valuable backlinks.
You can expand your network and make connections by co-authoring a blog post or co-hosting a webinar. You can also bring in guests to write a few articles or blog posts for your website. They may share the content with their audience, who may become fans of your content as well.
Example: Forever 21 and Cheetos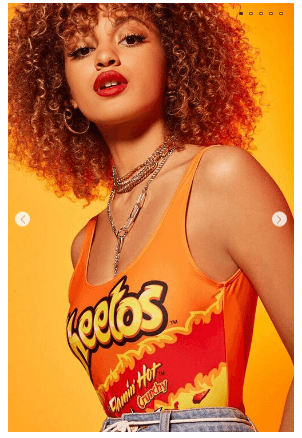 Brand collaborations are one of the best ways to increase your brand awareness and visibility.
That's why we love this collaboration example between Forever 21 and Cheetos.
Forever 21 designed clothing that featured some delicious Cheetos products, which benefited both brands.
Forever 21 could enjoy more sales from consumers that like Cheetos, and Cheetos enjoyed more brand recognition and visibility through the consumers that wore the Forever 21 clothing.
8. Show off your company's personality
It's always an excellent idea to showcase what makes your company different to stand out from your competitors. And one way you can provide a unique flair is by showing off your business's unique personality in your content.
Don't be afraid to have some fun with your content and add catchy headlines and titles or hilarious videos that show off your sense of humor.
Example: Aldi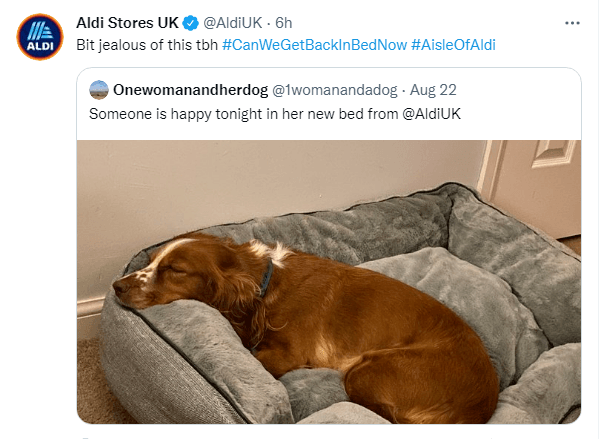 Aldi does an excellent job of communicating with their audience through their funny and relatable social media posts.
Their posts and comments are perfect for showing off their personality and fun side to their audience. And as a bonus, they can communicate with customers who are purchasing their products in a unique way.
Unique social media marketing ideas
Social media is a great way to expand and reach your target audience and build brand loyalty.
And with over 50% of Americans following their favorite brands on social media, it's essential to develop unique social media marketing ideas to keep users engaged.
9. Connect with influencers
Social media influencers have built a credible following on social media platforms and whose opinions are trusted and valued by consumers.
By connecting with influencers, you can share your products and services with their audience and spread more awareness about your brand. By identifying influencers with large followings, you can successfully increase your visibility online and generate more sales and revenue for your business.
Example: CR7 Eyewear
In this example, CR7 Eyewear connected with social media influencer and Portuguese soccer player Cristiano Ronaldo, who has over 149 million followers.
By connecting with such a popular figure on social media, CR7 Eyewear is able to promote their products to millions of people who trust and value Ronaldo's opinion.
10. Join in on trending hashtags
One great way to stay up-to-date with the latest trends on social media is to join with trending hashtags and fun posts that already have a loyal audience.
By keeping up with the latest trends, you will also post more regularly and interact with your audience. Joining in on fun weekly hashtags, such as "#ThrowbackThursday" can help you grow your social media following and engage more with the online community.
You could also create your own hashtags and encourage your followers to join in and share posts.
Example: Giant Food Stores
Giant Food Stores frequently joins in on weekly and trending hashtags on their social media pages and even focuses the design of some of their ads on weekly hashtags.
By joining in on fun social media trends, Giant is able to frequently engage with their followers and advertise their products to more people by using hashtags that already have a loyal audience.
11. Follow your competitors
Staying one step ahead of your competitors is a sales challenge you must overcome to grow your business and increase your revenue. And social media provides the best platform to keep tabs on the competition for free. Be sure to monitor your competitor's social media pages to see their posts and updates.
You can also see which types of posts get the most likes and shares, so you can follow their lead.
Example: Wendy's and McDonald's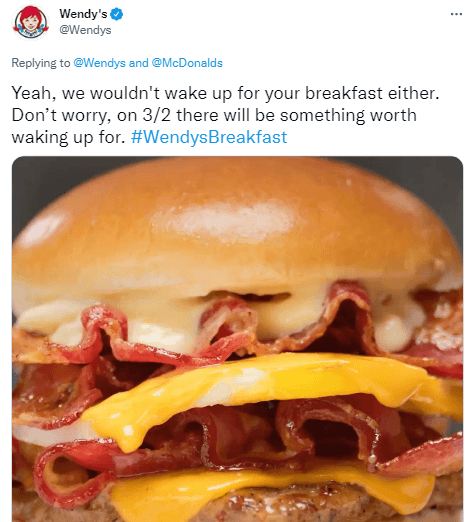 Wendy's and McDonald's are known competitors in the fast-food industry.
They frequently follow each other's posts and updates to stay one step ahead of each other and even use social media to point out how their products are superior.
By following their competitors on social media, both Wendy's and McDonald's can always keep tabs on the competition and show consumers the benefits of their brand over the other.
12. Launch fun contests
We all love free giveaways, and your followers will love them too. Use your social media platforms to launch fun contests to generate more audience engagement on your page.
You could give away some of your products, offer discounts, or offer something else that your audience would love.
You could hold like and share, caption, or meme contests that can both spread awareness of your brand and create an engaging community on your page.
Example: Pepsi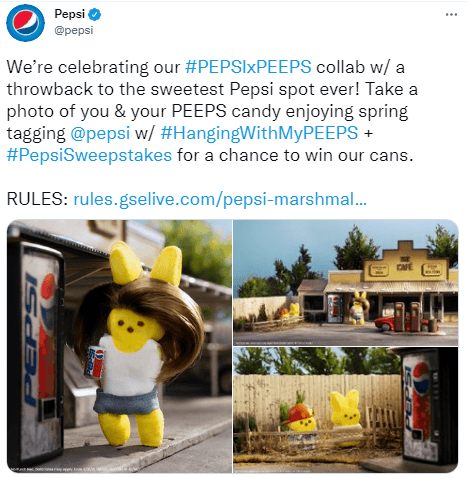 In this example, Pepsi held a photo contest on social media to celebrate their collaboration with Peeps.
We love this example because Pepsi raised awareness for their new collaboration and product and also generated more engagement on their social media page.
By holding contests like this on your social media, you can expand your audience and provide another platform to promote your products and services.
13. Feature customer reviews and testimonials
Do you have some adoring customer or client reviews and testimonials?
Why not share them on your social media page! Many customers read reviews before deciding to make a purchase.
In fact, 80% of customers say online reviews changed their minds about a purchase.
Showcase your stellar reviews on social media to show your audience that your brand is one they can trust.
Example: Exterior Source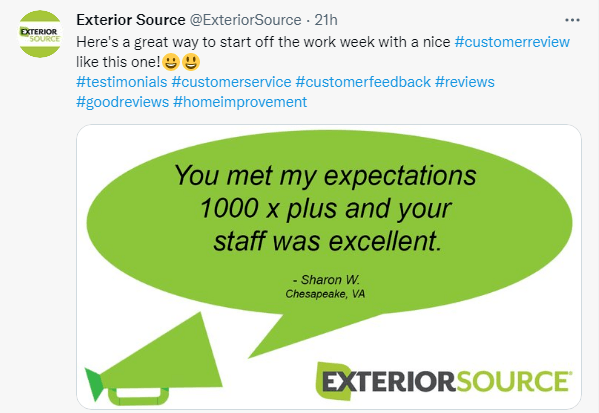 Exterior Source frequently showcases their stellar customer reviews and feedback on social media to show their audience how much their customers love their services.
By showing off great reviews like Exterior Source, you can help show your followers the benefits of your products and services.
14. Interact with followers
It's essential to interact with your followers to create an online community. There are limitless opportunities for you to interact with your audience and receive their feedback with social media platforms and tools.
You can reply to messages and comments and get even more creative with fun live stories, videos, or polls. You can also "go live" on social media to give updates and further promote engagement on your social media pages.
Example: Bed Bath and Beyond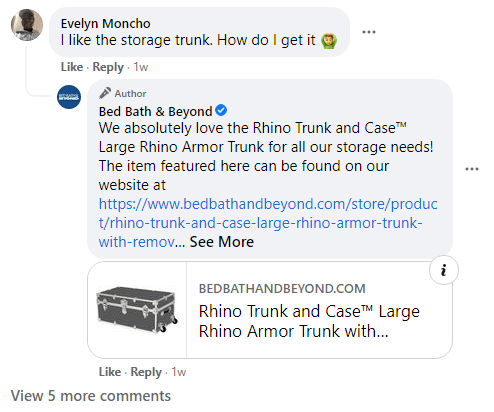 Bed Bath and Beyond frequently respond to comments and messages on their social media pages.
In this example, they are answering a customer's question about one of their products.
Bed Bath and Beyond expertly use their social media platforms to interact with their audience, provide consumers with information, and respond to customer feedback.
15. Offer exclusive discounts
Another way to boost your social media presence is to offer exclusive discounts and sales to your page followers. Everyone loves a good deal, and so do your customers.
Offering exclusive discounts and sales can help you grow your audience and secure more followers in the process.
Example: Bath and Body Works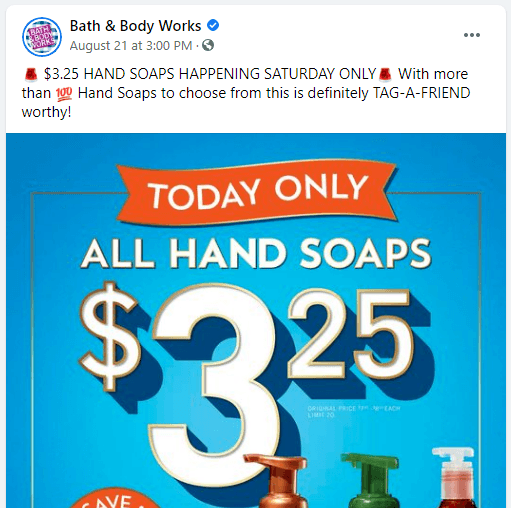 We love this example from Bath and Body Works which shows how posting updates and discounts is a great way to boost your social media presence.
Bath and Body Works frequently update their followers about the latest sales, discounts, and new products and offers.
These updates encourage more consumers to follow their social media page so they don't miss out, expanding their audience and boosting their online visibility in the process.
16. Organize a takeover
Just like with your content, you can invite guests and influencers to "take over" your social media page for the day.
They can create posts, share images, and film videos. Their fans and followers will most likely check out your page to see what their influencer is up to, which can grow your brand's reputation and help you grow your audience online.
Example: Finnair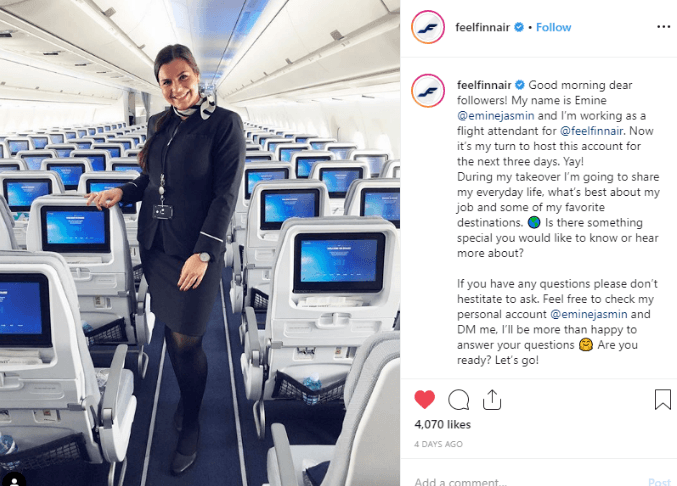 In this example, Finnair flight attendants and staff members take over the official Finnair Instagram account for a day. These takeovers show off Finnair's personality and work culture and also spice up their social media posts.
Organizing a takeover is an excellent way to mix up your social media content and increase your visibility online.
Creative traditional marketing ideas
Using both digital and traditional marketing strategies together can double your marketing efforts by promoting your brand around your local community while simultaneously marketing your business online.
Here are some outside-the-box and creative traditional marketing ideas to give your business a boost:
17. Paint a mural
There are tons of creative ways to promote your business on the streets of your local community. Painting a mural is an excellent way to showcase your brand's image and logo that locals will see each day.
You could secure permission to paint a mural on the side of a prominent building in a high-trafficked area, or you could even use a projector to showcase an ad or your logo in busy areas.
Example: Adidas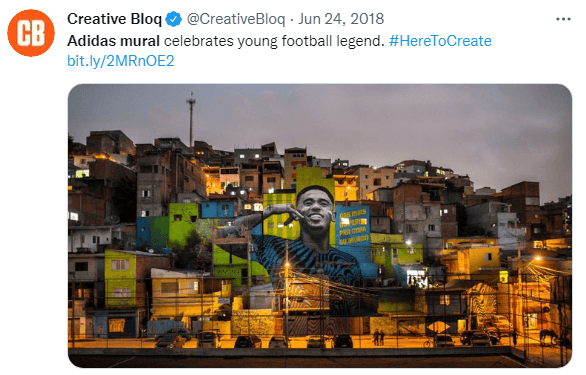 We love this mural from Adidas to showcase how murals are an excellent way to promote your brand in local communities.
Their mural celebrates a Brazilian soccer player in honor of the world cup, enabling Adidas to stay current with the latest events that already have a large following and promoting their brand to more people in the local community in the process.
18. Go old school with print ads
If your business is primarily local-orientated, then going old-school with flyers, posters, and chalk writing could be a perfect option for you.
You could leave business cards in local shops, display posters on notice boards, or hand out flyers at your local cafe.
Example: Snickers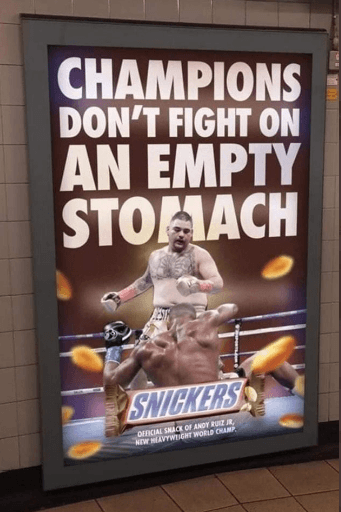 Snickers is well known for their traditional advertisements, ranging from television commercials to posters around the city. In this example, Snickers expertly promotes their brand through printed posters around the London underground subway.
By using printed ads like Snickers, you can promote brand awareness in your local community.
19. Sponsor a local community event
Sponsorships provide more unique opportunities to showcase your business around the community that you wouldn't be able to do otherwise.
You can use these opportunities to your advantage by securing sponsorships with local community events.
These events are an excellent way to increase the visibility of your brand and spread the word about your business. And as a bonus, you will get to help out your local community — it's a win-win situation.
Example: River's Edge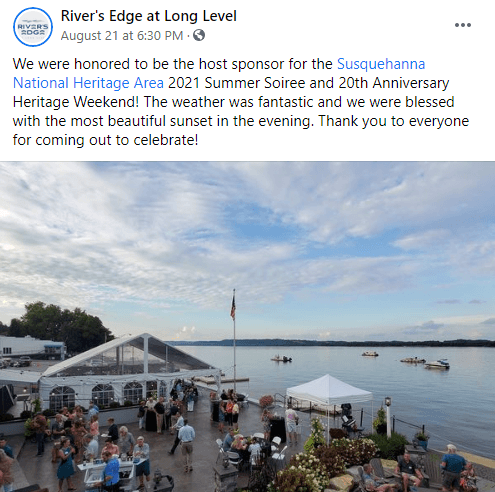 River's Edge is a popular wedding venue that often hosts and sponsors local community events.
By sponsoring these events, and also showcasing their sponsorship on social media, River's Edge can showcase their services in a unique way and be more involved with their local community in the process.
Implement creative and fresh marketing ideas to drive revenue with WebFX
With today's technology, it's essential to stand out for the competition to boost revenue for your business — and trying out some creative marketing ideas for this year is an excellent way to do just that.
And WebFX is here to help you implement creative and fresh marketing ideas that can help grow your business.
WebFX is an award-winning full-service creative marketing agency. We have over 25 years of experience managing and implementing creative marketing campaigns for our clients that drive results for their businesses.
Our team of experts has generated over $3 billion in revenue and over 7.8 million leads with creative marketing ideas.
Want to hear what our clients have to say?
Check out our reviews and testimonials to learn more about what makes WebFX different. Are you looking for more out-of-the-box ideas for marketing and inspiration? Check out our free marketing guides!
How is your website's SEO?
Use our free tool to get your score calculated in under 60 seconds.
Get posts by email
Join 200,000 marketing managers and subscribe to Revenue Weekly!
"*" indicates required fields
WebFX Careers
Join our mission to provide industry-leading digital marketing services to businesses around the globe - all while building your personal knowledge and growing as an individual.