Pauline is beginning to grow her business online. As she invests in marketing her company, she gains more leads and quickly becomes overwhelmed with the amount of interest in her business. She needs to learn how to manage leads, so she can turn them into sales.
If you're like Pauline, you're probably wondering how to manage leads effectively to increase revenue for your business. Luckily, you've come to the right place! On this page, we'll provide you with six steps for lead generation management to help you maximize your results.
Additionally, if you want to get more tips and tricks for your marketing campaigns, subscribe to Revenue Weekly!
1. Identify what qualifies as a lead for your company
The first step in how to manage leads effectively is to identify what you qualify as a lead. All businesses are different, and the way they qualify leads differs too. Companies may consider a user a lead if:
If they visit a certain number of pages
They fill out a contact form
They visit a bottom-of-the-funnel page
They make a phone call to your company
They visit your storefront
They browse a certain number of products
You need to determine if someone qualifies as a lead for taking a specific action or just for showing interest in your company. When you establish who qualifies as a lead, you can move on to identifying who's in your target audience — and move one step closer to learning how to generate sales leads.
2. Identify your target audience
Another critical component of lead pipeline management is identifying your target audience. You must establish your target audience, so you know who you're trying to reach — and therefore, craft your strategy based around that audience. To identify your target audience, document information like:
Age
Gender
Location
Occupation
Interests
Buying habits
And more
Based on this information, you can create buyer personas. These personas are fictional representations of real customers that you use to market to your target audience better. You can see an example of a buyer persona below: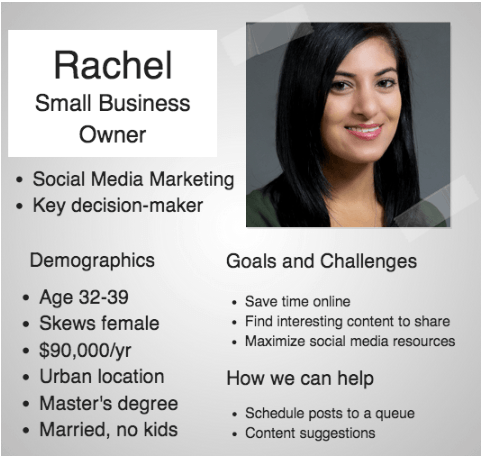 When you know more about your target users, you can manage them better.
You'll understand what they want from your business so that you can deliver a better experience for these leads.
3. Understand how leads find your business
Once you know the qualifications for becoming a lead, the next step to help you manage leads effectively is to understand how leads find your business. There are numerous channels for people to discover your business, including:
Search engines
Pay-per-click (PPC) ads
Social media channels
Social media ads
Blogs
And more
You'll want to analyze each lead and see which channels drive leads for your business. When you know which channels are the most effective, you can choose to allocate more resources to those channels to earn more leads or optimize other channels to help them drive more leads.
Bonus tip: You can find data on which channels drive leads through tools like Google Analytics. Tools like Google Analytics provide you with in-depth insight on how leads find your page, how much time they spend on your site, and more!
4. Score your leads
The best way to manage sales leads is to score your leads. Not every lead is as qualified as another — some leads may be closer to conversion than others. Scoring leads enable you to see which leads are most valuable and closest to conversion.
This process also allows your sales team to focus on getting those leads to convert, while your marketing team focuses on nurturing other leads closer to conversion. So, how do you score leads? When you score leads, you want to score based on:
How likely someone is to convert
How quickly they'll convert
How much money they will spend when they convert
You must also take timing into account, too. For example, if one lead has interacted with your business multiple times in the past week, but another lead hasn't interacted with your business in three weeks, the first lead is more qualified than the second. The way you score leads will depend upon your business.
You need to determine actions that add to someone becoming a lead, and how much weight that action holds. For example, let's say you qualify "reading a blog post" as a characteristic of a potential lead. You may give this action a score of 2 points because while it is essential, it doesn't hold as much weight as someone contacting your business.
Here are some high-value actions you can factor into scoring your leads:
Filling out a contact form
Visiting a pricing page
Subscribing to your email list
Opening an email
Clicking through an email
Downloading content
Signing up for a free trial
In addition to adding points, you also want to consider actions that may cause leads to lose points, like:
Neglecting to open emails
Downloading content but never coming back to your site
Unsubscribing to your emails
So, for example, let's say you set up the following values for each action:

Now, you have had three people interact with your business online, and you want to know which lead your sales team should focus on converting. So, let's plug in those numbers to see:

Based on these calculations, it would be best for your sales team to focus on getting Jessica to convert. She has the best score out of the three leads, making her the most qualified.
Jessica also completed high-value action items, like filling out a contact form and downloading content, making her more qualified. So, by scoring your leads, you can help your sales team focus on leads more likely to convert and let your marketing team know who to nurture as a part of your lead nurturing process.
5. Use lead management software
If you want to know how to manage leads effectively, start by using lead management software. You're going to gather tons of data about your leads. Not only do you need to store personal information about leads, like demographics and occupations, but you also need to store information about the actions they take on your site. Lead management software can help you track and score your leads.
It's a great solution to help you ensure that everyone, from marketing to sales, has the same information and is on the same page about leads. A great example of lead management software is Nutshell. This proprietary tool, offered by WebFX, enables you to manage your leads, track your return on investment (ROI) for your marketing strategies, and help you allocate funds to the most profitable channels.
You can effectively gather your data and use it to market to interested leads and nurture them towards conversion. When integrated with MarketingCloudFX, this tool takes lead management to the next level. MarketingCloudFX enables you to track the lifecycle of your leads, manage your sales pipeline, and more.
The combination of these two tools helps you maximize your lead management and nurturing, so you can increase sales for your company.
6. Track your lead nurturing strategies
The best way to manage sales leads is to track your lead nurturing strategies. If you're going to invest the time and effort into trying to nurture leads, you want to ensure that you're monitoring your strategies. If you don't monitor your strategies, you won't know if they're the most effective for your business. You can see if your strategies are working by monitoring metrics for each tactic.
You can track metrics like clicks, dwell time, and conversions. By tracking your lead nurturing strategies through tools like MarketingCloudFX or Google Analytics, you can optimize your lead generation strategy and drive more qualified leads for your business.
Start lead generation management today
When you have an effective lead generation management plan in place, you can help your business nurture more leads towards conversion. You may find, however, that you're feeling overwhelmed trying to manage your leads.
That's where our lead generation team at WebFX can help. With our software, Nutshell, we can help you manage leads and nurture them towards conversion. We've driven over 7.8 million leads for our clients, so you can count on us to drive results for your business.
Want to learn more about Nutshell? Contact us online or call us today at 888-601-5359 to speak with a strategist!
WebFX Careers
Join our mission to provide industry-leading digital marketing services to businesses around the globe - all while building your personal knowledge and growing as an individual.