It's a hot topic in the HVAC industry — how do you attract more high-value leads?
In today's digital world, the answer to improved HVAC lead generation is the Internet.
With pay-per-click advertising (PPC), search engine optimization (SEO), and other Internet marketing strategies, you can drive your HVAC sales leads upward, along with your revenue and position in the marketplace.
Ready to learn how to get HVAC leads? Keep reading to discover:
Or skip ahead and call our award-winning team at 888-601-5359 to discuss a personalized lead generation strategy that drives real results for your company.
Learn why our clients love us
Hear What It's Like to Work With WebFX!

"WebFX is always quick to respond to a question or request even if they do not have the answer right away. Their expertise on increasing our domain authority over the years has been significant and has had a positive impact on our website. They keep their offerings updated and monthly reporting is always on time."
Hvac Company
3 critical reasons HVAC companies need lead generation
Today, 80 percent of homes in the U.S. have an air conditioning system — and you can bet that almost all commercial properties have an HVAC system. While there are plenty of customers searching for an HVAC company, lead generation is essential if you want your business to thrive.
Why invest in HVAC lead generation? Here are a few of the most critical reasons:
1. Compete with your competition
No matter what industry you're in, there is always competition — companies that are trying just as hard as you are to ensure that their business grows. If you sit back and allow your competition to attract all your leads, your HVAC company risks losing valuable potential customers.
That's why it's essential for your business to maximize its online visibility, especially when 80 percent of consumers start their research into a product or service online. With a greater online presence, you can increase your HVAC sales leads and maximize your profits.
2. Attract the most qualified HVAC leads
Lead generation is targeted — meaning that the strategies for generating leads utilize different targeting techniques to ensure that the leads coming to you are ones that have a high chance of becoming your company's newest clients.
For example, with SEO and PPC campaigns, you can target keywords that allow you to show up in search results when people search for HVAC services. If you offer emergency repairs, for instance, you could target the keyword, "emergency hvac repair," to reach users that are ready to purchase now.
In comparison to traditional marketing and advertising, online lead generation offers accuracy. You're targeting the people most likely to become customers, which maximizes your return on investment (ROI) and delivers results that you can link to your lead generation efforts.
3. Maximize your profits
As a business, money is essential — and when it comes to your HVAC lead generation efforts, you want to get the best results and the best return on your investment. With online lead generation, you have access to a variety of strategies that deliver massive ROIs when it comes to lead generation.
A few examples include:
Content marketing, which generates 54 percent more leads than traditional marketing.
Email marketing, which produces 50 percent more sales than other lead generation methods.
PPC, which connects you with shoppers that are 50 percent more likely to make a purchase.
In short, online lead generation is a smart decision when it comes to your budget and business.
Time to Level Up Your Sales
Our long list of services helps you grow every aspect of your business with marketing strategies that are proven to increase bottom-line metrics like revenue and conversions.
In the past 5 years, we've managed more than 12.9 MILLION transactions across our client base.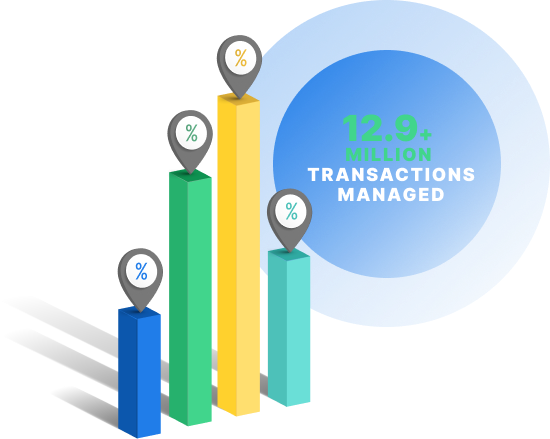 How to get HVAC leads: 3 strategies that work
Now that you know why lead generation is a must for HVAC companies, you may be wondering how to go about it. The best strategies for increasing your HVAC sales leads include:
1. SEO for HVAC leads
SEO is one of the best strategies for attracting qualified HVAC leads for free.
With SEO, you focus on improving your HVAC company's website in order to develop your online presence and rank higher in search engines like Google. That means more people in your target audience find your website, leading to valuable new leads.
The generation of leads for your website is highly dependent on how easily people can find your HVAC company's website. It's also dependent on ranking highly in search results to ensure that you're one of the first HVAC options users consider.

SEO is an HVAC lead generation strategy that includes a few techniques, including content creation.
With content creation, you're targeting some of your most valuable industry keywords. When someone searches Google for "hvac companies in harrisburg," or "heating companies near me," it's crucial that your website has a piece of content that specifically targets those keywords.
You'll want to start by doing keyword research to see what the most important keywords are in your area, and then inject them naturally into your content. You can use tools like keywordtool.io, or KeywordsFX.
Use valuable keywords in your content and you can boost your search result rankings for those keywords.
SEO also ensures that your website provides a great customer experience. Google ranks websites by how beneficial and informational their content is, and how relevant it is for any given search query. However, user experience is definitely part of the equation.
Without a great user experience — things like a descriptive navigation bar, the use of photos and graphics, and interactive elements — it's unlikely that your HVAC website will rank highly in search results because it isn't the most satisfying result for users.
2. PPC for HVAC leads
PPC is another great way to generate leads for your HVAC company.
PPC is type of paid advertising that allows you to target your industry's most important keywords — similar to SEO. However, where SEO can take a while to show results, PPC works immediately as it's a paid form of advertising.

PPC works on an auction system which allows you to bid on the keywords that you want to rank. For example, if you wanted to place an ad that shows up when someone types, "hvac advice," you could bid on it, depending on how much you're willing to pay for that keyword.
If you're the highest bidder on that specific keyword, your HVAC company's ad will show up in Google —above the organic results — when someone types that query. The best part is that more than 45 percent of page clicks go to the top three ads, which means valuable leads are coming to your website.
Another perk of PPC as an HVAC lead generator?
You only pay for the ad when someone clicks on it. That makes PPC one of the most cost-effective strategies for generating HVAC service leads, which maximizes your ROI.
3. Email marketing for HVAC leads
Last but not least, email marketing can also help you drive qualified leads to your HVAC website.
Like PPC, it's a lead generation option with a competitive return. In fact, for every $1 businesses invest in email marketing, they earn $44 back, on average. That's why more than 80 percent of companies use this lead generation strategy.
To start an email campaign, you first have to gather a list of subscribers. How do you build an email subscriber list? With contact forms on your website, such as for receiving a free quote, guide, or blog update.

The biggest benefit of email marketing is that you know the subscriber is already interested in your services, because they signed up via a form on your website.
Email marketing is a golden opportunity to guide potential customers all the way down the sales funnel. Besides serving as an HVAC lead generation strategy, email marketing is also an excellent tool for retaining customers and building their loyalty.
With email marketing, you can also target your emails so that different messages go to the recipients who would find them most beneficial, and therefore, be most likely to become a client based on the info you share with them.
For example, if someone filled out a contact form on your pricing page, you could send an email linking them to the different pricing options you have, a blog post about how to finance your services, and more items related to budget.
Not only will the recipient know that you care about them, but they'll also see that you're willing to serve them exactly what they need. Personalizing your emails also improves conversions by 10 percent, which is why you want to segment your email subscriber list and implement personalization tactics.
93% of WebFX customers are extremely satisfied with their digital marketing results.
"Working with WebFX, everything is very organized and strategic. We're only a year into our partnership, and our expectations have definitely been met."
View More Client Testimonials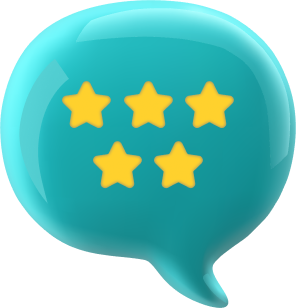 What HVAC lead generation strategy is best for my company?
Not sure which strategy for generating HVAC service leads is best for your business? While every company will adopt a different approach, all the strategies mentioned — SEO, PPC, and email marketing — will increase the number of leads you receive.
However, we would recommend a combination of all three to get the best results.
Without a strong SEO campaign for your website, it's nearly impossible to get potential customers to arrive on your site, because you are essentially invisible in search engines. So, SEO is the place to start for HVAC leads.
While SEO takes a while to show results, PPC is a great option to use with SEO since it works almost immediately. By targeting your most valuable keywords with your PPC ads, you'll get potential visitors to visit your HVAC website for a budget-friendly cost.

Lastly, email marketing is a great lead generation and lead nurturing technique. It's great for generating quality leads because it targets customers with things you already know they're interested in, based on what page they filled out a contact form.
It's also great for lead nurturing because it allows you to stay in contact with leads that aren't ready to convert as they're in the beginning stages of your buying funnel. That's a competitive tactic, as your competitors' lead generation strategy may exclude these soon-to-be buyers.
With SEO, PPC, and email, you adopt a three-pronged approach to generate more HVAC service leads.
5 tips for the best HVAC lead generation plan
If you're already investing in the above strategies, we have a few tips that can improve your lead generation plan and boost your results. That means more calls from prospective clients and more revenue.
Here are our five tips for the best HVAC lead generation strategy:
1. Research your audience
Do you know your target audience? If not, build a marketing persona — determine your ideal demographic, from age to gender to location to career. Maybe, for example, you're speaking to male homeowners between the ages of 30 to 34 or female office managers between the ages of 45 to 49.
Once your create your marketing persona, use a marketing persona generator to create a quick document reference for your team. It'll put a name and a face to your target audience, which can help when developing PPC ads, as well as drip campaigns for your email marketing strategy.
2. Optimize your page speed
No matter your HVAC lead generation strategy, from PPC to SEO, it's critical that your website delivers when it comes to load times. If you direct users to a slow-loading landing page, you can expect them to leave — for reference, users expect websites to load in two seconds or less.
That's why you want to prioritize page speed optimization in your lead generation strategy. A one percent increase in your page speed can cause conversions to increase by seven percent, which means more leads and more business.
One quick way to boost your website's speed? Compress your images with a tool like kraken.io.
3. Redesign your HVAC lead generation forms
A well-designed lead generation form can make a big difference. That's why you want to reassess your form on a routine basis and look for potential improvements — focus on ways you can improve the user experience.
For example, if your form requires users to submit their name, phone number, and email, that can impact your lead generation rates. Remove the requirement for a phone number, however, and you might see higher completion rates.
Optimize your lead generation forms with A/B testing. With this approach, you can see what design factors increase or decrease lead generation rates. When conducting your tests, make sure you only change one form feature at a time — this way you can link the change to a specific feature.
4. Support your mobile users
With more than 50 percent of the Internet's traffic coming from mobile devices, it's essential that you have a mobile-friendly website. For HVAC businesses, mobile is even more critical as 50 percent of mobile searches are local.
Without a mobile-friendly website, you're forfeiting valuable leads to your competitors. Prioritize the design of a mobile website, whether by developing one in-house or partnering with a web design agency, and you can improve your lead generation results fast.
Choose a responsive web design for the best results with attracting HVAC leads.
5. Track your results
To measure the success of your strategy for generating HVAC service leads, as well as spot areas for improvement, you need to track your results. While you can use Google Analytics, you can also adopt other software solutions that take an in-depth look at your lead generation efforts.
MarketingCloudFX, for example, is one option. It's a marketing automation software that tracks the leads you generate from calls, whether from your website, print advertisements, or paid online advertisements. It also includes a few other helpful features.
With those features, you can see the complete scope of your lead generation strategy. Plus, it provides you with a wealth of information, which you can share with your team, as well as decision makers in your company.
Measuring the metrics that affect your bottom line.
Are you interested in custom reporting that is specific to your unique business needs? Powered by MarketingCloudFX, WebFX creates custom reports based on the metrics that matter most to your company.
Leads

Transactions

Calls

Revenue
Learn More

Earn more HVAC leads
Interested in improving your HVAC lead generation strategy?
At WebFX, we provide personalized and award-winning service to our clients. As a full-service Internet marketing agency in Harrisburg, PA, we have a full in-house team of SEO, PPC, email marketing, and lead generation experts who can help your HVAC company attract the leads it needs to grow.
Additionally, we offer a hassle-free customer relationship management (CRM) platform, Nutshell, that enables you to generate and convert leads with ease. With our CRM for HVAC companies and our top-tier digital marketing services, you'll have all the tools you need to drive revenue for your company.
Contact us today for a free quote at 888-601-5359!