As you embark on the journey to optimize your online presence, you need to invest in the right search engine optimization (SEO) tools to help you manage your campaigns. As you research SEO tools, you'll come across two popular tools: Moz Pro and Ahrefs. On this page, we'll look at Moz vs. Ahrefs to help you decide which is best for your business and goals. If you want to learn more about the latest SEO tools and trends, subscribe to our Revenue Weekly newsletter — or contact us today at 888-601-5359!
Pros and cons of Moz Pro
Moz Pro is Moz's all-in-one SEO toolkit for optimizing your SEO campaigns. From site auditing to keyword research, Moz features all the SEO tools you need to manage your campaigns.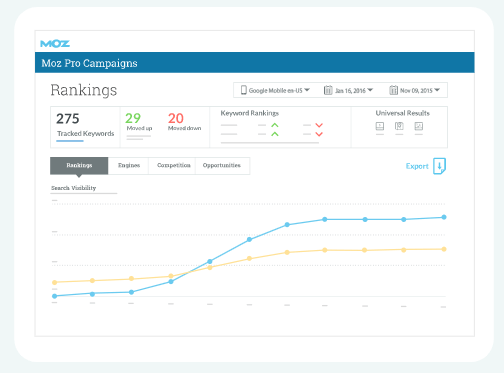 Let's take a look at the pros and cons of investing in this tool.
Pros
Track your site's (and competitors' sites) visibility in search engine results pages (SERPs)
Evaluate desktop and mobile visibility of your website
Target keywords, track keyword lists, and prioritize keywords by metrics
Get a detailed link profile analysis and explore competitive link opportunities
Track overall organic visits and rankings
See your domain authority and page authority scores
Improve your SEO strategy with Moz's audit tool
Cons
Access to fewer features than competitor tools
Difficult for beginners to use
Backlink database updates slower than other tools
Moz Pro cost: Moz offers plans from $99-$599 per month.
Pros and cons of Ahrefs
Now that we've covered a quick overview of the pros and cons of Moz Pro, let's look at the same information for Ahrefs.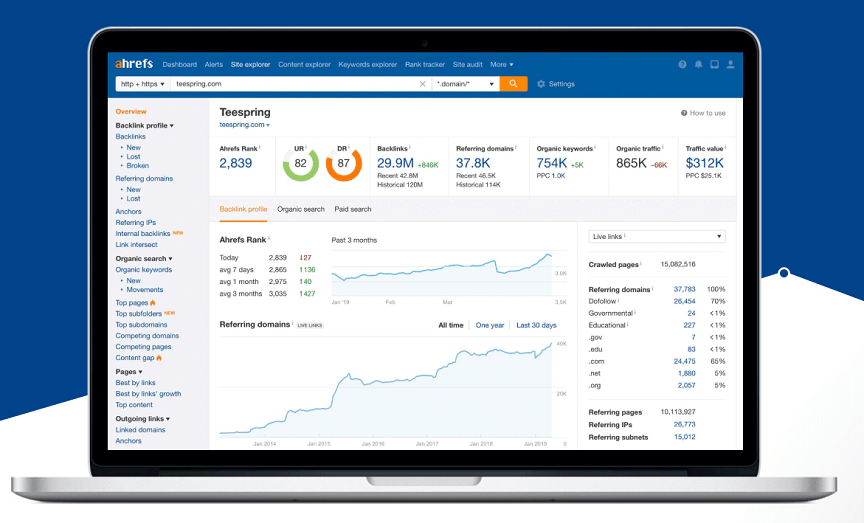 Pros
Track gain or loss of organic keywords and traffic over time
Monitor overall website rank and authority
Analyze quality and quantity of site backlinks
View ranking history of site and individual pages
Identify competitors' pages that rank for specific keywords
Test Ahrefs with a seven-day trial
Cons
Focuses mostly on link management and metrics
Costs more than other SEO and keyword research tools
Features a short, paid trial period
Ahrefs cost: Ahrefs offers plans from $99-$999 per month.
Moz vs. Ahrefs features
Now that we've given you a quick overview of each platform, the next step is to compare Moz vs. Ahrefs features. Let's take a look at three popular features these tools both possess and how they stack up.
Site rank tracking
The first feature we'll look at is rank tracking. If you want to drive traffic to your site, you must rank at the top of search results.
When looking at the search results, 75% of people don't look beyond the first page of results. When it comes to SEO, site rankings are fundamental. You must monitor your page rankings to ensure you're climbing in the search results.
If you don't see the rankings you desire, you can optimize your page to help it perform better. So, how can Moz and Ahrefs help you analyze your site rankings?
Moz site rank tracking features
Moz allows you to cross-reference a domain against a list of target keywords. You can check your page rankings by imputing a list of target keywords for each page on your site.
When you input those keywords, you can check your rankings to see how your page performs for each keyword. When you generate this information, you can compile it all into a ranking report. This report helps you analyze your page rankings so you can see if they perform well in the search results.
It provides you with the opportunity to improve your rankings and drive better results for your website.
Ahrefs site rank tracking features
Ahrefs offers the Rank Tracker tool for users. This feature allows you to check different domains and subdomains to see how specific pages rank in the search results. You can check the exact URLs to see how that page ranks in Google.
You can input your domain and generate a report that lists all the keywords you rank for on Google. Ahrefs enables you to export this report to analyze it better and understand your rankings.
Keyword research and analysis
When you look at the best keyword research tool, you want a tool that allows you to find and analyze relevant keywords. Keywords are a crucial part of SEO because they help your website appear in relevant search results.
If you want the right leads to find your business, you must select keywords they're searching to find your business. Let's look at how whether Moz or Ahrefs have the best keyword research tool for your business.
Moz keyword research features
Moz offers the Keyword Explorer tool to help you find relevant keywords for your business. This keyword research tool focuses on narrowing down your list of potential keywords, rather than helping you discover new keywords.
When you look at the keywords, you see both the Page Authority and Domain Authority.
Page Authority (PA): Score developed by Moz that predicts how well a page will rank in the search engine results page (SERPs).
Domain Authority (DA): Score developed by Moz that predicts how well a website will rank in the SERPs.
These two scores are critical in SEO because they help predict your ranking in the search results. When you're narrowing your list of keywords, you can look at what sites currently rank for that keyword. You can see that page or site's Page Authority and Domain Authority.
This information helps you determine if it's a viable option for your business. If you see that the sites listed have a similar Domain Authority or Page Authority, you have a higher potential of ranking for that keyword. With Moz's tool, you can run SERP analysis reports to analyze these different keywords and see which keywords are viable options for your business.
This feature makes it the best keyword research tool for discovering the most valuable key phrases for your business.
Ahrefs keyword research features
Ahrefs offers Keywords Explorer to help you find keywords for your business. With this tool, you'll get a list of synonyms and related terms for your keyword. It's a great way to round up a list of potential keywords for your business.
When you use Keywords Explorer, you'll get focused keyword results. Ahrefs delivers accurate search volume and keyword ranking data to help you see how difficult or easy it is to rank for a particular keyword. You'll also get information on global rank tracking.
This feature allows you to track keywords from top search engines, like Google, in over 200 countries. If you have global markets, this is an excellent asset for your keyword research process. Ahrefs is the best keyword research tool for companies looking for data on their keywords. This tool will help you find valuable keywords and see their search data to determine if they're a good fit for your business.
Link monitoring
Linking is another important SEO factor.
Backlinks, which are links to your site from authoritative pages, play an important role in building your website's trust and authority. Linking helps drive valuable traffic to your site to increase your site's ranking.
Moz link monitoring features
Moz offers its Link Explorer to help you analyze your link profile. You can type in any domain and get a complete profile on that domain.
You'll see metrics like PA and DA, but you'll also see information about backlinks. With this feature, you can analyze your link profile as well as your competitor's link profile. You can compare it to see who's linking to you and compare it to your competition.
It's an excellent opportunity for you to see where competitors get their links. You can also use it as an opportunity to find new places for your business to earn links. Additionally, you'll also see the total number of links to different pages and the positioning of those pages.
This tool offers a full link profile analysis to help you understand your link profile as well as your competitors.
Ahrefs link monitoring features
With Ahrefs' Site Explorer, you can analyze different aspects of linking. It originally started as a backlink analysis tool but has since expanded into keyword and competitor analysis. Site Explorer allows you to monitor your link profile and competitor link profiles. You can see important information like:
When the link went live
Dofollow links
Nofollow links
Anchor text
With this information, you can have a comprehensive picture of your link profile or a competitor's profile.
Start driving better SEO results today!
If you want to be successful with SEO, you must invest in the right SEO tools. The best SEO tools include keyword research tools, link profile analysis tools, page ranking monitoring abilities, and more. Whether you choose Moz or Ahrefs, having an all-in-one SEO tool makes it easy for you to manage your SEO campaigns.
And a top-rated SEO company can help you apply SEO insights to drive even better results. At WebFX, we have over a decade of experience in SEO. If you find Ahrefs or Moz to be overwhelming, our team of over 500 experts that will help you conduct keyword research and manage your link profile.
We also offer our SEO tool, MarketingCloudFX, to help you manage and nurture leads, track phone calls, and more. If you're ready to start conducting keyword research and managing your link profile, contact us online or call us today at 888-601-5359 to speak with a strategist about our SEO services.
WebFX Careers
Join our mission to provide industry-leading digital marketing services to businesses around the globe - all while building your personal knowledge and growing as an individual.