May 26, 2022
10 minute read

Kayla is a content specialist with a B.S. in marketing. She is certified in Google Analytics and Google Ads Search and Display. When not writing, she enjoys reading, playing with her dog, and baking.
Pop-up ads have made a comeback. Think about it: how many reputable, well-known sites have you visited recently that employed a pop-up?
While pop-up ads might have once been known for causing viruses and annoying users, they can now help, rather than hurt, the user experience when done well.
What does that mean for you? This comeback strategy can drive more conversions for your business. One study found that the most effective pop-ups drive conversions from 9.28% of viewers on average.
But what about your average pop-up that doesn't fit into that elite "most effective" tier? The average pop-up can still convert 3.09% of viewers.
Before you brush off 3% as inconsequential, remember that's 3% more conversions than you might have had otherwise. All because of the pop-up!
Ready to learn more? Keep reading for an overview of what pop-up ads look like today and how you can use them as part of your user experience (UX) design.
And if you want more digital marketing advice delivered straight to your inbox, subscribe to Revenue Weekly! You'll receive tips like these via email twice a month.
What are modern pop-up ads?
Pop-up ads are advertisements or marketing messages that appear over the user's screen. Traditionally, these messages would open a new window, but now you're more likely to see them appear within the same window over the website's content.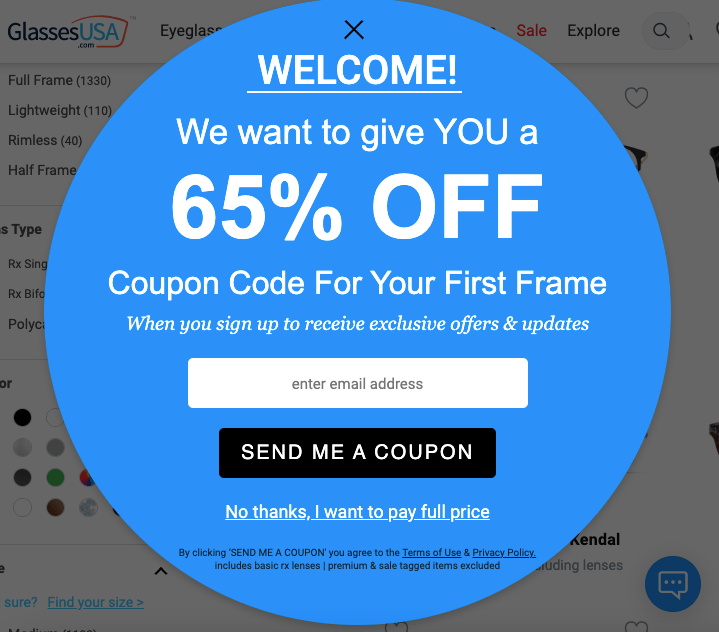 You'll also see many pop-up ads appear only on a portion of the screen, making them less disruptive.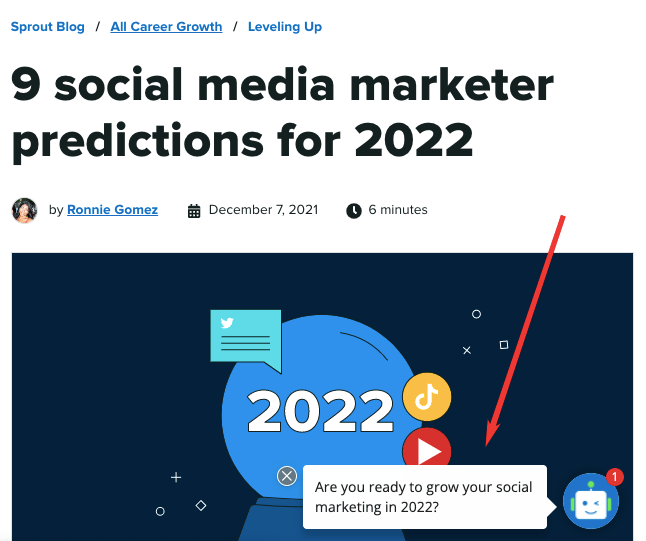 Many reputable websites incorporate pop-ups into their web design strategy to:
Provide their visitors with helpful information
Answer possible user questions
Drive visitors to a high-value landing page
And more
Types of pop-up ads
Not convinced of the pop-up's reputable comeback?
Spend a few minutes surfing the web, and you'll likely come across many pop-up ads on your favorite websites.
The types of pop-up ads you might have found on those sites include:
Entrance pop-ups
This type of pop-up ad appears as soon as visitors open a page. Entrance pop-ups can bring value, but choose when and how to use them carefully. Remember your users came to your page for a reason, and you don't want to stand in their way!
Event-triggered pop-ups
A more targeted type of pop-up is the event-triggered pop-up. You can set specific user behavior parameters that, when met, launch your pop-up ads. For example, you could have a pop-up appear based on a user's time on the page or whether they're a returning visitor.
Exit-intent pop-ups
A type of event-triggered pop-up ad, the exit-intent pop-up appears when users look like they're about to exit the page.
Click-triggered pop-ups
Many sites will deploy pop-up ads when a user clicks on a link. With these pop-ups, you can call out your intended action with a link — such as signing up for a newsletter or finding more information on another page — and leverage a pop-up instead of sending the user to a new page to complete that action.
Each of these types of pop-up ads can appear in the center of the user's screen and obscure the rest of the page until they exit the pop-up, or they might only appear in the bottom or corner of the page and not intrude on the user's view of the page. The latter type is also called a pop-in.
You can leverage each type according to your business strategy if done well — yes, even center-screen pop-ups can aid the user experience!
How are pop-up ads effective?
Now you know all about the types of pop-up ads you can use, but how are pop-up ads effective? Pop-up ads can drive conversions and aid the user experience by:
But beware that some users will remain frustrated with the pop-up. Using best practices can help, but as with any marketing strategy, remember not every tactic will work with everyone equally. Test your pop-up ads as you design them to determine their effect on your audience.
When businesses keep their audience in mind, many websites benefit from using pop-up ads strategically. Not convinced? Check out these well-done website pop-up examples!
Websites with pop-up ads done right
While browsing, I come across websites with intrusive and helpful pop-ups alike. When websites use them well, I'm pleased and receive a better experience on the site overall.
Want to learn from the greats? Check out these websites with pop-up ads done right:
1. Fabletics entrance pop-up ad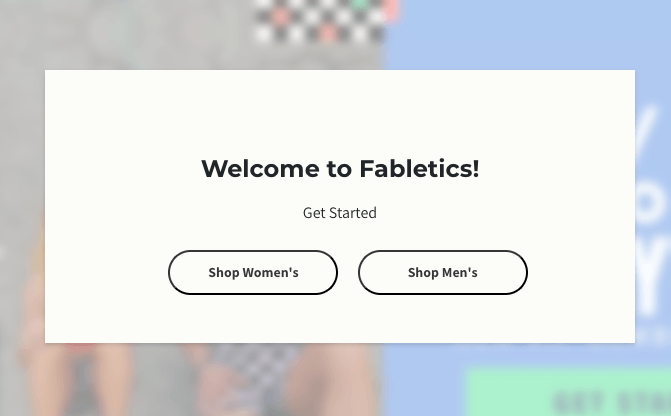 When I visited the Fabletics home page, they served me this entrance pop-up, and it stands out as an example of UX-focused pop-ups because it anticipates my needs and helps facilitate site navigation.
Fabletics understands most people who visit their home page likely visit with the intent to shop. So, this pop-up helps them quickly and easily navigate to the shopping pages most relevant to them.
2. Moleskine add-to-bag pop-up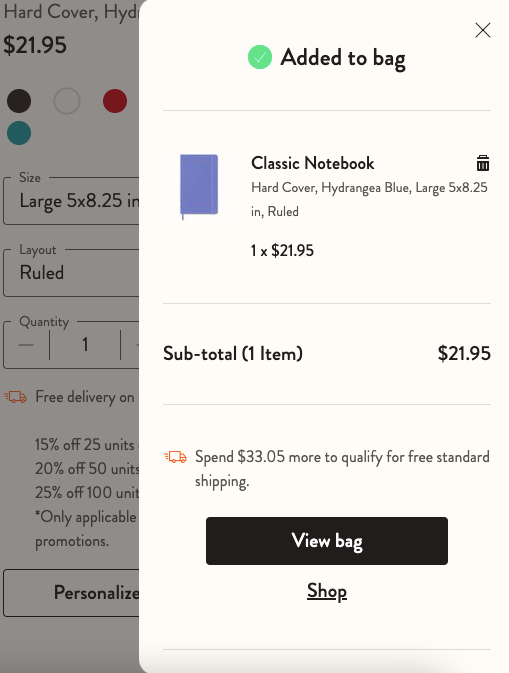 Many sites use pop-ups after a user has added something to their cart. These pop-ups aid the user experience by:
Confirming that they've successfully added the product to their cart
Reminding them of everything they've added to their cart so far
Providing an updated total cost of the items in their cart
Allowing them to quickly navigate to the checkout page if they're ready to purchase
Leveraging this pop-up ad can also boost conversions because it encourages users to head to checkout if they're ready.
3. Mint Dentistry chatbot pop-in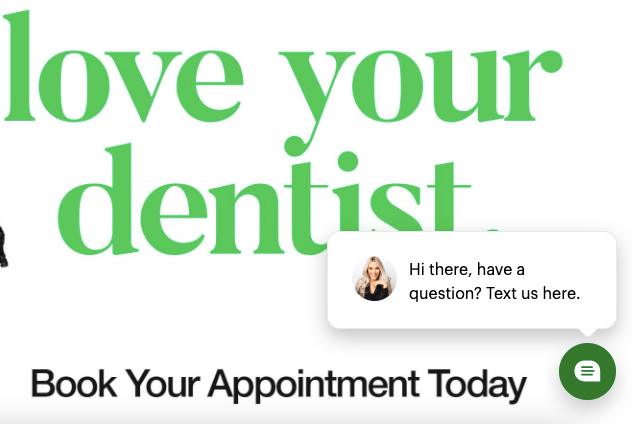 Companies use chatbots to answer user questions quickly, and many web designers will pair these chatbots with a pop-in message that appears at the bottom of the screen to let the users know a chatbot is available to them.
These pop-up messages don't impede the user's view of the page, but they draw attention to the chatbot, which the users might not have noticed otherwise. Because the chatbot helps answer users' questions, this pop-in can prove particularly beneficial to the user experience.
Mint Dentistry displays the pop-in as soon as a user visits their site, likely because most visitors come to find answers to questions or make an appointment. The chatbot can facilitate site navigation for the most common user intents when visiting this site.
4. Hootsuite bonus content pop-up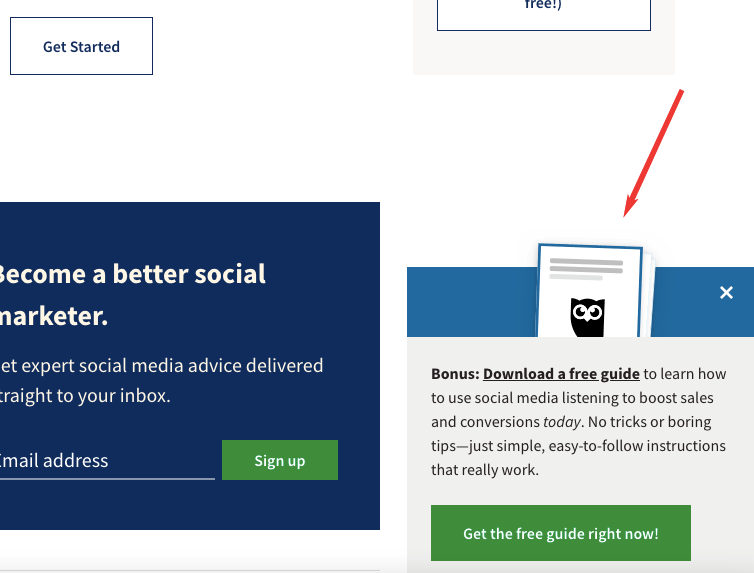 This example is another form of pop-in ads, and the ad only appeared after I'd scrolled through most of the post.
I've included this example because it's not intrusive but does provide additional relevant content I might find interesting. Plus, the pop-in appears when I approach the end of the post, indicating that I likely found this page's content valuable and might want more content to continue my journey.
The pop-up ad serves as a win-win: I receive supplemental, helpful content, and Hootsuite keeps visitors engaging with their site by pointing them to an email sign-up to claim the guide.
One characteristic to note is that Hootsuite varies its content in these pop-ins based on the post's topic. Instead of pointing users to one catch-all resource, they offer the most relevant resource for that post.
5. Shopify free trial click-triggered pop-up

Here, Shopify encourages users to sign up for a free trial. When users click the button, they trigger a pop-up that houses the sign-up form.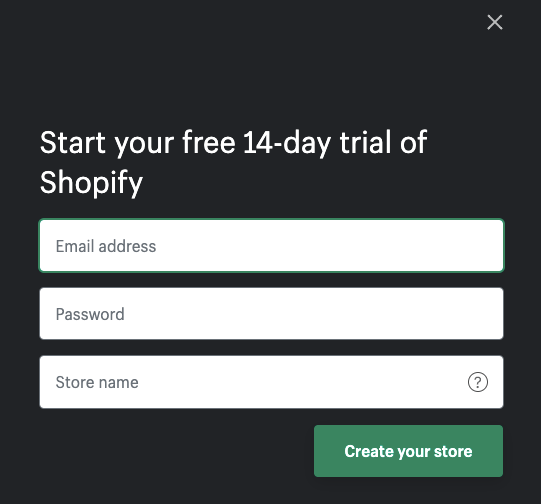 By not including the sign-up form on the page, Shopify keeps the page cleaner and provides a better user experience. Meanwhile, opting for a pop-up instead of linking to a separate page allows the user to seamlessly input their information without loading a new page.
How you can leverage pop-up ads on your website
As you can see from the user-friendly website pop-up examples listed above, pop-up ads can boost the user experience when leveraged appropriately. To help you create effective pop-up ads, follow these three steps:
1. Consider the user's journey
Why is this visitor on your site? What will their next steps be? Which information might they need upon visiting or after completing a specific action on your site?
Many of the pop-up examples work because they meet the user where they're at and supply relevant information.
2. Determine what valuable information your pop-up can provide
Based on the user's goal and where they are in their journey, what information or navigation is most beneficial to them?
For example, Fabletics knew that new visitors would likely want to browse their products, so they provided quick navigation buttons to help users accomplish that goal quicker.
Hootsuite recognized that someone who scrolled to the end of their blog post might want supplemental information, so they provided it through a pop-up.
3. Decide whether a true-to-form pop-up or pop-in suits your purposes
Once you've established your pop-up's purpose, decide which type of pop-up will serve your purpose best.
If you're providing supplemental information users may or may not need, a pop-in might work best. The pop-in will draw their attention, so they know the information is there if they need it, but it will not disrupt their experience.
Meanwhile, many click- or event-triggered pop-ups can perform well as true-to-form pop-up ads across the user's screen. Why? By nature, these pop-ups are more targeted to a user's specific needs, meaning the information will more likely be relevant to them at a given time.
Our digital marketing campaigns impact the metrics that improve your bottom line.
See More Results

WebFX has driven the following results for clients:

$3 billion
In client revenue

7.8 million
Leads for our clients

5.2 million
Client phone calls
Design your website to drive more conversions
Pop-up ads are one way your website can facilitate a positive user experience and drive more conversions. To make the most of your site — pop-ups included — you need robust web design that centers on conversion rate optimization (CRO).
Not sure where to begin? WebFX is a full-service digital marketing agency specializing in web design and CRO. Our data-powered strategies have driven over 7.8 million leads and $3 billion in revenue for our clients.
When you trust us for your website optimization, you can spend more time interacting with your customers and running your business. Want to learn more about how we will optimize your website for more conversions? Call us at 888-601-5359 or contact us online to speak with a strategist today!
Kayla is a content specialist with a B.S. in marketing. She is certified in Google Analytics and Google Ads Search and Display. When not writing, she enjoys reading, playing with her dog, and baking.

WebFX is a full-service marketing agency with 1000+ client reviews and a 4.9-star rating on Clutch! Find out how our expert team and revenue-accelerating tech can drive results for you! Learn more
Cost Per Click (CPC) Calculator
Do you advertise on platforms that charge per click? Use our calculator and figure out exactly how many clicks will fit within your budget.
Calculate Your CPC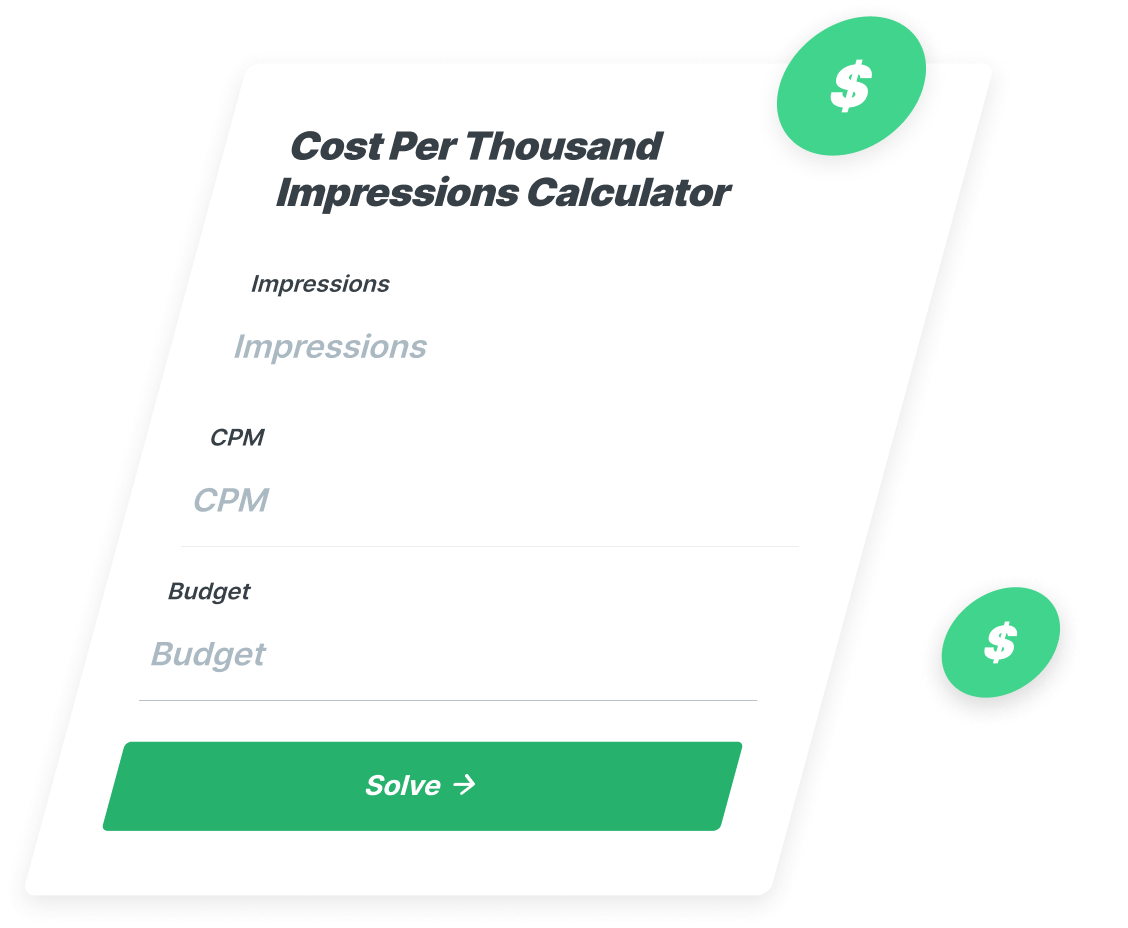 Unlock the Potential of PPC for Your Business
See how WebFX helped another company increase quote requests from paid search.
See How We Did It
Cost Per Click (CPC) Calculator
Do you advertise on platforms that charge per click? Use our calculator and figure out exactly how many clicks will fit within your budget.
Calculate Your CPC