The All-Encompassing Guide to Chatbots
Chatbots — the futuristic term sounds like something out of a fictional story or a blockbuster film, but in today's ever-changing technological world, chatbots are the future of marketing — and online business in general.
Human interaction is decreasing in regards to customer service (and communication in general) to ensure that we have time to do other things for our business, while robot interaction is increasing to lessen our business burdens.
Whether we like it or not, at the end of the day, more and more of the world is being taken over by robots. Okay — that's a little dramatic, but in reality, robots do have a significant place in our everyday lives.
Think about it, some of us employ a robot to sweep up messes on our floors, we tell Alexa to set a date in our calendar, and we even talk to our remote to find the movie we've been waiting to see. As marketers, that's creating a whole new area of marketing: Bot marketing.
On this page, we'll talk about what a chatbot is, examples of chatbots on the web, how to use them for your business, and how they can benefit your company.
If you'd like to speak with a digital marketing specialist about chatbots, you can reach us at 888-601-5359, but if you want to learn more for yourself, read on!
Our digital marketing campaigns impact the metrics that improve your bottom line.
See More Results

WebFX has driven the following results for clients:

$3 billion
In client revenue

7.8 million
Leads for our clients

5.2 million
Client phone calls
What the heck is a chatbot?
Simply put, a chatbot is a computer program that runs on your own programmed algorithm, or artificial intelligence (AI). Artificial intelligence, additionally, is basically how we categorize a program that is smart enough to consider its environment and mimic cognitive functions of a human.
A chatbot uses its pre-programmed algorithm or artificial intelligence to interact with humans on a conversational level.
For example, the goal of a FAQ page on a website is to answer frequently asked question that site visitors typically have. The goal of a human, if given a chat option on the page, would be to provide answers to any additional questions that users may have. Therefore, the goal of a chatbot on the same page, is to interact with site visitors like a human would to accomplish the goal of answering any questions they may have.
Chatbots are typically used in this way to automate customer service interactions for business that get a high volume of online inquiries, or just want to make it easier for potential customers to get answers to their questions in a timely manner.
As far as where chatbots live, they're most often found in apps, or on your website. For example, Facebook messenger is where many chatbots live – including ones for CNN, Lyft, Spotify, and Whole Foods.
To interact with a Facebook Messenger chatbot, all you need to do is click the blue button on their website that opens the app.
From there, the bot will greet you, and help you get answers to your questions about the company and their services.
How do chatbots work?
There are two kinds of chatbots, and it's important to understand both to understand how chatbots work as a whole.
Rule-based chatbots
First, there are chatbots that you can create with your own set of rules and parameters.
These bots are created off of your own specific algorithm, and there are a few things that set them apart from AI bots.
Since they respond based on if/then statements that you create, these bots are limited with what they can understand, and how they can respond. That is, unless you program enough if/then statements for every combination of words that could possibly be used to create a question.
For example, you could program a bot with the following if/then statements:
If: "Do you offer delivery to Australia?" Then: "No, sorry!"
If: "Do you offer same-day shipping?" Then: "Yes, we do!"
If: "Is shipping free for orders over $50?" Then: "Yes, it is!"
The problem with rule-based chatbots is the fact that unless someone asks these specific questions, the bot won't understand what's being asked and the user likely won't get the right answer, or an answer at all.
For example, if you asked this bot "Do you offer delivery internationally?" the bot wouldn't know how to respond, because "internationally" isn't a word that's used in the "if" statement, only "Australia" is programmed.
This is frustrating, since shipping to Australia from the United States is, in fact an international shipment, and the answer is "no," but the bot wasn't programmed to know how to respond to the word "internationally."
That's where artificial intelligence comes in.
Artificial intelligence chatbot
These chatbots are the smartest of the smart. Instead of having to program these bots with your own if/then statements, it sports an artificial brain that can learn on its own.
For example, with artificial intelligence, someone could ask "Do you offer delivery internationally?" and still get the correct response of "No, sorry!" even though "internationally" wasn't a part of the originally-programed if/then statement.
That's because AI understands that in this case, "Australia" and "internationally" yield the same answer, and essentially mean the same thing.
Bots equipped with AI understands language and don't have to be programmed with every if/then statement in the book, rather they learn and understand language.
Not to mention, AI bots get smarter over time as they have more conversations with users. It's like they're taking mental notes of how users respond, and store them for next time.
Why do people like chatbots?
As we just mentioned, chatbots make it easier for site visitors to get their questions answered almost instantaneously — and for this reason, chatbots are loved by Internet users.
In a world where we expect instant gratification, chatbots go a long way in providing answers quickly, instead of emailing the online business, or calling them on the phone.
One out of four consumers use a chatbot every day, on average. For millennials, 40% say that they talk with a chatbot on the daily.
Why is the number so high among millennials, you may ask? Likely because they, more than any other age group, love instant gratification. Matter of fact, in their quest for efficiency, they admit that they don't think phone calls aren't the most efficient way to get information, which is why they likely enjoy utilizing chatbots rather than making a phone call — because they provide an instant answer, and therefore, are a more efficient use of their time.
In addition, people love using chatbots to check on an order status, or when they're doing research on a specific product, mostly because the bots provide quick answers to questions like "Where is my order right now?" or "Do these shoes come in a size 7 wide?".
7 companies that utilize chatbots
Chatbots are present in more places than you think.
Here are a few examples of how some popular companies are using chatbots to automate their services:
1. Lyft
Lyft is known for easy-to-use platform that allows you to get a ride to wherever you need to go. It is one of the most well-known companies that uses chatbots to help you book your ride.
You can use Facebook Messenger or voice with Amazon Echo to find a ride near you. The bot is so smart, it will let you know where the driver is currently, and even show you a photo of the car you'll be picked up in, and the license plate.
2. Whole Foods
Whole Foods chatbot goes beyond the norm, and allows you to communicate with a seriously smart, artificial intelligence "robot chef" that can even read emojis.
Their chatbot allows you to type in an ingredient (or use the emoji) and the bot will return recipes to you that use those ingredients.
They can also return recipes with specified dietary restrictions, like recipes for vegans or vegetarians. Talk about smart!
3. Starbucks
Starbucks is another company that has taken full advantage of employing a chatbot on their app. When you're ready to place your daily caramel macchiato order with soy and extra foam, the Starbucks chatbot has your back.
From the app, you can order your drink, get the total cost for your order, and even get a timeline for when it will be ready.
It's like having a personal assistant — living in your Starbucks app.
4. eBay
EBay understands that times are changing, and they wanted to ensure that their platform evolves as well to satisfy shoppers.
The eBay chatbot is integrated with Facebook Messenger and you can pretty much directly shop on eBay via the Messenger app.
You can simply tell the chatbot what it is you're looking for, and they'll return results, or ask questions based on whether or not they need more information.
After you've given the chatbot all the info it needs, it will return results of items you could purchase based on your criteria.
Talk about easy shopping!
5. Pizza Hut
In order to keep customers in the loop about their pizza products and services, Pizza Hut employs chatbots to help with the task.
Pizza Hut chatbots that are paired with Facebook Messenger and Twitter allow you to order your pizza without talking to anyone on the phone.
You can also ask about any coupons that they might have, where they deliver, what kind of ingredients they use, and a slew of other frequently asked questions.
6. Aerie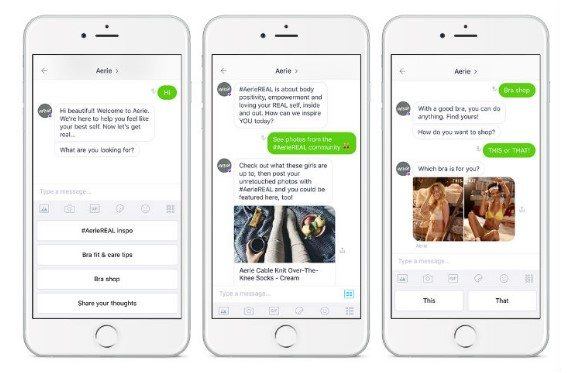 Aerie's chatbot is one of the best out there — not only can you shop through the bot, but it allows you to learn about their products as well.
For example, if you want to learn how to care for your new bathing suit you can simply ask the bot. You can also use your specific preferences to find the perfect fit for you.
After you've found the perfect one, you can shop (for real) and complete the ordering process on Aerie's website.
7. 1-800 Flowers
1-800 Flowers provides a chatbot that helps you do your flower shopping in a jiffy. You can simply chat with the bot to see a wide variety of arrangements that they offer, and even talk about delivery options!
This bot knows its stuff!
WebFX is a partner businesses trust.
Hear from HydroWorx, who saw a 236% increase in organic sessions with WebFX services.
Watch the Video Testimonial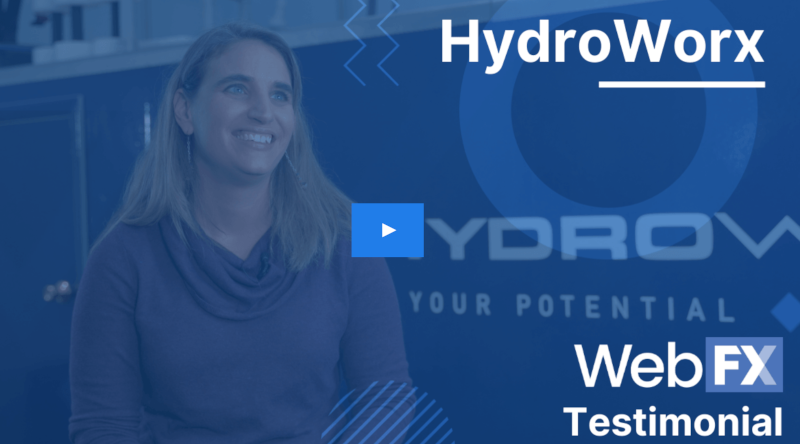 Benefits of using chatbots for your business
There are tons of benefits to using chatbots for your business – let's talk about a few of the most impressive!
1. You don't have to hire a chatbot
One of the best benefits of hiring a chatbot is that they can essentially do the work of a human that you would hire to respond to customer questions and issues through an online platform.
In the long run, adding a chatbot to your website can be far cheaper than hiring and paying someone salary for a job that a robot can do instead (for free).
Though if you don't have the skillset to implement a chatbot on your website, you'll have to hire a digital marketing company to do so — but even so, you'll still save tons and tons of money year over year when you employ a chatbot rather than a human. Installing a chatbot is a one-time investment which will benefit you for the foreseeable future.
In fact, you can reduce the cost of customer service for your company by 30% when you use chatbots.
Not only can a chatbot take the place of one human, it can take the place of many. Typically, chatbots can interact with hundreds of people at a time, if they have to, which puts a real human to shame when it comes to multitasking. (Don't get down on yourself, robots have an artificial brain.)
2. They're available 100% of the time
Another super beneficial characteristic of a chatbot is that they are available around the clock, even when you and the rest of your employees are in bed.
This is especially important if you have customers in different time zones, since they're usually surfing your website when you're asleep. If they have a questions while its 2 a.m. in your time zone and 9 a.m. in theirs, the chatbot will be able to interact with them and get their problem solved.
Not only are chatbots available when you're asleep, they're available on holidays and weekends too, when you wouldn't typically be in the office.
Being available 24/7 is a great way to build customer loyalty and trust, because they know they can reach you any time of day, any day of the week.
3. Chatbots are polite
If you've ever worked in customer service, you know that sometimes, customers can get nasty. If you don't have the product they're looking for, don't offer free shipping, or can't replace their broken item within one week's time, you'll sometimes have to deal with a hot-headed patron.
This can sometimes cause human customer service reps to lose their cool, even after they've been trained that "the customer is always right."
With chatbots, you don't have to worry about the attitude of your representatives, because chatbots don't care if someone is being mean.
They are programmed to respond politely every time, no matter what the buyer may say to them.
4. They help you gain insight
Through their conversations with customers, chatbots are able to take note of the answers customers have to specific questions and store them away for your use. The answers they take note of can help you improve your products and services, and even the way you market them.
For example, if someone is having a hard time finding one of your products online, maybe you should market it via a different keyword.
Chatbots can help you shift your marketing strategy to better serve your customers through what they learn by speaking with them.
Are you interested in improving your Internet marketing presence with options including chatbots?
If the whole "hiring a personal assistant without really paying them" sounds like a good idea to you, chatbots are a great option.
Overall, they allow you to accomplish a much higher volume of tasks in a shorter period of time — and they do so without the need to hire more bodies.
They don't require a salary, and most of them have artificial brains — so you hardly even have to train them!
They are polite with your customers and keep you safe from rude comments, and allow you to provide answers to your customers' burning questions' without lifting a finger.
If all of this sounds like something you're interested in, WebFX can help.
We understand that you're busy, and that you hardly have time to reply to customer service messages – so why not let a bot do it for you?
We can help you to employ rule-based or AI bots on your website, based on your goals and needs.
About WebFX
WebFX is a full-service digital marketing agency, which means we create more than just chatbots. We also are known for our award-winning web designs that are created by some of the most talented designers in the industry, and the many recognitions we have received over the years as a company.
We have over 1020 client testimonials which speaks to just how much we love our customers, and work to satisfy them to the best of our ability. Will you be our next success story?
In addition to our long list of testimonials, we've also managed to drive over one million leads for our clients, over 5.2 million, over $3 billion in revenue, and over 12.9 million ecommerce transactions.
Not convinced yet? What if we told you that we've been voted the number one place to work in PA for 7 years running, have been voted the Pennsylvania Tech Company of the year, and are a Premier Google Partner.
We're experts in our field, and as a team of over 500 members, we've logged over 1.6 million hours of expertise.
When you work with us, you're a partner, not a client. We want to work with you and determine your goals for your campaign, but more importantly, your overall goals for your business.
We'll take your preferences into account and be sure that you always get the final say on a campaign.
In addition to implementing a chatbot on your website, we also offer the following Internet marketing services:
And that's just the start.
Chatbots are great for increase interaction with your website and helping you improve your customer service, but we can help beyond that.
Our SEO campaigns will help you get users to your website in the first place, while social media marketing can help make the most of your new chatbots.
Whatever you choose, WebFX is here for you! We know marketing, and we want to get to know your business better!
If you're interested in a free quote, you can contact us today, and if you'd like to speak to a specialist about the marketing options waiting for you, you can reach us at 888-601-5359.
We can't wait to hear from you!