Pay-per-click (PPC) advertising is one of several standard models of online advertising, and it's a favorite for small and big businesses alike.
As an ecommerce business, you want to pursue ecommerce digital advertising because it's backed by data, easily scalable, and offers a healthy ROI.
On this page we'll take a look at what ecommerce PPC is, how PPC for ecommerce sites works, and why it's a great choice for businesses like yours.
Keep reading to get started now! Or, for professional help with ecommerce PPC, check out our ecommerce PPC management plans. You can also contact us online or give our ecommerce digital advertising agency a call at 888-601-5359!
What is ecommerce advertising?
Ecommerce advertising is the practice of promoting an online store by purchasing offline and online ad space. Most ecommerce advertising strategies target online ad space, like on a search engine, social media network, or website.

Hear What It's Like to Work With WebFX!

"Our WebFX team was on top of everything. Best part is our lead contact felt like she was part of our company. She learned everything about our business so quickly and was able to be very efficient with our brand. Reacting to what we needed or wanted to change, making us feel so comfortable the whole way!"
Retail
What is PPC for ecommerce?
PPC for ecommerce, or ecommerce PPC, is an online advertising strategy that promotes an online store and its products through PPC ads. These ads can display on search engines, social media networks, and websites. PPC for ecommerce works well for generating sales because it targets ready-to-buy shoppers.
What is PPC advertising?
Pay-per-click advertising is a form of online advertising in which you only pay when a user clicks on your ad. It doesn't matter how many times your ad is displayed, or how many people see it – you only pay for actual clicks.
You can use several platforms to serve your ads, and the two largest and most well-known are Google and Facebook.
Every ad you see above Google search results and most of the ads you see on Facebook are PPC ads. Google shopping ads, for instance, are one of the most common applications of ecommerce PPC.
PPC is a fantastic model for ecommerce businesses, because it's incredibly data-driven. You have unlimited room for optimization, testing, and scaling, all of which complement an ecommerce business model perfectly.
Partner with a team of ecommerce masters!
WebFX campaigns have delivered more than 12,936,451 ecommerce transactions in the last 5 years
Read the Case Studies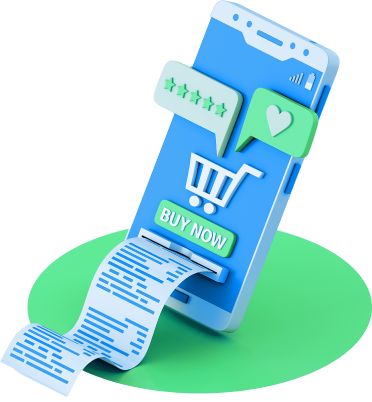 How does PPC for ecommerce work?
PPC for ecommerce is pretty straightforward. There are a few different steps you'll need to take to launch a campaign:
Ad creation
Ad creation is very simple for most ecommerce PPC campaigns. These ads tend to be smaller (although some platforms do offer larger ad sizes), and are typically made up of a headline, a few lines of ad copy, and in some cases, an image.

If you're just dealing with Google's Ads platform, you don't even need images – just a link to your landing page, a headline, and two lines of copy!
Keyword selection
With the Google Ads PPC model, you select which keywords will trigger your ad.
For example, if you're an ecommerce store that sells camping gear, you might pick keywords like "best tent for the winter" or "best warm weather sleeping bag." Your ad will only appear when users search for those keywords, or close variations of them.
Bidding
Once you've created your ads and selected your keywords, you can decide how much you're willing to "bid" to have your ad displayed.
The standard bid varies depending on how competitive your selected keywords are. If it's a high-volume, profitable keyword that many businesses are targeting, you'll end up paying more per click than you would for lower volume keywords.
This is one of the reasons that proper keyword research is extremely important for ecommerce PPC!
Why use PPC for ecommerce sites?
PPC is an excellent advertising model for ecommerce businesses for a number of reasons.
1. It fits in with the ecommerce business model
Ecommerce is data-driven. For the most part, the entire business model can be represented by numbers in a spreadsheet.
PPC for ecommerce works well because it fits right in with that structure. You can track your advertising campaigns exhaustively, right down to the last penny.
Plus, the process of optimizing an ecommerce store for conversions is fairly similar to optimizing a PPC campaign for more clicks, meaning that it often comes naturally to ecommerce store owners.
2. You set your own budget
PPC is also an excellent choice because your campaigns can be as small-scale or large-scale as you want. You don't need a massive budget to reap the benefits of ecommerce PPC advertising.
While traditional advertising often requires a large or complete payment up-front, before you see results, PPC is the direct opposite. You don't pay until you start seeing results, and even then you can adjust your spend on the fly.
3. You can get very granular in your ads
Perhaps the most beneficial aspect of PPC for ecommerce businesses is how incredibly targeted you can get with your campaigns.
You can choose exactly what you're advertising, and who you're advertising it to.
Let's say you run a clothing ecommerce store. If you get a new line of sweaters in, you can create a group of ads specifically for those new sweaters.
Maybe the sweaters are water-resistant and made of cashmere. You could have a series of ads with "water resistant cashmere sweaters" in the copy, and you would then bid on keywords like "best water resistant cashmere sweater" and so on.
This means your ads are only ever being delivered to people who you know are looking for exactly what you're advertising in the first place.
You really can't get more specific than with ecommerce PPC.
Get more sales with ecommerce PPC
If ecommerce PPC advertising sounds appealing to you, we'd love to help!
At WebFX, our team of expert Internet marketers has years of experience managing lucrative PPC campaigns for ecommerce clients across the country. We know what it takes to quickly optimize and scale successful ecommerce advertising campaigns for businesses in any niche imaginable.
Contact us today for more information about our ecommerce PPC services or a free quote!
Earn a 20% greater ROI with WebFX