Are you looking to get an edge on your competition in 2023?
If so, consider investing in Quora ads. Quora advertising is an excellent way for you to reach people as they browse forums and get answers to their questions.
On this page, we'll go over everything you need to know to advertise on Quora, including:
Keep reading to learn everything you need to know to promote your business on Quora!
P.S. Looking for free tips and tricks for advertising your business across the web? Subscribe to Revenue Weekly to get marketing advice from our team of 500 skilled experts!
What are Quora ads?
Quora ads are promotional pieces of marketing that appear in users' feeds along with other content from Quora. These posts look like regular Quora posts, except they say "promoted by [company name]" or "sponsored" at the top of the post.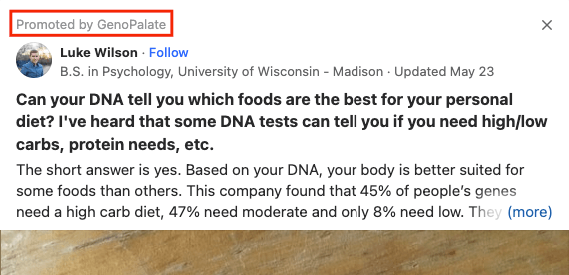 Why should I invest in Quora advertising?
With so many advertising channels available to your business, you may wonder why you need to add Quora to the list. Why should you invest in Quora advertising?
The most significant selling point of Quora is that it's another channel for you to reach your target audience. Next to Reddit, Quora is the most popular forum where people ask questions, get answers, and receive advice. Many people turn to this platform to get help from others.
This platform caters to a diverse set of people, much like social media platforms. Whether you're an ecommerce business, landscaper, or medical supply company, you can find people in your target audience looking for information on Quora.
So, if you're looking for an additional channel to reach people interested in what you offer, Quora is a great channel to use.
How to advertise on Quora: 5 tips for advertising on Quora
Want to advertise on Quora but aren't sure where to start? Here are five tips to help you get started:
1. Find your audience on Quora
Before launching a Quora ad, you must make sure your audience is on Quora. You can quickly figure out if your target audience is on Quora by installing the Quora Pixel on your website.
Installing this pixel is a great way to see who's visiting your website and using Quora.
To start, set up your Quora business account. After you create your account, go to the Pixels and Conversions tab, where you'll see the option to set up your pixel.
When you click that button, you'll see the option to install manually or install with a partner. If you're already using a third-party tag installer, like Google Tag Manager, installing with a partner will be much easier.
You'll need to follow the specific steps for your tag manager. Once you do that, you'll have the Quora pixel installer and can start collecting audiences from Quora.
If you want to take it a step further, you can upload a CSV file to Quora with a list of email addresses to create matches. By doing this, you can see if your match rate is high and if Quora is a good place for you to advertise.
2. Include a high-quality visual in your ad
When you create Quora ads, you want to use a high-quality visual. Using the right visual will help your ad stand out in users' feeds and forums, so they see it and engage with it.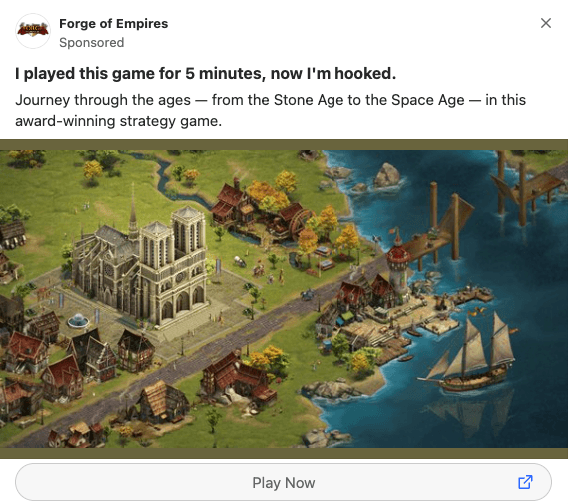 When choosing a visual for your Quora ad, make sure it's relevant to your ad content. If you're promoting a product, use a relevant product image with your ad. If you're answering an industry question, use an image relevant to your answer.
You'll also want to ensure it's a high-quality image. If you have a grainy or stretched visual, your ad will lose credibility.
3. Try question targeting
When you do Quora advertising, try doing question targeting. Since Quora is a Q&A platform, targeting questions is a great way to reach people with your ads. You can look at specific questions users on Quora ask and run an ad answering that question.
So, how do you figure out which questions are best to target for your ad?
Start by looking at how many people follow the question. You can see this data when you click on a question to open the forum.

Questions that have hundreds to thousands of followers will serve best, but that doesn't mean questions with low follower accounts can't be addressed too. You need to look at the number of followers in conjunction with the number of views.

You can do this by clicking the three-dotted line on the post and opening the question log. By doing this, you can see question stats, which show you the number of views.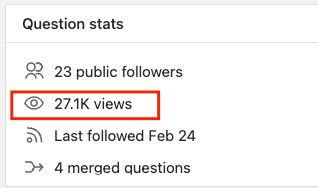 You want to look at these two pieces of data together to determine if a question is worth targeting.
Once you figure out what questions to target, you can start formulating a detailed answer to those questions.
4. Try targeting topics
In addition to targeting questions, you can also try targeting topics. This option is good if you don't have any popular questions to target. Topic target is an excellent way for you to put your ads in front of people interested in information about your industry.
The easiest way to find suitable topics is to set up your ad campaign. You won't have to pay anything to do this step, so you can easily try it out and see if there are topics you want to target.
When you set up your ads, Quora will give your targeting options –– one of them being keyword targeting. Here, you can input your keywords, and Quora will generate a list of relevant keywords for your ad.
This option is a great way to help you find relevant keywords so that you can target them in your ads.
5. Choose the right objective
If you want to know how to advertise on Quora, start by choosing an appropriate objective. Quora offers you multiple objectives you can set, including:
Traffic
Awareness
Conversions
App Installs
Lead Generation
Choose the objective that aligns with the goals of your ad. Setting the awareness goal is best if you're looking to boost brand awareness. Want to increase conversions? Set that as your goal.
Choosing the right objective ensures you're on the fast track to achieving your ad goals.
Need help with Quora advertising?
Running Quora ads is a great way to reach your target audience on another channel and help them discover your brand. But if you aren't sure where to start with Quora advertising, our team at WebFX can help.
Our team has created over 650 unique ad campaigns for our clients. We've managed over $120+ million in ad spend for our clients, so you can feel confident we're a trusted and experienced partner for advertising your business.
Ready to start driving results with paid advertising? Contact us online or call us today at 888-601-5359 to speak with a strategist about our paid advertising services!
WebFX Careers
Join our mission to provide industry-leading digital marketing services to businesses around the globe - all while building your personal knowledge and growing as an individual.