Getting your website to rank high in Google search results is no easy task. You must consider numerous ranking factors, and you need to optimize your site for all of them. And on top of everything else, you have to worry about beating out your competitors.
After all, you're hardly the only company vying for those rankings. Even if your search engine optimization (SEO) efforts are top-of-the-line, your competitors could still outperform you. So, how can you figure out how well your site is doing against the competition?
The answer is, you can use a domain authority checker. Knowing your domain authority can help you get a sense of where you stand against your competitors in search results — but what is domain authority, and which tools can you use to check what yours is? Read on to find out.
Then subscribe to Revenue Weekly, our email newsletter, to get more digital marketing tips delivered straight to your inbox!
What is domain authority?
There are a couple of different ways to define the term "domain authority."
Broadly speaking, domain authority — also called website authority, or page authority when applied to individual pages — refers to the overall strength of a domain — that is, its ability to rank high in search results.
The above version of the term is relatively open-ended. However, the other meaning of "domain authority" refers to a specific metric developed by Moz. It's similar to the original meaning, but the main difference is that it's more specific and measurable.
Effectively, the domain authority metric measures how likely a given domain is to appear in search results relative to its competitors. You can use a domain authority checker to produce a domain score for your website.
Why does website authority matter?
You may be unsure what makes domain authority so useful. The answer is that it gives you a fresh perspective on your SEO efforts that other types of checkers lack.
Most SEO checkers look at where your website stands in relation to Google's ranking factors. They tell you what you can do to rank higher in general. However, those tools often overlook where you stand relative to your competitors. As we noted earlier, you can have stellar SEO and still fall behind your competitors in the results.
A domain authority checker lets you see whether you're ahead or behind the curb by checking your backlinks and evaluating them. Maybe you thought you were doing well, only to see that your competitors are doing even better. These insights help you see when and if you still need to do more work on your SEO.
Furthermore, if you're struggling to drive leads and conversions, knowing your domain authority can help you understand why — maybe those leads are going to competitors who are dominating search results.
The best domain authority checkers to try
By now, you probably want to see what your website authority is so you can figure out where you stand. If so, you might be wondering which domain authority checker you should use.
Here are three of the best domain authority checkers out there!
1. Moz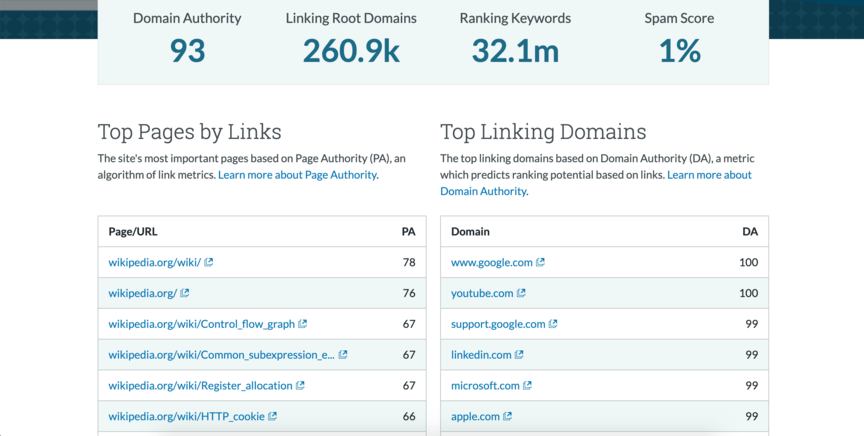 Since Moz initially developed the domain authority metric, it's only fitting that they'd earn the first spot on this list. Moz's domain authority checker is free to use — enter your website's domain name and click "Analyze domain."
From there, you'll receive a full report related to your website's domain authority. On top of the basic domain score, the report includes valuable information like:
Top pages based on page authority

Top linking domains

Top keywords by ranking position

Keyword ranking distribution

And more!
Using that information, you can gain a comprehensive picture of where your website stands in Google rankings.
2. Ahrefs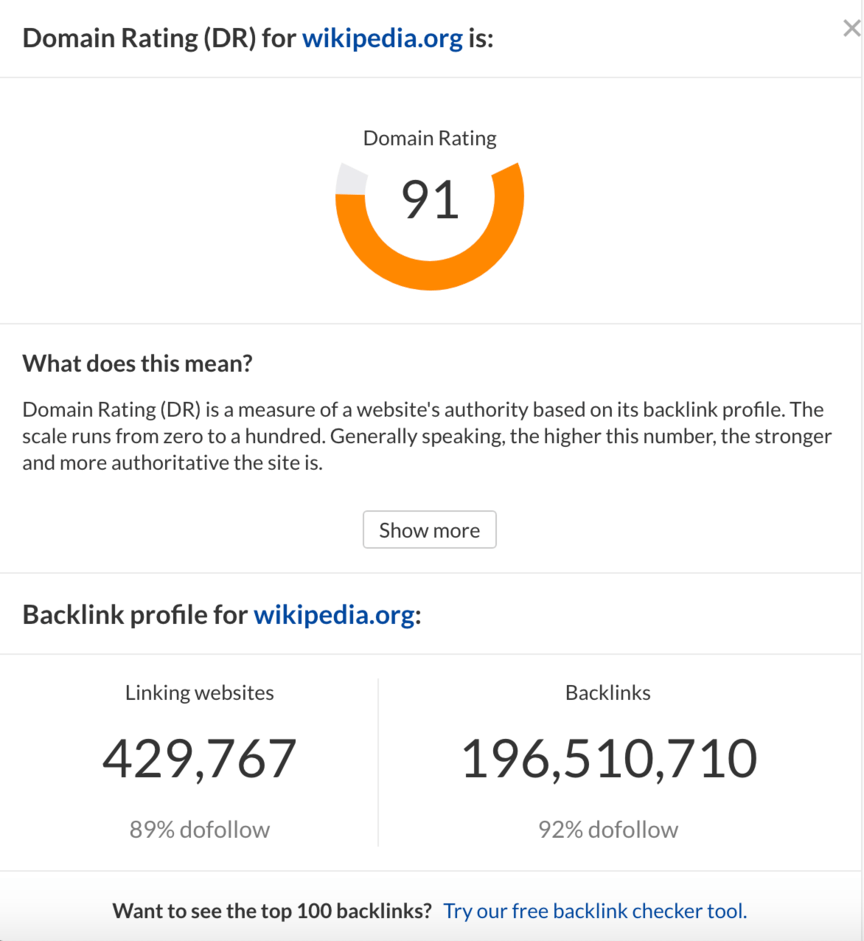 One of the most trustworthy and widely used domain authority checkers is Ahrefs. The most basic version of Ahrefs's domain authority checker is free to use. It will give you a domain score, which it calls a Domain Rating, based entirely on your website's backlink profile.
Other than that, the free tool doesn't provide much information, making it far inferior to Moz's tool. However, the paid version of Ahrefs is quite the opposite.
Not only can it tell you what your domain authority is, but it can also provide more detailed reports of where your pages are ranking and which ones move up or down over time.
The paid version of Ahrefs starts at $99 per month, with additional features for higher-priced plans.
3. Semrush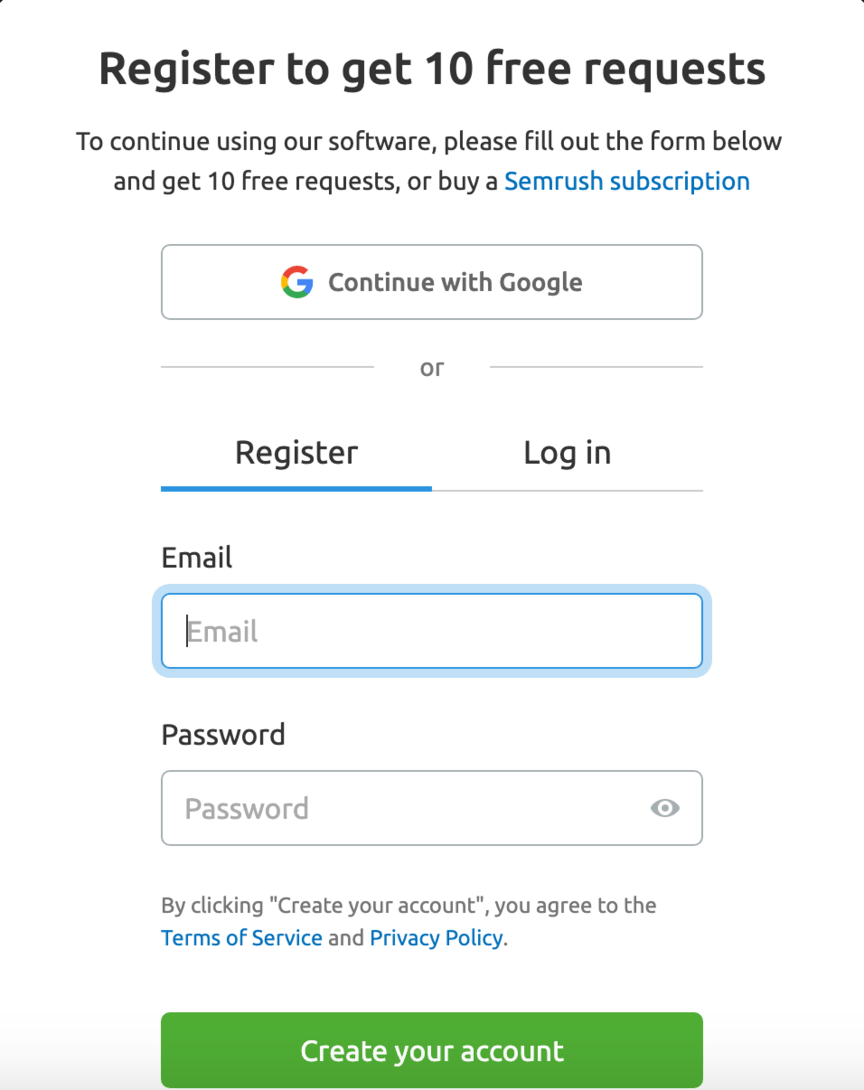 The domain authority checker from Semrush provides very similar information to Moz's tool. It will give you insights into your domain's online visibility, growth trends over time, and top keywords. However, it's not as readily available as Moz's tool.
To access Semrush's domain authority checker, you must create an account on their website. You can either fill out a form to register for 10 free uses of the tool, or you can pay for a full Semrush subscription.
Subscription plans start at $119 per month. Just like with Ahrefs, you'll also get plenty of other helpful SEO tools with the full software, including competitor analysis and on-page SEO checks.
How to improve your domain score
Domain authority depends on multiple SEO factors, but its biggest focus is on backlinks. It's called domain authority because it's a measure of how reliable or reputable your site is, and nothing says "reputable" more than having backlinks.
For that reason, earning backlinks is the best way to boost your domain score. You can do that by contacting websites with linking opportunities on their pages and recommending they link to your website.
However, don't just grab backlinks for your site haphazardly. Aim for quality over quantity — try to earn backlinks from websites that are both reputable and relevant. They should be well-respected within your industry.
Additionally, ensure that all your on-page SEO is up to standard so you don't cancel out the positive effect of your backlinks. Then you can head to a domain authority checker to see how you've improved!
Independent research from Clutch has named WebFX the
top SEO company in the United States.
Clutch has personally interviewed more than 250 WebFX clients to discuss their experience partnering with us.
Read More Clutch Reviews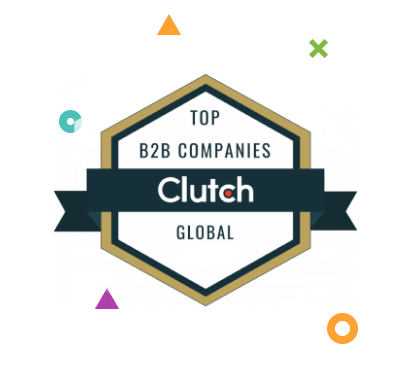 WebFX can help you boost your website authority
Want some help improving your SEO and boosting your website authority? Partner with WebFX! With over 25 years of marketing experience, we know exactly how to propel your website in rankings and set you above your competitors.
With our SEO services, you'll get help earning reputable backlinks and perfecting all your on-page and off-page SEO. Not only that, but you'll also receive regular reports from us about the results we're driving for your website.
To get started with us, just call 888-601-5359 or contact us online today!
How is your website's SEO?
Use our free tool to get your score calculated in under 60 seconds.
WebFX Careers
Join our mission to provide industry-leading digital marketing services to businesses around the globe - all while building your personal knowledge and growing as an individual.