Have you ever wanted a "one-stop-shop" to view your website's important analytics? With Google Analytics Dashboards, you can customize which metrics you see first every time you log in.
Keep reading to learn more about Google Analytics Dashboards, why they're essential, and how you can create and organize them.
P.S. If you're looking for tips and tricks to help you market your business more effectively on Google, subscribe to Revenue Weekly for the latest insight from the experts with over 25 years of experience!
What is Google Analytics?
Google Analytics is a platform that gives you unique insights into your website performance. This tool provides tons of data on your traffic, clicks, and more.

With Google Analytics, you can:
One of the most helpful features is Google Analytics Dashboards, which give you an immediate look into how your website performs all at once. These Dashboards are a collection of data about your website. They offer an easy and accessible way to view the statistics and metrics you think are most important to your strategy.
What are Google Analytics Dashboards?
You want to know as much as you can about how your business performs online. With a Google Analytics Dashboard, all the information you want is clicks away.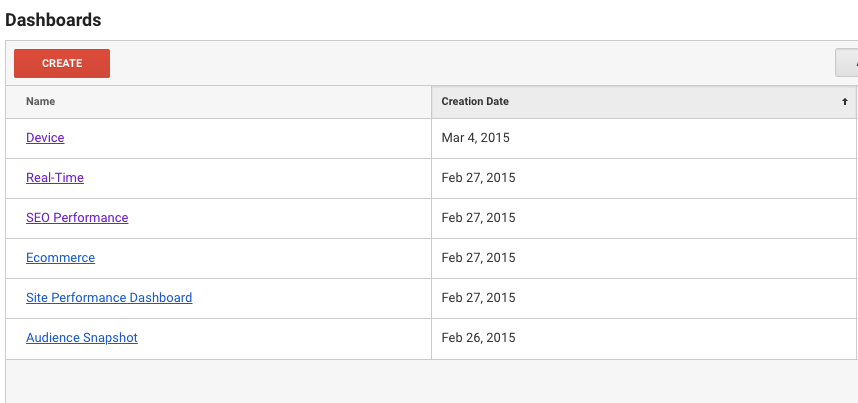 Dashboards show you an overview of the analytics and metrics handpick. You can see key performance indicators (KPIs), such as:
The widgets display metrics using any combination of:
Timelines
Geomaps
Tables
Pie charts
Bar graphs

You can mix and match widget types. There are 12 widgets available per Dashboard — every view in Analytics comes with a Dashboard.
Additionally, some widgets give you updates in real-time by updating automatically. Traditional widgets update when you first log in or refresh the page. With Google Analytics widgets, everything on your site is available in real-time.
Why are Google Analytics Dashboards important?
Creating a Google Analytics Dashboard has the following benefits:
Speed: Save time by having the metrics you care about most at your fingertips.
Visuals: If you're a visual learner and retain information best by looking at charts and images, Google Analytics Dashboards provides you with a visual representation of your data.
Improvements: Like any other Google Analytics software, Dashboards displays data and gives you concrete insights into how you can improve.
Multiple metrics at once: Seeing multiple metrics simultaneously can help you make connections more effectively than looking at each one separately.
Customization: Use Dashboards to show different information to multiple members of your team based on their roles in your organization.
Shareability: Easily share your metrics with other team members with the Google link or convert dashboards to PDFs for simple sharing.
Widgets give you easily digestible insights into how your website performs at any given moment and keep you organized. With these features, you can make the most of your time whenever you log on to Google Analytics.
How can I create Dashboards with Google Analytics?
You can navigate to Dashboards through your Google Analytics account by following these steps:
Sign in to your Google Analytics account
Go to the appropriate view
Click on Reports on the left side of the screen
Choose Customization
Select Dashboards
From there, you can create a new Dashboard from scratch or use one of Google's default options.
Google Analytics also provides an entire page filled with helpful Dashboard templates to help you get started.
When you add widgets to your dashboard, you can organize them however you like — group all SEO or user-related metrics or categorize them according to the type of display. You have complete freedom to organize your dashboard in a way that makes sense to you.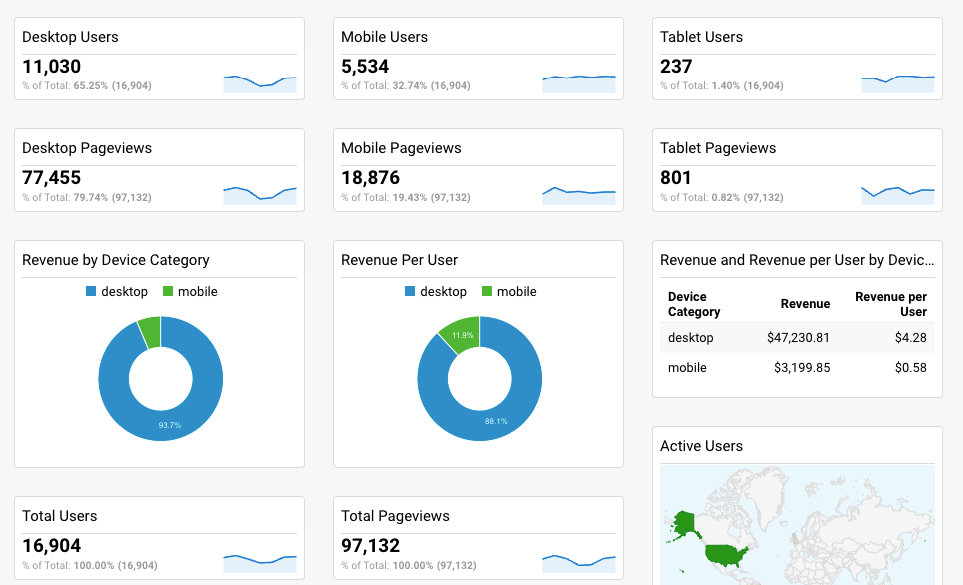 Special features of Google Analytics Dashboards
Google Analytics Dashboards also have the following features to make the software even more user friendly:
Filters: Limit the data shown by a specific widget using a filter.
Size configuration: This option might depend on the type of widget, but in general, you should be able to modify the size of your widgets, so the most important ones are the largest if you so desire.
Linkability: You can link to a widget in a report.
Editing capabilities: If you make a mistake while creating a new widget, don't worry! You can edit and delete your widgets if necessary.
Segments: With segments, you can compare metrics.
Importing: One of the greatest features of a Google Analytics Dashboard is that you can import Dashboards made by other users if you like their formatting or visual appeal.
Need help with your digital marketing strategy?
A Google Analytics Dashboard can improve your digital marketing strategy — an integral piece of your business's success. If you're feeling overwhelmed by digital marketing, the experts at WebFX can assist.
Our qualified team has 25 years of experience turning actions into results, and we can help you make the most of your digital marketing campaign. Our team can help you turn your Google Analytics data into actionable steps and fine-tune your SEO.
Call us at 888-601-5359 or contact us online to learn more about our Google Analytics consulting services!
How is your website's SEO?
Use our free tool to get your score calculated in under 60 seconds.
WebFX Careers
Join our mission to provide industry-leading digital marketing services to businesses around the globe - all while building your personal knowledge and growing as an individual.