Your presence on YouTube is almost as important as your presence in search engines — after all, it is the most visited website in the United States. With monthly traffic amounting to 1,705,778,109 users, it's important that your videos rank highly in order to tap into the giant audience that YouTube offers. You can rank highly on YouTube the same way you can rank highly in search engines like Google — with search engine optimization (SEO). But how does YouTube SEO work? How does your YouTube channel rank?
Check out our video above, then keep reading to learn more — or contact WebFX today to learn more about the benefits of YouTube for business!
What is YouTube SEO?
Before we answer the question "How does YouTube SEO work," let's define YouTube SEO.
YouTube SEO is best defined as the process of optimizing your YouTube videos and your channel to allow your videos to rank highly in YouTube search queries. This optimization process often includes tasks like:
Optimizing your video descriptions and meta descriptions
Adding closed captions to videos
Targeting the right keywords
When you do it correctly, YouTube SEO can help your videos rank at the top of YouTube results pages — increasing brand awareness, video views, website traffic, and revenue.
Looking for an all-in-one SEO audit tool? You've found it.
SEO Checker provides data on key metrics to give you:
Complete SEO score

Content Grade

Site Speed Analysis

and more.
How does YouTube SEO work?
Now to answer the question of the hour, "How does YouTube SEO work?" If you're familiar with SEO for your website, YouTube SEO is very similar. It's the process of optimizing your YouTube channel and videos to increase your exposure in YouTube search results.
Just like increased visibility in Google increases your website traffic, conversion rate, and revenue, YouTube SEO can help increase important metrics like follower count, brand awareness, website visits, and revenue.
But how does YouTube SEO work, and how can you ensure that your YouTube channel is SEO-friendly? Keep reading!
YouTube ranking algorithm
YouTube has a ranking algorithm, just like Google, that determines how your content ranks.
Although ranking algorithms on any platform are rarely disclosed fully, here's what we know about how YouTube ranks videos:
Ranks videos based on relevancy to a user
Rewards video engagement rather than clicks
Considers how your descriptions and meta descriptions match users' interests
Considers how many videos a specific user has watched on your channel
Considers a user's watch history
Considers view velocity, which measures how many subscribers watch your video right after its published
Considers the number of subscribers
Now that you understand how YouTube SEO works, let's talk about some YouTube SEO tips to help you get the most out of your YouTube presence.
6 YouTube SEO tips to help users find, engage with, and love your videos
When it comes to YouTube SEO tips, there are a few that your channel can't live without. If you're wondering how to do SEO on YouTube, the following tips will help you get started!
Tip one:

Do YouTube keyword research
It's equally important to do keyword research for your YouTube videos as it is for written content. Why?
YouTube also ranks videos on relevancy, and they look to places like your video title, meta description, and video transcription for those key terms. You'll want to research valuable keywords so that you know what terms to include in your video to make them as relevant as possible to your target audience.
You should research both short- and long-tail keywords to ensure that you target both your general audience and your more specific audience.
Here are some examples of short-tail keywords that you might target:
Cake baking
How to bake a cake
How to ice a cake
On the other hand, here are some long-tail keywords that you might target in order to engage with a more specific audience:
How to bake a chocolate cake with a surprise center
How to ice a cake with rosettes
Tip two:

Create a video that uses your target keyword
Create a video that outlines a topic using the keywords that you find to be the most valuable. Most often, it's helpful to do your keyword research, type that keyword into YouTube, and see what kinds of video content shows up. Remember, YouTube's algorithm considers things like engagement — and the quality of your video goes a long way in helping to keep people engaged.
Be sure to create a video that has both quality visuals and audio. You'll want to incorporate your keywords in the video itself so that when you write your transcript, it'll also have your keyword front and center.
Tip three:

Create a click-worthy title
Just like users are less likely to click on a title tag in search that doesn't grab their attention, users are also less likely to click on your video if the title doesn't engage them. Use your keyword in your video title to create a relevant, engaging title that makes users want to watch your footage.
Remember, clicks are important, but engagement is what really matters. The video title below tells users exactly what they're about to watch — a video that outlines how to frost a cake for beginners.

It's a simple title, but it features two keywords, "cake decorating," and "frost a cake," and tells users exactly what they're watching.
Simple and engaging!
Tip four:

Don't forget about your description
The description of your video helps users decide if they're interested enough to watch — so we're not being dramatic when we say your description can make or break a click. You'll also want to include your keyword in your description, and you should also consider transcribing your video and including it in your description.
Transcribing allows you to kill two birds with one stone since it provides your entire video's content in written form for users, and it's also another place to use your target keywords and other key phrases.
Many YouTubers cross-promote their other social media profiles and provide links to their website. In the example description below, Preppy Kitchen explains exactly what the video is about — how to make a perfect vanilla cake.
They also include a link to the full recipe and a few tips for users.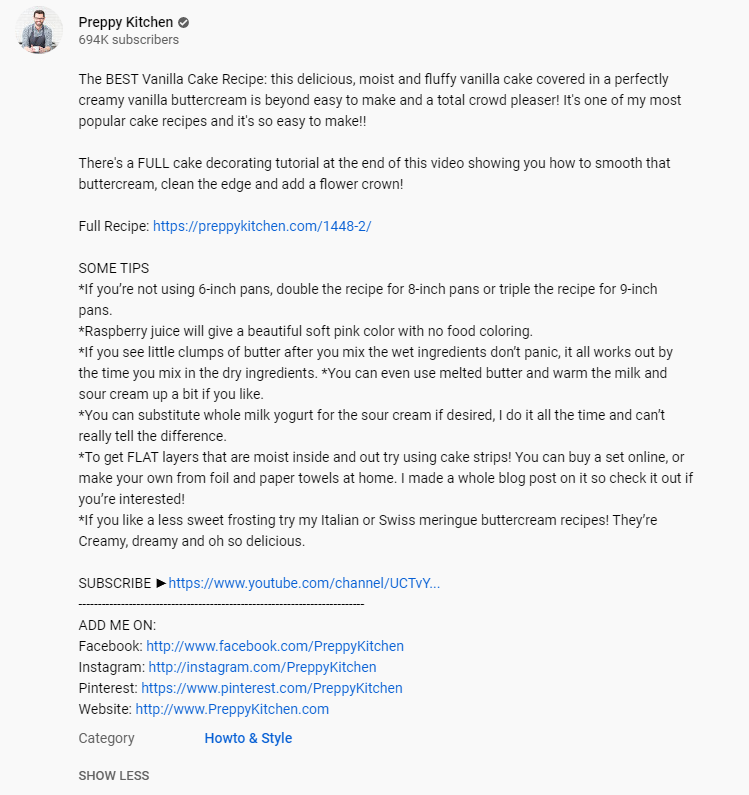 Tip five:

Select a thumbnail that wows
Think of some of your favorite YouTube channels. Why are they your favorite?
They probably don't feature thumbnails with a single-color background and some text. Today, thumbnails are more important than ever. To capture a user's attention in a sea of other videos, it's crucial that your thumbnail stands out among the rest.
To make your thumbnail memorable and engaging, consider the following:
Take a fun photo of the subject
Make sure the image you choose is high quality
Use brand colors and text
The thumbnail below shows the finished product of a frosted cake. If that image is the result of what this video will teach me, I want to watch! It also tells me that this could be the first cake I ever ice, and it will still look like that.
Even better!

Tip six:

Include video tags
Tagging your videos is a great way to help users find your content. You should tag your keyword, along with other valuable terms that might include:
Industry
Location
Product or service
Company name
And more
These tags act similarly to Instagram hashtags and can help skyrocket video views since users don't have to be subscribed to your channel to see your content.
93% of WebFX customers are extremely satisfied with their digital marketing results.
"Working with WebFX, everything is very organized and strategic. We're only a year into our partnership, and our expectations have definitely been met."
View More Client Testimonials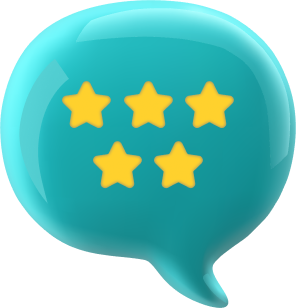 Still wondering how to do SEO on YouTube?
If you're still curious about the ins and outs of YouTube SEO, WebFX is here for you. We're home to more than 500 marketing specialists who are experts at creating custom SEO strategies to fit your unique business. We're based in Harrisburg, PA, and we've been providing stellar results to our clients for over a decade.
We provide marketing solutions to clients in a variety of locations — operating in a variety of industries. Not only do we provide YouTube SEO, but we can also help you create customized videos that speak to your unique company. We can even help you plan and execute your next YouTube advertising campaign! If you're ready to reap all the benefits of working with a full-service digital marketing agency that specializes in YouTube SEO, contact us online for a free quote, or give us a call at 888-601-5359!
WebFX Careers
Join our mission to provide industry-leading digital marketing services to businesses around the globe - all while building your personal knowledge and growing as an individual.