Just like Google has an algorithm that determines how pages rank in search engine results pages, YouTube has an algorithm for its platform as well. It's no surprise, considering YouTube utilizes a results-page style for its videos, similar to the way Google provides results. Where Google is pretty tight-lipped about its algorithm, YouTube has released tons of great resources to help users rank better in their platform.
Here's what we've learned about how YouTube ranks videos, and how you can help your videos climb to the top.
Good agencies have more than 50 testimonials.
Great agencies have more than 100 testimonials.
WebFX has over 1000+ glowing client testimonials.
See What Makes Us Stand out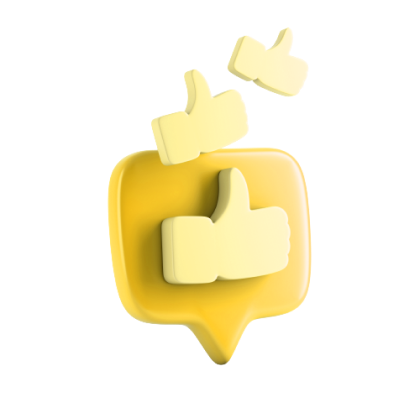 What is the goal of YouTube's algorithm?
Just like Google, YouTube's algorithm aims to provide searchers with relevant, personalized videos. There are five separate sections of YouTube where this algorithm works: Home, Search, Recommended Videos, Trending, and Subscriptions. That means that for each of those sections of the interface, YouTube works to present users with options that they'll love.
But how do they know what videos their audience will love? That's where the algorithm comes in. Similar to the way that Google no longer accepts keyword stuffing, YouTube wants to see videos that are created for your audience instead of trying to beat the system.
You shouldn't load your descriptions with keywords or create videos that you think the platform will like.
Creating videos for your audience and your audience alone is enough to catch YouTube's eye. Let's talk about each section that you can rank in on YouTube and how you can get to the top of each.
1 & 2. Home and recommended results algorithm
Home results refer to the results that appear on your home screen when you first log in to your YouTube account.


The recommended results appear on your home page and come in the form of single videos and channels.



The first part of the algorithm for home and recommended videos focuses solely on the users' history. All of these questions help YouTube select videos that are custom chosen for the satisfaction of the user:
What have they watched before?
Do they mostly listen to music?
Do they watch vlogs?
What channels do they frequent?
The second part of the algorithm focuses on the interaction between top videos and similar users (to the one you're targeting). For example, YouTube might have a group of users that consistently listen to the same band on YouTube. From there, they'll choose the videos that are most-watched by this similar audience and rank them highly for users.
One great thing about YouTube's home page suggestions and recommended videos is that it won't just suggest the same videos and the same channels. The algorithm knows and understands that users are interested in more than one thing and will create suggestions based on all of their previously watched videos.
Tip from YouTube on how to rank in the "Home" section
YouTube suggests that in order to rank in the "Home" section of their platform, you should aim to keep users engaged for as long as possible. It doesn't matter whether you post a few long videos or a ton of short ones, the goal is to keep people interested and engaged in your videos.
This increases the chances that your video will be featured on the home page.
Tip from YouTube on how to rank in the "Recommended" section
In order to rank in the "Recommended" section of YouTube's interface, they suggest that the end screen of your videos close with a strong call to action that suggests your next video.
2. Trending results algorithm
The algorithm for trending results pulls videos that are new and popular in a specific country. Trending videos are never sponsored, meaning users can't pay to have their video shown in the trending results. Some videos on the trending list are expected.
These are videos like a new song, but others can be based on things like the rate of growth in views and where views are coming from.

Tip from YouTube on how to rank in the "Trending" section
YouTube suggests that to rank in the "Trending" section, you should make videos that are widely relatable, broadly appealing, and easily shared. When you create these kinds of videos, they can reach tons of different audiences besides your subscribers.
3. Search results algorithm
Search results appear when you search for a specific term. For example, if you search "how to bake chocolate chip cookies," the results you see are a result of the search.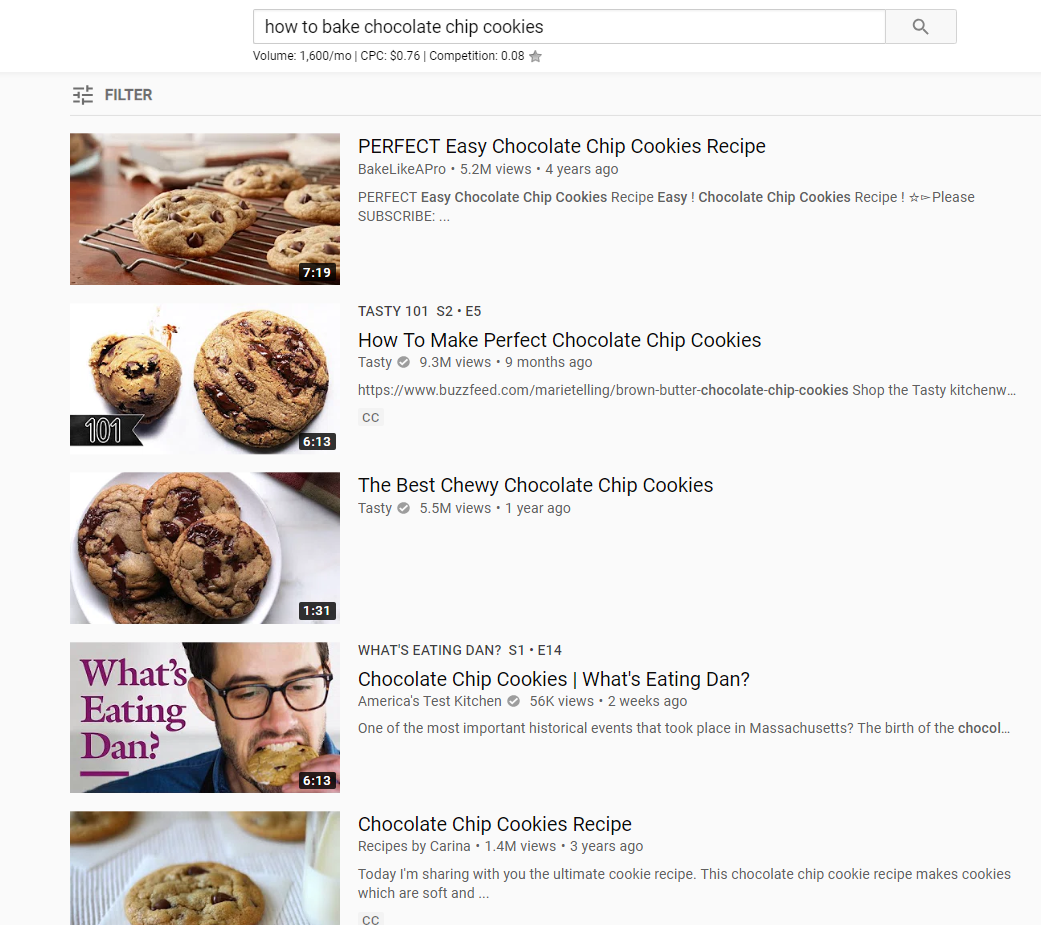 But how does YouTube choose what videos get those first-page spots? For search, it's mostly based on the relevance of your video to the user's search, as well as the keywords that you use in the title and description.
When they deliver these results, they obviously want to ensure that the keyword or a variation of the keyword that the user searched is present in your video's title and/or description. Not only that, but the algorithm also takes a look at whether the user has watched your videos before.
Tip from YouTube on how to rank in the search results
In order to rank in search results for keywords that are featured in your video, be sure to write extended descriptions for your videos that feature that keyword. Be sure to not keyword stuff, or write content that isn't relevant to your video, though.
Bonus Reading: YouTube Keyword Research
5. Subscriptions results algorithm
When someone subscribes to your channel, they can visit their subscriptions page and see all the newly uploaded videos from all the channels they follow.



In order to rank a user's subscribed channel results, YouTube uses view velocity, which is a number that quantifies the number of subscribers that watch your video right after it's published. Your videos will rank higher depending on how high your view velocity is. View velocity isn't the only part of the subscriptions ranking algorithm, though.
YouTube also considers the number of followers your channel has when ranking your videos!
Tip from YouTube on how to rank in the "subscriptions" results
Be genuine when you ask for subscribers. Users have a better reaction when you explain the benefits of subscribing to your channel and how your channel supports you.
Read: The Best Time to Post on YouTube
Do you need help optimizing your videos for YouTube's algorithm?
WebFX is a full-service digital marketing agency that understands the importance of not only highly-ranked content, but also highly-ranked videos on platforms like YouTube. If you're interested in optimizing your video descriptions and titles, getting more views, and creating stellar videos, we're here for you.
We can help you optimize your YouTube channel to better promote your videos. Feel free to contact us online, or give us a call at 888-601-5359!
How is your website's SEO?
Use our free tool to get your score calculated in under 60 seconds.
Get posts by email
Join 200,000 marketing managers and subscribe to Revenue Weekly!
"*" indicates required fields
WebFX Careers
Join our mission to provide industry-leading digital marketing services to businesses around the globe - all while building your personal knowledge and growing as an individual.