Answers burning questions, connects customers to products, provides smooth navigation — what do all these things have in common? They're all benefits of Google's first search engine results page (SERP). If your site is there to greet searchers at the top of Google search results, you get floods of traffic and major visibility.
It's the dream for companies who need a strong online presence (which, let's face it, is everyone these days). Google has changed from its early days, and now it has sophisticated algorithms that judge web pages. If your pages measure up to the ranking factors and beat the competition, you get closer to a prime position in the SERPs.
But the question remains, how do you get to the top of Google search results in 2021?
A quick way to find out is by entering your URL here to receive custom recommendations in just 60 seconds — or keep reading!
Bonus Reading: Does Google Personalize Search Results?
Search engine optimization (SEO)
is the way to attain a page one ranking and bring in revenue for your site. Let's go over what you need to consider in your SEO strategy to get to the top of Google search this year.
If you need a leading SEO agency to handle your strategy, WebFX is equipped to climb the SERPs for your business.
We've driven over 255,000 page one rankings in Google for our clients! Contact us online or call us at 888-601-5359 now.
1. Concentrate on long-tail keywords
It's not realistic to try ranking for just any keywords (the words that people enter into search bars). You need to target keywords that interest qualified people who have the most potential to find your site useful. Long-tail keywords are the perfect opportunity to attract the right group of people.
These consist of three or more words, unlike short-tail keywords, which only have one or two. Long-tail keyword phrases are valuable because people with a precise purpose search for them.

For example, if someone searches "pad thai" you aren't sure if they're looking for recipes, restaurants, or calorie information.
But if they search "quick pad thai recipes," you have more context and insight into what they want in a result. You have less competition when you adopt a long-tail strategy, which gives you a greater possibility of getting into the top of Google search results.
2. Produce high-caliber content regularly
I won't spend too much time repeating the SEO adage "content is king," but without content, you have no material to rank. There's no denying that you need it to soar through rankings. So, how often should you post content for sky-high SEO results?
If you consistently publish content on your site, you have more pages available to get to the top of Google search results for various keywords. But your content has to be accurate and helpful to outrank your competition. Set up a detailed content calendar to build your readership and keep them supplied with engaging content.
Whether you publish daily, weekly, or monthly, your audience can grow to recognize you as an authoritative source, which generates traffic. Not sure how to lay out a content calendar? We've created a free blogging schedule template just for you.
Download the template now to customize it for your business.
3. Generate authoritative backlinks
Google has consistently placed a high value on backlinks, and the number and type of backlinks pointing to your site indicate your site's level of authority. SEO in 2021 relies on credible backlinks, but many link building tactics don't supply well-respected, rank-boosting sources. The status of your site and the popularity of your pages gives them a higher standing in Google's eyes, and you need other sites to recommend your posts.
While you might think you don't have much control over who links to your site — or much of a choice when you're just starting to generate backlinks — you can influence the quality of your backlinks and aim for reputable sources for a better Google search placement. There's no point in emphasizing the volume of your links because collecting a large number of backlinks no matter their quality appears deceitful. To push your position up in the SERPs, discover ideal websites that hold sway in your industry and review or round up your type of business.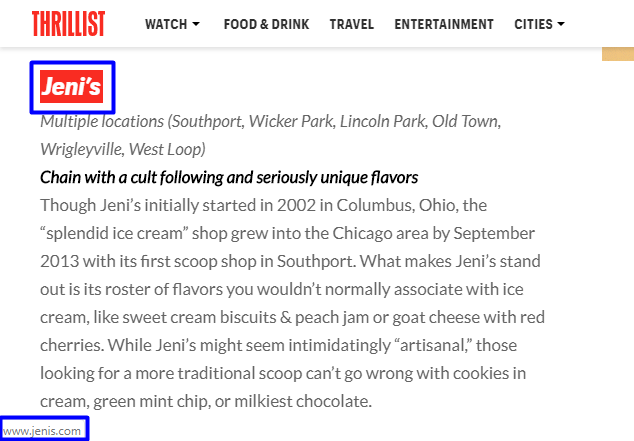 Look into your competitors' backlinks to find sites that feature sites similar to your own, and seek out opportunities to promote your content on these viable sources. Use a backlink profile checker like Ahrefs' Backlink Checker or Neil Patel's Backlink Checker to examine your competitors' successful link building partners.
4. Consistently update content
The aging content you have hidden away doesn't have to be a failed attempt at content marketing. It doesn't even have to be a trusty-old piece that generates low volumes of traffic. With a facelift, your archived content can rise to the top of Google search results.
The "freshness" of your content matters for users and search engines, because recent data is up-to-date and useful, while stale data creates inaccuracies and misinforms readers. Refreshing your content can give you richer material to appeal to Google and attract visitors. Whether you lengthen your content or swap outdated info, revitalizing your content makes it relevant and worthy of a top Google ranking.
It saves you time and helps your overall site authority to ensure your content marketing strategy is as strong as possible.
5. Track crucial metrics
If you want to know how to get to the top of Google search results, you need to know your current rankings and how users interact with your site. Paying attention to the metrics that matter for a better Google search placement is key for 2021 SEO. If your page is within the first three rankings for keywords, you're going to see a higher traffic volume than the last result on page one.
However, many metrics reflect more than your current placement — they tell you where you can improve. Track your efforts with Google Analytics to find the on-page elements you need to change to gain a higher ranking in the SERPs.

Important metrics for your SEO strategy include:
Click-through rate (CTR): The percentage of people who click on your page in the SERPs. If you have a subpar CTR, you can beef up your title tag and meta description to draw in visitors.
Organic website traffic: The number of visitor sessions that originate from the SERPs. You can watch over the success of your SEO efforts.
Time on page: The average time your visitor viewed a page before leaving. If you have a low time, you can find ways to keep user attention and lead them deeper on your site.
Bounce rate: The percentage of sessions with a single page and no engagement. If people fail to interact with your site, they can appear dissatisfied to Google and you need to solve their questions or needs more effectively.
Get to the top of Google Search Results with WebFX
Reaching that number one spot on Google search results is an objective that takes time and effort. You can't snap your fingers and appear on page one. But if you put in the work, you can learn how to get your webpage to the top of Google search results and spark a steady flow of traffic.
WebFX is a specialist in SEO, and we've served companies from a wide range of industries. Over the years, we've driven 255,000 page one rankings on Google for our clients! We are laser-focused on driving results for you.
Contact us online or call us at 888-601-5359 today to speak with an expert and push your pages further up the SERPs.
WebFX Careers
Join our mission to provide industry-leading digital marketing services to businesses around the globe - all while building your personal knowledge and growing as an individual.