Jane has worked tirelessly for months to set up her brand-new website for her small business. She finally launches her website and can't wait to start reaching people who want to buy her products. But after a few months of waiting, she's not getting a lot of new people to visit her site. So, what could Jane do to get more customers?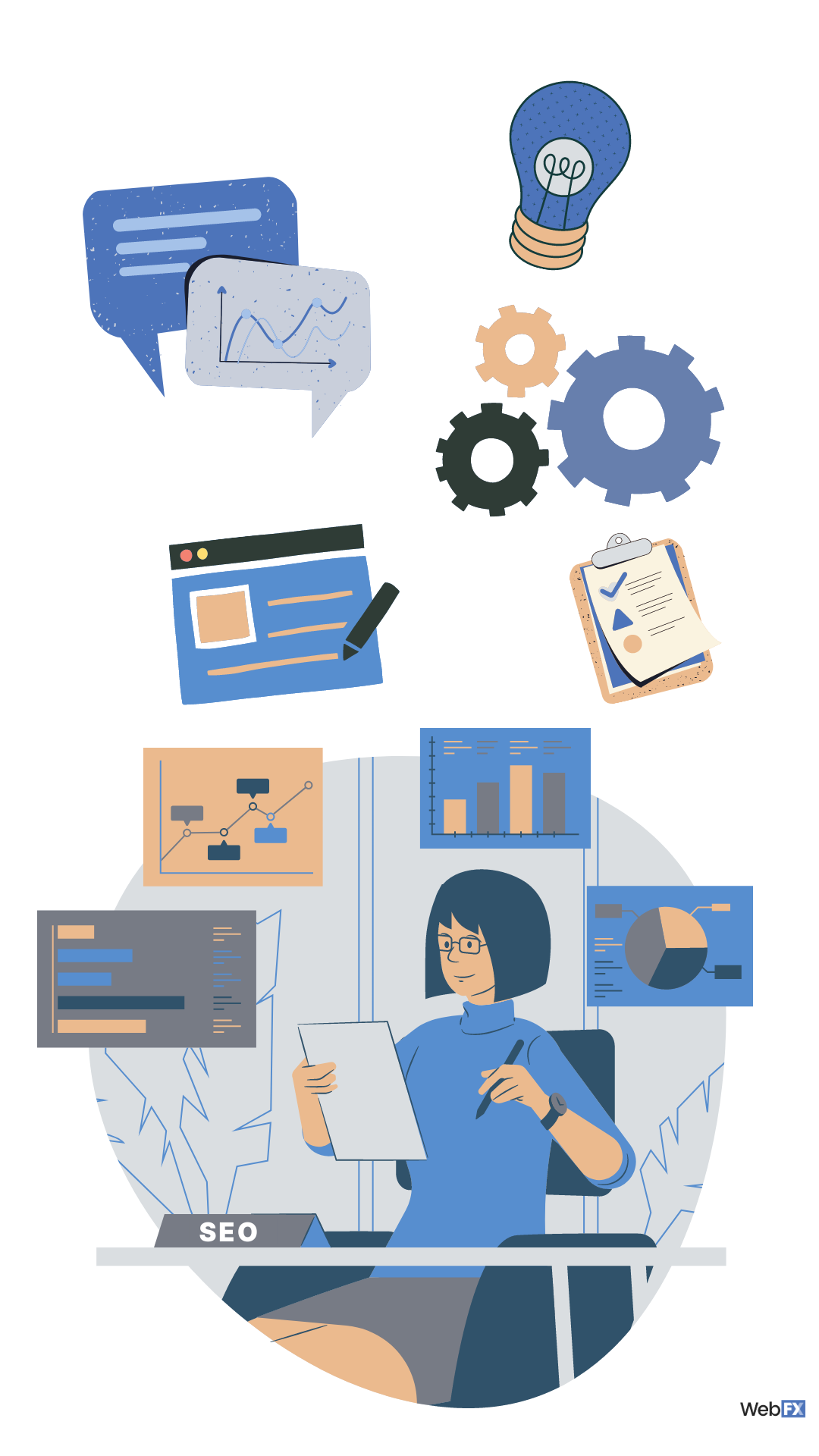 The best way for Jane to earn more leads and revenue is to learn how to increase organic traffic. If Jane can learn strategies to increase traffic, she can improve her shop's performance online. Luckily for Jane, and you, we've got the information necessary to learn how to increase organic traffic to your website and succeed in 2023.
Check out these eight tips to help you increase organic traffic to your website. Keep reading to learn more about our helpful tips and subscribe to Revenue Weekly for the latest marketing tips and tricks that can help you increase organic traffic!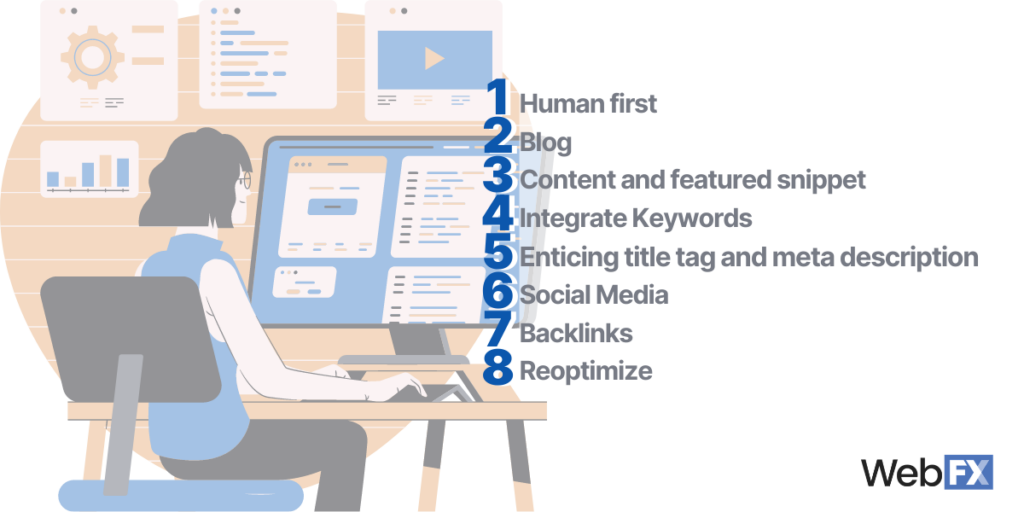 Tips on how to increase organic traffic?
1. Optimize your pages for humans, not search engines
This mistake is often one of the biggest ones companies make when they try to boost organic traffic to their sites, and in 2023, this tip is very important. Since search engines determine your search results ranking, many companies will try to optimize their sites to appease search engines. The reality, however, is that search engines turn to users to help determine how a page ranks. Search engines like Google look at metrics including dwell time, pages visited, and more, which are all indicative of how much a user enjoys your site. If someone dwells on your site for a long time or visits dozens of pages, it means your site is useful and relevant. But if your site isn't optimized for your audience, you risk them bouncing from your site, which leads to lower rankings in search results and less organic traffic. To prevent this scenario from happening, you must focus on writing for humans first. If you write in a language and style that makes sense to your audience, you'll keep people on your pages longer. Writing for humans will lead to improved rankings, and as a result, will help you increase organic traffic to your website.
Learn how we increased traffic by over 40%, and conversions by over 100% for an ecommerce client.
Read the Case Study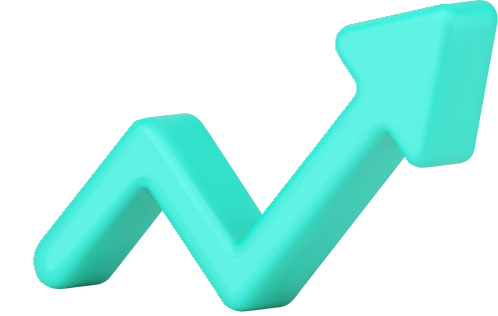 2. Create a blog
If you want to increase organic search traffic, start by creating a blog. Blogging is exceptionally beneficial to your business because it helps you reach your target audience and drive organic traffic for your business, as well as boost your site's trust and authority. When you blog, you share valuable knowledge that your audience wants. When they search for this information with the relevant keyword you're targeting, they find your site and check out your post. It enables you to drive more leads to your page because you provide helpful information they seek. Blogging requires publishing content regularly, but regular publishing also enables you to drive organic traffic to your website continually. So, what type of blogs can you create? You can create numerous types of blogs, including:
Informative blogs
How-to blogs
Lists
And more
Regardless of the format of your blog, the critical part is that you provide visitors with relevant information. You can always check and see what sites currently rank highly for the topic and the keyword you're focusing on, so you can get an idea of the kind of information to integrate into your blog post.
3. Optimize content for the featured snippet
If you want to increase organic traffic to your website, you'll want to optimize your content to appear in the featured snippet. The featured snippet is a box that appears at the top of the search results and provides searchers with a direct answer to their query.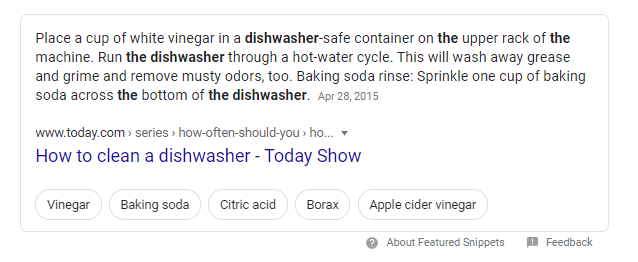 So, how can obtaining the featured snippet help you increase organic traffic? The top organic search result gets 34% of the clicks. When you throw a featured snippet into the mix, the first position's click-through rate (CTR) drops by 8%. So, when a featured snippet is present, more people will click on the listing. Now you're probably thinking, "how do I get this featured snippet position?" There is no one clear cut way to earn the featured snippet position, but there are strategies you can follow to increase your chances of ranking in this spot. Here are two main ways to optimize for featured snippets:
Using bulleted or numbered lists to answer the query directly: Bulleted and numbered lists are a great way to achieve the featured snippet position. It doesn't mean that you should litter your page with lists, but rather find appropriate places to integrate them.
For example, if you were trying to rank for a query like "how to repair your credit," a bulleted or numbered list of tips would be extremely helpful for readers.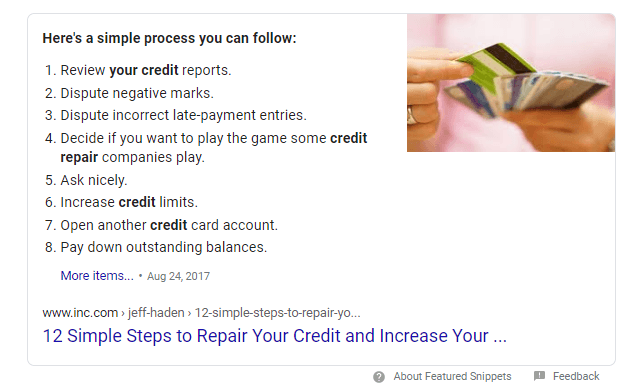 Giving a short, to-the-point answer: The other way to optimize for featured snippets is to provide the answer outright. Don't beat around the bush and add frivolous details to up your word count. Take this featured snippet from the query "how to find the best dishwasher" as an example.

In this example, you can see that the website answers the question directly. They mention to make sure the dishwasher has enough room, look at the size of the silverware basket, and evaluate the number of shelves. This featured snippet provides a direct answer to the query. So, to increase your chances of appearing in the featured snippet, you need to focus on delivering an answer clearly and directly. Additionally, it's also crucial that you integrate your core keyword in the section you want to optimize for your featured snippet, so you have a better chance of earning the spot.
4. Integrate relevant keywords on your page
Wondering how you can increase organic traffic in other ways? Our next tip for driving more traffic to your page is to integrate relevant keywords on your site. Keywords play an integral role in helping your pages appear in front of relevant leads. You must choose the right keywords to target so that your most qualified and interested audience can find your content. Let's say you own an organic cleaning company. It wouldn't make sense for you to try to rank for keywords like "women's clothing" or "best dishwashers on the market." Even if these keywords drive a ton of traffic, they won't drive traffic that will click on your listings. Instead, focusing on relevant keywords, like "green industrial cleaners" or "organic cleaning company," will drive relevant traffic to your page. Since you're ranking in relevant search results, you're likely to drive more relevant traffic to your site. You can find relevant keywords for your page by:
Finding the right keywords will help you boost organic traffic by driving more clicks and more interested leads to your page. A quick way to check your keyword integration is by entering your URL here. Our free tool, SEO Checker, will analyze your SEO and keyword integration, and then provide actionable tips personalized to your site's SEO.
5. Create an enticing title tag and meta description
When users conduct a search and find your listing in the results, the first thing they see is the title tag and meta description. If you aren't drawing them in with those two components, you're missing a valuable opportunity to increase organic traffic to your website.



Your title tag and meta description can be the make or break reason that someone clicks (or doesn't click) on your listing. If you optimize these two components, however, you can drive more people to click on your page, which leads to a boost in organic traffic.
For your title tag… Focus on keeping it within 60 characters. You'll also want to integrate your core keyword at the front, so search engines and searchers know your listing is relevant. Make your title tag fun and enticing to encourage clicks!
For your meta description… Keep it within 160 characters. Integrate your core keyword into the meta description, and want to make sure that it provides your audience with insight into what to expect on your page.
6. Share your web pages on social media
If you're relying solely on search engine optimization (SEO) tactics to help you boost organic traffic, you're missing out on other valuable methods that will help you drive more traffic. Social media marketing provides another great opportunity to drive users to your site by linking to blog posts or article pages. You can share your pages on your social media profile to help drive organic traffic to your page. Not only does it drive your followers back to your website, but if they share your post, it drives new traffic to your page.
7. Earn backlinks
If you want to increase organic traffic outside of optimizations on your website, we have an excellent strategy for you: Earn backlinks. Backlinks are links to your site from other outside sites. These links help boost your website's trust and authority in your industry. Backlinks boost organic traffic in two ways. First, someone choosing to link to your site on their page leads to the traffic from their website to your website. So, if a review blog links to your pizzeria in their blog post about top pizza places, anyone who clicks on that link to your site becomes new traffic for your business. Additionally, earning credible backlinks helps boost your trust and authority, which increases your ranking. So, how can you earn more backlinks? The best way to earn backlinks is to create relevant, industry-related content. Your blog can serve as a great opportunity for you to earn backlinks from credible sites. Blogging is the best source for backlinks because:
You can share them on social media
You can write on various topics
You can target numerous keywords
You can share them in email newsletters
Since blogs are versatile, it creates various avenues and opportunities for you to reach people who will link back to your posts on their own page. Don't be afraid to reach out to industry authorities and ask them to check out your latest blog post!
8. Reoptimize old content
The last strategy we'll look at to boost organic traffic is reoptimizing old content. When you publish content, it can become outdated over time. You may not drive as much traffic to your website because your competition has more updated pages. If you want to increase organic search traffic to these pages, start by reoptimizing them. Reoptimizing old content enables you to breathe fresh life into pages on your site that aren't performing well. So, what does reoptimizing entail? It will depend upon the page. For some pages, just updating the information on it can help you increase organic traffic. Your industry may change, and the information on the page no longer becomes relevant, so you must update the content to reflect the current standards. You should look to update things like:
Dates
Statistics
Outdated information
The structure of your page based on user intent
Additionally, it may be that your page isn't easily readable for your audience. You may need to reorder text into smaller paragraphs, add visuals to help break up the text, or use headings to make your pages easily skimmable. Reoptimizing content will help you help your content perform better, so you can increase organic traffic to your website.
Learn more about how to increase organic traffic
If you want to increase organic traffic to your website, it's time to put these tips into action. Don't have the time to dedicate to drive more organic traffic to your website? WebFX is here to help. We have over a decade of experience in helping our clients increase organic traffic to their websites. In the past five years, we've driven over 7.8 million leads for our clients. We know how to drive valuable traffic that turns into leads and sales for our clients. Want to learn more? Give us a call at 888-601-5359 or contact us online to speak with a strategist about how our SEO services will help you boost organic traffic on your site!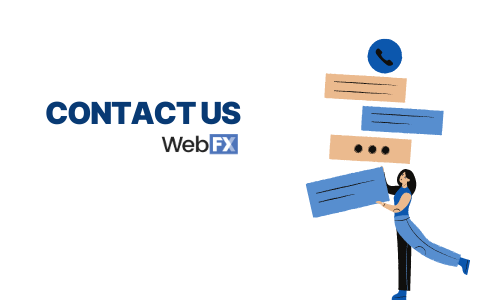 WebFX Careers
Join our mission to provide industry-leading digital marketing services to businesses around the globe - all while building your personal knowledge and growing as an individual.