How do you feel when you see competitors ranking above your website in Google? Frustrated? Disappointed?
Determined to beat them? Well, get motivated, because in this guide, we're going to discuss how to outrank competitors in Google. Want help with outranking competitors in search?
Consider working with our team of more than 500 digital marketing experts. Contact us to learn more!
How to outrank competitors in Google
Here are five essential steps on how to beat the competition in Google search results.
1. Competitor analysis
To determine how to outrank your competitors in Google search, you need to understand who they are and what methods they're using to rank in search results. The process of doing so is called competitor analysis. Choose a few of your top competitors who are increasing their organic search traffic and ranking above you in search results. Then, analyze which keywords they rank for, how many backlinks their top pages have, and what kinds of content they produce.
How can you find out this information? Numerous tools are available to help you analyze your competitors' search performance, including CompetitorSpyFX, Ahrefs, and SEMrush. These tools provide reports on metrics related to your competitors' search performance, top keywords, and factors that may impact their search engine optimization (SEO). You can also use these tools to determine who your top competitors are in search.
Here's some of the information you can get from SEMrush's Domain Overview report: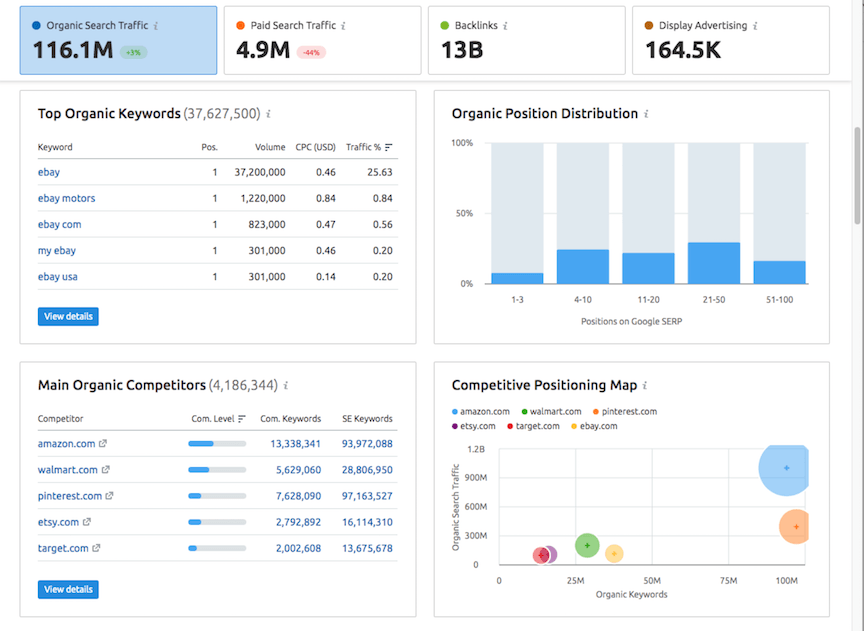 Once you gather this data, you can determine opportunities your competitors are taking advantage of that you're missing, as well as opportunities your competitors are missing.
2. Keyword research
Competitor keyword research is a crucial step in how to outrank competitors in Google. Input some of your competitors' websites into a keyword research tool like Ahrefs or SEMrush. The tool will then show you keywords their sites are ranking for in search results.
One useful analysis to complete is a keyword gap analysis. You input one of your pages and several competitor pages into a tool like Ahref's keyword gap analysis tool. You'll get a report showing keywords your competitor pages are ranking, which you're not ranking for in search.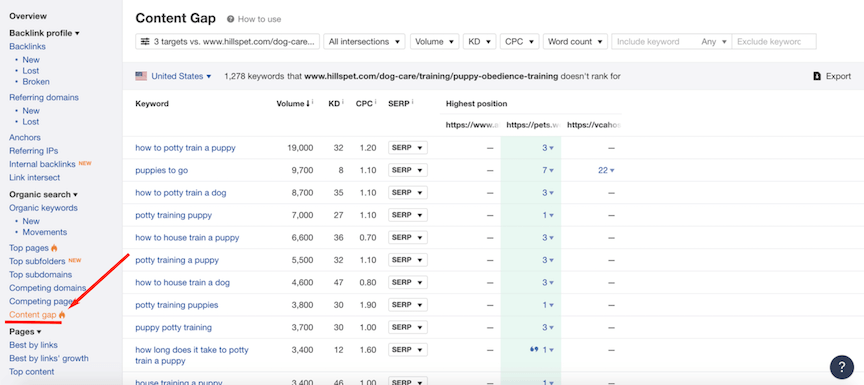 Once you analyze the keywords your competitors are ranking for, you'll have a list of potential keywords to target and a better idea of how to beat the competition in Google. Many keyword research tools will provide you with information about each keyword, such as the search volume it gets and how hard it is to rank for it. The ideal keywords to target are those that have relatively low competition and relatively high search volume.
These terms are easier to rank for, but will still bring traffic to your site. Of course, you also need to make sure that the keywords you target are terms your potential customers will search.
3. Write high-quality content
Google wants to provide users with high-quality content that answers their questions. So, one of the most important things you can do to outrank competitors in search is creating awesome content that your potential customers want to read and that is relevant to your business. You can get a good idea of the content that people like by looking at what's ranking well on Google and what people are sharing on social media.
Tools like BuzzSumo can help you find this content. Just enter a topic, and BuzzSumo generates reports about the top content on that subject, like the following web content report for "ecommerce."
Focus on creating content that fulfills users' search intent — helps users accomplish what they wanted to achieve when they typed their query into Google. Provide valuable information through your content and try to answer questions thoroughly.
You can use Google's People Also Ask (PAA) boxes and related keywords to determine other topics you may want to cover in a post or article.

4. On-page SEO
Another major area of SEO is on-page SEO, which refers to factors on your site that can affect your search engine performance. On-page SEO includes a wide range of elements, including:
Making sure your on-page SEO is up to par will help you avoid issues that prevent you from outranking your competitors in search.
5. Build links
Another major factor in search engine rankings is a page's backlink profile — the quantity and quality of other domains linking to a given page. If you and a competitor have two very similar pages, and theirs is ranking better than yours, it could be because they have a better backlink profile. So, how do you get more links to your pages?
Create high-quality content that other pages want to link to on their site. Some especially linkable types of content include infographics and "ultimate guides." You can also reach out to relevant websites and ask them to link to your page. This tactic works best if you identify a specific place where your link might be useful on their site.
For example, maybe they maintain a list of resources about your industry, or they have a broken link they could replace with a link to your page. Avoid "black hat" link building techniques such as buying links and posting spam comments with links. These tactics can hurt your rankings.
How to outrank competition with Google Ads
Another strategy for how to, in a sense, outrank your competitors is to use the Google Ads platform to place pay-per-click (PPC) ads on Google SERPs.
While this tactic won't affect your organic rankings, Google displays PPC ads above the organic search results, so your ads will be the first thing users see. Here's what PPC ads look like in a Google SERP:
PPC is especially useful for quickly getting to the top of search results pages, as it takes time to rise through organic rankings. Search ads also tend to work best for bottom-of-the-funnel leads — those close to making a purchase decision.
In fact, 65% of all high-intent searches lead to an ad click. SEO, meanwhile, can attract leads throughout the funnel. For these reasons, using both SEO and PPC is often a smart strategy.
PPC can help you appear at the top of the search results and target bottom-of-the-funnel leads, while SEO helps you build up a more sustainable presence in search results
Outrank competitors in search with WebFX
Ready to start outranking your competition in Google? WebFX can help. We have more than 25 years of digital marketing experience and offer a full range of Internet marketing services, including SEO and PPC management.
Plus, our work gets results. Over the last five years, we've generated more than 7.8 million leads and $3 billion in revenue for our clients. Want a better idea of where your website stands when it comes to SEO?
Get a free SEO report with our SEO Checker tool. For help creating and implementing an SEO strategy that will enable you to outrank your competitors and grow your business, contact us today.
WebFX Careers
Join our mission to provide industry-leading digital marketing services to businesses around the globe - all while building your personal knowledge and growing as an individual.