It's no secret that "near me" searches have grown exponentially in popularity over the past several years, becoming a staple of local search engine optimization (SEO).
Think with Google reports that the past two years have seen 150% larger growth in searches for local places that include a "near me" qualifier vs. those without, and global searches for "open now near me" have grown by over 400% since last year.

With this boom in search volume came a concurrent boom in keyword targeting. Local businesses all over the world began optimizing for "near me" searches. Some even go as far as changing their business names to include the modifier to rank higher in local search results.
However, as Google continues to make algorithm updates to better account for true search intent, it's possible that the days of these overt targeting methods are over. It's time to leverage new strategies in order to rank in the local pack for these ever-growing location-based queries.
Keep reading to learn more or connect with a local SEO expert!
The rise in overt "near me" optimization
For years, overtly optimizing for these localized searches seemed like a no-brainer. Many sites would include "near me" and "near you" in page titles and headings, and as mentioned, many businesses even went so far as to add the "near me" modifier to their business listing name.
Because of such a heavy focus on this literal keyword matching, businesses adapting these name changes and keyword-stuffed optimizations saw results almost instantly.
If you were one of the early adopters of this strategy in your area, there was almost no question that your visibility in local search rankings would skyrocket, allowing you to blow past competitors who were unaware of the optimization, and because local SEO was still virtually in its infancy, these tactics all proved effective — until recently.
Google has been aware of the flaws in the way the algorithm interprets these searches and has had reconciling this issue on their list for quite some time now. After years of speculation, Google has now announced the official shift in how these queries are interpreted.
The latest? Google is now treating "near me" as a proximity indicator rather than a keyword-matching phrase.
The result? No longer will optimizing for "near me" terms as keywords be a 100% viable strategy for Google Maps and Google search optimization.
With this information, it's important to note that optimization for these proximity terms will not be a detriment to your listings. Rather, the question is how we can best capitalize on this continually growing search trend. And the answer to this comes from Google's Proximity Update.
The impact of Google's local search update
As Google released its November 2021 Local Search Update (its largest since Possum in 2016), SEOs can gain a more clear understanding of what truly ranks for local searches.
Google has officially announced the three ranking factors for local results, and with these factors in mind, it's clear that extreme optimization tactics will no longer have the same effect they used to.
Relevance: The degree to which your business matches what the user is searching for
Distance: How far your business or service location is from the user
Prominence: Business trust, how well-known your business is
Now, more than ever, it's essential to accurately represent your business location and hours both on-page and in local listings.
The best way to reach relevant users is by showing Google that you offer the desired product or service in the geographic location the user is searching for, and there are several quick wins you can implement to achieve this.
Hours of operation
In addition to having your hours of operation easily visible both on-page and throughout your listings, it's essential to keep them continually updated in order to signal to Google that they are up-to-date and accurate.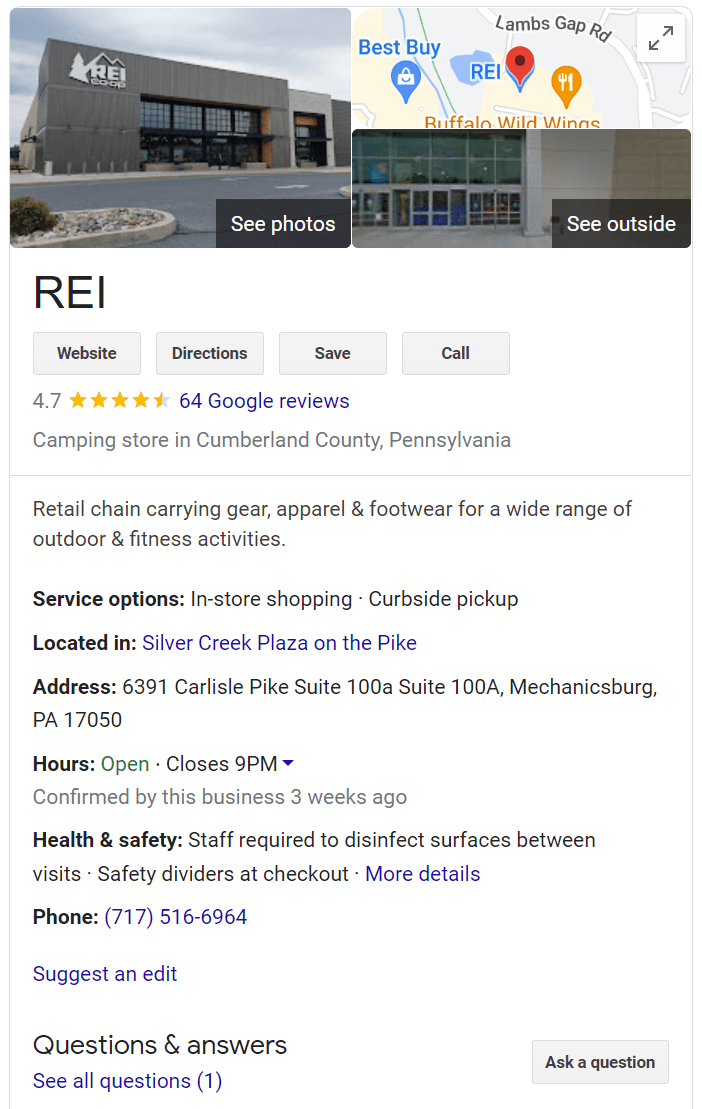 Google is now using AI to automatically update listing hours it deems inaccurate, so manually checking in every ~month is a must. For example, your business might be listed as "Closed" on weekends, but Google could determine Saturday is your busiest day based on user traffic. Seeing that you haven't updated those hours in six months, they may override the hours entered on your listing and change your status to "Open."
Schema markup
Schema markup is code that allows you to create a strengthened description for your business that will appear in the search results.
Adding schema to your site offers a wealth of benefits. From enhancing rich snippets and allowing your business to show in the knowledge graph, signaling accurate proximity to Google using exact coordinates, increasing the overall visibility of your brand, and beyond, this is a must-have quick win.
You can easily create the schema using a generation tool and implement on your site through a plugin or directly in the backend HTML.
Embedded maps
Embedded Maps are interactive maps that can be coded onto your website using an HTML script. These maps not only facilitate a next-level user experience by offering visitors easy access to your business address, phone number, reviews, and directions, but they also open up a wealth of new opportunities thanks to Google Maps Embed API.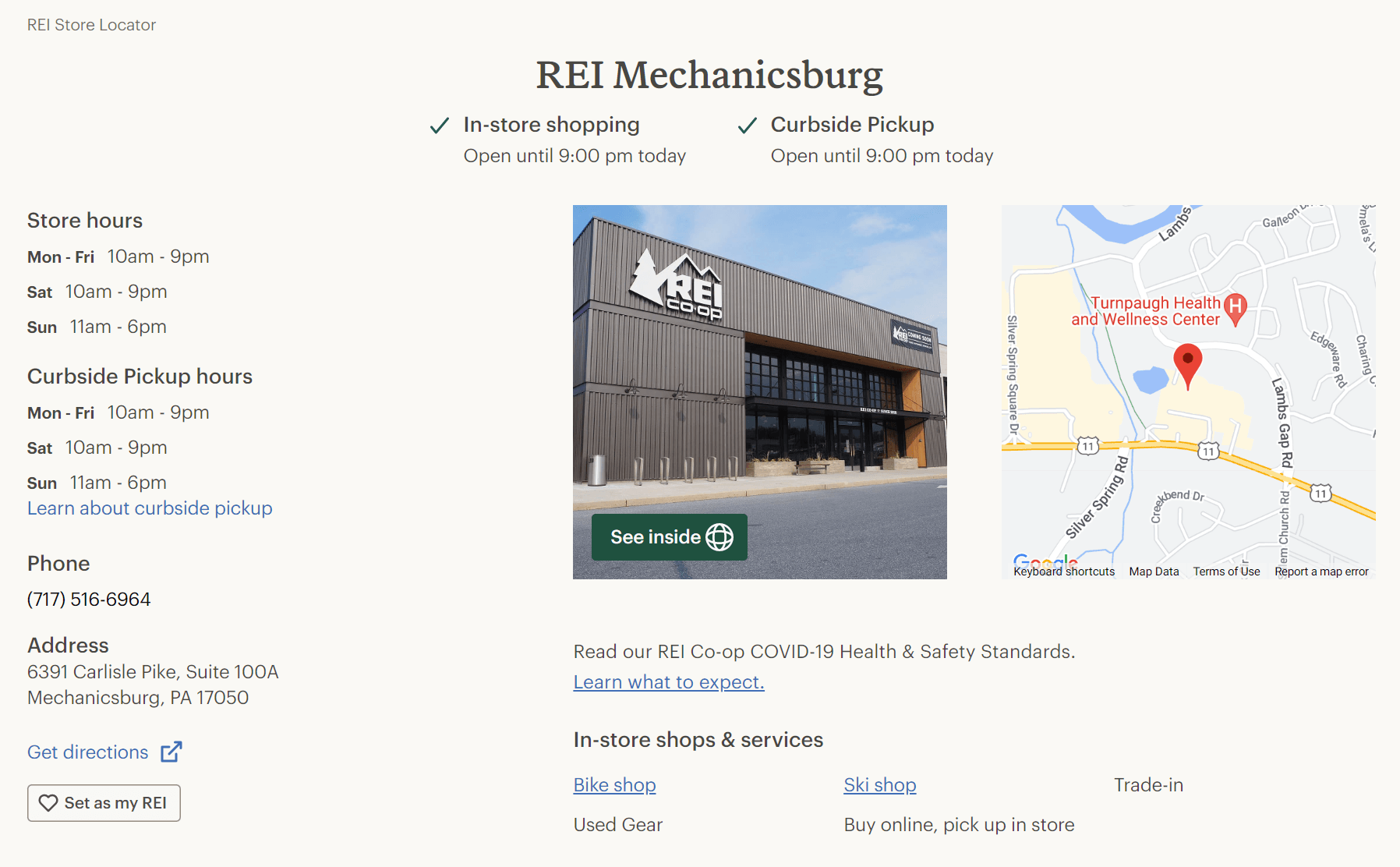 Most recently, Google has added the ability for users to directly reserve or book appointments on your embedded map with Reserve with Google.
On-page content
The best place for your hours of operation, schema markup and embedded maps to live is on a designated location page within your site.
Having these pages allows you to add SEO-rich content, geographically-optimized title tags and meta descriptions (featuring your services and the city you're serving), add optimized alt text, internal links, and more — not to mention serving as a bottom-funnel landing page for users finding your business through local citations.
Turning to trust signals
Aside from proximity, reviews and trust signals are other important elements to consider. Having a large number of quality reviews both serves as encouragement for users as well as an E-A-T indicator for Google's algorithm.
Adding "Leave a Review" buttons on your site, nurturing leads with review request emails, and overall general outreach to your existing client base can help solidify a strong foundation here.
While advocating for reviews may seem daunting due to the risk of negative submissions, Google has actually stated that it values all reviews, whether positive or negative. In fact, Google notes that it's actually more trustworthy to have a mixed bag of reviews, adding validity to your listing.
Citations are another way to establish credibility. While there are a few core citations for local businesses — Google Business Profile, Bing, Yelp, and Facebook — there are dozens, if not hundreds, of additional opportunities to list your business elsewhere.
The key for citation building is Name, Address, and Phone Number (NAP) consistency both across listings and on your site. Consistency and transparency signal to Google that your information is up-to-date, and accurate information provides an enhanced user experience.
Bottom-Line: Your best chance for "near me" rankings
Despite recent updates, it's still very possible to rank for relevant "near me" searches for your industry and in your area. While they may no longer be interpreted directly as keywords, they're still pulling in increasingly-high search volumes and reflect major bottom-funnel intent.
So, what's the best way to rank for these terms without directly targeting them? Accurately reflect your business information on your site and throughout the web, and let Google do the rest!
Want to learn more about how to optimize for local searches? Check out our local SEO services, and connect with our team to discuss your custom plan!
How is your website's SEO?
Use our free tool to get your score calculated in under 60 seconds.
WebFX Careers
Join our mission to provide industry-leading digital marketing services to businesses around the globe - all while building your personal knowledge and growing as an individual.