How to Improve Your Local Business's Google Visibility – 12 Things to Remember
Google visibility is everything — if you don't show up there (and show up at the top of search results), chances are you won't get the traffic or revenue that you want for your company.
It's a well-known fact that local searches mean local purchases — and if you want your small, local bakery, your mom-and-pop diner, or your corner pet shop to get as many customers as possible, it's essential that you show up in local searches in Google.
That being said, are you doing all that you can to ensure that your local business has high Google visibility? If you're not sure, this article is for you.
If you'd like to speak with a specialist about marketing your local business online, you can reach us at 888-601-5359.
I want to learn more about local seo
Why is Google visibility so important, anyway?
Google is the most popular search engine in the world — it receives over 40,000 search queries per second, which means it gets 3.5 billion searches per day. This tells us that people turn to Google to answer their burning questions, make purchases, and find local businesses like yours.
Overall, 53% of people search for something local at least once per month — which means there are a lot of local searches happening.
If you aren't showing up in Google, it's going to be extremely difficult for people searching for your local business to find you online. Further, this means that they likely won't see reviews for your local business, and they won't see your address.
So not only is it important to show up in Google search so that people know about your company, but it's also important because it provides them with contact information and reviews.
In fact, 91% of online consumers read online reviews for business, and 84% trust them just as much as a personal recommendation.
3 ways to ensure that my local business shows up in Google
There are a few ways to ensure that your local business is visible in Google so that your potential customers can find you easily online. Let's talk about a few:
1. Google Business Profile
Perhaps the best way to ensure that you're visible in local searches is to create a Google Business Profile. This profile is the best way to ensure that you show up highly in local search, because GBP profiles appear before organic traffic on results pages.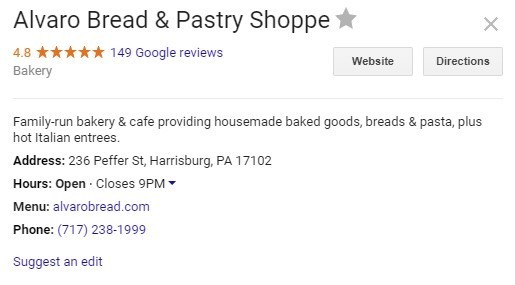 When your local business shows up in Google with GMB, it will provide crucial information to potential customers like location, reviews, a short description, average cost, hours of operation, contact information, and more.
This information makes it super easy for potential customers to locate and visit your local business, which is why having a GBP profile is so beneficial.
However, order for your GBP to be the best it can be, you'll want to optimize it correctly.
Provide all necessary information
You'll want to be sure that when you create your GBP profile that you provide all the information that you can about your business. Users look to Google because it's the easiest possible way to find all the information they need, all in one location.
That means that they don't want to click around to find how late your business is open, and they don't want to have to go on a treasure hunt to find your menu. Make everything easily accessible to them by providing your correct contact info, hours of operation, location, and website link so they have the highest possible chance of going to your location.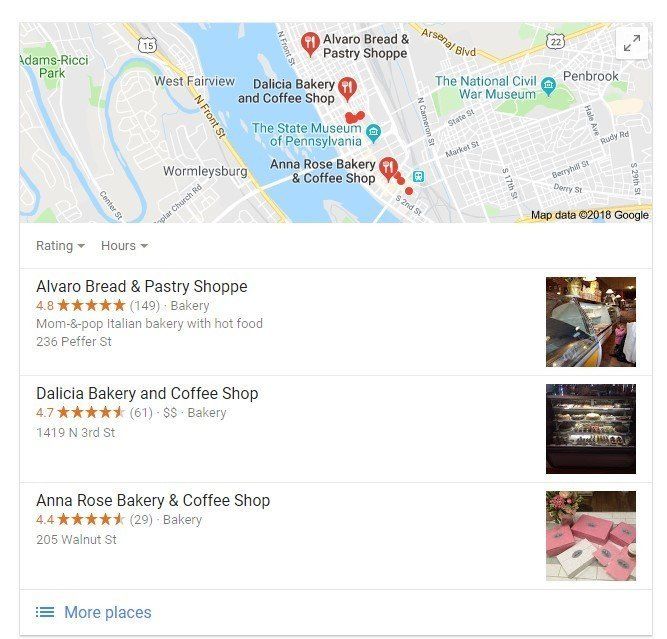 Build stellar reviews
As we mentioned before, reviews mean a lot. More than 75% of online shoppers trust reviews just as much as hearing rave reviews from a friend or family member. That's really important information because it lets businesses know just how important it is to attract wonderful reviews about their local business.
To do so — first you have to provide great service. Give customers a reason to want to give you a fantastic review and share word of your local business with the rest of the world.
Second, make it easy for them to review your business. You can do so by providing them with a URL on the bottom of their receipt where they can provide a review, emailing them a link in your monthly newsletter, or providing a link on your social media accounts. You could even opt to provide a discount to those that review you. This will help you to get the review and get them back in your store to use their coupon!
Respond to bad reviews
One extremely important note about reviews is to make sure that you reply to them — even if they're less than desirable. When you reply to bad reviews, you show other potential customers that you truly care about your clients and that you're willing to fix something that went wrong.
When you're kind to your customers, it proves that you're honest and caring, which is always a good thing. It also shows that you're accommodating and easy to work with.
Ensure that you have a precise geocode
When you provide your local business address to GMB, they create a geocode — which is how you show up on Google Maps. However, sometimes the geocode is incorrect, which can lead your customers on a wild goose chase to find your business.
You'll want to make sure that you check where you appear on Google Maps, and if it's incorrect, double check that your address is in the correct format for your area.
Give details
Google's goal is to deliver the best possible options in relation to a searchers query. That means that the more detailed you are in your listing, the better.
For example, if you're a vegan bakery, list that in your GMB profile. That way, you'll show up higher in results for "vegan bakery" queries than you would if you listed yourself as just a bakery.
Avoid selecting a category for your local business that's extremely vague — "food" for example. Sure your bakery sells food, but is it going to be the first listing that pops up in a sea of "food" searches?
The more detailed you can be with your category, the higher you'll show up in search results for your specific business.
2. Local SEO (search engine optimization)
Technically, having a GMB profile is a local SEO strategy, but it's so important that it was necessary to give it a category all its own.
There is much more to local SEO than just GMB though, so let's talk about some other local SEO strategies that can help your local business show up higher in Google results pages.
Local SEO, is a combination of strategies that are used to improve your website. These website improvements in return, help your website to rank higher in Google searches — which helps to make your local business more visible.
What are some local SEO strategies you may ask? Let's talk about a few.
Targeted content
Content creation is one of the most important strategies of SEO in general, but it's even more important to local SEO. That's because it's the content that allows you to rank for super detailed terms relating to your local business.
Without targeted content, Google will have nothing to rank your website for in search results, so it's imperative that you have beneficial and informative content on your local business.
In order to create the most beneficial targeted content, you'll first want to start with keyword research. Keyword research allows you to find the keywords that your target audience searches the most, and include those keywords in your content. That way, you have a higher chance of showing up in Google for those queries.
There are many keyword research tools out there, including KeywordsFX and keywordtool.io.
These tools will give you all the information you need to decide on your most effective keywords to include in your content — information like the search volume, CPC, and competition for each keyword.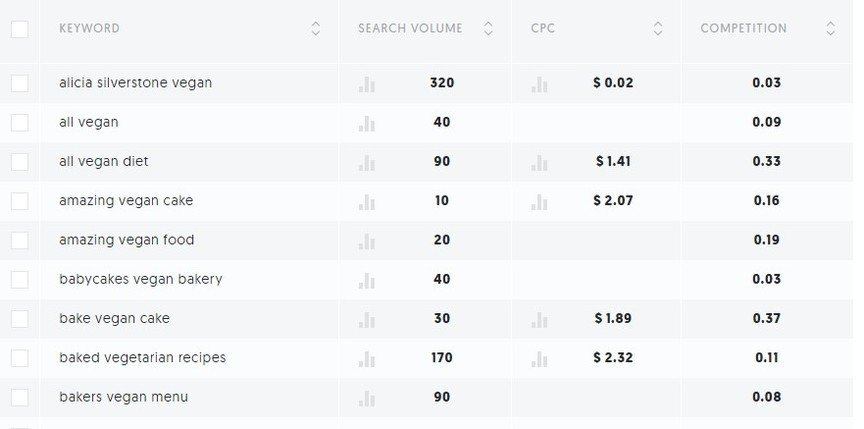 You should write content based on location keywords and detailed services or products that you offer. The more detailed the keyword, the less content there typically is for that keyword. These are called long tail keywords and they're extremely valuable to local SEO.
Just like we talked about making sure your local business category is extremely specific in your GMB profile, targeting these super detailed keywords is beneficial as well. This kind of content, even though it has a lower search volume, will help you receive more clicks for users that do search for your ultra-detailed content.
Examples of longtail keywords include "vegan bakery in downtown Harrisburg," "pink and white UGG boots in Manhattan," or "wooden craft supplies in Bloomsburg."
Optimize title tags and headers
As we mentioned before, Google's job is to present users with the most relevant results to their search. When choosing the best result to serve, they'll also consider title tags that you have in place for any given page.
You should include your target keywords in your titles to ensure that Google knows exactly what your page is about, and to give it a better chance of ranking highly in search engine results pages.
Include a map on your website
To further improve your company's local SEO, be sure to embed a map on your website. This creates a super user-friendly way for website visitors to see exactly where you're located.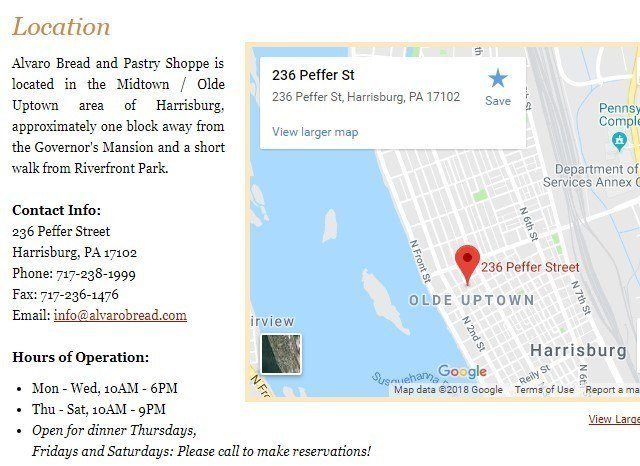 More specifically, don't just embed an image of a map, but embed a map that users can enlarge and move so that they can see where your local business is in relation to their approximate location.
3. Web design
Initially, users may not think that web design has anything to do with how you rank in search results, but it actually plays a bigger role than you may think.
Web design is important for all websites to rank highly, but it has specific benefits for local businesses.
Custom CTAs
When you design your website, you'll want to be sure to include custom calls-to-action. This allows you to reiterate your location to users, and further entices them to click.
When you include your location in your CTA, like "click here for more info about our Harrisburg bakery," it reiterates the fact that you're local.
Include multimedia
In order to make your website inviting and engaging, be sure to add multimedia elements including images, videos, and graphics.
Not only do these multimedia elements help to break up large walls of text, but they make the page more enjoyable to look at and keeps users on the page (and on your website) longer.
When Google determines what website is the best to serve to users, they also look at things like how long users stay on your page, how they engage, and more. This means that it's important to keep users on your page for as long as possible to increase the likelihood that you'll rank highly in search results — and multimedia is one way to do so.
The options for what images to include on your website are endless. Some are no-brainers, like pictures of your location and your products, but you can add even more by providing users with images of your employees, special events that you've hosted, or current satisfied clients along their testimonials.
Videos are another great way to keep users on your pages because they're ultra-engaging content. Video content could cover an employee talking about a new product you're releasing, a day in the life at your office, or client testimonial videos.
If you sell products, you could also provide how-to videos of how the product is used, and even how it's made — if you have the resources to film the process.
Infographics are another fun way to engage with website users. They are essentially a graphic way of presenting information — usually numeric. So if you wanted to show users a graph of how their products have changed over time, how your sales process has changed, or how your demographic has evolved, an infographic is a great way to do so.
Great site navigation
Your web design should also have a user-friendly navigation bar that helps users to find exactly what they want in as few clicks as possible. As we mentioned with the GBP listing earlier, users don't want to click 10 times to find what they want. Providing all the answers they need in one area is the best way to go.

Though you likely can't provide everything users are looking for in one location – you can certainly consolidate the information on your navigation bar to make it easy for users to find information.
Great site navigation also keeps users on your site longer because they find what they're looking for easily, and are satisfied with their experience.
Mobile friendliness
One of the most important web design elements for local businesses is that the design is mobile friendly. When people search for something "near me," 88% do so on mobile. Not to mention the local searches that people perform on mobile devices are growing a staggering 146% year over year.
This means that when someone is guided to your site via GMB or organic search, they're more than likely doing it on mobile, which means your site needs to accommodate devices of all sizes.
Client testimonials
Just like we mentioned the importance of reviews before, testimonials are an extension of that. When you have testimonials on your site, you provide a vote-of-confidence to potential clients. You prove to them that other clients have been impressed with your products and services, and you give them a reason to want to give you a chance, too.
WebFX is a partner businesses trust.
Hear from HydroWorx, who saw a 236% increase in organic sessions with WebFX services.
Watch the Video Testimonial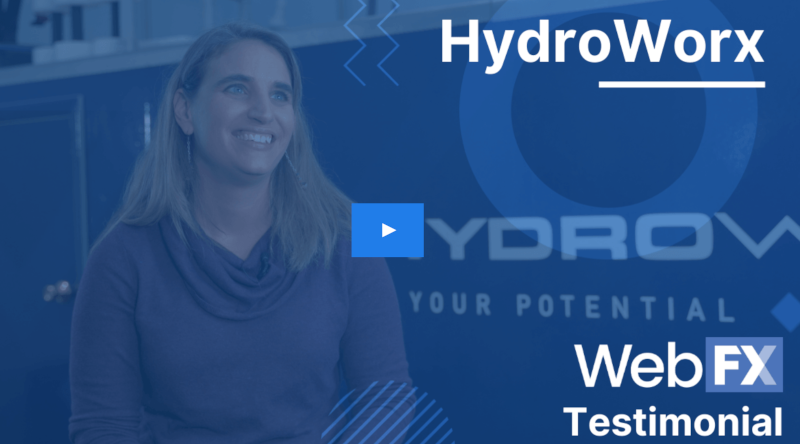 Got all that?
If you're on board with all of our strategies to ensure that your local business is visible on Google, but don't know where to start, WebFX is here to help.
We're a full-service digital marketing agency that can help you boost your local business rankings in Google search results by using all the strategies mentioned on this page.
We can help you get set up with Google Business Profile, optimize your profile, and make sure that your geocodes are accurate.
We can also help design a custom local SEO campaign for your unique business that will help you in the areas that you need it most. Do you need more fresh content for Google to rank on your site? Do you have the content, but need to optimize if for some keywords? Maybe you've got all that, but you haven't considered things like web design, custom calls-to-action or great navigation.
That's okay — it's what we're here for.
Contact us today to speak with a specialist about all of your local SEO and web design needs, and for a free quote for the services that you need the most.
Earn a 20% greater ROI with WebFX