As a dentist, you're part of a competitive, fast-paced market. You may not have time to build up your SEO strategy with so many other important things struggling for your attention. But you're also not getting as many patients as you would like.
You're missing out on local clients — but a local SEO strategy will help you attract more patients to your office.
Did you know that 97% of consumers today use search engines to learn about local businesses?
Gone are the days of the Yellowbook, so having your site at the top of the search engine results pages (SERPs) is the difference between netting local customers and missing out on valuable leads. Given the competitive nature of the dental industry, your competitors are guaranteed to be jostling for top rankings and patients.
As one of the leading local SEO companies in the world, WebFX helps you perform at your best. With a dedicated team of 500+ bringing expertise to your campaign and over 25 years of experience, we drive results for our clients. In the last five years, we generated 7.8 million leads for our clients!
Keep reading to learn how we can drive results for your dental practice, or give us a call at 888-601-5359 to speak with a dental SEO strategist.
Time to Level Up Your Sales
Our long list of services helps you grow every aspect of your business with marketing strategies that are proven to increase bottom-line metrics like revenue and conversions.
In the past 5 years, we've managed more than 12.9 MILLION transactions across our client base.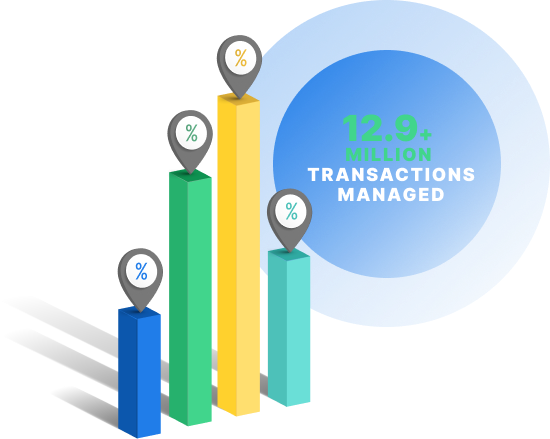 What is the difference between SEO and local SEO?
Curious about the difference between SEO and local SEO for dentists?
The focus of search engine optimization (SEO) differs slightly on a local scale.
SEO's primary purpose is to boost your site's visibility in online search results related to your practice. While traditional SEO increases your visibility on a wider scale, local SEO marketing focuses on increasing your rankings in local SERPs to attract nearby patients to your clinic.
Your visibility in local SERPs still depends on Google's algorithms, which have over 200 ranking factors, not all of which Google has disclosed. Before you get overwhelmed, understand that these factors have Google's mission statement in mind, and knowing that will help you know where to start with your dental SEO in general.
Google prioritizes rankings in terms of relevance, quality, and usability. That means your primary focus should be generating quality content that matches users' search intent.
Why is local SEO important for dentists?
Local SEO lets your clinic take advantage of increased visibility within your area.
This is essential because after searching for local businesses on Google, 72% of consumers will visit a store within five miles of their location. That translates to more traffic for both your website and your physical location.
And with less competition for rankings due to geographic criteria, local SEO shows results faster than standard SEO, making it the ideal SEO strategy for dentists.
4 result-driving local SEO tips for dentists
So, how does local SEO for dentists work? Here are four local SEO tips for your dentistry to help you get started.
LOCAL SEO SERVICES!
1. Research local dental keywords and optimize your content
Researching keywords for your dental practice may sound scary, but it can be as simple as entering the keywords into Google's search bar.
Google automatically returns suggestions for related searches, and those keywords can kick off your keyword research and content strategy.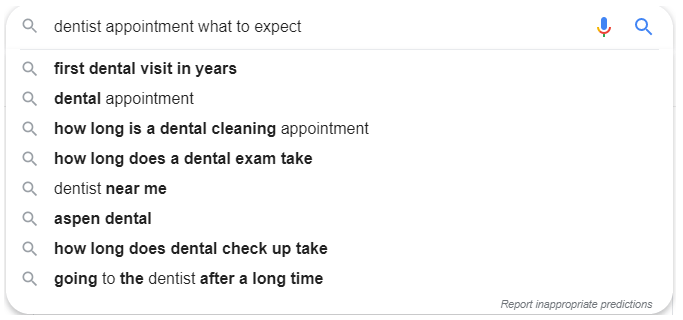 Start by generating a list:
Identify keywords you already rank for in search results
Take inventory of competitors' keyword rankings
Include keywords target patients use
Pick a target and related keywords that are most relevant to your dental business
And don't forget about seasonal trends when researching keywords
When researching keywords, try to determine the user intent by looking at the ranking content. Are patients looking for information about dental sealants, or do they want to set up an appointment?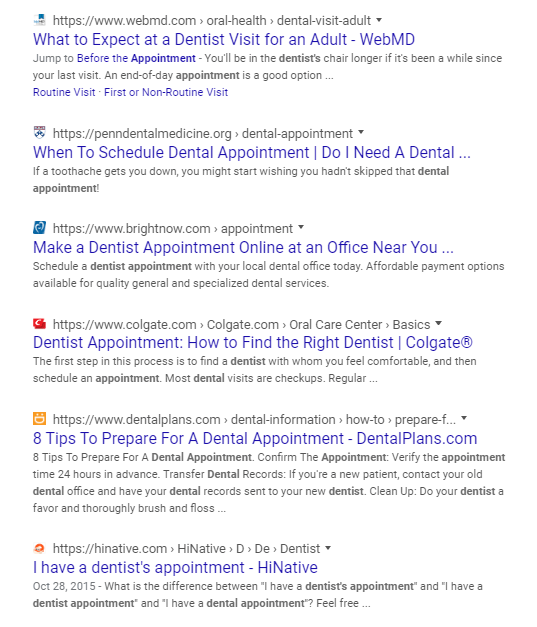 Understanding the intent behind a patient's search is much more critical when it comes to targeting keywords and generating content than the exact wording. Google is pretty good at determining the intent behind searches, so take a look at the content that already ranks to decipher the intent behind a keyword or phrase.
After determining the intent of a keyword, start generating content for your patients that matches that purpose.
Don't just focus on general terms like "dentist." With general or short-tail keywords, it's hard to tell if searchers want a definition, information about the dental profession, or a specific dental service.
General dental terms are more competitive, as well, so spice up your mix with some long-tail keywords such as "best dentist in Tallahassee, FL." Long-tail keywords help you determine the intent behind the search better than more general searches.
If you're targeting the phrase, "dental implant services," use a healthy mix of related terms like "dental implants" and conversational keywords like "how much do dental implants cost?" throughout your content to help it rank for multiple keywords.
Don't forget to include local keywords with the name of your town and nearby towns for an added local SEO boost!
2. Build out your Google Business Profile page
Creating a Google Business Profile (GBP) listing puts you on Google's radar as a local business. You'll show up both on Google Search and Google Maps after you include your name, address, and phone (NAP) on your listing and verify it.
Your listing won't be fully optimized until you fill out all the information. Include information like:
Name
Address
Phone (a local number if possible)
Hours
Category
Website
Description (mention your services and a unique selling point)
You want to appear relevant to your patients, and Google won't show you if you don't include all the information. Make sure you're adding your local keywords here as well.
With an optimized GMB profile, your listing is more likely to rank and appear in Google's local SEO 3-pack, which shows the top three ranking businesses for a local search.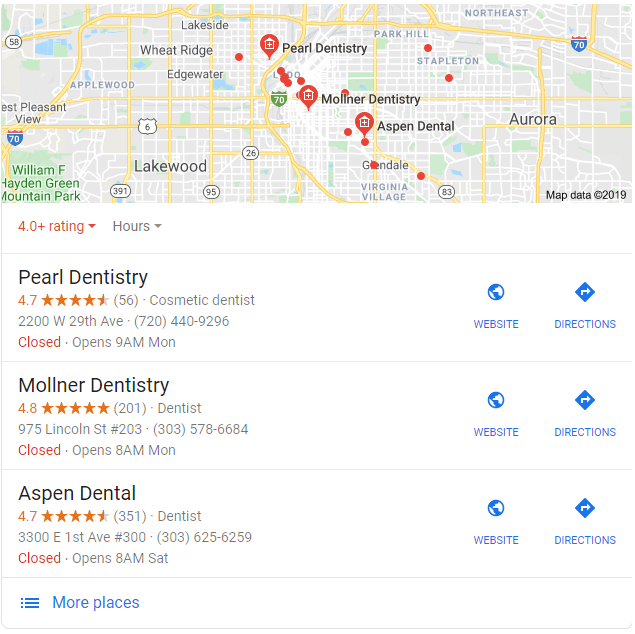 With the right amount of positive reviews, you will rank even higher, so encourage your customers to share reviews.
Including your information on different online directories like AboutUs and Yelp will also increase your visibility and credibility in both the eyes of Google and local consumers. Make sure that your NAP is consistent across all crawlable HTML on your site and in those different directories, or else that credibility will take a hit.
An easy way to check NAP consistency across all your local listings? Check out our local listing management platform, LocalFX!
3. Optimize your website for UX
Google takes user experience (UX) seriously when it comes to local search rankings, so providing a good UX is a must for any SEO strategy.
Start improving your UX by creating content pages using relevant, frequently asked questions on Google. Answering patient questions on an FAQ page increases your helpfulness and relevance to searchers.
Also, write content! Get into blogging and social media. It will make you an involved presence in your community and increase your visibility and credibility. Here are some other ways you can optimize your site.
Create separate service pages for each of your dental services
Include a location page and local content
Have a unique URL, title tag, and meta description for each of your pages
Make your website mobile-friendly
Target those local keywords
Avoid duplicate content
Include engaging images, graphics, and videos on your pages
Streamline your site's navigation
Speed up your page load time
4. Track your progress
A crucial part of any local SEO strategy — don't stop SEO even after increasing your rank to #1!
While local SEO is less competitive than standard SEO, any SEO technique can take time to show results. That's why tracking the impact — rankings, traffic, conversions, etc. — of your local SEO strategy is essential.
Here at WebFX, we're dental SEO experts. We have the #1 ROI Tracking Technology Platform in the industry: MarketingCloudFX, which offers detailed visitor information that'll let you know exactly how the local SEO strategy for your dentistry is performing. We also have a variety of SEO tracking tools to help you make the most of any SEO strategy.
Get started with local SEO for your dental practice!
To learn how our dental marketing services can best benefit you and your local SEO strategy, contact us online or call us at 888-601-5359 to speak to a local SEO specialist.
Earn a 20% greater ROI with WebFX