Google SEO: Learn How to Optimize Your Site in 2023
According to Google, search engine optimization (SEO) is the process of making your website better for search engines. It's a broad definition, but it's appropriate, as SEO features a variety of strategies for accomplishing this goal. Looking to get started with Google SEO? Get all the information you need in this Google SEO guide!
Beginner Google SEO resources
Looking for some additional Google SEO resources? Check out this compilation of our favorite guides, articles, and videos!
The basics of SEO (and SEO for Google)
Learn some basic SEO concepts for Google search engine optimization now:
What is SEO?
Search for, "What is SEO?" and you'll receive a lot of different answers. They're often saying the same thing, however, which is that SEO aims to improve your online visibility to search engines, like Google, Bing, and Yahoo.
Instead of appearing on page three or four of search results, you're the first result on page one, which helps your business earn more traffic (and even revenue) from search.
What is Google SEO?
Search engine optimization for Google is the process of optimizing your website to increase its visibility in Google search results versus search results on other search engines, like Bing.
Why is SEO for Google important?
What does Google have to do with SEO, though? As one of the biggest search engines — more than 90 percent of all searches in the U.S. happen through Google — it has a lot to do with SEO in digital marketing. That's one reason why many view Google SEO and SEO as synonymous.
It's also why many marketers and businesses focus on optimizing their content for Google.
What are keywords in SEO?
Keywords are often an essential part of this goal. When someone searches for something, they enter a search query. As a business, you're looking for the keywords that make up that search query, whether it's a painting company or landscaping business. Those keywords will shape your content.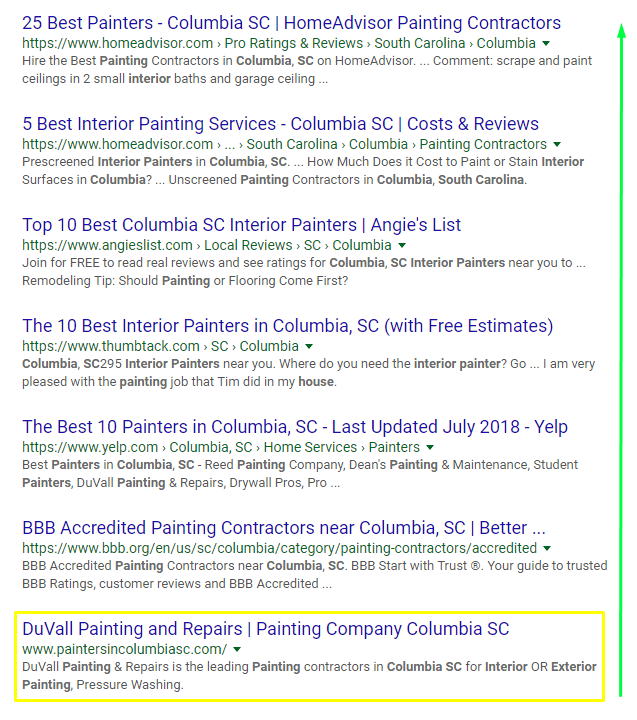 Look at the example to the right for the search, "interior house painters columbia sc."
In this example, we have a house painting company that's ranking on the first page. They're in seventh place, which isn't the best spot as 33 percent of all search traffic goes to the number one position. If they want to earn first place, they'll need to reassess their Google search engine optimization strategy for that webpage.
Looking for an all-in-one SEO audit tool? You've found it.
SEO Checker provides data on key metrics to give you:
Complete SEO score

Content Grade

Site Speed Analysis

and more.
Google SEO: Technical SEO
If you're ready to optimize your website for Google SEO, focus on these six areas:
1. Mobile
Some great resources for this topic include:
With 96 percent of mobile users relying on Google for their searches, it's critical that you create a mobile-friendly website. This factor is even more important since Google adopted a mobile-first index. That means Google now indexes and evaluates the mobile, versus desktop, version of a website.
If your website isn't mobile-friendly, that can impact your ranking in Google search results.

Check your website's mobile-friendly status with Google's Mobile-Friendly Test. It'll analyze the mobile version of your website, notifying you of any potential issues. Use that feedback to improve your mobile website and ranking in search results.
Looking to improve your existing mobile website for Google SEO optimization? Try these steps:
Use Accelerated Mobile Pages: Also known as Accelerated Mobile Pages, AMPs keep your website fast and user-friendly. Plus, Google uses AMPs to expedite the speed of your mobile webpages even more. Use AMPs for static pages with static content, like a product page.
Add a viewport tag: For responsive web design, you can also use the viewport tag in your HTML head element. By incorporating this tag into your HTML files, you're telling a browser, like Chrome or Firefox, how to adjust your content for a specific device.
Provide complete functionality: In SEO for Google, you're not only focusing on the search engine — you're also considering the user. That's why you want to offer a mobile-friendly website that includes the full functionality of our desktop website, such as the ability to buy a product.
If your website doesn't have a mobile version, consider a responsive web design.
2. Hierarchy
Some great resources for this topic include:
Indexing and crawling are two core components of SEO — if your website isn't crawled and indexed, then it doesn't appear in search results. That's one reason why you want a site hierarchy that's easy for crawlers and users to follow.
It helps users find your products and services, plus gives Google perspective on that webpage's role.
Create a website hierarchy that's intuitive. As an example, look at the navigation bar on Samsung's website. They feature eight different headings, and each includes a subset of menus that make sense from a user standpoint.
If you're looking for a new laptop, for example, it makes sense to use the "Computing" menu.

Improve the usability of your website with these quick tips for website hierarchy:
Use text for navigation: In some cases, web designers use images or animations in a website's navigation. While it may appear attractive, it's often detrimental to your users. That's why you want to use text for your navigation — it's simple and easy-to-follow.
Link to related webpages: Another strategy for improving your website's hierarchy and Google search optimization strategy focuses on linking to related webpages. If you're writing a blog post about the best robot mops, for example, you may link to a previous post about the best robot vacuums.
Create a sitemap: While your shoppers often use your navigation to explore your website, it's helpful to include an HTML sitemap. In most cases, you'll include this sitemap on your website's footer. Create an XML sitemap too — it'll help Google crawl your website.
If you're looking for navigation bar inspiration, we have plenty of examples to help.
3. URL structure
Some great resources for this topic include:
To crawl and index content, Google requires a unique URL. A URL functions as an address — it tells Google, as well as users, the location of your webpage. It also hints at the focus of your content, like Google SEO or Bing SEO.
Strengthen your SEO strategy with the following tips for URL structure:
Use HTTP Secure: Whether you're an ecommerce store or a local business, it's critical to use HTTP Secure, better known as HTTPS. This identifier, which appears at the beginning of a URL, tells crawlers and users that your website is secure.
Create simple URLs: In search results, Google displays your URL. If you create a generic URL, such as, "https://www.example.com/1-2-3-4.html," that looks spammy to users. That's why you want to make simple, yet descriptive URLs, such as https://www.example/home-painting.html."
Prevent duplicate URLs: In some cases, users will create a webpage with a unique URL and later make an updated version of that page, but with a new URL and without redirecting the previous page. If you this scenario happens, make sure you set up a 301 redirect.
If you're unfamiliar with URL structure, make sure you use hyphens to separate words in your URL.
4. 404
Some great resources for this topic include:
Fix your website's broken links or 404 errors, and you can improve your user experience, as well as Google SEO optimization. A website that's filled with broken links sends negative signals to not only Google but also users. That's why you want to use a tool like Screaming Frog to find and fix broken links.
Manage 404 errors with the following tips:
Create a custom 404 webpage: Users are often disappointed when they encounter a 404 webpage, but you can improve their experience and build their trust by building a custom 404 webpage that matches your brand and website.
Include noindex robots meta tag: Google's crawlers have tons of websites to crawl and index, which is why you want to maximize their time on your website. Prevent them from reviewing your 404 webpages with a noindex meta tag in your robots.txt file.
Set a schedule to repair 404s: No matter your website's size, it's worth creating a plan and schedule for checking and repairing broken links. Create a reminder in Google Calendar and use Screaming Frog to keep your website in optimal condition.
Need an alternative to Screaming Frog? Use the Internal Links Report in Google Search Console.
5. Sitemap
Some great resources for this topic include:
While HTML sitemaps benefit users, XML sitemaps help Google's crawlers — they share with crawlers all your website's URLs. To maximize your search engine optimization for Google, you want to create an XML sitemap for your website. If you have a new or large website, an XML sitemap is even more critical.
If you're new to building XML sitemaps, follow these tips:
Include the full URL: It's essential to list the full URL of your webpages in your sitemap. If you use a relative URL, such as, "/locations.html," Google won't find your webpage. Instead, you'll need to submit the full URL, "https://www.example.com/locations.html," for Google.
Limit XML sitemaps to 50,000 URLs: It's worth mentioning that Google limits XML sitemaps to 50,000 URLs, as well as 50 MB uncompressed. While your website may start small, consider planning for the future by creating small related sitemaps, such as for a product line.
Use XML sitemap extensions: It's helpful to include sitemap extensions when practicing search engine optimization for Google. Use these for videos, images, and news content, as they can improve indexing by describing content that crawlers can't "read."
Depending on your familiarity with XML sitemaps, you may need to meet with your developer.
6. Speed
Some great resources for this topic include:
Like many other factors of Google search engine optimization, the page of your website affects your rank and your user experience. That's why it's critical that your team monitors the speed of website and pages across devices, from desktop to mobile. That way you can respond and remedy speed issues fast.
Improve the speed of your webpages with the following strategies:
Compress images: If you've uploaded your images without compressing them, you're slowing down your website. Use a tool like kraken.io to decrease your image size — without lowering your image quality.
Merge CSS and JavaScript files: Depending on the scope of your website, it can make a massive difference when you merge your CSS files, as well as JavaScript files. It'll reduce the number of HTTP requests, which expedites your load times.
Prioritize content above the fold: A strategy that more businesses are adopting to improve their Google search optimization focuses on prioritizing content that's above the fold. What this means is that above-the-fold content loads faster than below-the-fold content.
For some of these changes, you'll need to collaborate with your development team.
Now that we've discussed how improve your website for Google, let's move onto your webpages.
Google SEO: On-page SEO
A core part of your SEO for Google strategy will focus on your pages or content. By improving their SEO, you're increasing their online visibility to Google, which can lead to a better ranking in search results and better results for your business.
Optimize your webpages for Google and SEO by focusing on these six areas:
1. Keyword research
Some great resources for this topic include:
One of the biggest parts of search engine optimization for Google is keyword research. By researching keywords for your content, you can discover what answers users are looking for, as well as what topics they're discussing. That results in original and shareable content. Plus, you can see what content's ranking for that keyword.
Discover keywords for future or existing content with the following tools:
If you use Ubersuggest or keywordtool.io, they'll show you the search volume, competition, and cost-per-click (CPC) of a keyword. This information is valuable, as it helps you determine a keyword's worth.

It can also provide insight into the type of content you'd create. A keyword with a higher CPC, for example, often means that content is closer to the bottom of the buying funnel. In comparison, a keyword with a lower CPC is closer to the top of the buying funnel.
Give your keyword research, plus Google search optimization strategy, a boost with the following tips:
Visit forums and social media: While Google Trends and Answer the Public can provide insight into what people are looking for, forums and social media are also useful tools. Visit Quora, for example, and see what users in your target audience want to learn more about.
Create a target audience: As a business, you want to rank for keywords that apply to your target audience. If they're not searching for, "dog groomer," then why create content for it? That's why it's critical that you define your target audience, as well as understand their motivations.
Compile a keyword list: When you research keywords, you'll find a ton of opportunity for your industry, services, and audience. Keep track of your keywords, as well as their volume, competition, and CPC with a Google Sheet or Excel document.
In almost all instances, your keyword research will influence every step of your Google search engine optimization.
2. Title tag
Some great resources for this topic include:
The title of your content, whether it's a product page or blog post, entices users to click. In most cases, your title will also serve as your title tag. For reference, your title tag appears in search results — your title appears in your content as your H1 heading.
Improve your search engine optimization for Google, as well as title quality, with the following tips:
Create a compelling, unique, and descriptive title: This type of title can lead users to visit and stay on your website. In comparison, a click-bait title can cause users to visit and bounce from your website. Google notices this, which is why a high bounce rate can hurt your ranking.
Limit title tags to 67 characters: If your title exceeds 67 characters, Google will insert an ellipsis. This move leaves users with only half of your message, which can cause them to skip over your result. To make sure your title tag is the appropriate length, use a free title tag counter tool.
Include a keyword: When you create your content, you should focus on a single keyword, though you may target a few minor keywords. Use your primary keyword in your title tag to send a positive signal to Google — try to use your keyword at the start of your title tag.
For the best results, try to brainstorm 15 to 20 different title tags. Then, choose the best one.
3. Meta description
Some great resources for this topic include:
If you're familiar with SEO for Google, then you know the search engine doesn't use meta descriptions as a ranking factor. They're important for users, though, as they offer context. Plus, if your meta description features a user's keyword, Google bolds it to capture their attention.
Give your meta descriptions more power with the following techniques:
Summarize the content: A meta description is excellent for following up on the hook of your title tag. It provides users with additional information about your content, such as its purpose and topics. Use your meta description to show that your content fulfills that user's intent.
Limit meta descriptions to 155 characters: Like title tags, meta descriptions also feature a character limit. Keep your descriptions to 155 characters. In some cases, you may discover that Google's replaced your meta description with a description of its own.
Create a unique description: Depending on your Google search engine optimization strategy, you may create several unique, yet similar webpages. If you're highlighting your service areas, for example, you may use a template meta description. Skip this approach and create a unique description for each.
Try brainstorming several variations of your meta description to build the best one for your audience.
4. Content
Some great resources for this topic include:
The bulk of your search engine optimization for Google focuses on your content. When it comes to Google, content can include a variety of mediums, from text to video to images. In most cases, your content will include all three to create a powerful piece of content.
Help your content rank on the first page of Google results with the following strategies:
Create keyword-optimized content: While you want to avoid keyword stuffing, you also want to use your keywords throughout your content. Prioritize readability first but try to include your keywords in your heading and sub-headings, as well as content.
Use white space: Google's crawlers may not search your content for white space, but users will. If they visit a page that's a block of text, you can expect your bounce rate to increase. Make your content skimmable by limiting paragraphs to three lines and including images.
Link to higher-level content: While external links are more valuable to Google, links from internal webpages also pass link equity. When you write your content, look for opportunities to link to higher-level content, such as pages from your navigation bar.
With the rise of content marketing, it's also critical to aim for a longer word count. This word count often depends on the competitiveness of a keyword. A high-competition keyword may require a word count past 1,000 words, while a low-competition keyword may only need 500 words.
It's smart to check the readability of your content too — it should match your audience's reading level.
5. Images
Some great resources for this topic include:
Whether you're discussing Yahoo, Bing, or Google SEO, you want to talk about images. While crawlers can't "read" images, they're still valuable from the perspective of Google, as well as users. In fact, posts that feature images earn 650 percent higher engagement rates than posts without.
Like your title tag and content, your images provide Google's crawlers with perspective. They learn more about what your webpage is about, which can help your content rank better in search results. Plus, images appeal to your audience's browsing habits.
Optimize your images for Google with the following techniques:
Keep filenames short and descriptive: While your photographs may feature a generic filename like, "IMG_001," you want to create descriptive ones for your web content. If you're sharing an image of a weedwhacker, for instance, name it, "orange-weedwhacker."
Create image alt text: It's essential that you provide alt text for your images — this text provides Google's crawlers, as well as users with assistive technologies, a definition of your image. Keep your alt text descriptive, but to-the-point.
Use standard image formats: In most cases, your images are JPEGs, PNGs, GIFs, or BMPs. Depending on your business, however, you may have images in less common formats. For the best results with your Google SEO optimization strategy, use the standard image formats above.
Incorporate keywords: Like your content, you also want to include your keywords in your image filenames and alt text. It's critical, however, that you do not keyword stuff. Use keywords when it's appropriate.
A final tip for optimizing your images for Google and SEO? Use a hyphen to separate words in your filenames.
6. Structured data markup
Some great resources for this topic include:
While many businesses are unfamiliar with structured data markup, it's a strategy recommended by Google for improving your SEO. What is structured data markup, though? It's a code that your development team adds to your webpages to provide search engines with additional information.
Information you can share with Google, as well as users, through structured data markup includes:
Hours
Location
Products
Videos
Recipes
Events
Logos
And more!
Some of the best tips for using this tool for Google search engine optimization include:
Use the Google Structured Data Testing Tool: Whether you're implementing structured data markup or your development team is, use the Google Structured Data Testing Tool. It'll look for errors — you can check for errors by copying your webpage's URL or HTML code.
Add only relevant markup data: In the hope of improving their SEO for Google, many businesses will markup their webpages with data that's not useful to Google or users. Include only relevant information in your structured data markup — look at the data from your client's perspective.
Review the Structured Data report: No matter what search engine you're focusing on, track your performance. Use the Structured Data report — found in your Search Console — to see which pages have markup, as well as their number of clicks and appearance in search results.
Adopt structured data markup, and you may earn a spot in a search gallery. A search gallery is a rich result, which means your webpage may appear with information from your markup. For example, a post from your blog may display with a thumbnail image.
With your website and webpages ready for Google, you can start optimizing your website off-site.
Google SEO: Off-page SEO
Some great resources for this topic include:
For Google, one of the most important ranking factors are links from other websites. To the search engine, these are votes of confidence from other websites. They're vouching for your content and indicating to Google, as well as readers, that it is original and valuable.
That's one reason why content marketing is so crucial to Google SEO.
If you're looking to optimize your website off-site, content marketing will become a part of your Google search engine optimization strategy. While you'll focus on outreach, you'll also prioritize the creation of high-quality content that's shareable.
Boost the success of your off-site optimization with the following tips from our Google SEO guide:
Look at competitor strategies: While you want to avoid copying your competitor's strategy, it's important that you look at their approach. It can help you spot content gaps, as well as alert you to potential industry-specific websites that would love to share your content with readers.
Find audience hotspots: It's critical to understand where your target audience lives online. By knowing their favorite websites for market news, as well as forums to chat, you can discover new content ideas and new publishers interested in your one-of-a-kind content.
Connect with publishers: With two million blog posts published each day, it's tough for everyone to keep up. That's why you want to connect with publishers, such as through Twitter, to highlight your content. Remember that your content should offer value to them.
It's important to mention that you want to build links with a diverse set of websites. If you're creating killer content, this happens naturally — investing time in outreach is a smart idea, though. Remember that Google also values quality over quantity when it comes to shout-outs from other websites.
Our digital marketing campaigns impact the metrics that improve your bottom line.
See More Results

WebFX has driven the following results for clients:

$3 billion
In client revenue

7.8 million
Leads for our clients

5.2 million
Client phone calls
Need help with your company's Google SEO?
If you're feeling overwhelmed, it's understandable. It's a full-time job to manage and implement a successful Google search engine optimization strategy for your business, which is why WebFX works as an extension of your team.
Whether you want to access to the best SEO tools or need support in implementing your strategies, our experts can help.
With our competitive and results-driven SEO strategies, we'll help you not only rank on the first page of search results but also earn more revenue from that ranking — and we mean it.
Take Reynolds Building Solutions, for example. With WebFX, Reynolds Building Solutions increased its year-over-year organic traffic by more than 40 percent. Even better, the company's year-over-year organic contact form submissions jumped by more than 70 percent.
Discover how your business can grow too by contacting our award-winning team today!
How Is Your Website's SEO?
Use our free tool to get your score calculated in under 60 seconds.