Resource Hub for Learning Local SEO
Looking to learn local search engine optimization (SEO) so you can grow your company's revenue from search? Then check out this local SEO resource hub, which includes articles, guides, and common questions!
Learn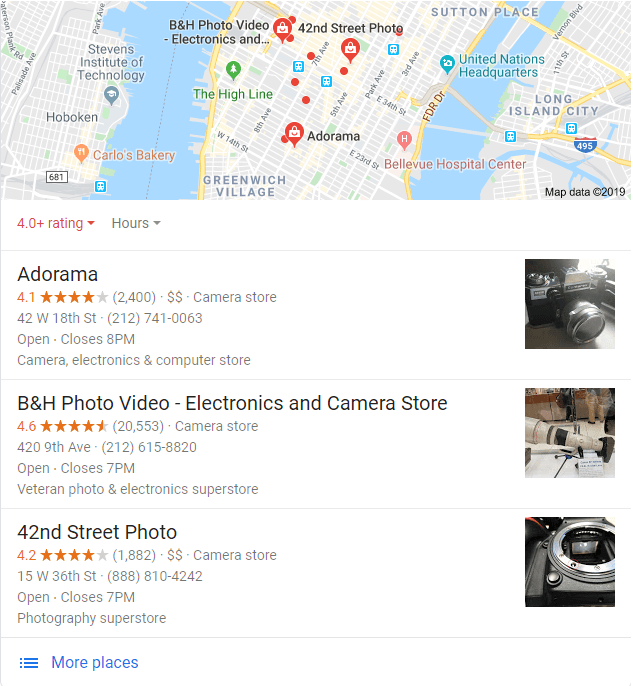 How to Dominate Local Business Rankings with a Local SEO Strategy Did you know that more than half of online searchers visit a store within a day of conducting a local search? If you want to attract more local customers […]
Get started with learning local SEO with these helpful resources:
Want to keep building your local SEO knowledge? Sign up for Revenue Weekly and start receiving local SEO tips, tricks, and more in your inbox!
FAQs about local SEO
Learn more about local SEO with these FAQs:
What is local SEO?
Local SEO is essentially SEO for local businesses.
Local SEO utilizes many of the same tactics as traditional search engine optimization. It helps you optimize your website to rank better in localized search results and reach your local audience.
As you optimize for your location, you are helping people find your business online and get them to visit your physical location. Local SEO is an effective and important way to market your company online when targeting people in your area to bring them to your store.
When a user searches for a business in their surrounding area, it is known as local search. Local search uses specific keywords tied to locations or local companies. Commonly used local search phrases include things like "near me" and "in [city]."
What is a local SEO 3-pack?
A local SEO 3-pack is the listing of three businesses you see first in the search results when searching for terms using keywords like "near me" or "near [location]."
When you search for a local business, Google will generate a list of potential businesses that fit the description of your search query. What comes up will be a map with locations followed by three Google My Business listings.
To get your business in the 3-pack, here are some steps to take:
Determine initial ranking
Find out if you rank in the top 20 businesses in your area. If you rank in the top 20, you have an excellent start optimizing your listing. You can reference Google Search Console to see where you rank.
Fill out your Google Business Profile
Fill out your Google Business Profile page in its entirety to ensure that customers can view all the information necessary for your business. This information includes your name, address, phone number, hours, and more.
Get reviews
Receive reviews to prove that you are a trusted business within the community. This will help entice leads to visit your business.
Build locally relevant links and backlinks
Earn links from other local businesses that will help drive traffic to your website.
What are the benefits of local SEO?
Local SEO offers several benefits, including:
Quality leads
Targeting local consumers encourages people who live in your area to come and visit your business. Using a more narrow approach helps you weed out users outside the area they are willing to travel to, eliminating some of the dead-end leads.
Increased sales
As the number of qualified traffic increases, sales will also increase. The proximity and availability of your business will entice customers to visit your location instead of competitors who are further away.
Better online presence
The first few search results receive the most clicks, ultimately resulting in more leads and more conversions. Local SEO helps you grow into one of these positions, improving the chances of a potential customer finding your business.
Reduced ad spend
As you start to weave local SEO into your overall marketing strategy, the need to spend more on ads dwindles. Improving your rank in the Google search results allows you to earn a top spot without the cost-per-click (CPC).
How do I do local SEO?
If you want to get started with local SEO, follow these steps:
Claim and optimize your Google Business Profile listing
Your Google Business Profile page will help serve as a hub for your local SEO strategy. To drive local traffic to your location, you must claim and optimize your listing, which involves adding your name, address, phone number, photos, and more.
Create local content
Include your city, country, or region throughout your site to reach more local customers and rank high in the search results. Generate content surrounding local events that your business participated in, and include locally relevant keywords.
Select appropriate keywords
Optimize your website and Google My Business page with keywords that are relevant to local search intent. Include long-tail keywords that match the specific intent of what your business can provide. Doing so will attract leads with a higher rate of conversion.
Manage reviews
Reviews play an essential role in the customers' trust in a business.
It is necessary to earn reviews that describe a customer's experience with your products or services. Managing yours shows your audience that you value them and care about the experience that they had.
How much does local SEO cost?
The typical local SEO campaign can cost anywhere from $300 to $2000 a month, depending on your business's needs, your competition, and your geographic location.
However, the price you end up paying for local SEO will ultimately depend on your chosen plan and the value you get from the service provided.
There are various options to choose from (depending on the agency), but the service packages often include automated local SEO, small-scale SEO, and comprehensive local SEO campaigns.
Each of these solutions becomes more expensive as you increase the number of locations.
Learn more about using local SEO for your business
If you are looking to learn more about local SEO and the impact that it can have on your business, sign up for our newsletter, Revenue Weekly! We'd love to help you use local SEO to drive traffic (and revenue) to your business.