With over 2.3 billion monthly active users, Facebook is a great platform to reach people interested in your company. Facebook advertising, especially, is an effective way to connect with people who want to buy your products or use your services — it's also a great strategy to promote your app. That's where Facebook playable ads come in to play. These interactive ads create a whole new dimension of engagement with your company's app.
Keep reading to get answers to your burning questions, like:
What are Facebook playable ads?
Facebook playable ads are an advertising format where you can create an interactive ad for your mobile app. It enables you to provide a preview of your app —a "try-before-you-buy" experience — before someone downloads it, so they can determine if they want to use your app.
Where do Facebook playable ads appear?
If you opt to run playable mobile ads, you may be curious where these ads can appear. Here are the three main locations where you'll see playable ads:
Facebook newsfeed
Facebook Stories
Audience Network
Who can use playable ads on Facebook?
Facebook playable ads are a lesser-known advertising option, so it's natural to wonder who can use them. As you'll see in the next section, most of the information on playable ads focuses on companies that have gaming apps and want to get more people to download their game. This ad format is perfect for game developers because it lets people try the game before downloading the app.
But these apps are not just for companies with gaming apps — companies with interactive components to their app can use them too. For example, Duolingo, a language learning app, could run a playable ad that allows users to preview one of their lessons. While it's not a game, it does have an interactive component that can be used for the playable ad and help people see what their app is like.
In another example, Trello, an organization app, could use playable ads to allow people to preview how organization works on their app. Users could have the experience of moving the cards and creating boards to see how easy it is to use. Overall, there are a lot of apps that go beyond gaming that can use Facebook playable ads to advertise.
What are playable ads made up of?
When you investigate playable ads on Facebook, you'll find they're made up of multiple components.
These ads are different from your typical photo or video ad because there's a step in seeing the ad and visiting your business's page — this part is the interactive part of the ad. Let's break down the three components of Facebook playable ads:
1. Lead-in video
The lead-in video is what your audience sees in their newsfeed. It's the component that catches their attention and gets them to interact with your ad. For Facebook game ads, you'll typically see a short video of the game and an overlay of a game controller that indicates someone can play the game.
With other non-gaming apps, you may see a video of the app in action with a hand overlay tapping on the video, which invites people to tap to interact with the ad.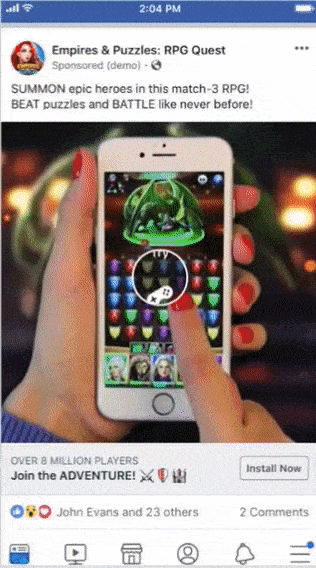 2. The demo
The second component of playable mobile ads is the demo. As the name implies, this component enables prospects to try out your app and see if they like it. When someone taps on your ad, they're taken to your short, interactive, full-screen demo where they can engage with your "app" and try it out.
This demo enables users to tap and swipe their way through your app.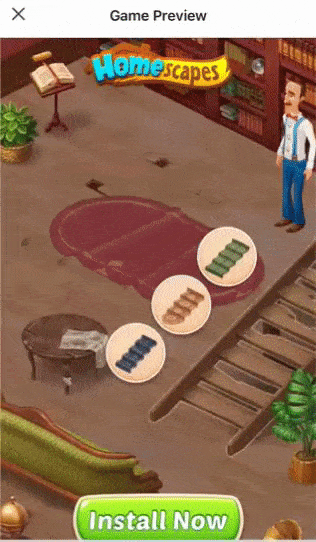 Your demo should be short but informative enough that the user understands the gist of your app. If you were creating a Facebook game ad and doing a demo of your matching game, for example, you may only allow people to make five matches before the demo is over.
3. Call to action (CTA)
The last component of your playable ads is the call to action (CTA). This button guides users to download your app after interacting with it. Users can tap the button to go to the app store and install your app.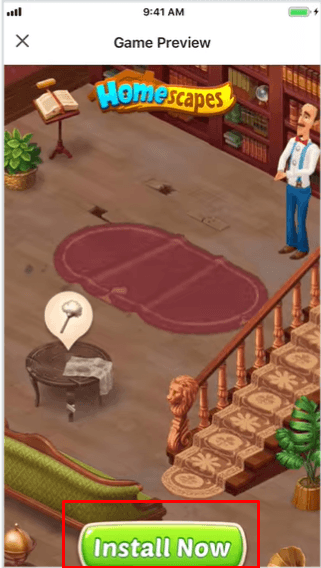 Why use playable ads on Facebook?
Now that you learned more about Facebook playable ads, you may wonder why you should use them. How do these ads benefit your business?
1. Facebook playable ads allow you to provide an interactive experience
One of the biggest benefits of playable mobile ads is they enable people to test drive your app. This feature is especially critical if you're advertising your app to people who haven't heard of it but are likely to have an interest. Playable ads on Facebook make it easy for you to give people a preview of your app.
They can experience it themselves and determine if what you offer appeals to them. Not only that, but it delivers a fun and interactive experience that's more engaging than just looking at a photo of your app.
2. Facebook playable ads enable you to increase brand recall
Another great benefit of Facebook playable ads is increasing brand recall. With playable ads, people get immersed in your ad experience and learn about your brand. Since they get more engaged with your ads, they're more likely to remember the experience.
As a result, even if they don't download immediately, they're likely to remember your app and download it later.
3. Facebook playable ads enable you to earn more conversions
One of the biggest benefits of playable mobile ads is that you earn more conversions for your business. Since these ads are interactive, they get people more invested in your app and cause them to spend more time learning about it. As a result, people have a good idea of what your app can do and how it works, which helps them determine if it's a good fit.
If they like the experience with your app, they're more likely to download it immediately, resulting in more conversions for your business.
How to make Facebook playable ads that work
If you want to create playable ads on Facebook, follow these three tips to do it successfully:
1. Match your video preview and demo
When you craft your playable mobile ads, ensure your video preview and demo match. People use your preview video to determine if they want to interact with your ad, so some companies will try to create an engaging, but irrelevant, video to lure people to click. Then once those users click, they're taken to an interactive element that's nothing like what the video preview advertised.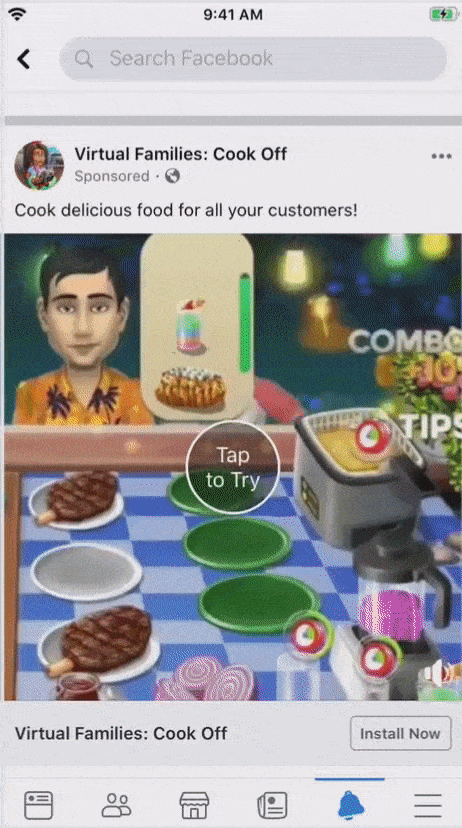 You don't want to take this approach with your ads for two big reasons:
Users will click away: If your video preview is completely different from your interactive element, users will click away from your ad because it's not relevant to their interests. As a result, it will cost you money and cause you to miss out on downloads.
Users will lose trust in your business: If you're advertising one thing and delivering something else, prospects will see you as dishonest. As a result, they'll lose trust in your business and shy away from downloading your app, buying your products, or using your services.
The best approach to have success with Facebook playable ads is to keep it consistent across the board. For example, if your preview video showcases a matching game, your interactive demo should continue with that matching game.
2. Make the demo simple
When you compose the demo of your Facebook playable ads, you want to make it simple. Whether you're advertising a game or an interactive portion of your app, you don't want your audience to struggle to figure out how to use it. If your preview is too difficult to follow, users will leave your ad and go back to scrolling through their feed.
To prevent these leads from leaving your ad, focus on delivering a demo that's descriptive and explains how to interact with your ad. Whether you want someone to tap, swipe, or scroll, make sure you specify in the directions.
3. Allow people to download your app at any point
When you create your playable mobile ad, make sure you provide your audience with the opportunity to download your app at any time. While there will always be an option to download after doing the demo, you want to ensure you offer the opportunity to download at any time. If someone is midway through the demo and likes your app, you want them to be able to download it immediately.
Always offer a button to download the app from the start of the demo, so they can download it when ready.
Our digital marketing campaigns impact the metrics that improve your bottom line.
See More Results

WebFX has driven the following results for clients:

$3 billion
In client revenue

7.8 million
Leads for our clients

5.2 million
Client phone calls
Get started with Facebook playable ads
Playable ads on Facebook are a great way to create an interactive experience for your audience that gets them to download your app. But if you aren't sure where to start with Facebook Playable ads, WebFX can help. As a Meta Business Partner, we have experience launching Facebook advertising campaigns successfully and driving results.
We've driven over $3 billion in revenue and over 7.8 million leads for our clients in the past five years. You can feel confident we'll craft a campaign that drives success. Ready to get more downloads of your app?
Contact us online or call us today at 888-601-5359 to speak with a strategist about our Facebook advertising services!
WebFX Careers
Join our mission to provide industry-leading digital marketing services to businesses around the globe - all while building your personal knowledge and growing as an individual.