4 Facebook Messenger Tips to Boost Conversions for Your Ecommerce Business
Social media offers many opportunities for your business to connect with valuable leads. With platforms like Facebook, you can build a more personal connection with your audience. Facebook Messenger is one of the fastest growing ways for your ecommerce business to connect with your audience and earn more conversions.
On this page, we'll discuss four Facebook Messenger tips for your ecommerce business to earn more conversions.
Give us a call today at 888-601-5359 or keep reading to learn more!
Why is Facebook Messenger important?
Many consumers don't feel comfortable talking on the phone to voice their opinion, or they may not have the time to make a call. However, consumers still want to feel like your company cares about them.
This is why Facebook Messenger makes it easier for them to contact your business. Whether they have questions, complaints, or comments, customers who use Facebook Messenger have personal interactions with a company representative who will listen to them.
Your customers can voice their questions and concerns on their own time. They can send messages to your representatives and reply to them when it is convenient for them.
Because of this convenience, consumers feel more comfortable and in control of the conversation. It allows them to take their time composing their thoughts.
As an ecommerce business, this makes it easier for you to field questions and concerns from your audience. A company representative can only take one phone call at a time until an issue is resolved. With Facebook Messenger, your representatives can reply to multiple consumers while waiting for previously messaged consumers to reply.
You can also respond to more people faster, which is even more appealing to your prospects. Consumers want answers and want them quickly, so Facebook Messenger is a great tool to help you answer them in a quick and efficient manner.
By having Facebook Messenger available for your customers, your business can efficiently devote its attention to them. Messaging helps your representatives and customers interact with ease, making them more likely to trust and engage with your business.
Time to Level Up Your Sales
Our long list of services helps you grow every aspect of your business with marketing strategies that are proven to increase bottom-line metrics like revenue and conversions.
In the past 5 years, we've managed more than 12.9 MILLION transactions across our client base.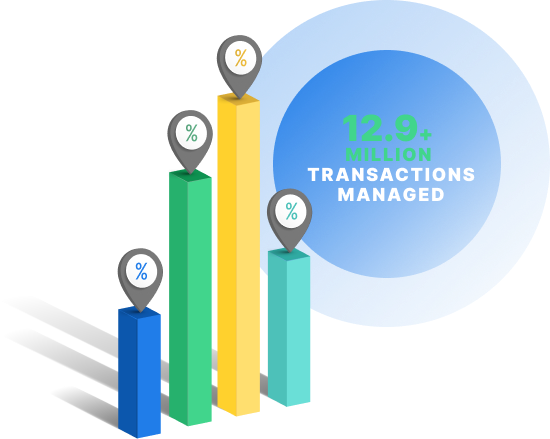 4 Facebook Messenger strategies for ecommerce companies
Now that you know why Facebook ecommerce Messenger is so important, you can start to take advantage of this great tool. Here are a few tactics you can use to drive success for your ecommerce business.
1. Send coupons through Messenger
Coupons are always great for enticing people to convert. If they know they will save a little more money, it convinces them it's time to convert. Facebook Messenger is a great way to send your audience coupons for your ecommerce business.
This is a great piece of marketing for bottom-of-the-funnel (BOFU) leads. These are leads that are close to conversion and need that extra nudge to pull the trigger. This includes people who visited your site, looked at products, or added products to their cart and abandoned it.
You will need to use a Facebook ad to get people to claim the coupon. To do this, create an ad where the call to action (CTA) tells your audience to message your business. The ad should encourage your audience to message your business to receive a coupon.
It is important that you choose a phrase to send through Messenger. An example of proper wording for your ad is "Reply with the word 'cupcake' to receive 15% off your next bakery order!" It tells your audience the keyword to trigger the coupon as well as the type of coupon they will receive.
Your audience can click on the Messenger button in the ad and send the keyword. Once they send the keyword, your business sends them the coupon. It's a great way to use Messenger to get interested leads to convert.
2. Send confirmations
When your customers place an order, they want to get a confirmation that their order went through successfully. Most companies will use emails to send confirmation to orders, but there are other methods as well. In fact, you can use Facebook Messenger to send the confirmation.
For instance, once the order is placed, you can create a Facebook message that will send the order confirmation and tracking information. It's a small gesture, but it can go a long way. Facebook messages make the experience more personalized for your audience.
When consumers receive these messages, they often reply to them. Many customers will respond with excitement because they can't wait to receive their products. It builds a positive reputation with your business and reinforces your brand with your audience.
Confirmation emails help you generate a response from your audience and get them to interact with your business.
When you send a message, it's like you are speaking directly to them and thanking them for their order. It's a great way to build up relationships with your customers. They will feel more valued and enticed to make purchases from your ecommerce business in the future.
3. Use automated messages
When members of your audience send a message to your business, they want a real response and to know that someone is on the other end ready to help them. However, sometimes a human isn't available to address them.
Some representatives may be busy with other leads on the phone, or your customers may message your business outside your hours of operation. Automated messages will help you provide a response to those leads and keep them engaged.
An automated message tells your audience that you got their message, but you just can't reply to them now. If people are messaging after hours, they may be aware of this, but sending the message confirms it for them. It's a way for you to acknowledge that you got their message and assure them that someone will get back to them soon.
It's a great way to increase engagement with your brand. People know that when they message you, they will always get a response. They won't feel as though their message will never be viewed by a team member. You will build your audience's confidence and trust in your business.
4. Integrate chatbots
Chatbots are software programs that are designed to simulate conversation. These bots can have a conversation through written or spoken text. They process what you are saying and compile an intellectual response to your query.
Since your customers want an authentic, human-like interaction with someone who works for your company, you may be wondering why you would use chatbots. Truthfully, chatbots are so well-developed that it can be hard to know if you are speaking to a real person or a chatbot.
In fact, chatbots are ideal for platforms like Facebook Messenger. Your ecommerce business is going to field many types of questions. Some solutions are simple, while others require more in-depth investigation.
Chatbots can help you field out some of these queries. These chatbots can use empathy to relate to your audience and address their issues. It makes your audience feel as though they are speaking to a real person.
Some chatbots are more efficient than humans. They can see different angles of an issue and come up with the solution to that problem. It's an opportunity for your business to provide your audience with the best solution possible.
Chatbots can even help increase your customer loyalty. They offer in-depth responses that solve a customer's issue fast, and quick responses and efficient answers make your audience feel like your company cares about them.
If it solves their problem, they will feel more confident in your business. Your customers will know that they will be able to address any future issues or concerns and get the help they need. Using chatbots in Facebook Messenger is a great way to build loyalty with your ecommerce customers.
Let WebFX help your ecommerce business grow
Facebook Messenger for your business is a fantastic way to earn more conversions. You will create a better customer experience by integrating Facebook Messenger into your digital marketing plan. At WebFX, we know how to maximize your use of Facebook Messenger to earn more conversions for your business.
We have a team of 500+ social media savvy experts that will bring their knowledge and expertise to your campaign. With more than 25 years of experience, we know how to create social media marketing plans that work for your ecommerce business.
If you're looking for results, we know how to drive them. We've driven over $1 billion in sales and over 7.8 million leads for our clients. When you partner with us, you'll get a team that is dedicated to driving success for your campaign.
Want to know what it's like to partner with a top social media marketing company like WebFX? Check out our 1020+ client testimonials that attest to the great work we do!
Organic or Paid Facebook Advertising?
Take advantage of Facebook Messenger today!
If you're ready to start reaching more valuable leads for your business, contact us online or call us today at 888-601-5359 to speak with a strategist.
We look forward to helping your business reach new heights!