Your audience's feedback is critical for helping you make better business decisions. One of the easiest ways to get feedback is to put up a poll. It's an interactive way to ask questions and get answers from your audience.
If you're looking to poll people on Facebook, you've come to the right place. On this page, we'll show you how to create a poll on Facebook using four different methods. Keep reading to learn more!
And don't forget to subscribe to Revenue Weekly, our email newsletter for busy business owners and marketing managers who want to keep up with the latest marketing trends.
Where can you create Facebook polls?
When Facebook first enabled polls, you could create them by posting content to your timeline. That's not the case anymore. Now, you can only post Facebook polls in select places:
Facebook Groups
On your story
On an event page
In Messenger
How to create a poll on Facebook
Now that you know where you can create Facebook polls, let's dive into how to start making one. We'll explain how to create a poll in each of the above-mentioned areas of Facebook. Skip ahead to the one you want to use or keep reading to see your options!
Facebook poll option #1: Create a Facebook poll on your story
If you want to make a poll on Facebook, try posting one to your story! Facebook stories are a great place for you to share polls that followers can see as they click through others' stories.
Here's how you can set up a poll in your story:
Open your Facebook page through the app
Click the plus sign by your profile picture
Select Create a Story from the list
Swipe until you find the Poll card
Create your poll
Edit with the colors and graphics of your choice
Share the poll
It's that simple! Now you can start seeing what people say in response to your poll query.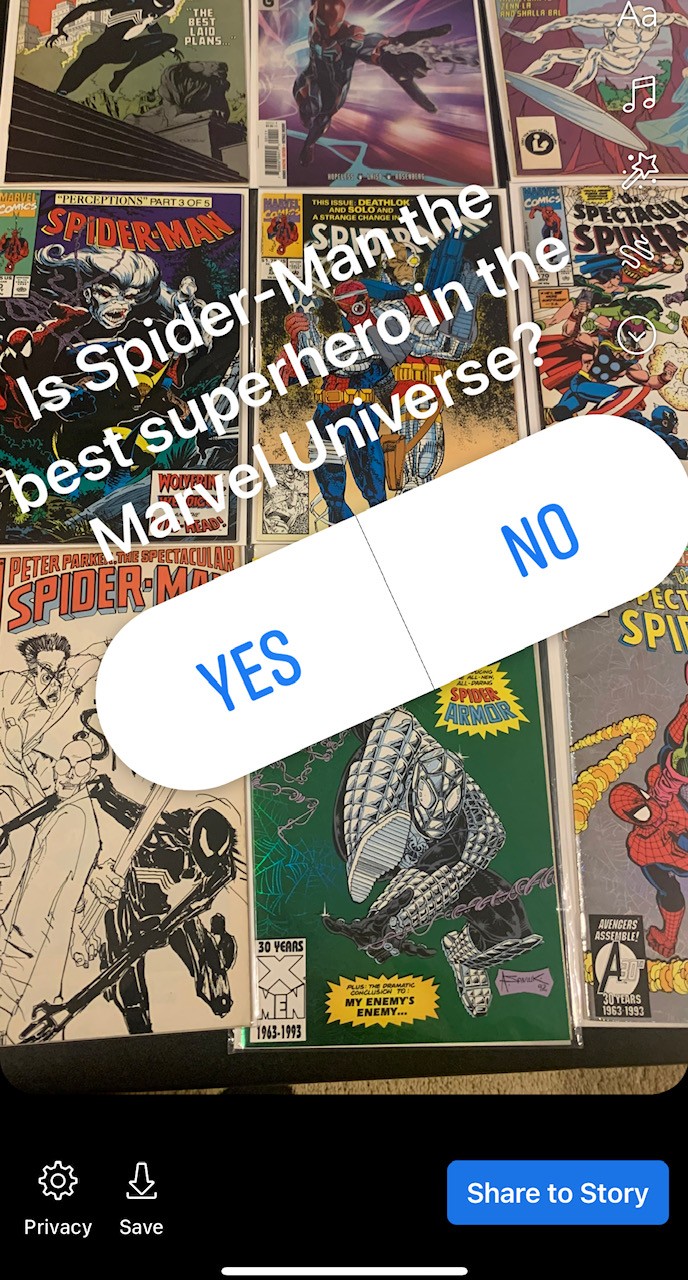 Facebook poll option #2: Create a Facebook poll through Messenger
Another one of your Facebook poll options is to create one in Messenger. This feature is only available for personal accounts and not business pages at the moment.
Here are the steps to create a poll in Messenger:
Open a new chat
Tap the plus sign at the bottom of the window
Select the poll icon
Fill out your poll
Share it
And just like that, you can send a poll through Messenger!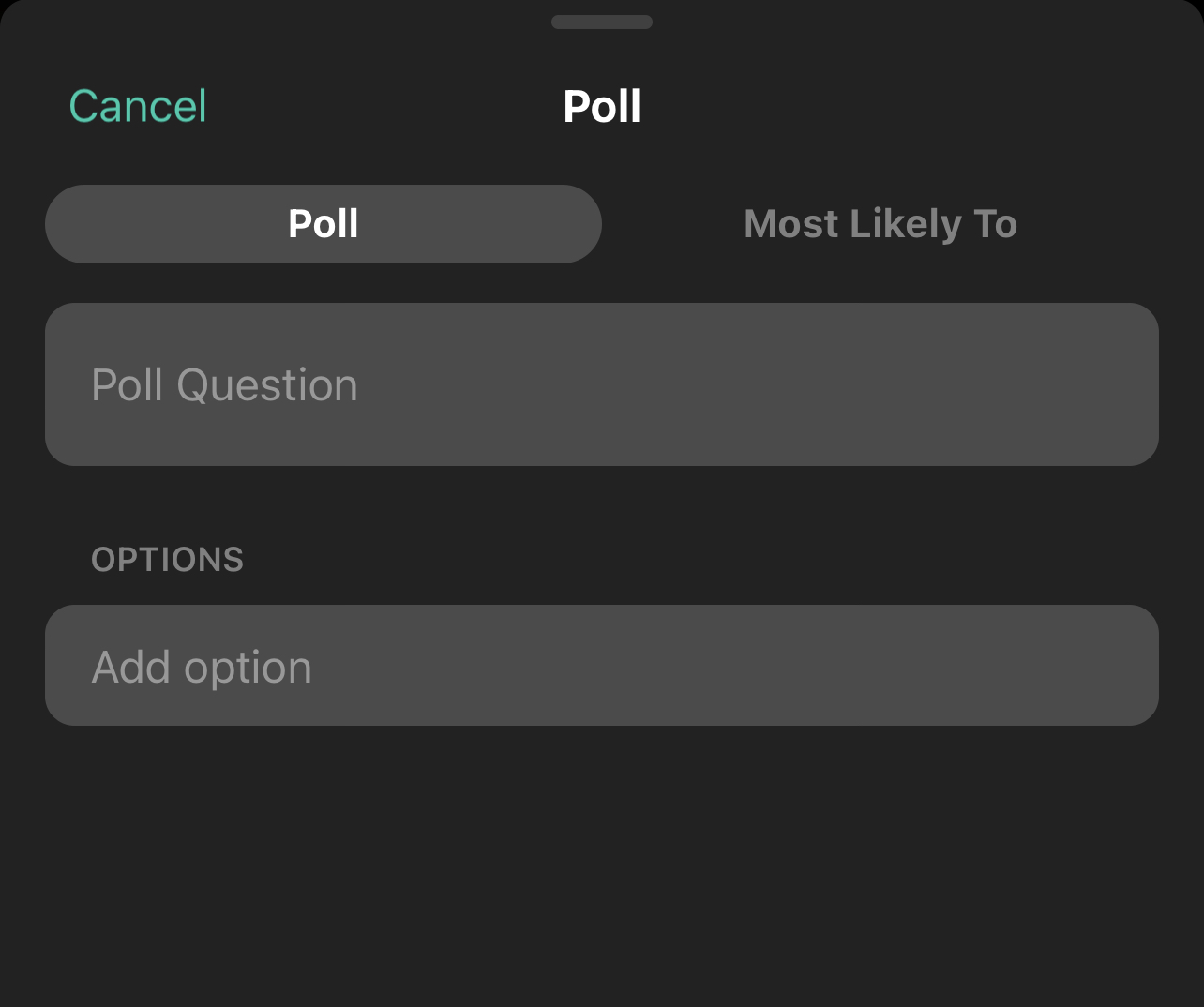 Facebook poll option #3: Create a Facebook poll in Groups
If you have exclusive group pages associated with your brand, you can create polls to share through these groups. Here are the steps you'll want to follow:
Go to your group
Click What's on your mind
Create a post
Click the three dots to see more options
Select Poll
Add in your options
Set your poll parameters (If people can add options, get more than one vote, etc.)
Post your poll
By following these simple steps, you'll have a poll posted in your group in no time!
Facebook poll option #4: Create a Facebook poll on an event page
The last option we'll cover to make a poll on Facebook is through an event page. If you're hosting a company event and want to poll the attendees, you can do that in your event.
Here's how to create a poll on an event page:
Visit your event page
Go to the discussion tab
Select Add a Post
Click the three dots off to the side
Select Create a Post
Complete your poll information
Post the poll
Polls are a great option to share with your event attendees because they can help you plan a more enjoyable event for your audience. You could ask questions like "Was the event helpful to you?" or "Was the event well organized?"
3 quick tips for creating a Facebook poll that boosts engagement
Now that you know your Facebook poll options and how to create a Facebook poll, let's look at some tips for creating stellar Facebook polls!
1. Choose the right question
You know how to create a poll on Facebook — the next step is to choose the right question. Asking the right question impacts whether people engage with your poll. You need to ask the right questions.
You want to think about what the purpose of your poll is. Why are you asking the question, and what are you hoping to find?
For example, let's say you run a coffee shop, and you want to try launching some new drinks. You have your business's group "Beanie and the Jets Coffeehouse Fans" that you can poll. Some questions that would be great to ask in this group are:
What new syrup flavor should we add into rotation?
Should we add a new latte or cappuccino drink to the menu?
Would you rather see brownies or cookies on the menu?
Your questions should have a focused purpose for asking them. If you ask a question like, "Do you want a new drink on the menu?" It's not going to engage your audience. Creating questions that are specific and focused will help increase engagement.
2. Use polls to collect feedback
When you make a poll on Facebook, you use it to help collect feedback about your business, products, services, or events. Polls can help you get a simplified answer to how you're doing.
For example, if you host an event, you could share a poll after the event and invite people to share their experiences. It's an excellent way to get feedback and find out what you can improve with your event.
You could ask questions like "What was the most important thing you learned at our conference?" or "Should we bring back [flavor name] flavor again?
Polls are a great way to get feedback about your audience's feelings about what you're offering.
3. Make your polls engaging
When you create a poll on Facebook, you want to make it engaging. It's not enough to throw up a poll and hope people engage with it. You need to make it eye-catching and interesting.
A vital part of that is asking the right question. The other component is designing your poll to catch people's attention.
On your Stories, for example, you can add a colorful background to your poll to make it more interesting. Facebook also offers stickers for you to customize your poll. Adding these elements will make it more interesting for your audience.
Keep in mind that when you stylize your poll, you want to keep it fitting to your brand. Use it as an opportunity to help build brand familiarity for your audience.
Want to boost engagement with your content?
You know how to create a poll on Facebook and what you can do to make them more engaging, but how do you feel about the rest of your content? If you feel like your social media content falls short, our team at WebFX can help.
We have a team of over 500 ready to help you create social media content that engages and delights your audience.
Call us today at 888-601-5359 or contact us online to speak with a strategist about our social media marketing services!
WebFX Careers
Join our mission to provide industry-leading digital marketing services to businesses around the globe - all while building your personal knowledge and growing as an individual.