13 minute read

President of WebFX. Bill has over 25 years of experience in the Internet marketing industry specializing in SEO, UX, information architecture, marketing automation and more. William's background in scientific computing and education from Shippensburg and MIT provided the foundation for MarketingCloudFX and other key research and development projects at WebFX.
Content Management Systems (CMS) have evolved into more than just publishing content, but managing your workflow as well. CMS's nowadays allow you to easily conceive, edit, index, and publish content, while giving designers and developers more flexibility in customizing their look and functionality. Although there are many that require advanced skills to operate successfully, this article is going to cover a select few that offer a balance between design, code, and end-user usability.

This article will help you make an informed decision on what CMS is right for you.
Evaluating Content Management Systems
Evaluating content management systems can be an overwhelming task, not because it's rocket science, but simply because there are tons of them to choose from.
However, with a structured approach to your evaluation, things can be much easier and less intimidating. Let's talk about the things you should look at when deciding what CMS to use; here are eight characteristics that a good CMS should have.
1. Intuitiveness: easy to understand and use
Your CMS should have a GUI (Graphical User Interface) that's easy on the eyes, doesn't have overly complicated options, and offers simplicity in its administration interface. A good interface means that tasks pertaining to creating and managing your content will be quicker, saving you a lot of time and increasing your productivity. You should also look at it from an end user's perspective: if you're building a content management system for a client who's not "technology-savvy" and you choose a solution that requires a Ph.
D. in computer science, it's less likely that they'll be able to use the system (thus, defeating the whole purpose of a CMS, which is to empower its users).
2. Flexibility and Ease of Customization
When taking into consideration a content management system, make sure that you're not obligated to use their design templates. A large quantity of CMS solutions allows you to customize your own design without major restrictions. If your CMS forces you to choose a fixed and unalterable design template, then you're stripped of creative license and your website will look like everyone else's.
CMS's that offer customizations on templates are Expression Engine, WordPress, and Joomla just to name a few; these content management systems boast and promote their ability to be easily modified.
Also, if you want flexibility, a headless CMS could be a great choice. Headless CMS's detach the front-end and back-end so that you can easily switch between different front-ends, or "heads."
3. Extensibility via Plugins and Modules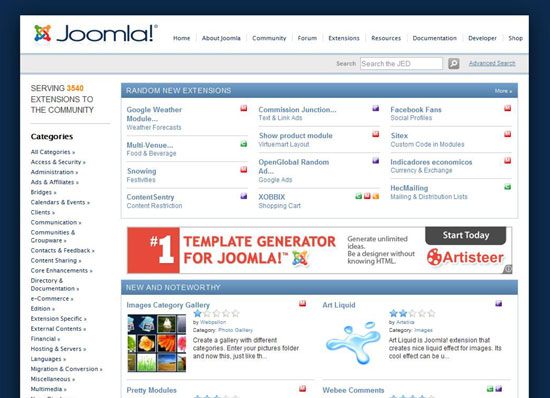 A good CMS will allow you incorporate helpful site features into your site by letting you extend the default configuration with plugins. Plugins/extensions/modules (their terminology varies between different platforms) make a difference in terms of enhancing your site's ability to provide your site users with useful options for interfacing with your site. Look for a CMS with a powerful Application Programming Interface (API) in case you need to write your own extensions.
Make sure that the CMS you're considering already has a huge list of plugins. Though you might not need plugins right away, it's important that this is available to you, later down the road.
4. No Need for Programming Knowledge
If you're more "design-oriented" than anything else, make sure you select a CMS where you won't need to have extensive programming abilities to publish and maintain your site. There is a wide selection of CMS's that have WYSIWYG editors, letting you edit content without the need for code. Having to edit text through HTML markup can be time consuming and takes you away from other aspects of your managing and building your site.
Complex sites, however, can require a CMS that will let you type in some code, edit files with extensions such as .php, .css, .html, and make changes without that need for a third-party source code editor.
5. Optimized for Performance and Speed
Taking into consideration the speed your pages load on the browser, and how fast your site can make a connection to a server, is vital. Choosing a CMS that is bulky will drive away visitors rather then bring them in. By visiting examples of live sites, you'll be able to gauge somewhat how fast pages load.
Keep in mind that you can increase the load time of your site by choosing a good host, and adding plugins that cache/compress/minify feeds, CSS, JS and also caches your database objects. A case study on this subject can be found here. A simple and free tool that you can use to evaluate page response times of your CMS candidates is YSlow.
Install it and head on over to demo sites of your CMS's to see how well it's front-end performs.
6. Security

Adequate security for your site is very important and must be in place in order to protect your content. There are CMS's that allow you to install specific plugins and edit files/permissions in order to increase security levels. Make sure you choose a management system that offers modules to protect the integrity of your site.
You can also protect your site by selecting a CMS that allows you to easily assign a different username and password to each user. This will let you view and control what each user has access to. For WordPress, be sure to read about essential security tips and hacks for WordPress.
7. Documentation and Community Support
Nothing's more frustrating than trying to figure out how to do something, and not have references online that you can take advantage of. One way to ensure that you won't be running into this problem is by reading through the documentation of your candidate CMS's. Also, a quick Google search will tell you how popular and well-documented a content management system is.
The availability (or lack thereof) of support from users of the system can be a deal maker or deal breaker. When users are active and proud of being part of the community, you not only have access to individuals that are more familiar with the system, but also, you can be assured that the project will be developed continually. Nothing's worse than investing your resources and effort on a dead (or soon to be dead) project.
8. Emphasis on Web Standards and Best Practices
Content Management Systems developed under web standards guidelines and best practices will ensure that you won't get burned later down the road. When applications are designed with best practices in mind, you can be assured ultimate cross-browser compatibility, lean-and-mean code, and ease of maintenance. Look for content management systems that promote the use of web standards, and those that put it at the forefront of their development and design philosophy.
Some Key Content Management Systems to Consider
Now that you know the key characteristics of a good content management system, let's take a look at a handful of major CMS's that excel in most, if not all, of those areas.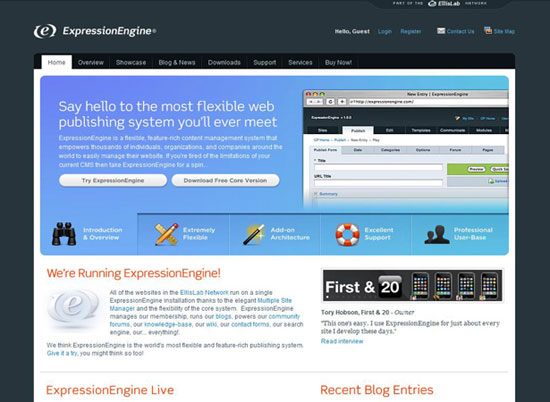 ExpressionEngine (EE) is a flexible CMS for any scope of project.
Within a few minutes, you'll understand how to easily begin creating content. EE's templating system lets you quickly see instant changes live. EE also has a multi-layered caching system to try and minimize the database usage.
In addition, EE lets you embed and run PHP directly within its templates, very similar to WordPress. ExpressionEngine has various features such as allowing you to have multiple sites with just one installation of their software. Just as we spoke in the above section dealing with connections and load times, EE has a unique template caching, query caching and tag caching keep the site running at a pretty quick pace by storing database queries in memory to reduce database connections when generating web pages.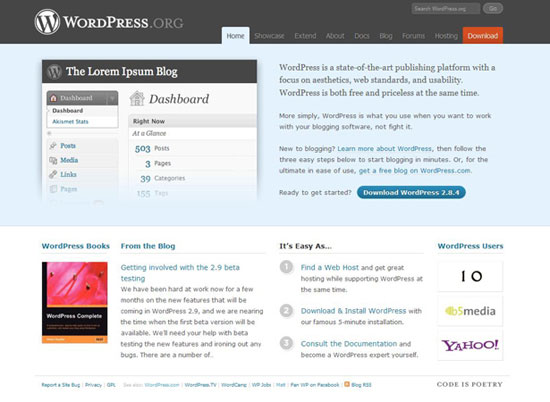 WordPress is one of the most popular publishing platforms currently available in the market, and it's known for being an excellent blogging platform.
WordPress is free and open source, and it can be downloaded and installed as many times as you want. WordPress is great for sites of all industries and sizes, such as a hotel chain's site or a local auto mechanics, because it has a ton of features for both simple and sophisticated design. WordPress installations are very quick and easy.
It only takes a few minutes for your admin panel to be operational. If coding is not your strong suit, then no worries, WordPress offers its users a WYSIWYG editor (called Visual Editor).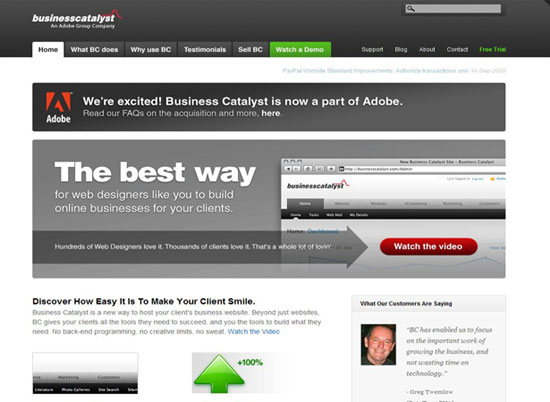 Business Catalyst/Goodbary (owned by Adobe) is a powerful ecommerce CMS for developers. This content publishing platform has an array of useful features such as email marketing and in-depth site analytics.
Business Catalyst gives you an easy way for your business to gain an online presence in no time. GB allows you to easily keep track of a customer's actions, build and manage a customer database of any size, and sell your products and services online. Business Catalyst integrates well with a lot of popular payment systems such as PayPal, Google Checkout and pre-integrated gateways.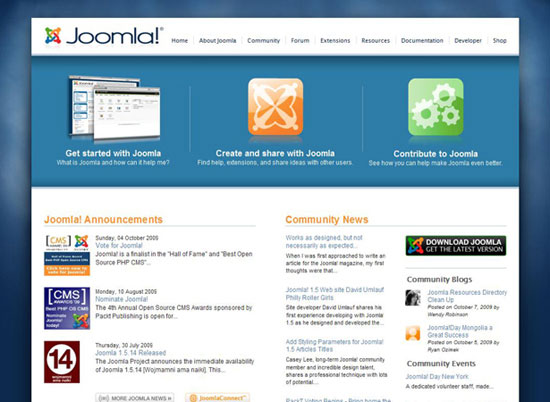 Joomla! is an advanced CMS with excellent function and content management.
The installation process is pretty quick and easy. Joomla! is a complete CMS allowing you to build simple to advanced sites.
Joomla also has super support for access control protocols like LDAP and OpenID, and can interface with popular and open API's such as Google APIs. With Joomla!, you'll have more then 3,500 extensions at your disposal along with the support of an entire community. With a simple extension, you can add almost any needed functionality to your site.
One downside to Joomla! is that their heavy-artillery list of extensions often require you to purchase them. Hopefully, in the future, they will make their plugins free in order to aid users on a tight budget.
Drupal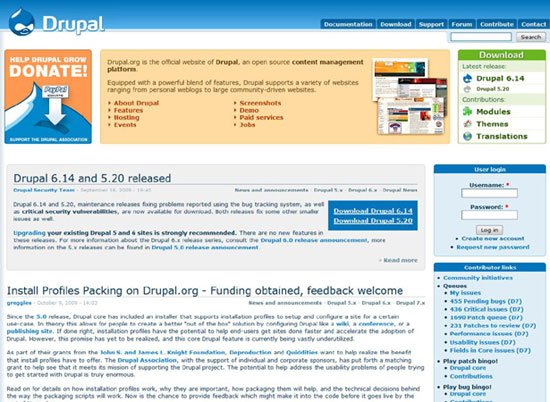 Drupal, a great open source CMS supported by a very active community, lets users publish content through any time with very little restrictions.
Once the installation is finalized, you will discover features such as forums, user blogs, OpenID sign-ons, profiles and more. This CMS was written in PHP/MySQL for ease of customization and has one of the highest-regarded API's in the open source content management system field.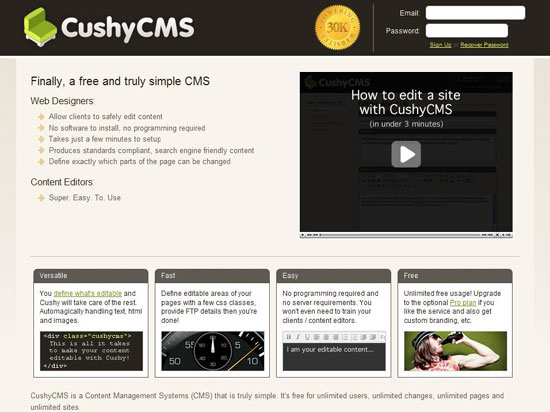 Cushy CMS is a hosted and free content management system that's lightweight, though powerful enough to jumpstart your site in a jiffy. With Cushy CMS, you have to add CSS styles to the sections that you will eventually change or edit.
This CMS allows you to access and store content while it uploads this same data to server. Cushy was built for content editors and designers and so it's very simple and easy to manage. Being a SaaS, you don't need to install or self-maintain the CMS.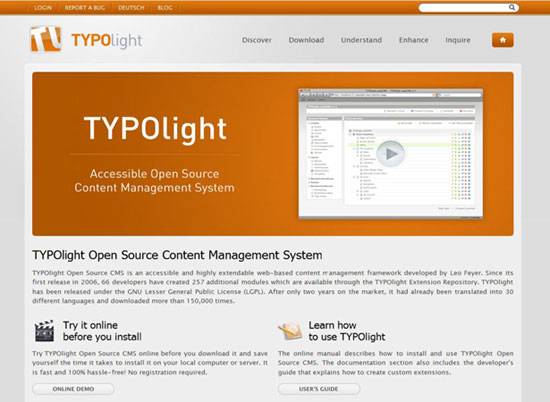 TYPOlight is great for site builders that will be maintaining multiple sites and is an ideal solution for web developers.
If you're thinking about creating a simple or advanced site design with great functionality, then TYPOlight CMS can definitely get the job done for you.
RadiantCMS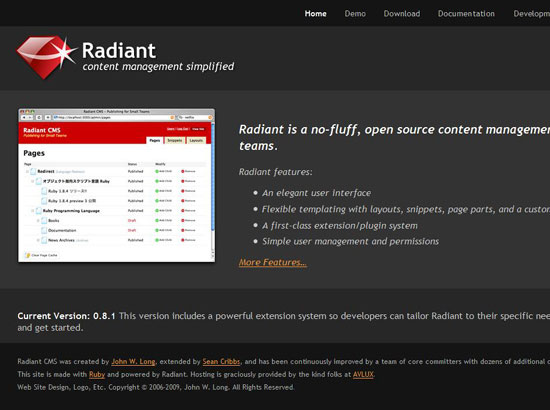 RadiantCMS is a Ruby on Rails app. Radiant has a very active community for core support and updates. If you are a RoR developer, it's right up your alley.
Radiant has concentrated on making things much more user-friendly for end users and web designers. RadiantCMS also contains an innovative custom tagging language (called Radius) that's easy to pick up.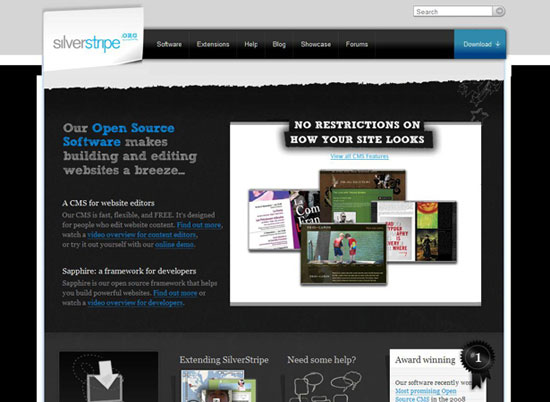 SilverStripe is an open source application written on top of PHP and was designed with emphasis on flexibility. SilverStripe has many configurable options and is geared towards content-heavy websites.
This CMS was completely built on its own PHP framework, called Saphire. SS offers content version control and great SEO support. All users alike are welcome to customize the administration area for their clients or themselves.
The only downside with SS is that the default templates are garbage; however, that's nothing a little elbow grease wouldn't fix.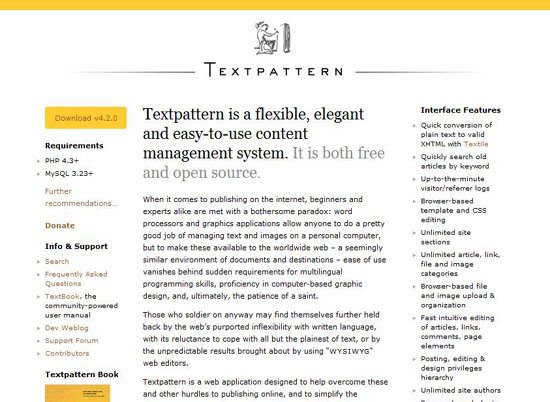 Textpattern CMS is a very popular system for many designers due to its simplicity. Textpattern strives to provide great content management that produces quick, easy, and desirable web standards-compliant pages. There is no WYSIWYG editor because Textpattern utilizes textile markup for content generation.
The backend is very easy to use and follow. New users will learn the administration section with super speedy ease.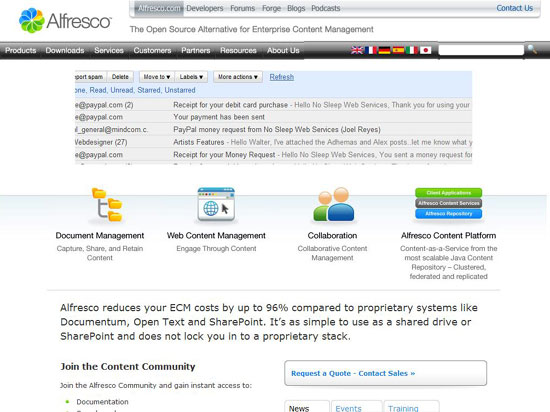 Alfresco is a JSP enterprise content management solution that's quick and easy to install. Alfresco lets you drop files into folders and convert those files into interactive web documents.
This CMS isn't as easy to become familiar with when compared to others, however, with a little bit of time investment, you'll definitely get the hang of it. Alfresco could be targeted more towards the intermediate developer, although its pure functionality allows it to become very usable. The administration GUI is very organized, well maintained, and easy to navigate through.
Got tips on how to evaluate the right CMS? Do you have experiences (good or bad) with the content management systems shown here? Talk to us about it in the comments.
Related Content
16 WordPress Sites to Help You Build a Better Blog
President of WebFX. Bill has over 25 years of experience in the Internet marketing industry specializing in SEO, UX, information architecture, marketing automation and more. William's background in scientific computing and education from Shippensburg and MIT provided the foundation for MarketingCloudFX and other key research and development projects at WebFX.

WebFX is a full-service marketing agency with 1000+ client reviews and a 4.9-star rating on Clutch! Find out how our expert team and revenue-accelerating tech can drive results for you!

Learn more
Make estimating web design costs easy
Website design costs can be tricky to nail down. Get an instant estimate for a custom web design with our free website design cost calculator!
Try Our Free Web Design Cost Calculator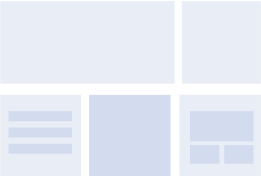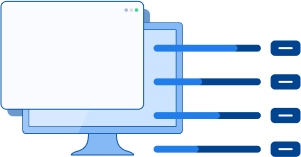 Make estimating web design costs easy
Website design costs can be tricky to nail down. Get an instant estimate for a custom web design with our free website design cost calculator!
Try Our Free Web Design Cost Calculator