Enterprise Ecommerce Platforms: [+4 Enterprise Level Platforms]
As an enterprise ecommerce business, you know the importance of organizing your products, your sales, and your revenue numbers — and that it's even more important to offer your customers a seamless experience.
If you want to check all the boxes above, integrating an enterprise ecommerce platform is crucial to your success. But how do you know which enterprise ecommerce platforms are best?
On this page, we'll talk about:
Common features of enterprise ecommerce platforms
How you can benefit from using an enterprise level ecommerce platform
Enterprise ecommerce platforms comparison
Keep reading to learn more about some of the top enterprise ecommerce platforms available, or, if you need help successfully marketing your ecommerce business, give WebFX a ring at 888-601-5359!
We foster and form long-term partnerships so that your business has long-term results.
Over 90% of WebFX clients continue partnering with us into year 2 of their campaign.
Hear from Our Happy Customers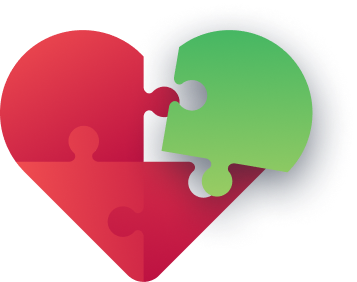 Common features of enterprise ecommerce platforms
So, what do enterprise ecommerce platforms have to offer?
Here are some common features of top enterprise ecommerce platforms:
Product and catalog management
Your products are why users love your brand, and if you don't display your merchandise in an organized way, you won't have much success selling it.
When you use an enterprise ecommerce platform, you can seamlessly manage your products and your product catalog to sell as many units as possible.
When it comes to product management, you'll be able to organize data like:
Product descriptions
Product costs
SKU numbers
As far as catalog management, you can organize:
Products into categories
Custom catalogs for customer segmentation
Shopping cart
The shopping cart is used as a virtual holding bin for products that a customer wants to buy. If a customer sees a product they like and they're ready to purchase, they'll likely add it to their cart.
Keep in mind, though, not every product that makes it to the shopping cart is a purchase. Matter of fact, in 2022, the average online shopping cart abandonment rate was a staggering 69%. That means that almost three quarters of shoppers added products to their cart just to leave the site.
However, top enterprise ecommerce platforms have built in shopping cart features that are fast and secure and keep users from jumping ship before they purchase.
Check out
When a user is finished shopping and decides that it's time to purchase what's in their shopping cart, they'll proceed to check out.
Providing users with a frictionless checkout is crucial to your company's success, and an enterprise level ecommerce platform can help you create the perfect check out process for shoppers.
Online payment
Online shoppers want to know that their payment information is safe, and with a top enterprise ecommerce you can guarantee safe handling of credit card info.
An enterprise ecommerce platform will also ensure that you receive the payment.
How your company can benefit from using a top enterprise level ecommerce platform
There is a laundry list of benefits that you can reap by opting for an enterprise level ecommerce platform. Let's talk about a few:
You'll build trust with potential customers
If you try to list your products on a regular website (not an ecommerce platform), you'll likely have a difficult time keeping everything organized — and an even harder time selling your products.
Shoppers want to purchase from companies that they trust and adding your products to a site that lacks ecommerce functionality can spell disaster for your company.
Conversely, when you choose a top enterprise ecommerce platform to manage your products and sales, you'll earn the trust of shoppers since they can purchase your products seamlessly.
You can manage all your products in one place
When you opt for one of the enterprise ecommerce platforms on our list, you can manage all of your products in one place.
From product descriptions and SKU numbers to high-quality images and prices, your ecommerce platform will keep everything organized.
Not only that, but you'll also be able to manage:
Project availability
Discounts
Customer addresses
Payment information
You can effortlessly handle returns and exchanges
Without employing a top enterprise ecommerce platform, it can be quite the undertaking to manage returns, shipping errors, payment mistakes, and more.
But with an enterprise level ecommerce platform, you can take care of discrepancies easier since addresses, products, and payment data are tracked.
The organization of this important information will eliminate post-sale headaches.
You can promise security
Like we mentioned before, shoppers want to know that the site they're shopping on is safe. When you use an enterprise ecommerce platform, you can guarantee security to your shoppers — which will improve brand trust and sales.
Enterprise level ecommerce platforms have built-in security features that allow your shoppers to feel safe when they share their payment and contact information.
You can use data for your marketing efforts
When you use an enterprise ecommerce platform, you can use the data collected to inform your marketing efforts.
You'll have access to numbers like sales volume and value per transaction, as well as details on abandoned carts, which can improve your enterprise's marketing analytics.
This information can encourage you to ask questions about your current marketing efforts to determine if they're effective.
Enterprise ecommerce platform comparison
When it comes to choosing between the many enterprise ecommerce platforms out there, it's no easy task. Each has its own unique selling points, and as a business, it can be hard to determine which is right for you.
Although we can't tell you which of our enterprise ecommerce platforms will be perfect for your unique business, we can leave you with a list of the best enterprise ecommerce platforms to choose from.
Keep reading to gain more insight with our enterprise ecommerce platform comparisons!
Shopify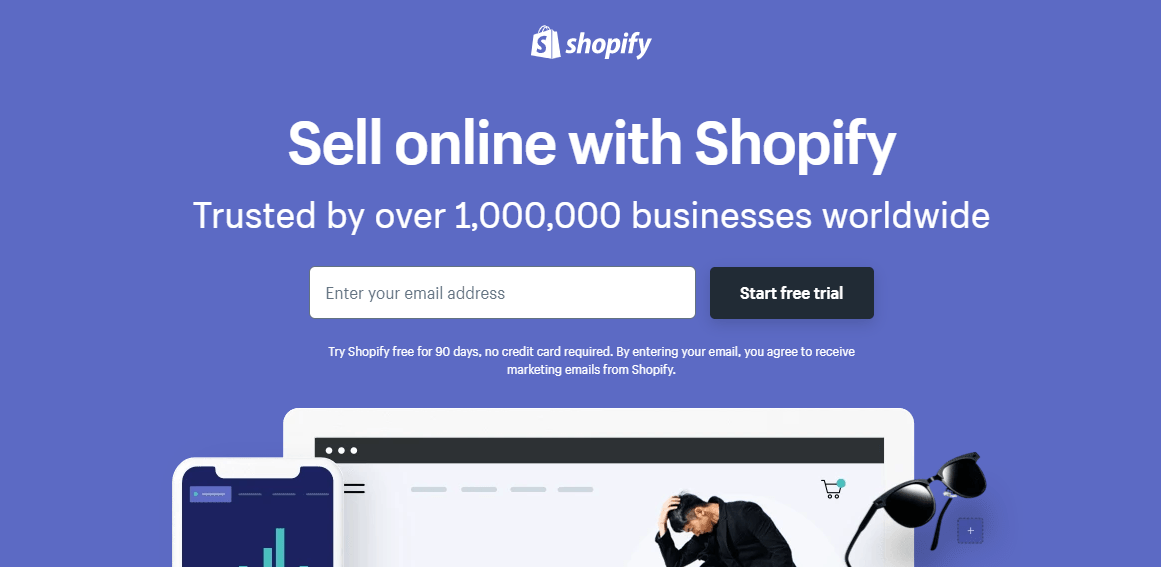 Price: $29/month to $299/month
Shopify is perhaps one of the most popular enterprise level ecommerce platforms available — and for good reason.
The platform allows users to design and manage their stores across their website, their social media channels, and even brick-and-mortar locations.
Their suite of built-in tools help you create and execute digital marketing campaigns across different channels and even allows you to analyze the results. Shopify offers content marketing and SEO tools, as well as campaign automation, insights, and more.
In addition, they offer 24/7 contact support and have their own app store with more than 4,100 apps that integrate directly with their platform. Some of their apps include video promo makers, email reward apps, and more.
Some of our favorite assets:
It's affordable for any enterprise business
Offers solutions for everything from marketing to payments to shipping
Fully customizable without any developer experience needed
WooCommerce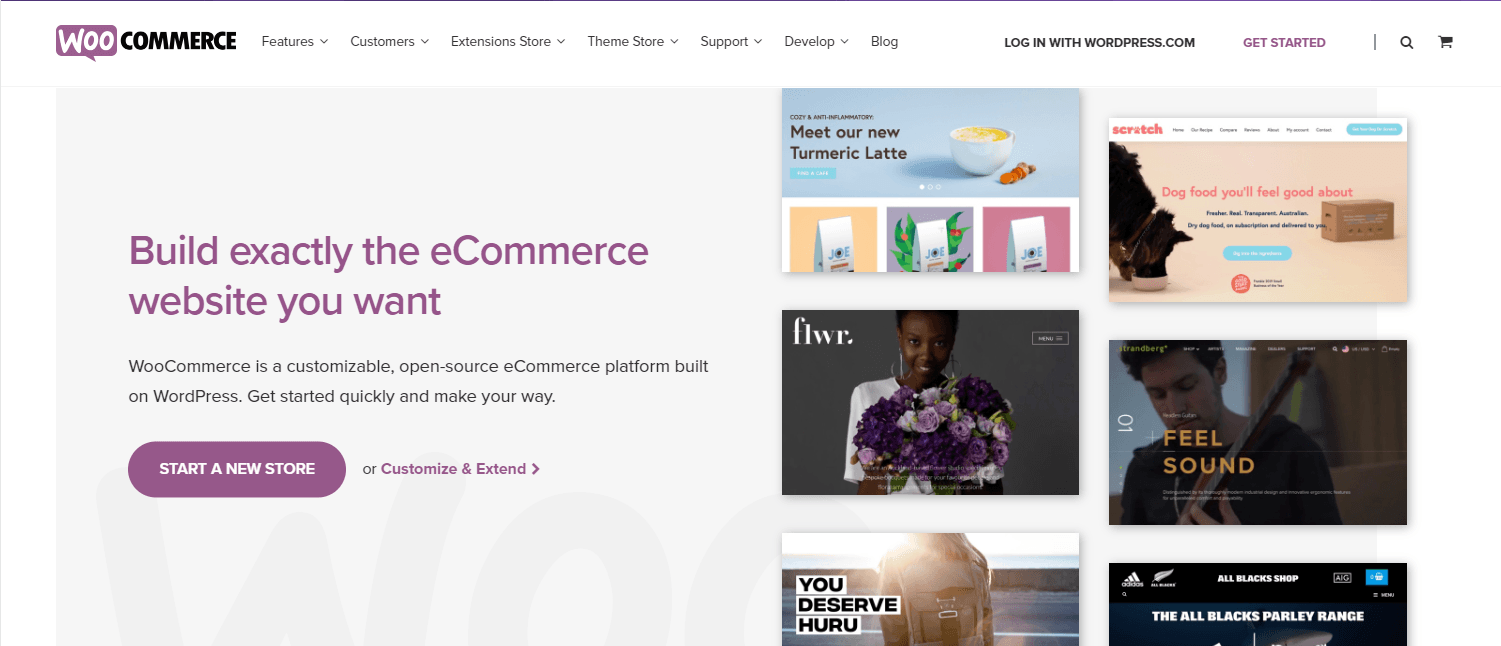 Price: Free, but you'll pay for hosting and domain fees
WooCommerce is another enterprise ecommerce platform that offers tons of customization options. It's an open-source ecommerce platform that integrates with WordPress and is the perfect option if you already host your website on WordPress.
WooCommerce provides you with everything you need to set up an online store quickly and easily, including secure checkout and a variety of shopping options.
One of the best parts about this enterprise level ecommerce platform is that it's fully-customizable — meaning you can make your online store fit your brand to a tee.
Some of our favorite assets:
You can turn your WordPress site into a virtual shopping hub fast
It's fully customizable and offers tons of design options to help you create an ecommerce site that fits your brand
It is built with a REST API, allowing you to scale and integrate with a variety of services
BigCommerce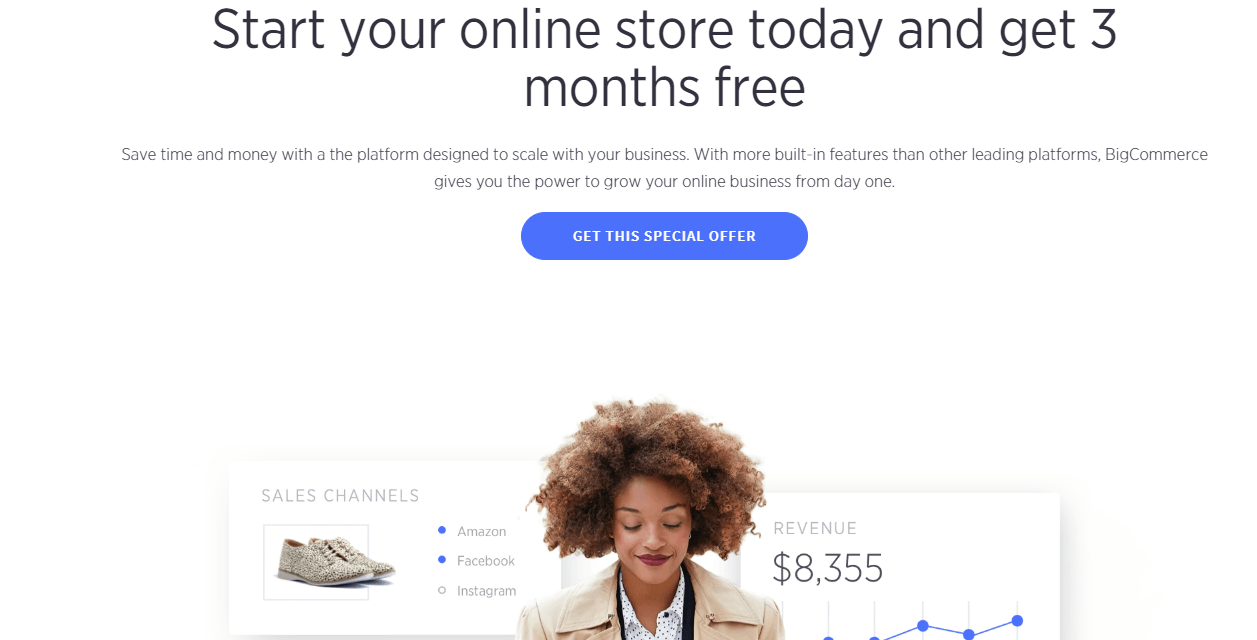 Price: $29.95/month to custom
BigCommerce, an enterprise level ecommerce platform that works with brands like Ben & Jerry's and Camelbak, is a great option to help you sell your products online.
They pride themselves on providing users with a 99.99% site uptime, and also offer fraud alerts, payment card industry compliance (PCI), and a variety of native features that help you save time and money.
When it comes to enterprise ecommerce platforms comparison, one thing we love about BigCommerce is that the platform allows you to sell on a variety of channels from one central hub. With BigCommerce, you can sell your products on sites like Amazon, Facebook, eBay, and more from one control panel.
Some of our favorite assets:
Allows you to create a stellar user experience by integrating third-party apps
Utilizes Google Cloud Platform which provides best-in-class uptime
Provides design tools that let you build an ecommerce site that matches your brand
Salesforce Commerce Cloud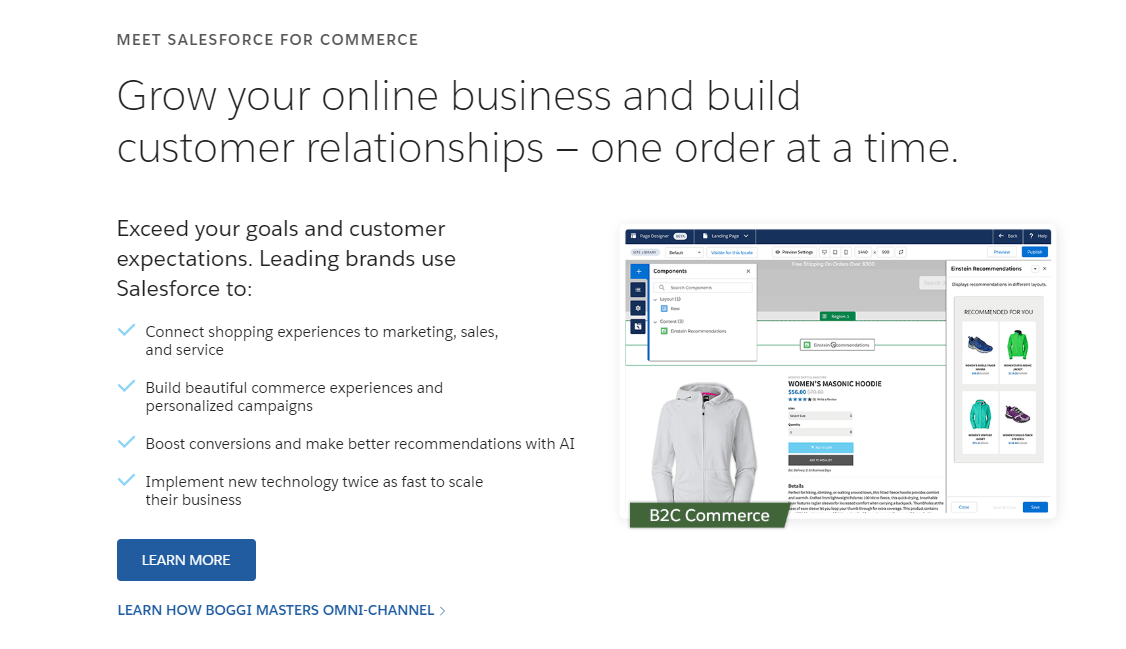 Price: Call for quote
Salesforce is a well-known cloud-based software company that provides CRM services, but we also really love their enterprise ecommerce platform, known as Salesforce Commerce Cloud.
Salesforce B2C Commerce is powered by a central cloud platform, and you can optimize your conversion funnel and manage the order lifecycle of your most valuable customers.
Not only that, but you can build and implement marketing campaigns that allow you to boost organic traffic by helping customers find exactly what they're looking for on your website.
Some of our favorite assets:
Storefront blueprints help you build an ecommerce site with website best practices, merchandising and technical architecture
Ability to provide a central view of products and pricing across multiple sites, languages, and currencies
Ability to merge your ecommerce efforts with social channels
What does a successful ecommerce website need to drive sales?
We wrote you an ecommerce essentials checklist.
Read the Blog Post & Watch the Video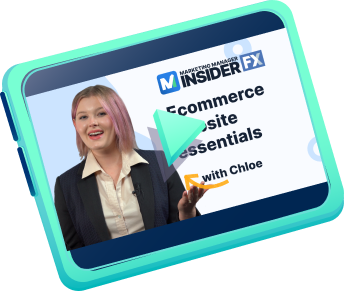 3 tips to choose the best enterprise ecommerce platform for your business
Of course, there are thousands of enterprise ecommerce platforms out there, but we decided to keep it simple with our top four.
Whether you're considering the enterprise level ecommerce platforms on our list, or you're looking at other options, here are some tips to help you choose the best option for your business.
1. Determine what you want
This concept is a high-level suggestion that you should consider before choosing a top enterprise ecommerce platform.
You likely have done some research on ecommerce platforms, so you're aware of common features. While you're in the research phase, it's important that you take notes on the features that you're interested in for your business.
This list will help you keep must-have features top-of-mind.
For example, are you looking for an integrated analytics platform, or an easy way to integrate your ecommerce store with social media?
These are all elements that you'll want to take note of and use to help determine what you're looking for in an enterprise ecommerce platform.
2. Determine your budget
The price of enterprise ecommerce platforms varies widely, and it's crucial that you set your budget up front. Otherwise, you could end up financially compromising your brand.
Do your research to determine what the average cost for an ecommerce platform is, and then decide on a budget that is reasonable and realistic.
From there, you can eliminate any platform that doesn't fit your budget.
Remember, some enterprise ecommerce platforms start at just $29.95 per month, so there are options for everyone!
3. Determine what you want to accomplish
Thinking about the goals that you want to accomplish with your online store is crucial to helping you choose the right enterprise ecommerce platform for your business.
For example, if you prioritize design, you will want to find a platform that is highly customizable. If you prioritize organization over customization, you might look at platforms that offer less customization but more simplistic organization.
Beyond that, a few of your goals might be:
Improve organic traffic
Analyze results of campaigns
A/B test ads
Integrate your online ecommerce store with social media
These are all reasonable goals that you can achieve by selecting a top enterprise ecommerce platform — you just have to find the right one!
With so many features offered by every ecommerce platform, it pays to determine what you want to accomplish ahead of time so that you can be secure in your decision.
WebFX can help you integrate your chosen enterprise ecommerce platform
If you're not sure where to start when it comes to turning your website into a hub for selling your products, WebFX can help.
We've been in the business for over 25 years and we know how to help clients build ecommerce websites that increase organic traffic, increase conversions, and provide a flawless user experience.
We're a top ecommerce web design firm that can help you integrate your existing website with an ecommerce platform, or help you improve your current online store.
We've won more than 50 web design awards and our in house team is made up of avid ongoing learners who stay on the cutting-edge of marketing and design.
Not to mention, we offer more than 50 digital marketing services that can help increase organic traffic to your ecommerce website.
If you're ready to get started, feel free to contact us online, or give us a call at 888-601-5359!