3 Goals for Every Website
It's time to strategize how you're going to improve your business in 2022.
Depending on your industry and business model, this could mean a lot of different things. But there are three primary goals every company should have for their website.
1. Better brand awareness
Brand awareness relates to the number of people who are familiar with your brand and what it stands for.
Building brand awareness online is easy to start, but difficult to master. The Internet has so many users that your potential customers are bound to be out there somewhere, but you have to determine the best way to reach them.
Fortunately, you can use these strategies to help.
Social media
Social media networks are some of the most popular sites today. Platforms like Facebook, Twitter, and LinkedIn give you a great way to engage your customer base whenever you want.
Facebook is the largest social network, which means most of the people you want to reach probably use it, and it has the most potential for expanding awareness.
Twitter is also a huge network, and its format is great for short messages and mass engagement.
Last, LinkedIn is the premier professional network that is especially valuable to B2B companies who want to engage key decision-makers in their industries.
Contests
Now that you're on social media, you need to gain followers. You can do that by running contests that'll help people get excited about your brand. Contests include a wide number of possibilities, and you can customize them to make them work however you'd like.
Still, it's important to keep contests simple and establish firm rules. That way, people know how to join the contest and what's expected of them. You also need a great prize for contests, like free products, cash giveaways, or some other incentive.
Now that you're building brand awareness, you can start on the next goal for your website.
2. More traffic
If you want your site to succeed, you need people to come to it. Increasing traffic means you get more potential customers on a daily basis.
This may not seem like it directly benefits your site, but it sets the stage for the next goal. But before we get to that, it's important to know how you can grow your traffic.
SEO
Search engine optimization (SEO) is the process of improving your site so users can find it in search engines more easily.
There are roughly 200 factors that matter in SEO, and they vary in their importance. If you're looking to do the minimum, you can start by optimizing the following:
Title tags: The title of a page is a short description about the page's topic. It shows up prominently in search engine results pages (SERPs).
Meta descriptions: These descriptions give a summary of each page. They also show up prominently in SERPs.
Keyword optimization: Every page you write should be about a specific topic that you can condense to a short phrase. That phrase is the page's keyword, and using it allows your page to rank better in SERPs.
There are lots of other factors to consider, but these three are a great starting point for SEO.
Content marketing
Content marketing is the process of creating blog posts, articles, videos, podcasts, and other content to engage your customer base.
Content is a great way to share your expertise and experience, which shows your audience that you're a reliable source of information in your field. This helps your site visitors trust you more, which can later encourage them to become customers.
Plus, great content is absolutely essential for the next method of getting traffic.
Linkbuilding
Linkbuilding is the process of getting credible sites to link to your site. The best sites for building links are popular sites in your industry, well-known media outlets (like The New York Times), and other sources that people generally accept as trustworthy.
Getting links from these sites shows users and search engines that you offer quality, well-made content. That means search engines will rank your site better in SERPs, and more users will visit your site.
Now that you have reliable sources of traffic, you can jump to your website's next big goal.
3. More conversions
Every business wants more conversions. Whether you're generating leads as a B2B company or selling products on an ecommerce site, conversions are what keep your business growing.
But how can you increase the number on your site?
Use calls to action
Calls to action (CTAs) are strong, concise sentences or phrases on your site that tell a visitor what to do next.
So if you write a page about how you're the best landscaper in your city, your CTA would be something like "Contact us today to get the best landscapers in town" or something to that effect. If you're running an ecommerce site, you could use a punchy phrase like "Shop now" or "Buy now" to encourage new conversions.
While that may not sound like much, CTAs are critically important to a business's success online. People actually expect them, and they're psychologically satisfying for people to read.
In a nutshell, if you want to convert more customers on your site, you need to directly tell them to convert.
Incorporate color psychology
Color psychology may sound like a scientifically questionable idea, but it's a key part of getting conversions online. Different colors evoke different ideas for people, and you can use those ideas to your advantage when you're getting new customers.
Red is the ultimate accent color, and it's a great way to encourage strong, impulsive decisions.
Blue is associated with trust, safety, and productivity, which makes it great for businesses that want to cultivate a professional image.
Green is a fresh, tranquil color that also relates to financial success, making it equally valuable for eco-sensitive companies and financial institutions.
Other colors are important to conversions as well, but these three are the most common on websites.
Now that you've chosen your CTAs and colors, you can take the last big step to improving conversions.
Test your results
Testing is essential to growing your company. Otherwise, you could be wasting space on your site and pages with ineffective ideas. Thanks to a range of online tools, testing the changes on your site is simple.
Visual Web Optimizer is probably the simplest testing tool on the market, and it's free. With it, you can set up a range of different tests for pages, the most important being A/B tests. These tests let you change one element on a page to see which version works the best.
That means you can change your call to action, a color on your page, and more. And after you run the test for a few weeks (or months, depending on how accurate you'd like to be), you have reliable results that can guide your conversion strategy in the future.
WebFX is a partner businesses trust.
Hear from HydroWorx, who saw a 236% increase in organic sessions with WebFX services.
Watch the Video Testimonial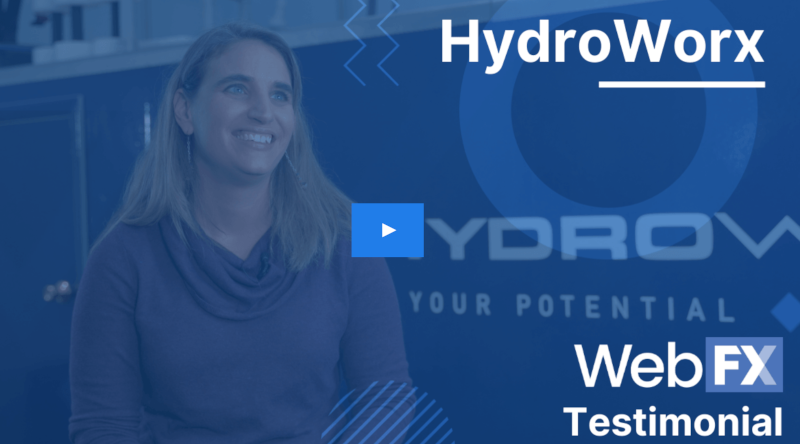 Have goals for your site? WebFX can help!
WebFX is a full-service Internet marketing agency that's been in business since 1997. With roughly two decades of experience under our belt, we've learned a lot about what makes websites succeed, and we use that knowledge to help our clients every day. And now, we want to help you, too!
Do you want to grow your business with the Internet? Contact us today to plan a unique strategy to reach your 2022 goals!