8 Best Email Marketing Tips for Your 2023 Campaigns
If you're looking to reach more customers and earn more revenue, email marketing can help. But you have to know how to do so successfully. That's why we've compiled these eight email marketing tips. Use them to create (and maintain) an A+ email marketing campaign.
Need more than email marketing tips and tricks? At WebFX, we offer professional email marketing services, as well as email design services, to help you make the most of this digital marketing strategy. Contact us online or call us at 888-601-5359 to learn more!
1. Make it easy for people to subscribe
First of all, you need to make it easy for people to subscribe to your emails.
You can do this by posting signup forms on your website, blog, and social media sites. And you can even encourage people to sign up for your emails at in-person events. This will help you reach people who are interested in your business and encourage them to opt in to receive your email updates.

While you might want to collect information like birthdays to spend special offers, it's important to keep your subscribe form simple. Too many required fields may scare people away and prevent them from signing up for your emails.
It'll also turn this tip for email marketing into an ineffective one.
2. Create a schedule
Once you have built a list of subscribers, it's important to create and maintain a consistent email schedule.
For example, you may choose to send an email newsletter on a monthly basis.
Recipients like consistency, but you'll want to avoid bombarding them with messages that clog up their inboxes. Sticking to a consistent schedule can help you send regular, helpful updates that don't annoy your email subscribers.
Knowing the best time to send emails can also keep you on track.
It's one of the best email marketing tips, so don't skip it!
3. Consistent branding
Next, you will want to incorporate key branding elements in your emails, like your company's logo and colors. Then, recipients will know exactly who is sending the emails.
Consistent branding can also help increase awareness of your business and the products and services you provide. Use this email marketing campaign tip to create a campaign built for long-term success.
4. Test
Want to know which subject line will lead to the highest open rate? Not sure what time of day people are most likely to engage with your emails?
It's also important to test various elements of your emails to ensure that you get the best results.

Most email marketing software allows you to test things like subject lines, send times, and even content. With A/B testing, you can send multiple versions of an email to a portion of subscribers and send the winning version to the remainder of your list.
This allows you to determine what resonates most with your target audience and optimize your campaigns to achieve the highest engagement rates.
5. Make emails shareable
Another effective email marketing tip? Make emails shareable. Create content that recipients will want to share, and make it easy for them to do it.
For instance, you can add social media sharing buttons in your emails. And you can include links to your email content on your social media sites so that people can easily share your content with their networks.
You can even add calls-to-action to encourage people to forward your emails.
6. Optimize for mobile
With so many people checking emails from their smartphones and tablets, it's extremely important that your emails display well on mobile devices.
Using email marketing software, you can ensure that your templates are optimized for mobile. And you can test your emails to see how they display across various platforms.
This will help you reach more mobile users and capitalize on valuable leads and revenue.
7. Include calls to action
Want more people to subscribe to your blog? Looking to promote a new marketing guide?
Including calls to action in your emails is a great way to encourage people to check out your other content and take a desired action on your website.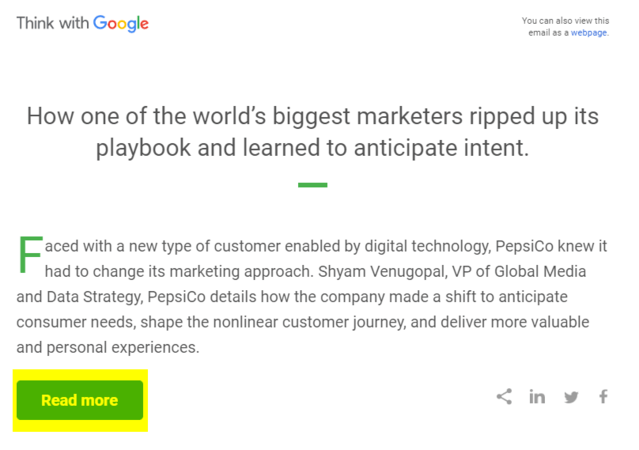 Then, you can use Google Analytics to see how many people visited your site and completed a certain action after clicking a link in your emails.
8. Pay attention to key metrics
Finally, it's important to evaluate the success of your email marketing campaigns.
Most email marketing software allows you to evaluate key metrics such as open and click rates, bounce rates, unsubscribes, and spam complaints.
This will help you pick up on any trends and make tweaks to your campaigns to get the best results possible.
Use these email marketing tips and tricks to create your first campaign!
5 benefits of email marketing
Wondering how email marketing can benefit businesses like yours?
Here are five of the top benefits of email marketing.
1. Cost-effective
One of the main benefits of email marketing is its low cost. Compared to traditional marketing strategies, email marketing has a relatively low overhead cost.
You won't have to worry about paying for printing or postal costs. And you won't need to pay for exposure on a billboard, magazine, or television commercial.
So if you're looking for an effective, affordable way to reach and stay in touch with customers, email marketing is a great option.
2. Easy to create
Emails are also fairly easy to create, and most email marketing platforms allow you to customize the design to add logos, images, and videos.
With email marketing, you don't need a huge team or lots of technical knowledge in order to be successful. In fact, some of the most successful emails content simple, plain text that allows recipients to focus on the content of the message.
3. Segmentation and personalization
You can also use segmentation to send emails who meet certain criteria. This allows you to send targeted emails based on various demographic and psychographic factors.
For example, if your business is running a special in certain areas of the country, you can send promotional emails to recipients living in those locations.
In addition, you can add personal elements and tailor your communication to better resonate with your target audience. If someone purchases from your ecommerce site, you can send a follow-up email that thanks them for their business and highlights related products they may want to buy in the future.
Personalizing your emails will let customers know you care, and it will help nurture relationships with top prospects.
4. Improves brand awareness
According to 72% of adults in the U.S., email is the preferred method of communicating with businesses. And email marketing allows you to reach qualified prospects directly in their inboxes.
This allows you to increase awareness of your business and provide people with the information they need to learn more about your company.
If people enjoy your emails, they may also share them with friends and family members who may want to learn more about your business.
5. Testing ability
Most email marketing software, like EmailMarketingFX, gives you the opportunity to test various email elements such as the subject and sender lines, as well as specific email content.
In addition, you can easily track valuable metrics like open rates, bounce rates, and clicks.
This will allow you to determine the types of email content that resonates with your readers. And you can easily make necessary tweaks to get the most out of your email marketing efforts.
Put these tips for email marketing into action with WebFX
WebFX is an award-winning email marketing company.
You can count on our dedicated team of email marketing specialists to test your emails, manage subscribers, and help you get the most out of your email marketing campaigns — and these tips for email marketing.
When you choose WebFX as your email partner, you can rest assured that we'll do everything in our power to get you the best results possible.
On average, we increase client revenue by 20%, and we have more than 1020 satisfied clients.
Want to hear what they have to say? Check out our reviews and testimonials to lean more.
Email marketing plans from WebFX
WebFX offers custom email marketing plans that can help you increase brand awareness and build relationships with customers and potential customers.
Our proprietary email marketing software, EmailMarketingFX, allows you to send emails to lists of recipients, and it eases the cost of email blasts to help you earn a positive ROI. EmailMarketingFX has a number of features that allow you to track your emails, pick up on key trends, and adapt strategy to achieve the greatest impact.
We offer both fully and partially managed email marketing services, so you can choose the option that's right for your business and goals. And our plans include email message design and testing, email campaign scheduling, and A/B testing.
WebFX will also provide you with detailed reports that allow you to evaluate key metrics and interpret lead generation data. This will allow you to quickly and easily make any necessary changes to get the most out of your email campaigns.
Interested in learning more about how email marketing plans from WebFX can help you reach more customers and earn more revenue?
Check out our custom email plans, and contact us today to speak with a strategist.
WebFX works with hundreds of companies across the United States. And we're excited to work with you!