Email is one of the most affordable and effective digital marketing strategies, and it can help you stay in contact with potential customers and earn more revenue for your business. In fact, for every $1 you spend on email marketing, you have the potential to earn $44. That's an ROI of 4400%! If your email marketing ROI is less than impressive, there are a few strategies you can use to make your campaigns more effective. In this post, we'll take a look at the top benefits of email marketing and nine tips for improving the ROI of your email campaigns.
Let's get started!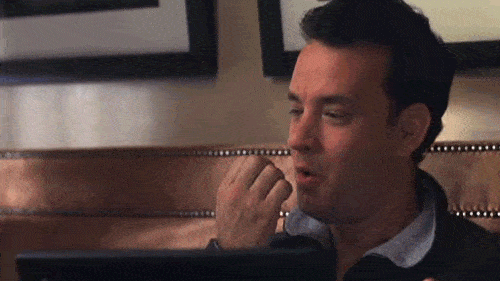 Source: https://giphy.com/gifs/WZ4M8M2VbauEo
Top 3 benefits of email marketing
Email marketing can yield impressive benefits for businesses in any industry because of a few key aspects.
1. Cost effective
One of the main benefits of email marketing is its low cost and incredible ROI potential. In fact, the Data and Marketing Association (DMA) has dubbed email the top digital channel for ROI. With email, you don't have to worry about print or postage fees.
And you don't need a lot of manpower to send stellar email campaigns. If you want to reach more people for less money, email marketing is a great option.
2. Increases awareness
Email marketing allows you to reach customers and potential customers right in their inboxes, and every email you send reminds recipients of your business and brand. Even if potential customers don't contact you right away, email marketing allows you to stay on their radar. Then, when they need your products or services, they will be more likely to choose your business.
People who like your email content will also be more likely to recommend your business to friends and family members who need your services.
3. Easy to measure
Email marketing platforms like MyEmailFX make it easy for you to track and evaluate key metrics like open, bounce, and click rates. These metrics can you give important insight into the behaviors and interests of recipients. For example, you can determine which content resonates best with potential customers and which days have the highest open rates.
Then, you can tweak your campaigns based on your findings to get the best possible results.
9 tips for improving your email marketing ROI
If you're ready to get more out of your email marketing campaigns, these nine tips can help you improve the ROI of your overall strategy.
1. Segment your list
Dividing your email list into segments allows you to send more targeted emails, and it can drastically improve your campaign results. In fact, marketers have noted a 760% increase in revenue from segmenting email campaigns. You can divide your list according to a number of characteristics including demographics, purchase history, behavioral data, and stages of the sales funnel.
Ultimately, the decision of how to segment your email list is up to you and what works best for your business. Not all of your customers want the same thing, and segmentation can increase the relevance of your marketing efforts for each subscriber.
2. Personalize emails
Speaking of relevance, you can also personalize your emails to make them more applicable to individual subscribers. You can start with something as simple as adding recipients' first names in your email greeting instead of a generic "Hey there!" Just be sure to test your emails to avoid addressing subscribers by the wrong name.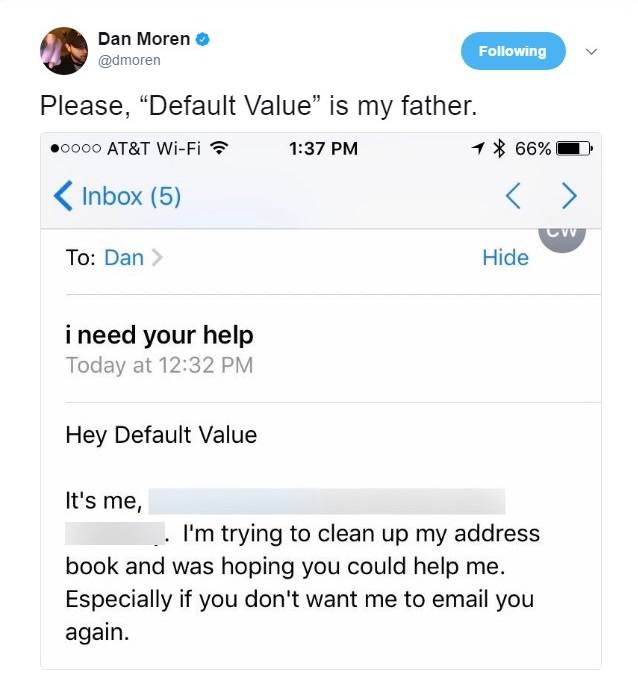 If you want to take your personalization game to the next level, you can set up automated behavioral trigger emails. For example, if someone makes a purchase on your site, you can send a follow-up email with related items that complement their purchase.
Personalization increases email click-through rates by an average of 14% and conversions by 10%. So if you want to boost the ROI of your emails, personalization is a great option!
3. Focus on deliverability
It's also important to pay attention to your email deliverability. Do your emails consistently reach recipients' inboxes, or are they trapped by junk and spam filters? In order to get your emails past spam filters, you need to create clean, quality content and avoid using spam trigger words.
You should also always include an unsubscribe button at the bottom of your emails. If people can't easily unsubscribe, they will be more likely to report your emails as spam. For more information about how to avoid email spam, check out the CAN-SPAM Act.
4. Send on the best days
The days you send your emails can have a big impact on engagement rates. Ultimately, you want to send your emails when recipients are most likely to open and read them. To determine the best days and times to send your emails, you can track your email performance and measure the results.
While Monday mornings may be a good time to send for some businesses, Thursday afternoons may work best for another. It's also important to think about the time zones of your recipients. For example, if you send an email at 4 p.m.
EST, it will reach a subscriber in London at 10 p.m. their time.
5. Optimize for mobile
Today, more than half of emails are opened on mobile devices – and that percentage will only continue to grow. This means that you need to make sure your emails look great on mobile devices and tablets, as well as computer screens. If your emails don't render well on mobile devices, recipients will likely delete them or unsubscribe from your emails.
With MyEmailFX, you can choose templates that display on both desktop and mobile and ensure that your emails look great no matter the device recipients use to view them.
6. Create engaging subject lines
Engaging subject lines are essential for getting people to open your emails, learn more about your company, and ultimately become customers. The best subject lines are concise and personal, use strong verbs, and give readers an accurate idea of what they can expect to find inside the email. You can also use subject lines to convey a sense of urgency— "Don't miss our exclusive webinar!" or "Register now to save your spot!" For more helpful tips on creating interesting, effective subject lines, check out our post on subject line best practices.
7. Include calls to action
If you want your email subscribers to take a certain action, you need to tell them! Including calls to action (CTA) in your emails is a great way to boost traffic to designated landing pages. Whether you want to increase the sale of a certain product or encourage readers to sign up for your next webinar, CTAs are a great way to boost email marketing engagement and get your subscribers to take action on your site.
8. Add videos
Adding videos to your emails is also a great way to boost engagement.
A study by Wistia revealed that including video thumbnails in email increases clicks by an average of 22%! At WebFX, we include video content in our Marketing Manager Insider emails. This gives readers a visual that they can associate with the content, and it encourages them to click the links and visit our site to learn more.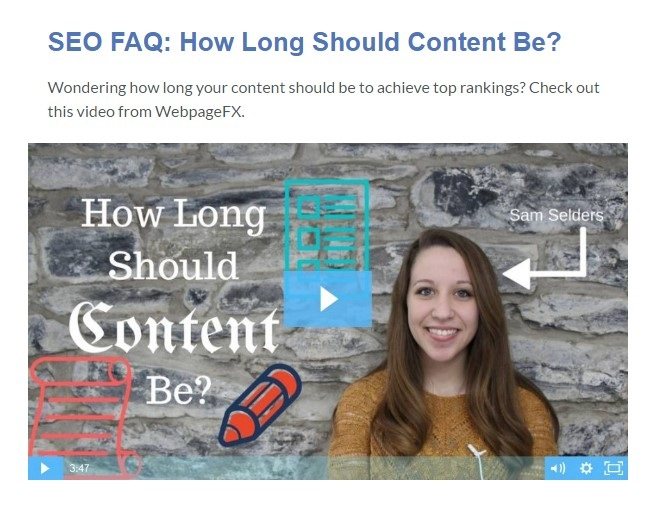 9. Track and test email performance
Finally, you need to evaluate and optimize your email performance on a regular basis. Email platforms like MyEmailFX make it easy for you to test elements of your email like subject line, sender, and even email content. You can also perform A/B tests to determine the types of content that resonate most with recipients.
Paying attention to the results of your emails allows you to incorporate your findings and optimize your campaigns for the best results.
Create a custom email strategy today!
Need help creating and sending custom email campaigns? WebFX can help! Check out our email marketing plans, and contact us today to learn more.
We can't wait to hear from you!
WebFX Careers
Join our mission to provide industry-leading digital marketing services to businesses around the globe - all while building your personal knowledge and growing as an individual.