A digital marketing plan is one of the best ways for your dance studio to attract valuable leads. There are numerous digital marketing methods you can use to help interested leads find your dance studio. With so many options, you may wonder which one is best for your business.
rnOn this page, we'll share the top three digital marketing methods for dance studios. If your dance studio wants to reach more students with digital marketing, give us a call at 888-601-5359 to see how WebFX can help.
Our digital marketing campaigns impact the metrics that improve your bottom line.
See More Results

WebFX has driven the following results for clients:

$3 billion
In client revenue

7.8 million
Leads for our clients

5.2 million
Client phone calls
1. Use search engine optimization (SEO) to drive traffic to your dance studio's website
Search engine optimization (SEO) is one of the best methods for boosting your website's traffic and obtaining valuable leads. SEO is the process of optimizing your website's performance to rank higher in search results.
When users conduct searches, they use keywords to find pertinent search results. If you want to appear in front of a relevant audience, choosing the right key phrases is the first step. Conduct keyword research to find valuable keywords for your business.
As you conduct keyword research, focus on long-tail keywords. These are keywords that contain three or more words — "dance studio near Harrisburg, PA."
If someone searches "dance studio near Harrisburg, PA," it's fairly clear what they are trying to find — a dance studio in the Harrisburg area. However, when people search more generic phrases like "dance studios," it's harder to identify their search intent.
To reach more people looking for studios like yours, it's best to target long-tail keywords.
Once you have your long-tail keywords selected, you'll need to add them to key places on your website like your title tags, headings, meta descriptions, and body copy. Adding keywords to your site will help Google understand the content on your pages and rank them in relevant search results.
Aside from keyword selection, there are other aspects of SEO that are crucial to helping your site rank higher in the search results. One factor is page speed. Page speed impacts how users experience your dance studio's site.
People hate to wait for slow-loading pages. If your page takes too long to load, users will leave your site and visit a competitor's page instead. To prevent this, monitor your page speed to ensure your page is running in top shape.
Google PageSpeed Insights makes it easy to monitor your page's speed. After you run your website URL through PageSpeed Insights, you will see where you need to make alterations to your site. If you don't have the technical knowledge to make these changes, you can invest in page speed services from a digital marketing company like WebFX.
SEO also encompasses optimizing the back end of your site. Items like fixing broken links and cleaning up code can help improve your site's performance and get your site ranking higher in the search results for dance studios.
Considering 75 percent of users don't look past the first page of results, it's crucial that you optimize your site to appear higher in the search results.
SEO will help you drive valuable traffic to your dance studio website. You'll attract more leads that are interested in joining your studio. It's a valuable method to help you increase membership.
If you want to know more about SEO, check out our extensive Internet marketing resources or contact WebFX to further explore the best options for your business.

Hear What It's Like to Work With WebFX!

"WebFX gets it done! They've done a great job working with our changing vision and goals, and their turnaround times are wonderful. All staff are professional, timely, and friendly."
Healthcare
2. Earn valuable dance studio leads with pay-per-click (PPC) advertising
Pay-per-click (PPC) advertising is one of the best strategies for reaching valuable leads that are ready to convert. PPC ads are paid ads that appear at the top of search results, above the organic listings.
PPC ads are a great opportunity for your business to attract leads that are ready to join a dance studio. In fact, 65 percent of all high intent searches result in someone clicking on an ad. These are leads that are looking for the best dance studio to suit their needs.
To get started with PPC, select your keywords. Like SEO, you'll want to stick to long-tail keywords.
Long-tail keywords will drive better results for your campaign because they drive more valuable leads for your business. These keywords also have a lower cost-per-click (CPC) because there is less competition for them. There are dozens of companies that will bid for the keyword "dance studio," but only local competitors will bid for the keyword "dance studio in Harrisburg, PA."
Once you have your keywords selected, you'll bid for your ad's placement. You'll set your maximum bid, which is the amount you are willing to pay each time someone clicks on your ad. This amount is flexible and can be changed at any time.
Aside from your maximum bid, Google also factors your quality score into your ad's placement. Your quality score is determined by factors like your ad's relevancy to the keyword and your clickthrough rate (CTR). If you have a high quality score, you can earn a higher placement than a competitor that has a low quality score but higher bid.
As you run your PPC campaign, you can easily monitor your ads' performance. PPC allows you to see immediate results and know if your dance studio's ad campaign is working in terms of driving valuable leads.
Many businesses enjoy using PPC because it is cost-effective. When you run a PPC campaign, you set the budget that works best for your dance studio. Whether it's $100 or $1,000, you'll set the amount that works for your business.
It's important to note, however, that the amount will affect your campaign's success. You won't see as great of results with a $100 budget that you would with a $1000 budget.
Our team of 200+ experts can help you set a budget that is effective for your PPC campaign. Give us a call today to speak with a strategist!
3. Connect with people interested in your dance studio through social media marketing
Imagine being directly connected with leads that are interested in your dance studio. With social media marketing, that's possible. Social media marketing allows you to connect directly with prospective members for your dance studio.
There are numerous social platforms you can use to reach these interested leads. Some examples include Facebook, Twitter, Instagram, Pinterest, and LinkedIn.
So, how do you know which platforms are right for your dance studio?
Your target audience will help you determine the right platform. You'll want to use platforms they frequent the most to reach them best. Research different demographics on social media platforms to see which platforms your audience frequents the most.
Once you have your social platforms selected, start posting content. The type of content you can post will depend upon the social media site. Each social platform has different capabilities for posting content.
Twitter and Facebook offer a variety of content. You can post photos of your dance studio, videos of members dancing, engaging infographics, create polls, and share links. Instagram, on the other hand, bases their content on photos and videos. Investigate your social platform to figure out which social media site works best for your business.
Social media is a powerful tool to help you connect with your audience. You can share valuable content with your audience and get them to engage with your business. Having a social media page offers the opportunity to interact with them and build a positive reputation.
This is also a chance for you to address any questions or concerns from potential dance studio students. Taking time to address these issues can result in your audience feeling more comfortable choosing your dance studio over the competition.
Time to Level Up Your Sales
Our long list of services helps you grow every aspect of your business with marketing strategies that are proven to increase bottom-line metrics like revenue and conversions.
In the past 5 years, we've managed more than 12.9 MILLION transactions across our client base.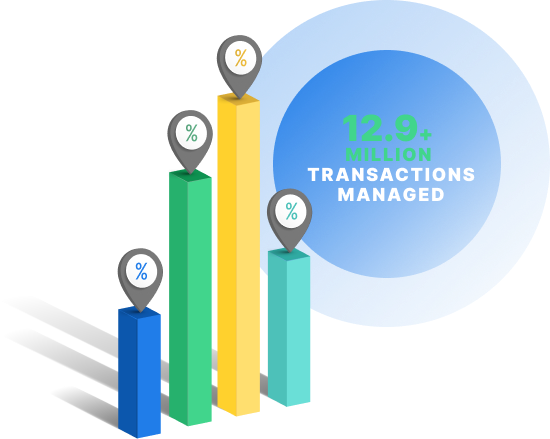 Dance your way into a great digital marketing plan from WebFX
A strong digital marketing plan can help your dance studio gracefully attract valuable leads. It's a great way to reach prospective members and get them to chassé into your dance studio. At WebFX, we have more than 25 years of experience creating digital marketing plans that dazzle our clients.
We're a full-service digital marketing company that offers numerous digital marketing services to help your dance studio grow. We have a team of 500+ experts that will bring their knowledge and expertise to your campaign. We'll help you create a digital marketing strategy that drives results for your business.
If you're looking for a results-driven digital marketing company, look no further than WebFX. To date, we've driven over $3 billion in sales and over 7.8 million leads for our clients. We focus on driving a successful campaign for our clients first.
Our clients love the work we do for them. In fact, we have over 1020 client testimonials that attest to the great work we do. Check them out to see what it's like to partner with a top digital marketing expert like WebFX!
Get started with dance studio digital marketing today
If you're ready to start earning valuable leads for your dance studio, contact us online or call us today at 888-601-5359 to speak with a strategist.
We look forward to helping your business grow!