People are online nearly every hour of every day, whether they're at work, at home, or at the gym. That means you need to be online if you want to successful promote your gym.
There's no doubt that you have to put a lot of time and money into your gym membership marketing strategies. But a solid online marketing strategy, if done right, could save you both.
Unlike print and TV marketing, which is a one-way conversation, online marketing allows you to interact with leads and customers. This increases loyalty, and that can increase your membership over time. Here are a few online gym marketing ideas you can start using to bring more people into your establishment.
Call 888-601-5359 to speak with a strategist about digital marketing strategies from WebFX, or keep reading to learn how your gym can benefit from online channels.
Time to Level Up Your Sales
Our long list of services helps you grow every aspect of your business with marketing strategies that are proven to increase bottom-line metrics like revenue and conversions.
In the past 5 years, we've managed more than 12.9 MILLION transactions across our client base.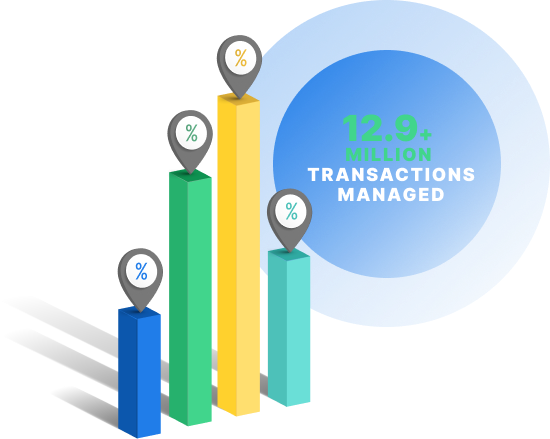 Start a fitness blog
For a small gym, marketing ideas that don't cost a lot can still do wonders for the bottom line. A blog is one of these affordable yet highly effective marketing ideas.
The benefits of a blog are multi-faceted. It allows you to stay in touch with members and prospects, share fitness-related advice, and promote events at your gym. You won't see a lot of revenue directly linked to your blog posts at first, but with time and dedication you can develop a reputation as a health and fitness expert. This can bring you long-term followers… and long-term revenue.
You don't always have to write about your gym—nor should you. Instead, stick to topics that are relevant to your members or potential members. For example, you could write about:
The best workouts for flabby arms
Foods that help you shed weight faster
Exercise equipment and workout gear you recommend
The newest equipment in the gym
Try to create posts that have a balance of text, photos, and videos. Although you don't have to use photos or embed videos in your blog posts, they can keep your visitors on the page for longer, and break up longer blocks of text.

Hear What It's Like to Work With WebFX!

"WebFX gets it done! They've done a great job working with our changing vision and goals, and their turnaround times are wonderful. All staff are professional, timely, and friendly."
Healthcare
Create an email newsletter
Email is a terrific way to let people know what's happening with your business. It has the potential to be a very useful tool for you, as it can help you with other lead generation strategies.
Keep your gym top of mind by sending a regular email newsletter to your members and prospects. Every week or every month, send an email containing news stories, photos, videos, and whatever else is interesting to your readers.
As with your blog, your emails should strike a balance between health and fitness topics and your gym in particular. Also, be sure to follow best practices to make your newsletter even more effective:
Get permission first. Don't send a newsletter unless the reader has already opted into your list.
Use a professional template. Text-only newsletters look flat and are harder to read than a laid out newsletter.
Add a call to action. Create a reason for subscribers to keep interacting with your gym. Each email should have calls to visit a page on your site, sign up for something, or come into your location. Make sure subscribers know what you want them to do next.
How can you get people to sign up for your email list? There are a few ways, but one of the best options is to put a small, easy to complete sign up form on your website. You can also collect email addresses in person at your location—for example, if you have a check-in counter, why not have the staff member there ask "would you like to receive email updates from us?"
Offer special incentives for referrals
If you run a gym, particularly a small gym, marketing ideas should center on recruiting new members and increasing loyalty among existing members. Few campaigns are as successful at accomplishing both goals as offering incentives for members who refer new people to your gym.
Unlike other incentives, which might be more appropriate at some times than others, a referral program can run all year long. It can even become a standard practice at your gym, and a fantastic way to show that you truly care about your gym members!
How would it work? Well, you could set up an online program where members get a lower monthly rate or an upgrade to a higher fitness package when friends or family referrals become members. Referrals can be made by sending a "sign up" invite to a potential member's email address.
This might be one of the more effective gym membership marketing strategies at your disposal, so don't pass it up! You can always try it for a short period of time and see how it goes. If it's successful, consider implementing it permanently.
Be active on social media
It takes more than a few emails and blogs to build customer relationships. Creating a relationship with your members also requires two-way conversations. Blog posts, emails, and some other marketing methods only let you reach out to one member at a time. The best way to maintain conversations with thousands of people at once is to stay active on social media.
Sites like Facebook and Twitter help you share news and updates with followers, but they also allow you to get feedback from members and resolve their complaints. For more information, check out our page on Facebook marketing for gyms. On Pinterest, you can create a visual collection of fitness products or gear you like, or healthy recipes you want to share. And on Instagram, you can post photos of your gym or even highlight special members!
Keep posting new content on each of these sites, but also take time to answer questions and join in the conversation. The more often you engage with members, the more likely they are to keep coming back.
Host fitness webinars
Every study shows the power of multimedia in online marketing. It's also a fantastic way to promote your gym online. What better way to demonstrate your gym's results than to show members working out and getting in shape?
Consider hosting a fitness-related webinar—that is, an online conference with audio and video. What should you include in this webinar? Well, you can both promote your gym and talk about fitness or health.
You may want to show off a new workout regimen. Or maybe you can recruit your trainers or members to talk about the importance of physical fitness. Whatever you want to talk about or do, make sure you do it straight from your gym. You'll show off your fitness expertise and the facility and equipment all at once.
Build a killer website
When we're talking about the most effective gym membership marketing strategies, a good website is near the top of the list. Your website is the focal point of your entire online presence, and every page should be designed to attract more visitors and keep them around longer.
A killer website is the only thing that's going to make all of your other strategies succeed. If your website isn't professional, the first impression that online searchers get of your gym won't be a good one. And if this first impression is poor, you may see that local residents are leaving your website before ever giving your gym a chance!
A lot goes into creating a great website, from design and copy to navigation and interactive features. Once a website is up, its long-term relevance relies heavily on maintenance and the creation of new content. Make sure your site is being kept up to date—otherwise potential members may be getting the wrong impression. In addition, you'll need to do SEO for your gym's site.
Start promoting your gym online today
Now that you know how important it is to market your gym—and picked up a few gym marketing ideas in the process—you need to invest more in your marketing strategy. Use a combination of online channels and strategies to build a loyal membership and steady revenue stream. With the right methods and a little experience, you'll love how easy it is to market online!
If you're not sure that you can accomplish all these tasks yourself, why not reach out to WebFX? We're a leading Internet marketing company with experience helping local businesses just like yours reach more customers online. We have plenty of ideas for marketing your business, and we'd love to share them with you!
Give us a call or contact us online for a completely customized, no-obligation quote for a full marketing package. We can't wait to hear from you!
Earn a 20% greater ROI with WebFX