Jodi is looking to start her fitness journey, but she wants to do it from the comfort of her home. She wants to find a virtual fitness studio, so she starts searching online to locate the right one. From search engines to social media, Jodi starts her journey to discover the perfect studio.
If you aren't investing in a virtual fitness marketing strategy, Jodi won't find your virtual fitness studio.
So, if you want people like Jodi to come across your studio, it's time to start investing in strategies that will help people find your business online.
Keep reading to learn four strategies for marketing your virtual fitness business online!
If you need help putting any of these strategies into action, WebFX is here to help. With a team of over 500 marketing experts, we can assist you in building your ideal virtual fitness marketing strategy. Contact us online or call us today at 888-601-5359 to learn more!
Our digital marketing campaigns impact the metrics that improve your bottom line.
See More Results

WebFX has driven the following results for clients:

$3 billion
In client revenue

7.8 million
Leads for our clients

5.2 million
Client phone calls
1. Build a beautiful website to attract new clients
As a virtual fitness studio, people will come to your website to learn about your business and take your online classes. So, if you don't have a beautiful and functional website for these potential clients, you'll risk driving them away to a competitor's studio.
Your website is at the heart of everything you do. Whether you send emails or run social media ads, you're generally directing people back to your site. To do your marketing effectively, you need to add designing and developing a high-quality website to your online fitness marketing plan.
So, what does a top-notch virtual fitness website need?
Aesthetically pleasing design
Your design should reflect your brand but also be visually appealing to your audience. Your design should only contain 3-4 colors and be consistent throughout your whole website.

Easy-to-use navigation
When people browse your virtual fitness studio website, you want to make it easy for them to find information. As a result, you need simple navigation that uses broad headings and numerous subheadings to organize your pages and make them easy to find.

Responsive design
People will access your virtual fitness studio's site on different devices, so you need to ensure your site looks good on all these devices. By integrating responsive design, you'll provide a positive experience for all users, no matter what they use to view your site.
Fast page load times
If you want to deliver a great experience on your website, you need to ensure it loads quickly, so users don't get discouraged. Use a tool like Google PageSpeed Insights to help you optimize your site, or invest in page speed services to improve site load times.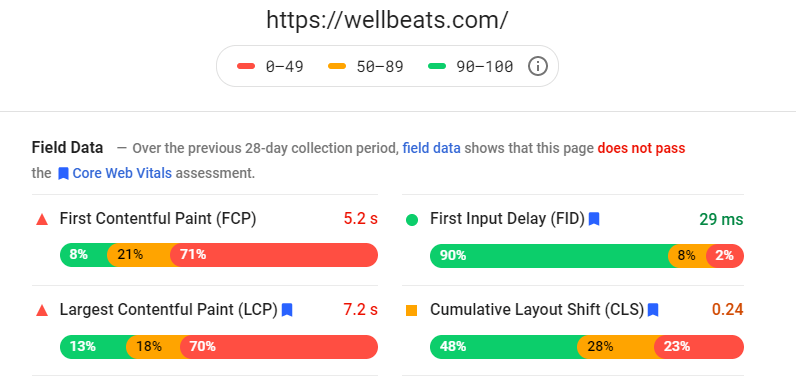 Hear What It's Like to Work With WebFX!

"WebFX gets it done! They've done a great job working with our changing vision and goals, and their turnaround times are wonderful. All staff are professional, timely, and friendly."
Healthcare
2. Optimize your presence on search engines
As you develop your online fitness marketing plan, don't forget to add search engine optimization (SEO) to your list of strategies. SEO is a strategy that involves optimizing your website to rank in search results.
Considering that 93% of all online experiences start with a search engine, you want to be sure that people can find your virtual fitness studio in the search results. Investing in SEO will help you optimize your website, so people can find your studio when they search for key terms related to your business.
Some of the web design best practices we mentioned earlier also positively impact your SEO, like making your site mobile-friendly and improving site load time. There are also many other SEO techniques you'll need to include in your virtual fitness marketing strategy if you want to rank in search results. Here are a few of the most important ones.
Optimize for relevant terms
If you want to rank in search results, you need to select relevant terms to integrate into your site to rank in search results. Conduct keyword research and focus on long-tail keywords of three or more words to help you attract the most qualified leads to your page.
Optimize your title tags
Title tags are the first line of information users see when they find your listing in search results. You want to optimize your title tag to include your core keyword while also enticing your audience to click.
Create a compelling meta description
While your meta description doesn't impact your ranking, it does impact whether someone clicks on your listing in search. You'll want to optimize this to provide a sneak-peek into your page that encourages people to check out your listing.

Match the user's search intent
To help you rank in search results, you need to match the user's search intent for a given keyword. Make sure you look at what's ranking in the search results for a page so that you can deliver a relevant experience on your site.
3. Use social media to connect with prospects
When you develop your virtual fitness marketing strategy, you'll want to include social media as part of your plan. Social media is an excellent place for you to engage with prospects and get them interested in signing up for your virtual fitness classes.
You can build a presence on multiple social media platforms, including:
Facebook
Twitter
Instagram
Pinterest
LinkedIn
Once you select your platforms, you'll want to start building your profile and posting content for your audience. Here's how you can make social media marketing an effective online fitness marketing strategy for your business:
Post a variety of content: People consume content in different ways, so you want to ensure you're using a variety of mediums to engage your audience. From photos to videos to blog posts, keep your social content strategy fresh for your audience.
Post content often: If you want to be successful with social media, post content frequently. People follow many social media profiles, so you need to post often to help them see your content. Use a social media calendar to help you stay organized with planning when to post.
Keep content branded: When you craft content, make sure it emulates your brand. Your photos and videos, as well as the tone of your writing, should project your business's unique style.
Engage with your audience on your social profiles: When you post content on your social profiles, your audience will likely comment on your content. Take time to engage with them on your posts and build a relationship to help nurture them towards conversion.
4. Develop a content marketing strategy
Last on our list of virtual fitness marketing strategies is content marketing. People turn to the web to get helpful fitness information, from workout plans to exercise instructions. As a virtual fitness business, you have an excellent opportunity to share useful knowledge your audience seeks.
With content marketing, you share relevant industry information with your audience to build trust and authority with them. Since your audience already seeks this information, it creates an opportunity for you to attract those leads to your site instead of your competition's site.
When you create content, you can choose from numerous format options, including:
Here are some best practices you'll want to follow with your content:
Post content often: Just like with social media, an effective content strategy involves posting content often, so you can reach more people and show your website is active. Use a content calendar to help you plan when to create, edit, and publish your content.
Look at what your competition's creating: If you're stuck for content ideas, see what type of content your competition is creating. You can see what topics they're addressing that you might be missing. Don't copy their content exactly, but use it as inspiration to help you create new content.
Make sure your content is thorough: Don't skimp out on your content quality. You want to deliver helpful information that thoroughly answers your audiences' questions, so they get all the information they need.
Get started with your virtual fitness marketing strategy
If you're ready to start obtaining more traffic and leads for your virtual fitness business, WebFX is here to help. We have over 25 years of experience creating online marketing strategies that help our clients grow their businesses.
In the past five years alone, we've driven $3 billion in sales and over 7.8 million leads for our clients.
You can feel confident that our team of over 500 experts can provide you the expertise you need to create an impactful campaign.
To get started with your online fitness marketing plan, contact us online or call us today at 888-601-5359 to speak with a strategist about our digital marketing services!
Earn a 20% greater ROI with WebFX