When you're trying to figure out which digital marketing strategies to use, it can feel like you're deadlifting 500 pounds. It's challenging to know what strategies work best for personal trainers. How do you decide which strategies will drive the best results and fit in your budget?
On this page, we'll break down the top three digital marketing strategies for personal trainers. If you want to learn more about how these strategies will help you attract more personal training clients, call us today at 888-601-5359 to speak with a strategist.
1. Use search engine optimization (SEO) to reach personal training clients
Search engine optimization (SEO) is an impactful digital marketing strategy for boosting your website's traffic. SEO is the process of optimizing your site to rank higher in relevant search results.
So, why does SEO matter?
When users conduct searches to find personal trainers, they generally stick to the first page of results. They trust that Google puts the most relevant search results first, which is why 75 percent of people don't look beyond the first page.
If you want to reach relevant results, you must optimize your personal training website to appear on the first page of results.
To start using SEO, select keywords that are relevant to your business. Focus on keywords that your target audience would use to find a personal trainer.
As a general rule, stick to long-tail keywords, which are keywords that contain three or more words. A keyword like "personal trainers in Harrisburg, PA" is going to attract more interested leads than a keyword like "personal trainers."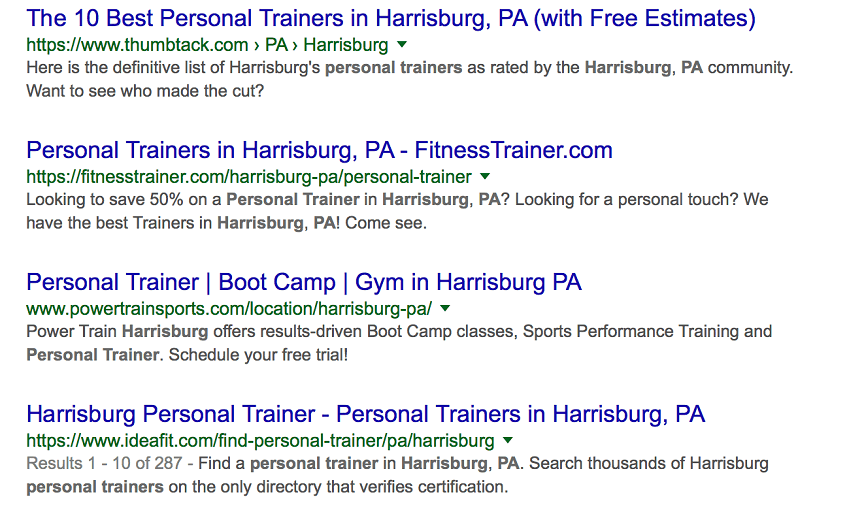 Keyword optimization is just one piece of the SEO puzzle. There are numerous other optimizations that help your site rank better in the search results.
One important factor is creating quality content. Content drives interested leads to your page and gets them to check out your business.
You can create a variety of content, including blogs, videos, infographics and ebooks. These are all great ways to share information and knowledge with your audience. You can provide them with valuable content that draws them to your page.
When you create content, you want to appeal to your audience. Your content should have some value for your audience.
It is best to create a few, in-depth, quality pieces of content than to create an abundance of low-quality content. High-quality content will drive more traffic to your site and boost your SEO ranking.
Another important factor is page speed. Users don't like to wait for slow loading pages, so it's crucial that your pages load efficiently. If your pages take too long to load, leads will leave your page for a competitor.
Factors like cleaning up code, reducing redirects, and enabling browser caching can help improve your page speed. If you don't have the technical knowledge to make these changes on your own, you can invest in page speed services from a digital marketing company.
By harnessing the power of SEO, you will obtain valuable leads on your website that are interested in getting a personal trainer.

Hear What It's Like to Work With WebFX!

"Unbelievable results in just a few short months! Ive never had a company like webfx, they take the time to break down the process and help me make the decisions that are best for my company."
Dog Trainer
2. Reach valuable personal training clients with pay-per-click (PPC) ads
If you want to find leads that are ready to pick a personal trainer, pay-per-click (PPC) advertising is a great option for you. These paid advertisements appear at the top of the search results and attract valuable leads.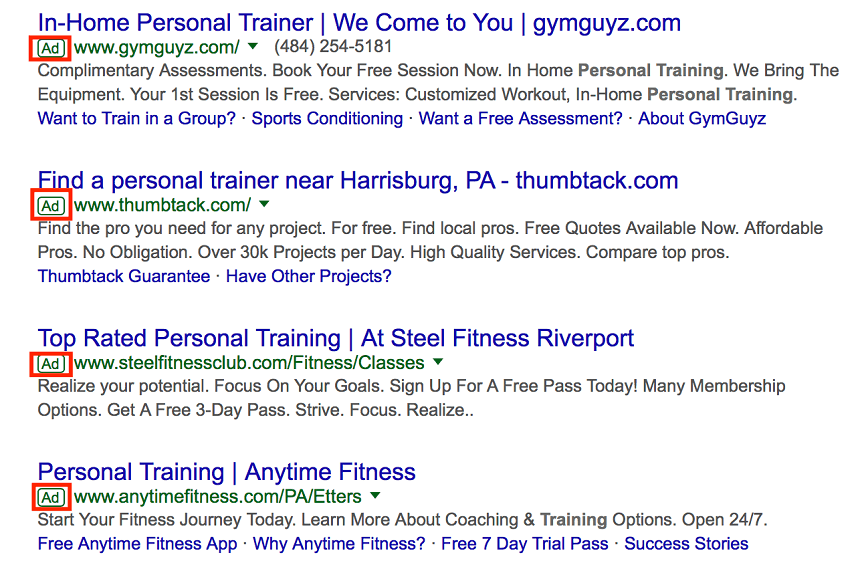 PPC ads, which operate through Google Ads, attract leads that are more likely to convert. In fact, PPC visitors are 50 percent more likely to convert than organic visitors. These are people who know they want a personal trainer and need to find the right one.
To start reaching valuable leads, choose long-tail keywords for your ad. Long-tail keywords are best for PPC campaigns because they keep your cost-per-click (CPC) low because there are fewer competitors bidding for that keyword.
A low CPC is important to your campaign because it allows you to get more clicks on your ad, which means more leads for your business.
Once you have your keywords selected, you'll bid for your ad's placement. Your placement is determined by your bid amount and your quality score.
Your bid amount is the amount you are willing to spend each time someone clicks on your ad. This amount is flexible and can be changed at any time. Your quality score is determined by factors like your ad relevancy to the keyword and your clickthrough rate (CTR).
Once you have your placement, you will launch your ad. The minute you launch your campaign, you can track your ad's performance. PPC allows you to see immediate results, so you can see if your ad is attracting clients for your personal training business.
If you're on a tight budget, PPC is a cost-effective method to help you earn valuable leads. You choose the budget for your PPC advertising campaign. While the amount will affect your campaign's success, you have the option to decide how much you want to spend on an advertising campaign.
PPC ads help clients find a personal trainer. Why shouldn't it be you? Investing in PPC will help direct these valuable leads to your website, where you can convert them into personal training clients.
Our team of 500+ experts are Google Ads certified, so you can trust that we know the ins and outs of running a PPC campaign. Give us a call today at 888-601-5359 to see how our team of experts can help you grow your business!
3. Connect with new clients on social media
Social media is a valuable tool for helping your business connect with people who want a personal trainer. It provides you with an opportunity to connect with your audience on a personal level and send them interesting content.
Social media offers a variety of platforms for you to connect with valuable leads. Platforms like Facebook, Twitter, Instagram, Pinterest, and LinkedIn make it easy for you to provide your audience with valuable content.
To figure out the right platform(s) for your business, look towards your target audience. Your target audience will determine which platforms you use for your campaign, as you want to reach them where they frequent the most.
Once you have your platforms selected, you can start posting valuable content for your audience. The type of content will depend upon the platform.
Facebook and Twitter offer a variety of options, including posting links, photos, videos, infographics, and polls. Instagram focuses solely on photos and videos for content.
As a personal trainer, there are dozens of ways you can get your audience to engage with your content. You can post photos of you working out with a client, videos on how to do different workouts, or use polls to evaluate your audience's fitness level.
Social media makes it easy for you to connect with leads and provide them with valuable information about personal trainers. It's also a great place to field questions or concerns about personal training. The personal one-on-one connect through these social media platforms allows you to build a personal relationship with your leads.
Social media marketing is a valuable method for helping your business obtain leads that want a personal trainer. Not only will you connect with valuable leads, but you'll help build up your business's reputation to get those leads to feel confident about choosing you as their personal trainer.
WebFX is a top digital marketing company for personal trainers
As a personal trainer, you know the importance of having a spotter for heavy weights. So, why not get a spotter for your digital marketing plan? At WebFX, we have over 25 years of experience creating effective digital marketing plans that help our clients reach their goals.
We're a full-service digital marketing company that offers numerous digital marketing services to help your business grow. Our team of 500+ experts will bring their knowledge and expertise to help you create a digital marketing plan that works for personal trainers. We'll work with you to create a custom plan that focuses on your individual needs.
If you're looking for a digital marketing company that drives results, you've come to the right place. To date, we've driven over $3 billion in revenue and over 7.8 million leads for our clients. We focus on achieving results for your business first.
Our 1020+ client testimonials are proof of the great work we do. Check them out to see what it's like to partner with a digital marketing expert like WebFX!
Start achieving your goals today
If you're ready to start driving valuable traffic and leads for your personal training business, contact us online or call us today at 888-601-5359 to speak with a strategist.
We look forward to pumping up your digital marketing presence!
Earn a 20% greater ROI with WebFX