You know how much a website can increase foot traffic to your business. Your hospital or medical practice needs a professional, engaging, and user-friendly website that can attract potential patients and bring them into your office.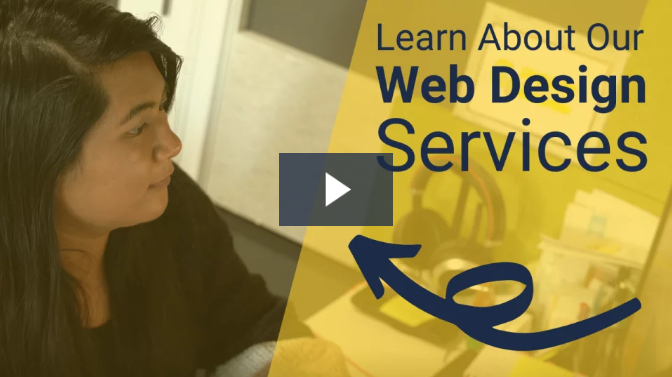 At WebFX, our award-winning medical web design company provides your practice with an attractive, compliant, and mobile-friendly site that helps patients find and contact you. With more than 1,600 custom sites launched and more than 1020 testimonials, we're a trusted choice for medical web design.
Keep reading to learn more about our medical website design services, as well as use our free medical practice web design calculator. Or, start telling us about your practice and medical web design and development needs by contacting us online or giving us a ring at 888-601-5359!
We don't want to tell you about the work we do, we want to SHOW you.
View Our Portfolio

We've built over
Websites
in a variety of industries.
Browse medical website design services
When you choose WebFX as your medical web design company, you get an experienced team of medical website designers and developers that will create, build, and launch a responsive, compliant, and search-friendly site that will help your practice attract more patients.
Learn more about our different medical website design services now:
Hear What It's Like to Work With WebFX!

"WebFX has completely transformed my practice. With their support, I have expanded my practice significantly and grown exponentially. I could not have expanded to this degree, nor this quickly had it not been for the incredible efforts provided by WebFX and my team."
Healthcare
Medical website design services
Launch a brand-new site for your medical practice with our website design services.
Medical website redesign services
Update the look and ease of your medical practice's site with our website redesign services.
30-day medical website design services
Get a new website for your practice with our 30-day web design services.
ADA compliance web design services
Make your website accessible (and compliant) 24/7 with our ADA compliance services.
What do our medical web design services include?
No matter which medical web design service you select, your practice will receive a:
Dedicated account manager
Dedicated project manager
Award-winning team of medical website designers and developers
Your website will also include the following features:
Responsive or mobile-friendly
Healthcare compliant
Search-friendly, or optimized for search engine optimization (SEO)
Attractive design
Fast page speed
In addition, your medical practice can pick-and-choose certain features for your website, like:
Content management system (CMS)
Database integration
Ecommerce functionality
Professional copywriting
And more
If you're curious about how much your medical practice's website design will cost, based on the features you need and want, we offer a free website cost calculator. Use this calculator to get an instant estimate (zero personal information required) as you research medical web design for your office.
5 best practices for medical web design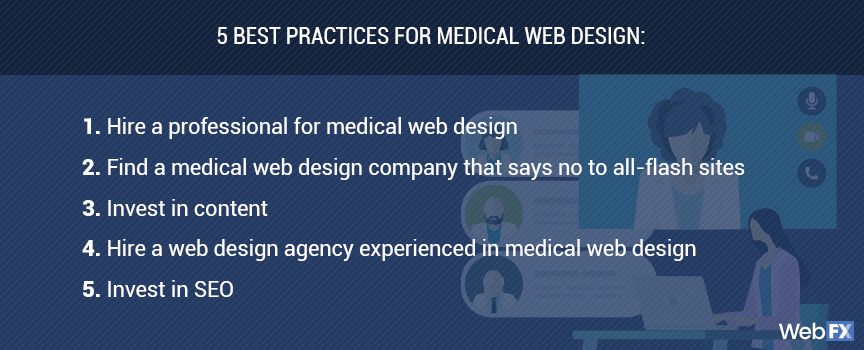 How do you make sure that the medical web designer you hire will deliver a quality website that will help keep your professional medical business image? And how do you know if a medical web design company is right for you?
Here are some essential tips and best practices to determine whether you are dealing with a reliable web design professional or firm for your medical practice's web design needs.
1. Hire a professional for medical web design
First, you should recognize that the best websites are those designed by experts.
If you are a medical web designer or developer, then build one on your own!
However, if you do not have any form of technical know-how, and do not have the time to learn — after all, you have a practice to run — then it is best that you hire a third party web design company to help you achieve the best medical website design possible.
This way, you are assured of the quality and the professional look of your site.
2. Find a medical web design company that says no to all-Flash sites.
If you come across a web designer that will build your site entirely in Flash, turn around and run!
Making a website entirely based on Flash may look good, but overall it's not a good idea. The biggest reason it's a bad idea to make websites entirely in Flash is because search engines like Google can't read what's on a page when it's in a Flash program.
That means your website can't rank well in search engine results, and your business won't receive nearly as much visibility as it would if it were coded in HTML. Plus, Flash sites take forever to load, and some applications can't work in certain browsers or mobile devices.
Flash can also cause problems for on-site navigational elements like sitemaps and breadcrumbs.
These sections of your site need to remain in HTML so that search engines can easily index your website for future searches. If it's all done in Flash, Google, Bing, Yahoo!, and other search engines won't be able to see the extent of your hard work!
Finding a medical web design company that can create your website and incorporate essential SEO services means your website will stand a better chance of showing up in Google searches, and that means more awareness for your potential patients.
3. Invest in content for your medical practice's website
If a medical web designer talks about adding small amounts of text, single photos, or short videos on your pages, argue and argue well. It is true that putting too much content can make your site look boring and too wordy, but putting in too little will make it irrelevant and insignificant — and difficult to rank.

In SEO, this practice is called "thin content," and it can hinder your abilities to show up in search engines before you even finish your site's design.
What you need is a web design that has excellent, well-written content to provide information and catch the interest of your audience.
This content should also include the terms your audience uses to research issues relevant to your industry, also called keywords.
The medical web design professional you choose should know that your site is written solely for the end users, but also crafted in such a way that it will rank well for search engines.
It's best to collaborate with a medical web design company to come up with medical web design content to give Internet users a reason to visit and stay on your website. A reliable Internet marketing firm can help your medical practice craft content that is search engine optimized while appealing to potential patients.
4. Hire a web design agency experienced in medical website design.
Ask the companies you are evaluating if they have experience designing for physicians, hospitals, addiction treatment centers, or medical organizations. Those that do will almost certainly have a better idea about what potential patients want to see, not to mention SEO medical services. A healthcare website design agency — that is, an agency that specializes in medical practices — is likely to be a better fit for your needs than a general design company.
However, if a web design firm doesn't have experience in the medical field, you don't necessarily need to ignore them. It's just probably easier to work with someone who knows your industry and has a good idea of what to expect from you as a client. And let's not forget those SEO medical services that can help your website climb to the top of search engine rankings!
5. Invest in SEO for your medical practice's website
Websites for medical professionals should always be designed with search engines in mind. After all, if no one can find your website, you aren't going to get any patients. That's why SEO is so important.
Medical SEO services will ensure that your site is ranking for the terms and phrases most relevant to your local practice, hospital, or healthcare clinic. It will also make sure that there are no problems with your site, such as broken links, slow load times, or files infected with spam or malware.
Firms offering Internet marketing to doctors and hospitals should absolutely offer SEO. This simple marketing technique has the potential for an incredibly high ROI, and it gives you the chance to reach out to an audience that you couldn't touch before. If you work with an agency that doesn't offer SEO with web design, you should absolutely find one that does.
4 quick tips for finding a medical web design company
When you're evaluating medical web design companies, there are a couple other minor details that you should keep in mind:
Look for firms that offer their pricing online or quick quotes
Ask to see a portfolio of previous designs to evaluate the talent and experience of each agency
Look for SEO results for their other clients, including the number of terms for which they rank, their increase in site traffic, and more
Ask about the web design process and what kind of team will be assigned to your account if you become a client
Attract more patients with medical website design services
If you invest time in choosing a medical web design and developer, you'll enjoy better results than if you just pick the first medical web design company you find.
At WebFX, we have the expertise and knowledge to provide you with the results that can grow your business. We know web design, web development, SEO, and other services that are essential to online success.
Plus, we have the right technology and solutions to respond to your business's needs, so you can get a custom-made plan specifically targeted to your company's plans for expansion. As a leading web design agency, we'll work to create a website for your medical practice that will help your business grow.
Contact us today to learn more about how WebFX can improve your office or practice's online presence with our web design services.
Earn a 20% greater ROI with WebFX