Forklift dealers need to have fantastic websites that showcase their merchandise, educate prospects, and provide visitors with the information they need. In fact, if you're a forklift dealer, your website might be the first introduction to your company a buyer ever has. For this reason, it's essential that your site is professional, eye-catching, and designed to convert visitors into customers.
If you'd like to speak with a web design agency before reading on, you can reach us at 888-601-5359.
If you don't have a strong online presence, it's time to get started. And even if your company already has a site up and running, chances are good that there's still room for improvement. The following web design tips for forklift dealers will get you headed in the right direction:
#1: Make the navigation simple
Clean and simple: Those two adjectives should be at the top of your mind when you're deciding how to organize your website. Some forklift dealers make the mistake of having menu and navigation bars that are confusing or counter-intuitive, which only frustrates visitors. So, even if you think that your navigation system looks great, have someone unfamiliar with the site test it to be sure.
If your customers can't find what they're looking for in 2-3 clicks, chances are they'll leave your site. To avoid this, streamline the navigation, and try not to make visitors jump through too many hoops just to get the information they need.

Hear What It's Like to Work With WebFX!

"Our website has experienced a significant increase in traffic since starting with Webfx. Our team is very impressed with the clicks we are experiencing with our Geo-Fencing campaigns and we look forward to seeing our monthly reports with the positive results."
Heavy Equipment Dealership
#2: Ditch the "creative" fonts
Did you know that there are literally thousands of creative fonts that you can either download for free or purchase and use on your site? Pretty cool, right? But unfortunately, most of those fonts aren't great choices when designing a professional site.
Fonts that you think look "fun" might come across as messy or unprofessional to visitors, and ones that are overly decorative can strain readers' eyes when they read long chunks of text. For these reasons, it's smart to stick with tried-and-true fonts, or slight variations of them. Leave the fancy typography for buttons, very short headlines, or your logo.
#3: Include high-quality photos
As with any business that sells tangible products, you need to provide photos of your equipment. But rather than taking pictures with your own camera (or smartphone), we recommend that you pay a professional to create high-quality images.
For some products, you may also be able to get images from the forklift manufacturers whose products you sell. But one word of advice: Be ready to resize some stock images that may be too large, since they may increase your site's loading time.
#4: Optimize like your business depends on it (because it does!)
Are all the pages on your forklift dealer website optimized for search engines? If not, it's time to go back page-by-page and make some serious updates. Naturally, add one or two long-tail keywords to each page, and be sure to include location-based keywords if you want to reach local customers.
Although this is an SEO concern (and not necessarily the responsibility of your designer), it's essential if you want customers to actually find your site. For more information on SEO, check out this page on how to optimize a forklift website.
#5: Consider adding a blog
Google and other search engines will crawl your site more frequently if they know it's "fresh" and regularly updated. That's why so many corporate forklift dealers offer blogs. Creating a blog is a simple way to showcase your expertise through words, images and videos.
If this sounds like a lot of work, keep in mind that posts don't have to be novel-length to be interesting and useful. And even if you only post once or twice a week, you can help current customers and potentially attract new ones. Best of all, a blog signals to search engines that your site is active, and ready to be crawled on a regular basis.
#6: Monitor your loading times
Have customers complained that it takes forever for your site to load? Don't assume that they're wrong, or that the problem is on their end. Test your site yourself.
A site that takes a long time to load can be annoying to visitors, and if enough of them get annoyed and leave the page, your bounce rate could skyrocket. This will signal to search engines that your site provides a poor user experience, which will harm your chances of ranking well. In order to bring loading times back to acceptable levels, you may have to resize or remove images, sliders, or carousels.
#8: Be careful with pop-ups
Are you trying to capture information from visitors to your site? One way many websites attempt to get data like names and email addresses is through pop-ups that appear within a few seconds of the page loading.
In general, you'll want to avoid site-wide pop-ups. You might have success with one or two that are easy to close, but in general, it's best to create a "contact us" page and allow visitors to opt into giving you their information themselves.
#9: Include appropriate calls to action
Do you expect someone to actually buy a forklift right from your site? Or do you want them to visit your dealership, pick up the telephone, make an appointment, or fill out an information request form?
Regardless of what you want them to do, include prominent calls to action encouraging them to do it. These can be embedded in the text on the web pages, or they can be callout buttons and other visual signals. Of course, you should never be pushy, but a little direction might be all a visitor needs to make them convert.
Good agencies have more than 50 testimonials.
Great agencies have more than 100 testimonials.
WebFX has over 1000+ glowing client testimonials.
See What Makes Us Stand out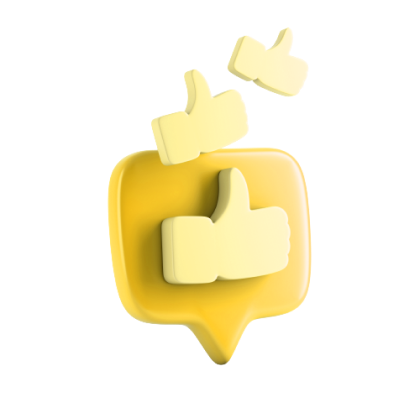 How WebFX can help
If you'd like assistance with your forklift dealer website, don't hesitate to contact us! Our talented team of designers has plenty of experience with the heavy equipment industry, and are more than happy to help you create and launch a site that will attract customers and turn them into leads.
Earn a 20% greater ROI with WebFX