Nadine accidentally locked herself out of her house and is in desperate need of a locksmith. She opens Google on her phone and searches for a locksmith in her area. She sees an ad at the top of the search results for a local locksmith and spots a phone number she can call.
Nadine makes the call. Will your business pick up on the other end?
If you're not doing pay-per-click (PPC) advertising for locksmiths, then you won't be. But it's not too late to start!
On this page, we'll provide you with five must-know tips for getting started with locksmith PPC:
If you need help with locksmith advertising, our team of over 500 marketing experts is here to help. Contact us online or call our Google Premier Partner agency today at 888-601-5359 to learn more about our PPC advertising services!
1. Optimize for relevant key terms
When you get started with locksmith PPC, the first thing you want to do is identify relevant key terms for your ad. Users conduct searches using keywords, which triggers your listing to appear in search results.
Conduct keyword research to help you find relevant terms for your PPC ads. You can use any number of keyword research tools, like KeywordsFX, to help you find applicable terms for your ad.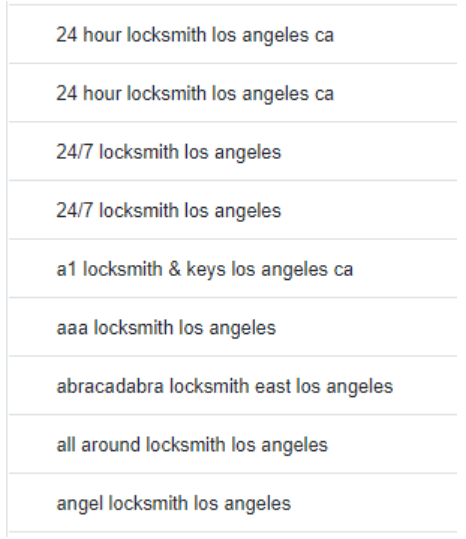 As you conduct keyword research, focus on long-tail keywords — keywords that contain three or more words.
Long-tail keywords are better for your PPC ads for two reasons:
Long-tail keywords are more specific, so you know the search intent behind those terms
Long-tail keywords have less competition because they're specific, which means you have a lower cost per click (CPC)
Once you have your keywords selected, optimize your ad copy's headline and description with them. You should also optimize your landing page's heading and content with those keywords to increase the relevancy of your landing page to users that click on your ads.

Hear What It's Like to Work With WebFX!

"WebFX did amazing work creating a new website for us on a tight schedule. They have taken the time to learn about our business and give us ideas of how to make our digital marketing better. We still have work to do with WebFX but overall very pleased."
Professional Service
2. Use ad extensions
When you do PPC for locksmiths, you want to make sure you use ad extensions.
Ad extensions are snippets of information you can attach to your ad to entice more people to click.

There are multiple ad extensions you can use to include more information in your ad, including:
Location extensions: Add your business's address to your ad.
Sitelink extensions: Include additional relevant links to your ad.
Call extensions: Add a phone number to your ad.
Callout extensions: Highlight important qualities of your business.
STructured snipptes: HIghlight the services you offer.

You can use any of these extensions to enhance your ad and provide your audience with more information that entices them to click. For example, callout extensions can make contacting your business even easier, like when someone gets locked out of their car or house.
3. Create custom landing pages
When it comes to advertising for locksmiths, you need to ensure you create a custom landing page for each campaign you run. Many people make the mistake of using a generic page to serve as their landing page. The problem with this option is that it's not tailored to your ad content.
If you run an ad for your automotive locksmith services and someone is directed to your homepage when they click on your ad, it's going to leave them confused. They won't see information about your automotive locksmith services, and as a result, will bounce back to the search results.
By creating a custom landing page that focuses solely on your automotive locksmith services, though, you can keep them engaged.
A custom landing page for lead generation enables your audience to get the information they need fast. They can stay focused on what they need to know, like your prices, service area, and certifications, which pushes them closer to converting.
When you create custom landing pages for your ads, follow these best practices:
Ensure your landing page text matches your ad text
Use high-quality images, but don't overload your page with visuals
Use directional cues, like arrows, to guide your audience's eyes
Remove distractions like navigation bars
Integrate relevant social proof, like certifications or reviews
Have one clear and prominent call to action (CTA) button
4. Use negative keywords
Next on our list of tips for doing PPC for locksmiths is to use negative keywords. Negative keywords are critical to your ad campaign because they help you avoid appearing in searches for irrelevant terms and paying for clicks from them.
Let's say you offer residential locksmith services. You're using the keywords "residential locksmith services" and "locksmith services" to drive leads for your business.
You notice, though, that your ad is appearing in search results for "commercial locksmith services." You don't offer that service and don't want your ad to appear for searches for that keyword.
Enter negative keywords.
In this scenario, you could set "commercial" as a negative keyword for your business. That way, your ad will still appear for the keyword "locksmith services," but not for "commercial locksmith services."
Using negative keywords ensures your ad doesn't appear in irrelevant search results, so you only drive (and pay for) qualified traffic to your business.
5. Conduct A/B testing on your ads and landing pages
When you do locksmith PPC, make sure you make time to conduct A/B testing on your ad copy and landing pages. The first version of your ad content isn't always the best— that's why testing is so crucial for your ads.
A/B testing enables your business to put out the best version of your ad.
You can test multiple components of your advertisement, including:
Ad copy
Ad extensions
Image selection
CTA button phrasing
CTA button style
Header text
Color choices
When you test these different elements, make sure you do them one at a time. If you try to test too many features at once, your results will be muddled because you won't know which changes positively impact your ad performance.
Responsive ads in Google Ads make A/B testing your ads simple. You can enter multiple headlines and descriptions, for example, and Google will tell you which variations perform best, so you can maximize your advertising returns.
Get locksmith advertising services from the best
PPC for locksmiths is an excellent way to obtain more qualified leads and earn more clients, but it takes time to develop and maintain your strategy. When you're busy running your business, you may not have the time to dedicate to managing your PPC strategy.
That's where WebFX can help.
With over 25 years of experience, you can trust our team of 500+ marketing experts to help you craft PPC campaigns that drive results. In the past five years alone, we've driven over $3 billion in sales and over 7.8 million leads for our clients.
As a Google Premier Partner, you can feel confident we'll craft the best PPC strategy for your business.
Ready to get started? Contact us online or call us today at 888-601-5359 to speak with a strategist about our PPC services!
Earn a 20% greater ROI with WebFX