SEO is the process of boosting your website's ranking in the search results for keywords related to your business.
This method is so vital because 93% of all online experiences start with a search engine. That means that most people begin their online experience seeking something. You want to ensure that people can find your website and check out your products.
On this page, we'll provide you with four tips for helping you make the most of your SEO plan. If SEO seems like an overwhelming task, call us today at 888-601-5359 (or contact us online) to speak with a strategist about how WebFX can help you create a custom SEO plan.
Independent research from Clutch has named WebFX the
top SEO company

in the United States.

Clutch has personally interviewed more than 250 WebFX clients to discuss their experience partnering with us.

Read More Clutch Reviews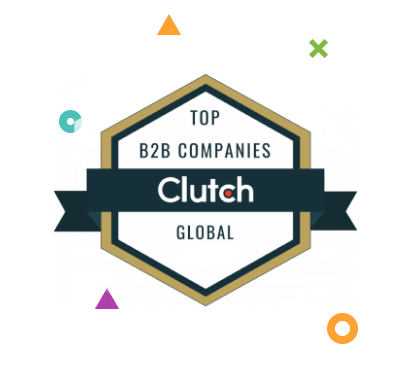 1. Conduct keyword research
SEO operates on keywords. Keywords trigger your website to appear in the search results, and when people search keywords related to your business, you want to appear at the top of the results.
You want to choose keywords that your target market will use to find your site. This means that you need to conduct keyword research. Keyword research will help you figure out the best keywords to target with your SEO campaign.
As you conduct keyword research, you will find that there are two types of keywords. The first type is short tail keywords. These keywords only contain one or two words.
The other type of keyword is long tail keywords. These are keywords that contain three or more words.
A short tail keyword is "countertop manufacturing," while a long tail keyword is "countertop manufacturers in Harrisburg, PA." Long tail keywords are better for your SEO plan because they drive in more qualified leads for your countertop manufacturing business.
If someone searches "countertop manufacturing," their intentions aren't clear. They may be searching for a manufacturer in a specific area, but you don't know their exact intent. Someone may just be looking to see how countertop manufacturing works.
These short tail keywords don't tell you that someone is looking for a countertop manufacturing business in Harrisburg, but long tail keywords do. If people are typing in "countertop manufacturers in Harrisburg, PA," you know they are specifically looking for a business like yours.
When you compare keyword types, you will see that short tail keywords generate more traffic than long tail keywords. This doesn't mean it drives in better traffic than long tail keywords. Long tail keywords don't drive in as much traffic, but they drive in more credible traffic.
As you conduct keyword research, it is important to keep the type of keywords in mind. By focusing on long tail keywords, you will see better results with your SEO campaign.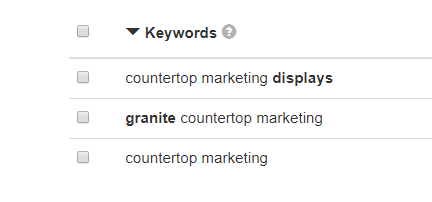 Hear What It's Like to Work With WebFX!

"The sophistication and professionalism of the team at WebFX, and the agency itself with their proprietary tools and platform, is hands down the best I've ever experienced. Highly recommend."
Building Manufacturer
2. Integrate keywords into your pages
Once you select your keywords, it is important that you integrate the keywords into your page. If you are trying to rank for a certain keyword, you need to use it.
When Google crawls through your site, they are looking for keywords to understand the context of your page. You want to use these keywords, so Google will rank your site in the right search results.
You can use keywords in the heading, title, body text, and meta description of a page.
As you integrate these keywords on to your page, you don't want to overuse them. This leads to keyword stuffing. Keyword stuffing is when you integrate keywords into your page too often.
You don't want to add keywords just to add them. Use them where they fit and flow naturally. This will help prevent keyword stuffing.
By integrating your keywords onto your pages, you will help them rank higher in search results.
3. Build links
Links are an important part of SEO. There are two types of links you want to focus on for your campaign.
Backlinks
When another site links to your website from one of their pages, it creates a backlink. Backlinks play an important role in helping you improve your SEO ranking.
These links send a positive signal to Google. If an authority site is linking to your page, it means that the information is credible and valuable. Since authority sites are already established, it can help you improve your site's validity and credibility.
The best way to earn these links is through content creation. When you create content, you can ask these authority sites to look at it. If they like what they see, they may use it as a resource in their own content.
When an authority site links to your content, it is an opportunity for you to build a relationship with them. When you build a relationship, you can earn more links for your countertop manufacturing business. This will improve your site's rankings.
Internal links
Internal links are also an important part of SEO. These are links to your own pages and content within your site.
These links are important because they keep people on your site longer. When you link to other pages on your site, people will click them and visit those pages. By adding relevant internal links, you can keep people on your site and help them learn more about your countertop manufacturing business.
As with backlinks, content creation is a great way to build up links. You can link to other content posts, informational pages, and pricing pages. This will get people to visit other parts of your site.
Internal and external links are an important part of your SEO campaign. By utilizing both types of links, you will improve your SEO ranking for your countertop manufacturing business.
4. Improve user experience on your site
The user experience is important. You want users to have a positive experience on your site, so they remain on it and learn about your business.
If users have a negative experience, they will leave your site immediately. This will increase your bounce rate, which negatively impacts your rankings. You can prevent this from happening by improving a user's experience.
So, what are factors that affect user experience?
Website design
Your design sets the first impression. If a user comes on your site and is turned off by the design, they will leave your site immediately. You need a modern and clean design to keep people on your site.
Users don't want to see a site that looks outdated. This will lead them to believe that the information is outdated, too. You don't want your site to look like it is from 1997.
Pick a modern design that is simple and clean. This will help users focus more on the information on the page. By using a modern design, you will prevent users from leaving your page.
Navigation
Once you have your design updated, you'll want to look at your navigation. Your navigation is an important part of your site because it is how users find the information they need. If they struggle to find information, they will leave your site and pick another.
Like your website's design, your navigation needs to be clean and simple. You'll want to make sure that it is in a prominent place, so users can find it easily. It is also good practice to use broad headings to organize your site better.
With a functional navigation, you will keep users seeking information longer.
Page speed
Users hate to wait for pages to load. If your page takes too long, they will return to the search results and select another business. To prevent this, you need to focus on improving your page speed.
You can use Google PageSpeed Insights to check your page speed and see how you can fix it. If you aren't familiar with how to make those changes, you can invest in page speed services from a digital marketing company like WebFX.
Let WebFX help you manufacture your SEO plan
SEO is a great way for you to draw in new leads for your countertop manufacturing business. At WebFX, we know what it takes to produce a great SEO plan. We're a full-service digital marketing company with experience in creating customized SEO plans for manufacturing businesses.
We have a team of 500+ experts that are dedicated to your campaign. Our award-winning team is composed of SEO experts that are constantly up-to-date on the industry. We create a customized plan to help your business succeed.
Our team is dedicated to bringing your business results. To date, we've driven over $3 billion in sales and over 7.8 million leads for our clients because we focus on your success first.
Just ask our clients! We have over 1020 client testimonials from a variety of industries. Check them out to see what it's like to work with a top SEO company like WebFX!
Get started today with SEO for countertop manufacturers
Are you ready to gain more valuable traffic and leads for your countertop manufacturing business? If you want to start seeing results, contact us online or call us today at 888-601-5359 to speak with a strategist about our SEO plans.
We look forward to working with you!
Earn a 20% greater ROI with WebFX