Two people encounter an online ad from your fire protection company. The first person, Conner, is very familiar with your business, having visited your site in the past. The second person, Bryson, has never heard of you.
In the above scenario, which of those two people is more likely to immediately buy your products after seeing the ad? The answer is Conner, because he's already familiar with you.
Bryson, on the other hand, has never heard of you before. He may convert later on, once he's seen more of your ads, but few people will convert the moment they first encounter a business's ad or website. Before that, they need to become leads.
But what is a lead, and how can you get them? We'll answer both of those questions in detail below. Read on to learn more about lead generation for fire protection services, and then partner with WebFX's team of over 500 experts for our lead generation services.
Just call 888-601-5359 or contact us online to get started!
37% of marketers say that generating high-quality leads was one of their biggest challenges.
We want to decrease that percentage.
WebFX can help you generate high-quality leads with a customized marketing strategy.
Learn More About Lead Generation Services
What is lead generation for fire protection companies?
Before we can get into the definition of fire protection company lead generation, we'll answer the most important question first: What is a lead?
In short, a lead is someone who's expressed an interest in your business. They're more or less the midpoint between unfamiliarity and conversion.
Every buyer starts out having never heard of your business. You want them to end up being customers.
Think of it like this: When you go on a first date, you don't really know the person you're going out with yet. If they proposed right then and there, you probably wouldn't say yes. But after dating them for a while, after getting to know and like them, you'd be more likely to accept.
In the same way, people are less likely to buy your products or use your services the very first time they encounter your business. Before they consider buying from you, prospects have to grow familiar with your business and develop an interest in what you're selling.
Fire protection lead generation is part of that process. When you use lead generation strategies, you introduce people to your business and nurture an interest in buying from you. Once people become leads, you can then begin the process of trying to make them convert.
5 fire protection company lead generation strategies
Lead generation for fire protection services doesn't just consist of one strategy. Various digital marketing strategies can help you generate new leads, and the best lead generation campaigns will incorporate several of them.
Here are the five most effective fire protection lead generation strategies!
1. Search engine optimization (SEO)
Search engine optimization (SEO) is a strategy that involves getting your web content to rank in Google search results. It centers around integrating specific keywords into your content. For example, a page featuring the keyword "fire protection" will appear in search results for that key term and others related to it.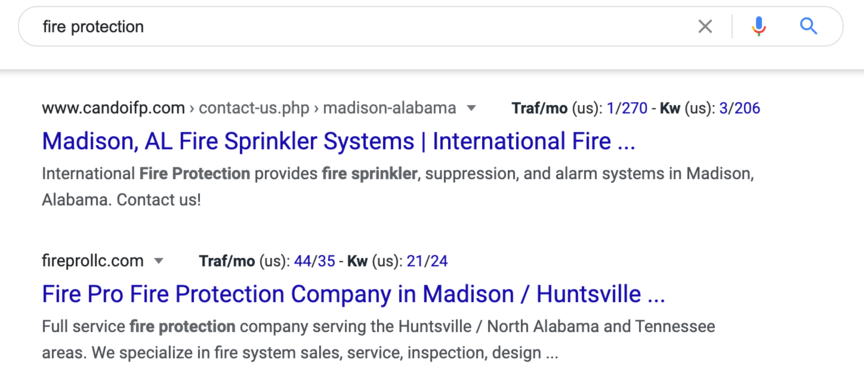 Of course, while keywords are the most essential element, they're far from the only one. SEO also requires you to optimize other aspects of your website to satisfy Google search algorithms, including:
With SEO, you can display pages from your website in searches where people will find them useful. Users will visit your site to get the answers to their queries, and in doing so, they'll establish a familiarity with your brand and a possible interest in your products.
2. Pay-per-click (PPC) advertising
Another way you can reach users through Google is with pay-per-click (PPC) advertising, which allows you to display paid ads at the top of Google search results. These ads appear similar to organic results, but have an "Ad" label in the top corner.

Essentially, the way PPC works is that you use Google Ads to bid on the keywords you want to target in your ads. Whenever someone conducts a search using those keywords, Google displays ads based on bid amount and Quality Score (Google's assessment of an ad's quality).
By outbidding the competition, you can get your ads showing for people who haven't yet heard of your brand, generating new leads in the process. Best of all, you only have to pay for your ads when people click on them!
3. Social media marketing
If you're looking to reach as many potential customers as possible, you must go where people like to spend their time. That means marketing on social media, where the average user spends 28% of their Internet time.
When you set up a social media account for your business on one or more platforms, you can use it to post engaging content like videos and infographics. As people come across your account, many of them will follow you, allowing you to nurture them into new leads.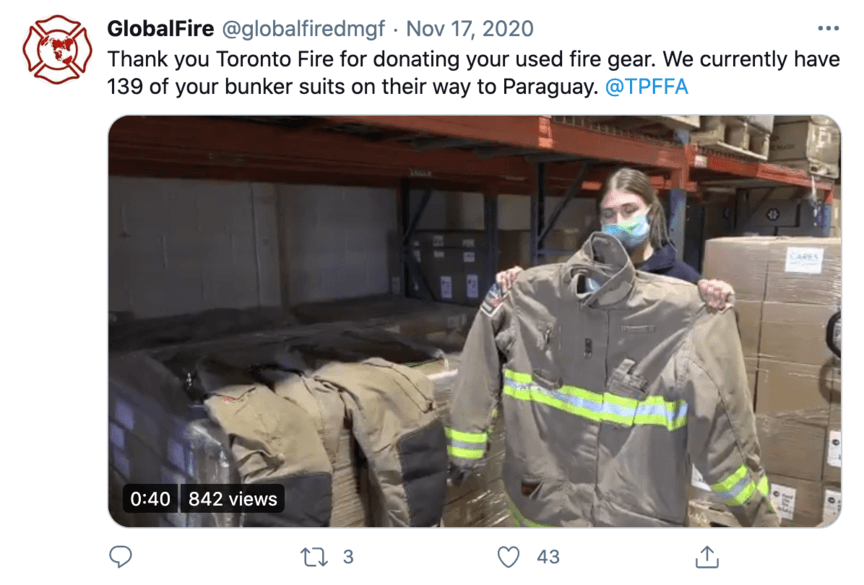 You can also run paid social media ads that appear directly in users' feeds. You can target these ads toward specific demographics like age and location, allowing you to reach the exact audience for which you're aiming.
4. Content marketing
One of the most effective methods of lead generation for fire protection companies is to draw people in with compelling web content. Since most people like to do research before buying or investing, you'll want to draw them in with informational pages.
That's the idea behind content marketing. With web content like videos and blog posts, you can target users looking for information related to fire protection. For example, someone might look up how smoke detectors work, and they encounter a blog post you wrote about it.
You'll want to make sure to keep all your content focused on fire protection-related topics, as that will help you bring the right traffic to your website.
When you create content, you must ensure it's optimized for search engines, so people can find it. People will start out by coming to your website for the content, and many of them will later end up buying from you.
5. Generating email subscriber lists
A final fire protection lead generation strategy is to build out email lists on your website. Email lists contain email addresses of prospects that you can use to send marketing materials like special offers and newsletters. The reason they're so effective, though, is that people sign up for them voluntarily.
The way to build out your email list is to create calls to action (CTAs) across your website — in your blog posts, as pop-ups, and more — encouraging users to sign up for your emails. Be sure to indicate what they'll get out of it, whether it's special discounts or blog updates.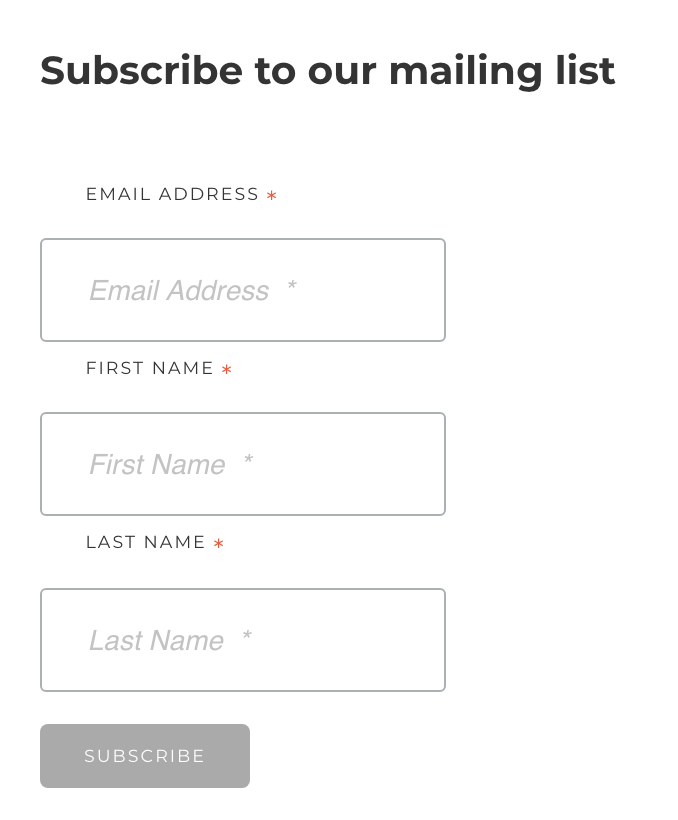 This method is effective for helping you generate a list of leads that you can then nurture into sales for your fire protection company through a robust email marketing strategy.
Our digital marketing campaigns impact the metrics that improve your bottom line.
See More Results

WebFX has driven the following results for clients:

$3 billion
In client revenue

7.8 million
Leads for our clients

5.2 million
Client phone calls
Let WebFX help you with your fire protection company lead generation
Want to boost your revenue to new heights with fire protection lead generation? We can help! At WebFX, we've been driving results through digital marketing for over 25 years, and we know what it takes to master lead generation for fire protection companies.
With our lead generation services, you'll get help implementing all the strategies listed above and more. You'll also receive a dedicated account representative to work one-on-one with you throughout the process.
Just call us at 888-601-5359 or contact us online to get started today!
Earn a 20% greater ROI with WebFX