Tips to Create the Best Responsive Design
Now that mobile-friendliness is a ranking factor in Google's algorithm, responsive design is more critical than ever. If your site isn't compatible across all devices, its chances of ranking well in search results are slim.
But what does that really mean? We've broken it all down for you by examining the responsive design dos and don'ts you can't afford to ignore. Keep reading to learn more, and give us a call at 888-601-5359.
We don't want to tell you about the work we do, we want to SHOW you.
View Our Portfolio

We've built over
Websites
in a variety of industries.
Responsive design tips
Want to make sure your site is responsive? Check out these tips.
1. Map out your site's basic functions.
It's easy to overcomplicate a website with the intention of making it look fancy, only to make it difficult for users to navigate it. So rather than assuming you have to have every bell and whistle on the planet, take some time to map out the most basic functions of your site.
For instance, do you want drop-down menus? What options do you need to include? What are the most important pages on your site? How will you make it easy for visitors to access them? Take basic functionality into consideration first, and worry about all the extras later.
2. Make navigation really simple.
Have you ever been on a website on your smartphone and found it almost impossible to navigate? Obviously, the web designer didn't plan out the navigation for mobile users! Navigation on mobile devices should be as simple as possible.
Stick with straightforward menus that make it as easy as possible for visitors to get where they need. This could also mean substituting words or sentences with images. For example, instead of a "pricing" button, you may want to simply use a "$" image to indicate that prices are available when the button is clicked.
3. Keep your branding intact.
You've spent time building your brand, and visitors should be able to get a sense of it even on a small screen. Think of it this way: McDonald's wouldn't ditch its symbolic golden arches or logo on any of its marketing materials. Similarly, you should aim not to lose any of your branding elements on small screens.
4. Remember that responsive design needs to work both vertically and horizontally.
Smartphones offer vertical or horizontal viewing of websites, so your site has to be ready to accommodate both. When you test your site's mobile friendliness, turn your smartphone both ways and look at all the pages. If the site doesn't look good or operate well one way, you'll need to fix it.
WebFX is a partner businesses trust.
Hear from HydroWorx, who saw a 236% increase in organic sessions with WebFX services.
Watch the Video Testimonial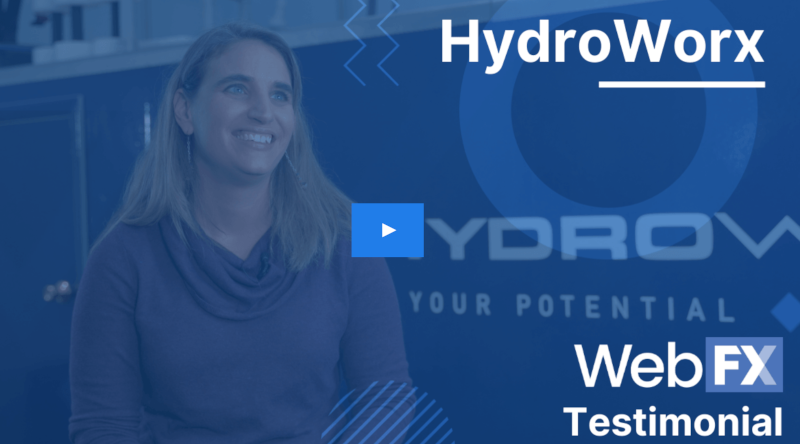 Avoid these practices if you want to make your site responsive
If you want to create a responsive site, it's important to avoid these practices.
1. Add images or videos that take forever to download.
Trying to open a page on a mobile device when the image or video is just too big is annoying. Large files take a long time to load, and sometimes don't load at all. This can be extremely frustrating to mobile users, so remove or resize items that don't load correctly on tablets or smartphones.
2. Assume your site is mobile-friendly already.
Is your site mobile-friendly? Are you sure? What you consider mobile friendly might not be by Google standards. Check your site with Google's Mobile-Friendly Test, and you'll know for sure whether your site is able to rank well on mobile devices.
3. Keep your site as clean as possible.
Along with your navigation, the rest of your site should be as clean as possible. Use easy to read fonts, clear images, and page organization that is easy to understand. A clean layout will display well on even the smallest of screens, and provide a much better user experience than one that is cluttered and confusing.
4. Assume that you only have to make a few pages mobile-friendly.
You may think that making your highest traffic pages responsive is enough, but that's not at all the case. Not only will this frustrate users who try to click through to other pages, but it also isn't enough to be seen as mobile-friendly in Google's eyes.
Making your site partially mobile-friendly may seem like a way to save time, but in the long run, it won't do you any favors. Invest the time and money in a fully-responsive site, and you'll have a much better chance of attracting new customers for your business.
These are just a few basic dos and don'ts to get you started with responsive design, but your site's design is ultimately up to you. And although it might seem like a challenging process to turn your site into one that's mobile-friendly and that gets the thumbs-up from the algorithms created by Google, it's definitely worth it. Too many people are searching for information on their phones and tablets for you to look the other way.
WebFX is a partner businesses trust.
Hear from HydroWorx, who saw a 236% increase in organic sessions with WebFX services.
Watch the Video Testimonial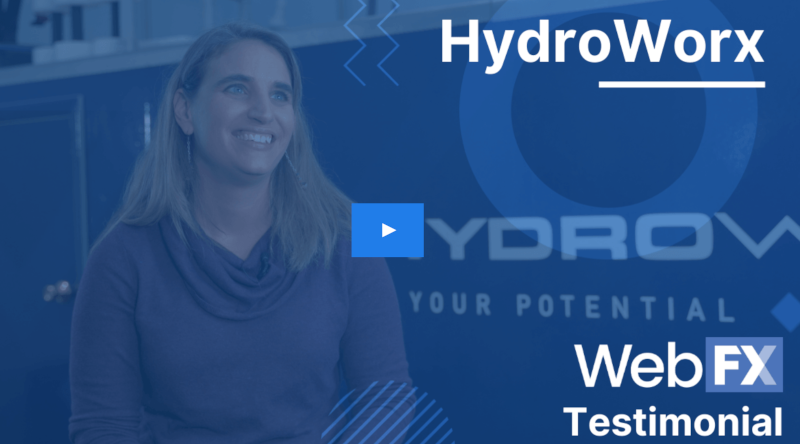 Work with the responsive design experts at WebFX
If you need help creating a responsive design for your website, feel free to contact us! Our talented team of designers and developers know exactly how to ensure that your site is beautiful, functional, and displays well on all devices.