What Is Display Advertising and Why Is It Successful?
Display advertising — a form of paid advertising — is one of the most popular types of online marketing.
A visual-based means of promoting your brand, display advertising refers to ads on websites, apps, and social media platforms. Display ads can take various forms, including:
Banners
Images
Buttons
Videos
Rich media
And more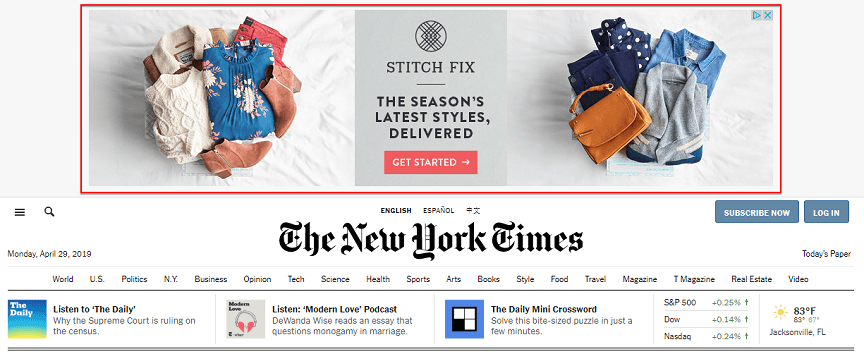 In order to start using display marketing, you have to work with a display ad network to reach customers.
You tell the display network what demographics you want to target with your ads, and they take it from there. They serve your ads to users who fit your specifications and visit websites that have opted into their display network. Then, someone who fits your specifications clicks on your ad, goes to your website, and (hopefully) converts into a paying customer.
That's the whole display advertising process in a nutshell.
And nutshells are all well and good — but it's also important to know the details for something like this. That's why on this page, we'll explore the basics of what you need to know to start using display advertising for your company.
If you'd like to speak with a professional about display advertising, you can contact us at 888-601-5359.
WebFX can help you with all of your display ad needs.
FIND OUT HOW!
Video: What is display advertising?
Check out our video to learn more about how display advertising works and how it can grow your business.
Eye-opening display advertising stats

To start, let's look at some statistics behind display advertising.
First, display ads have a 0.07 percent worldwide click-through rate. That means for every 10,000 people who see your ad, only seven of them will click it.
Those aren't very good odds, and that's enough to turn away a lot of marketers today.
But display advertising is so affordable that you only need one in every couple thousand people to click your ad and convert. Even if one of those people becomes a paying customer, your display ads pay for themselves and then some.
Second, display advertising is actually growing in popularity. In fact, U.S. companies spend an estimated $37.36 billion on display advertising for both desktop computers and mobile devices.
Third, ad blocker technology causes nearly $20.3 billion in lost ad revenue for U.S. companies.
Last, despite the growing popularity of ad blockers, some companies have seen an ROI as high as 486 percent from a single display advertising campaign.
Combined, those stats tell us that display ads aren't focused on attracting millions of visitors to your site in a day.
Instead, they're focused on attracting a select percentage of qualified leads that are ready to convert into paying customers.
It's that small percentage of paying customers that makes sure you get something for your investment, giving you the outstanding ROI you need to continually grow your business.
Top 3 display advertising networks
Next, we need to cover the major display ad networks that are available to advertisers.
1. Google Display Network
The Google Display Network is probably the most well-known and popular choice. Since Google makes about 97 percent of its revenue from serving ads, you can be sure they've refined the display advertising process to a science that'll earn returns for you.
2. Facebook Audience Network
The Facebook Audience Network is Google's biggest competition as far as display ads are concerned. Facebook offers just as many options for its advertisers, and they even have a suite of tools that you can use to design the perfect display ads.
3. Twitter Audience Platform
The Twitter Audience Platform is another possibility. Just like the previous two options, Twitter's ad platform is designed to take your ads and promote them throughout the Internet, including mobile apps.
These three networks make up the vast majority of display advertising online. They can display your ads on any website and app that's opted into their network as a displayer.
For you, that means you have a huge potential to reach hundreds of millions of potential customers by using one (or all) of these networks.
It may take some time — and you may not see ROI as high as 486 percent — but display ad networks are designed to get results for you.
And considering that millions of advertisers use their services, these networks are experts at helping you grow your business.
3 tips for your first display ad campaign
Before you start your first campaign, make sure you do your homework and follow these simple rules. Don't forget to use correct display ad sizes!
1. Look at all available demographic data
It's essential that you find out if your audience is available via a display network.
If you have a super-niche product or service, you may not find an audience that perfectly matches your ideal on each network. And if that's the case, you can cross some of them off of your list of possibilities.
You should also check where all of the data comes from for a certain display network. If it's based on tracking pixels and strategic offline gathering, that data is probably dependable.
If it's unsourced, you may want to look elsewhere.
2. Use multiple marketing strategies
Display marketing is effective, but not as effective on its own as using multiple marketing channels at one time.
This means that you should establish or maintain your search engine optimization (SEO), pay-per-click (PPC) advertising, and social media services while you use display marketing for the best results.
This will give your brand more "real estate" online and allow you to reach out to millions of customers that you otherwise would've missed by only using display advertising.
3. Have a specific, measurable goal in mind
It's important to set goals whenever you start a marketing strategy, and this is especially true for something like display marketing.
Saying "I want to increase conversions" isn't enough to tell whether you're getting enough value from display advertising.
Instead, consider setting a goal like "increasing sales of product X by 10 percent" or "increasing weekend revenue by 5 percent."
Those kinds of goals establish concrete numbers and progressions that you can follow to achieve success.
And they're much more measurable than something like "increase conversions."
WebFX knows display advertising
At WebFX, our team of Internet marketing experts knows display advertising inside and out. We've worked in Internet marketing for 20+ years, and that means we're proud to have one of the most experienced and accomplished display advertising teams in the industry.
Do you want to invest in display marketing that drives results? Check out our PPC advertising services and contact us today to get started!
Call 888-601-5359 or contact us online today to see how WebFX can improve your online performance.