Xander is trying to bring in more customers to his restaurant, but he's having some difficulties. He knows marketing is the key to attracting more people, but he simply doesn't have the time to build better marketing campaigns manually. He's left wondering what he should do.
Fortunately for Xander, there's an answer out there to his problem — and that answer is restaurant marketing automation. Marketing automation is a fantastic tool for helping Xander's restaurant — and yours — more easily and efficiently bring in new customers.
But what is marketing automation for restaurants? Keep reading to find out. Then partner with WebFX — the agency with over 1020 — for our marketing automation services. Just call 888-601-5359 or contact us online today to get started!
Our digital marketing campaigns impact the metrics that improve your bottom line.
See More Results

WebFX has driven the following results for clients:

$3 billion
In client revenue

7.8 million
Leads for our clients

5.2 million
Client phone calls
What is marketing automation for restaurants?
Restaurant marketing automation refers to any type of marketing technology — or martech — that can help you run your marketing campaigns by automating things you'd otherwise do manually.
Food service marketing automation can take different forms. Sometimes it's as simple as sending out automated emails, while other times it's as complex as figuring out what sort of audience you should target with your campaigns.
The benefit of marketing automation for food service is that it frees up your time and energy significantly. You have a restaurant to run, and you can't afford to spend all your time on marketing. Marketing automation helps manage the workload, so you can focus on other things.
What can food service marketing automation do for you?
Restaurant marketing automation can help your business in numerous ways. Here are the three biggest things it can do for you!
1. Gather customer data
Firstly, food service marketing automation is an excellent tool for helping you gather data on your customers. The ideal marketing campaign is a data-driven one — you can use the information you learn about your customers to better target people down the road.
But imagine having to gather all of that data manually. It would be a nightmare! Thankfully, marketing automation saves you from that fate.
There are many marketing tools that will automatically pull data about your customers from your website and your other marketing materials, storing all the information in a database you can use when planning your future campaigns.
2. Power your campaigns
Marketing automation doesn't just help you gather data. It can also help you run your marketing campaigns themselves. When you're advertising your restaurant online, you likely want to use many strategies, and it can become a lot to keep up with.
Thankfully, automated platforms can help you reduce the load. You can set up automated emails, schedule your social media posts to go live automatically at set times, and even automate some of your paid ad functionalities.
Of course, you'll likely need different platforms for each of those functions, but it's much simpler than trying to handle everything completely on your own.
3. Evaluate marketing analytics
Your marketing campaigns are never perfect. There are always ways you can improve them and bring in more customers for your restaurant. But how can you find opportunities to improve? The answer is, by using marketing analytics — and automation can help you do that.
Analytics allow you to see how your campaigns are currently performing and determine what you can do to reoptimize them. We've already talked about using automation to gather initial customer data, but in this case, the data is related to your marketing performance.
You certainly don't want to gather all that data manually — it'd be virtually impossible to do it as effectively as an automated tool. Fortunately, you can use marketing analytics tech to streamline the process.
Restaurant marketing automation platforms
By now, you're almost certainly wondering what platforms you can use to automate your marketing process. And truth be told, there are countless options out there, especially when you start getting into very specific functions.
That said, there are a handful of general automation platforms that stand out from the crowd. Here are three of the best ones!
1. Marketo
Price: $895+ per month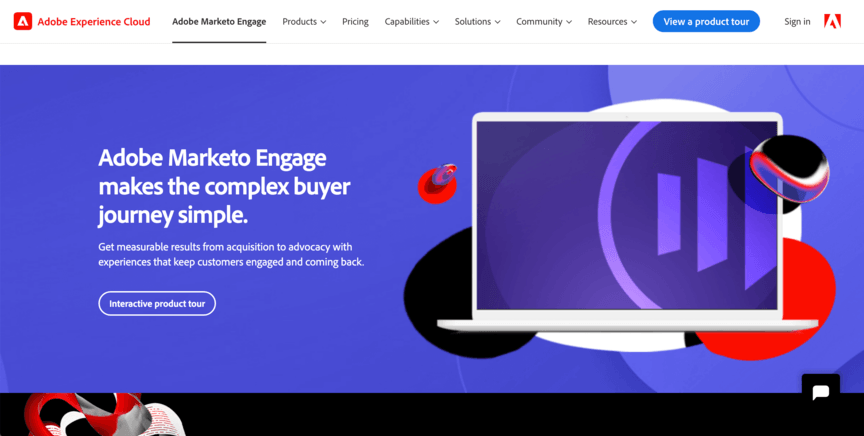 One of the first marketing automation platforms you'll find for your restaurant is Marketo.
One of its core features is automated email marketing, but that's not the only thing it offers. Marketo actually comes with a wide array of automation features, many of which are built around tracking and managing leads.
Marketo is very well-known and well-liked by marketers across many industries. However, one thing to note is that its price range is aimed toward slightly larger businesses.
So, if you're a chain restaurant, it's a viable option. But if you're a single-location restaurant with a limited budget, it might be better to aim for one of the other options on this list.
2. Customer.io
Price: Custom quote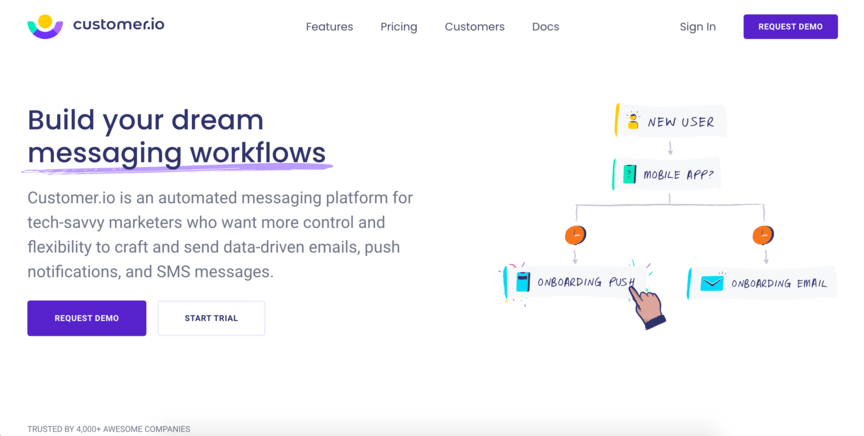 Customer.io is another handy tool to use in marketing automation for restaurants. One of the best things about it is how user-friendly it is. It features a highly intuitive interface, and it's a relatively lightweight tool that avoids bogging users down with unnecessary or overly complicated features.
If you're new to the world of food service marketing automation, Customer.io could prove useful. Adding to that is the fact that it offers an excellent customer service team that's available to help you through any issues you encounter.
Customer.io also features a free version, but it doesn't come with the same capabilities as the paid version.
3. MarketingCloudFX
Price: Custom quote
As useful as Marketo and Customer.io are, neither of them are built specifically for small businesses like yours. But you know what is? MarketingCloudFX (MCFX)!
MCFX is our own proprietary marketing software designed to help you manage many elements of your digital marketing all in one place. Among other things, it can help you automate your various campaigns and reach users more easily.
Not only will you gain access to the platform by partnering with us, but you'll also get help using it from our team of experts!
Meet MarketingCloudFX:
One platform tracking countless metrics and driving stellar results.
Learn More About Our Proprietary Software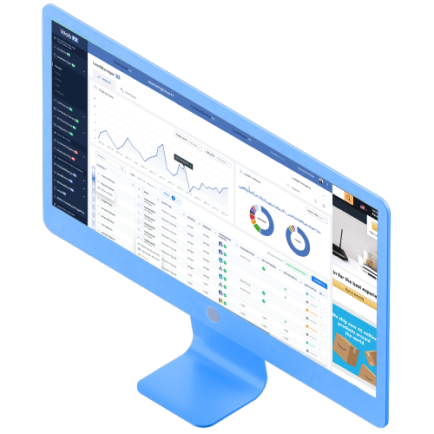 WebFX knows marketing automation for food service
WebFX has been driving incredible marketing results for our clients since 1996. That means we have over 25 years of marketing experience! And with that exceptional amount of experience comes an equally exceptional amount of marketing expertise.
When you partner with us for our marketing automation services, you'll get help driving up your revenue to new heights. Our team will work tirelessly to drive results for your restaurant, and you won't regret partnering with us.
To get started with us, call 888-601-5359 or contact us online today!
Earn a 20% greater ROI with WebFX