Google Ads Data Hub: Everything a Marketer Needs to Know
When you run a pay-per-click (PPC) campaign, it's important to monitor your data to understand how your audience interacts with your content.
If you're running multiple campaigns in different places, it can be challenging to keep track of all your different sets of data. With Google Ads Data Hub, you can store your data in one place and compare results.
On this page, we'll discuss Google Ads Data Hub and how it impacts marketers. If you need help monitoring your PPC campaign, call us today at 888-601-5359 to speak with a strategist.
Let's get started!
Our digital marketing campaigns impact the metrics that improve your bottom line.
See More Results

WebFX has driven the following results for clients:

$3 billion
In client revenue

7.8 million
Leads for our clients

5.2 million
Client phone calls
What is Google Ads Data Hub?
Google Ads Data Hub was released within the last year to create an opportunity for businesses to manage impression data on Google Ads campaigns. The goal of this technology was to create a more secure and private environment to access marketing data.
How did companies manage data previously?
Before the creation of Google Ads Data Hub, companies had to transfer log-level data. This meant they had to move the raw data of each impression, rather than having all the data aggregated. All the data went into a data management platform (DMP).
Google previously offered DoubleClick, a Google program that displayed advertisements for businesses. This program let advertisers control how often their ad was shown to people, the duration, and how often it would appear. DoubleClick also allowed businesses to track the behavior of Internet users when they browsed different websites, also known as behavioral targeting.
Because of this, many of them used DoubleClick as their primary ad server.
In April, Google announced it would not allow data transfer of DoubleClick log-level data with Google IDs (a business's Google account). This destroyed the value of log-level data that companies were previously exporting to better monitor their campaigns.
When Google made this move, advertisers didn't know who saw their ads. They could only see how often the ad was served to people. This created a challenge because companies couldn't find leads to target.
Eventually, Google discontinued DoubleClick and created Google Ads Data Hub in its place to streamline the marketing and data-sharing process.
Google Ads Data Hub: A brief synopsis
Google Ads Data Hub is a program that allows businesses to access impression-level data on their PPC campaigns. It provides businesses with the opportunity to access data on cross-device media campaigns. When Google developed Google Ads Data Hub, it became a privacy-based replacement for DoubleClick.
This cloud-based measurement program was also a solution for YouTube. It was meant to help companies track data through platforms like YouTube to have a better understanding of their audience.
The most important thing to note is that you cannot extract data from Google Ad's Data Hub. For privacy reasons, all the data collected through their data hub must be kept within Google's system (no option to export data).
Google Ads Data Hub does, however, allow you to combine your known data with Google's event data. You can input your data from other campaigns into Google's system for comparison, but you can't export your Google data out to compare to your other data.
The goal of this data hub is to facilitate a match between the advertiser's marketing data sets and impression-level data from Google. This tool has DMP capabilities, and Google claims that Google Ads Data Hub will help businesses measure their data better than their counterparts.
WebFX is a partner businesses trust.
Hear from HydroWorx, who saw a 236% increase in organic sessions with WebFX services.
Watch the Video Testimonial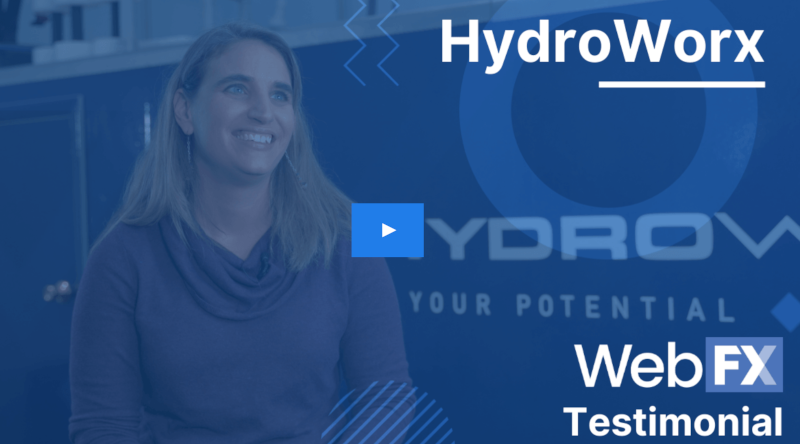 How does Google Ads Data Hub work?
Google Ads Data Hub is built on infrastructure from Google Cloud and Google BigQuery. It gives advertisers access to important data that helps shape their campaign, including access from different devices.
First, Google will put your ad campaign data into BigQuery. This includes your mobile device IDs, cookies, and anonymized Google sign-ins.
Next, you upload your own non-Google data into BigQuery. This non-Google data can come from CRM systems or marketing databases. Once the information is uploaded, you can map the data and draw specific insights about your campaigns.
For example, let's say an ecommerce retailer wants to understand the path their audience takes to get to conversion. They can bring their data into BigQuery and combine it with the known Google data. From this point, they can gain a better understanding of how customers go on their purchasing journey.
How does Google Ads Data Hub impact marketers?
With the disbandment of DoubleClick and implementation of Google Ads Data Hub, marketers must adjust. This new system calls for a change in your PPC campaign. Here are two big impacts Google Ads Data Hub will have on your campaign.
1. Segmentation
Marketers use DMPs to create new audience segments. DMPs allowed companies to keep track of media exposure and who saw different ads from your business. When Google discontinued sharing data through Google IDs, DMPs could no longer see media exposure from Google's data.
This creates a challenge because there isn't a way for you to export your data, so you can segment your audience to target them better. Instead, you have to rely on a different source of data aside from Google to segment your data.
The alternative is to rely on Google to run the data for you. You can run all of your data through them and rely on them to segment your audience for you. It leaves you with less control over your campaign, but it gives you full access to all your data from all your ad campaigns.
So, you must consider how you want to manage your data if you're thinking about Google Ads Hub Data. If you want to manage it on your own, you'll have to rely on an outside source to manage your data. This also means you'll have to forgo some Google data for your campaign.
On the other hand, you have the option to put all your data into Google. You won't be able to export any of the information, but it does allow you to combine your Google Ad's data with other advertising data. You must, however, rely on Google to come to conclusions about your data.
2. Frequency capping
Previously, marketers could use their DMPs to put a cap on media platforms. These platforms could count impressions exposed to one user ID. They would send a signal to the DMP to let them know to stop buying a user after a certain amount of exposure.
To put it simply, businesses could put a cap on how much they spent to obtain leads. So, if they ran an advertising campaign, they may set a limit to only spend $10 in ad costs to obtain leads. Once the $10 is hit, the DMP will stop showing ads to that user.
Without access to data from these advertising campaigns, it's challenging to count the frequency of ads. You won't know how many times someone has seen an ad.
This makes your frequency capping less precise, which means you could lose money on leads. You may end up spending $15 on leads instead of your maximum of $10, which cuts into your profit margin. This is something you must keep in mind with Google Ads Data Hub.
WebFX will help you manage your Google Ads campaign
Your ad data is valuable to your campaign. It helps you understand who you are reaching and how you can improve your campaign. At WebFX, we have over 25 years of experience running and monitoring PPC campaigns.
We're a full-service digital marketing company that specializes in PPC campaigns. We have a team of 500+ experts that will bring their knowledge and expertise to your campaign. Our team of experts will help you create a PPC campaign that works for your business.
If you're looking for a PPC company that drives results, look no further than WebFX. In the last five years, we've driven over $3 billion in sales and over 7.8 million leads for our clients. We focus on creating campaigns that help our clients grow their business.
Don't believe us? Just ask our clients! Check out our 1000+ client testimonials from a variety of industries that attest to the great work we do!
Start optimizing your campaign today
If you're ready to start monitoring your data better and optimize your PPC campaign, contact us online or call us today at 888-601-5359 to speak with a strategist.
We look forward to helping your business grow! Did you know about our proprietary marketing executive dashboard that stores all of your data in one place? It's worth checking out!