9 minute read

Sam has been writing for WebFX since 2016 and focuses on UX, crafting amazing website experiences, and digital marketing In her free time, she likes to spend time on the beach, play with her cats, and go fishing with her husband.
When you think of beating out competitors, you likely think of beating them in terms of revenue, the number of clients, or units sold. However, to beat your competitors in all areas of business, you first have to learn how to beat competitors using SEO.
If you're new to digital marketing, SEO, or search engine optimization, is one of the most effective strategies for outpacing competitors online. But how does SEO allow you to rise above competitors? On this page, we'll talk about how to beat out your competitors with SEO strategies.
If you've ever Googled "how to beat competitors SEO," this page is for you. If you'd like to learn more about how you can rise above your competition with digital marketing, feel free to contact us online or give us a ring at 888-601-5359 to speak with a strategist!
Bonus Reading: Why are my Competitors Ranking Higher on Google?
Beating competitors — SEO style
If you've ever wondered how to rise above competitors — and let's be honest — all business owners have.
You've probably done your fair share of research. You've likely seen advice like, "make sure your brick and mortar store is welcoming," or "price products and services competitively," but one strategy you may not have considered is SEO.
Behind the scenes of SEO
SEO is a digital marketing strategy that helps you beat out your competitors in many ways — but the most important benefit of SEO is beating competitors in search engine results pages (SERPs). Here's how it works: When your audience searches on Google for your products or services, Google serves them a long list of results — giving them plenty of options to choose from.
When you appear above competitors at the top of results, more people can find and contact your business — and you'll ultimately earn more revenue.

As you might guess, results that show up higher in SERPs receive more traffic than those that show up lower, or even on second, third, or fourth pages of search results. In fact, the top five SERP results receive a staggering 68% of clicks. Keep in mind, though, Google doesn't pick and choose which sites to display at random.
Search results are based on Google's algorithms, which change constantly.
Beating rivals with digital marketing strategies like competitor SEO
So, what does this mean for you? First and foremost, it means that you have to adopt a digital marketing strategy that focuses on getting your website content to the top of SERPs so that your target customers can easily find you online. This is where SEO comes in.
SEO combines a wide variety of techniques that help your website to rank highly in search engines and, over time, even outrank your competitors. If you're still wondering how to beat competitors with SEO, keep reading.
How to beat competitors with SEO — 4 result-driving strategies
Now that you understand the importance of your website's rankings — and that SEO is the go-to strategy for improving rankings in SERPs — it's time to talk about specific competitor SEO strategies. Read on to learn more about four SEO strategies that will help you beat your competitors in search.
1. Conduct an SEO competitor analysis
If you want to beat competitors with SEO, you'll need to perform an SEO competitor analysis by researching their strategies to pinpoint your plan of attack. Whether it's a different SEO strategy that's taking them to the top of search results, or simply a different digital marketing strategy altogether, keeping tabs on what they're doing online can help you get ahead. Pay attention to their website, the kind of content they create, and what keywords they target with their content.
Are they targeting a term that you hadn't thought of that targets your audience as well? You should never create a carbon copy of someone else's content or strategy, but you can take a page from their book. The information that you yield from your SEO competitor analysis can help you yield important information that will help you beat them in search.
Need help conducting competitor analysis? WebFX can help! Want to use competitor analysis tools to do it yourself?
We've got you covered there, too!
2. Create content that your audience wants
Content is probably the most important part of your SEO strategy. The goal of your SEO campaign is to increase traffic to your website, and if you don't have content to draw your audience, you're playing a losing game. You should not only create strong content, but you should create it often.
Google loves when websites provide a steady stream of new content, like blog posts.

Blogging is a great way to provide new, fresh content to your target audience, as well as target a high volume of keywords since blogs are posted regularly. You'll also benefit from creating content related to your products and services.
Keep in mind that the content you create should be based on the keywords that you decide to have the highest return. For example, if you find that a long-tail keyword has a mediocre search volume, but low competition, it's worth it to write content that focuses on that keyword. Just because you target a long-tail keyword in a piece of content doesn't mean you can't also target its short-tail counterpart.
For example, if you sell countertops, and your long-tail keyword is "gray marble countertop with beveled edges," you could still target keywords like "marble countertop," and "gray countertop" on the same page. The main goal is to create content that covers topics that your target audience is interested in, and you can learn a great deal about those topics through the keywords with high search volume.
3. Build a strong internal linking profile
Internal linking is one of the best SEO strategies out there because it essentially creates a spider web out of your website. When a site visitor lands on one of your pages, it's an opportunity to keep that visitor on your site for an extended period of time. This is a huge opportunity since more time on your site can lead to visitors learning more about your brand and your products and can even encourage them to convert.
That said, to keep users on your site for longer, you should link to other pages on your site from your content. For example, if you create a page that talks about how you can select the right countertop for your kitchen, you could place links to your different countertops throughout the content. Not only does this keep users bouncing from page to page within your site, but it helps them learn more about your products.
In addition to creating a positive user experience for users, building a strong internal linking profile also helps Google find new pages more easily. The quicker Google finds your pages, the sooner they can rank them — and the sooner you'll see an increase in traffic and sales.
Looking for an all-in-one SEO audit tool? You've found it.
SEO Checker provides data on key metrics to give you:
Complete SEO score

Content Grade

Site Speed Analysis

and more.
4. Conduct keyword research to target high-value terms
If you want to beat competitors with SEO, one of the most important steps is doing keyword research for your industry. Keyword research opens the door to so many targeting options that allow you to reach your ideal audience — which is crucial to more website traffic, more sales, and higher revenue. When you do keyword research, you'll gain insight into what kinds of terms your audience searches for on Google — and when you understand what they're searching for, you can cater to those terms with your content.
Bonus tip: Google delivers results that best match specific search queries — and keywords provide important information about your page topics, so you content appears in relevant results.

This gives keywords significant weight when it comes to ranking.
Disclaimer: Make sure that you don't keyword stuff which can hurt your Google rankings. In terms of keywords, it's important to consider both long-tail and short-tail keywords.
Long-tail keywords: Long-tail keywords are detailed phrases that often yield less search traffic, but higher reward. When users click on a page that targets a specific long tail keyword, they likely already know what they're looking for and are ready to convert.
Short-tail keywords: Short-tail keywords are keywords that are short and general. These keywords typically receive extremely high search volume and are difficult to earn a top ranking for. They also don't create qualified website traffic because site visitors are likely not ready to convert — they're just interested in learning more.
For best results, you should target a mix of short-tail and long-tail keywords in your content. Want to take your keyword research to the next level? Invest in a tool like Ahrefs that provides you with a gap analysis!
This tool can give you access to keywords that your competitors rank for, but you don't.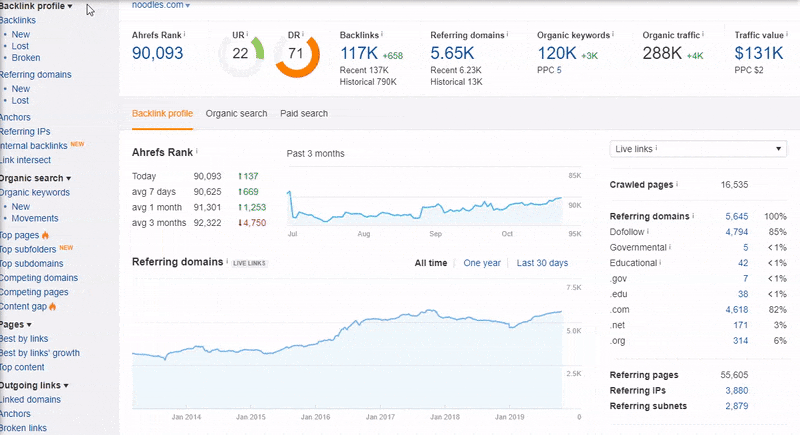 Not only does this give you insider knowledge, but it can help you decide what topics to cover in your content to ensure that you're ranking for the same keywords as your competitors — and hopefully ranking even better.
Related reading: How to find long-tail keywords
WebFX can help you beat rivals with competitor SEO strategies!
If you're looking for direction when it comes to how you can beat your competitors with SEO, WebFX can help. We've helped thousands of clients beat out competitors in search results, so they can sell more products and enjoy increased revenue. If you're ready to take your business to the next level with SEO, contact WebFX online, or give us a call at 888-601-5359!
Sam has been writing for WebFX since 2016 and focuses on UX, crafting amazing website experiences, and digital marketing In her free time, she likes to spend time on the beach, play with her cats, and go fishing with her husband.

WebFX provides digital marketing solutions with expert marketers, designers, and developers to increase visibility, conversions, and revenue.

Learn more
Try our free SEO Checker
Boost your site's search performance with our free SEO Checker. Analyze your website for optimization tips on titles, headers, content, speed, and more. Get a free report now to enhance rankings on Google, Bing, Yahoo, and beyond!
How Is Your Website's SEO?
Use our free tool to get your score calculated in under 60 seconds.
Try our free SEO Checker
Boost your site's search performance with our free SEO Checker. Analyze your website for optimization tips on titles, headers, content, speed, and more. Get a free report now to enhance rankings on Google, Bing, Yahoo, and beyond!